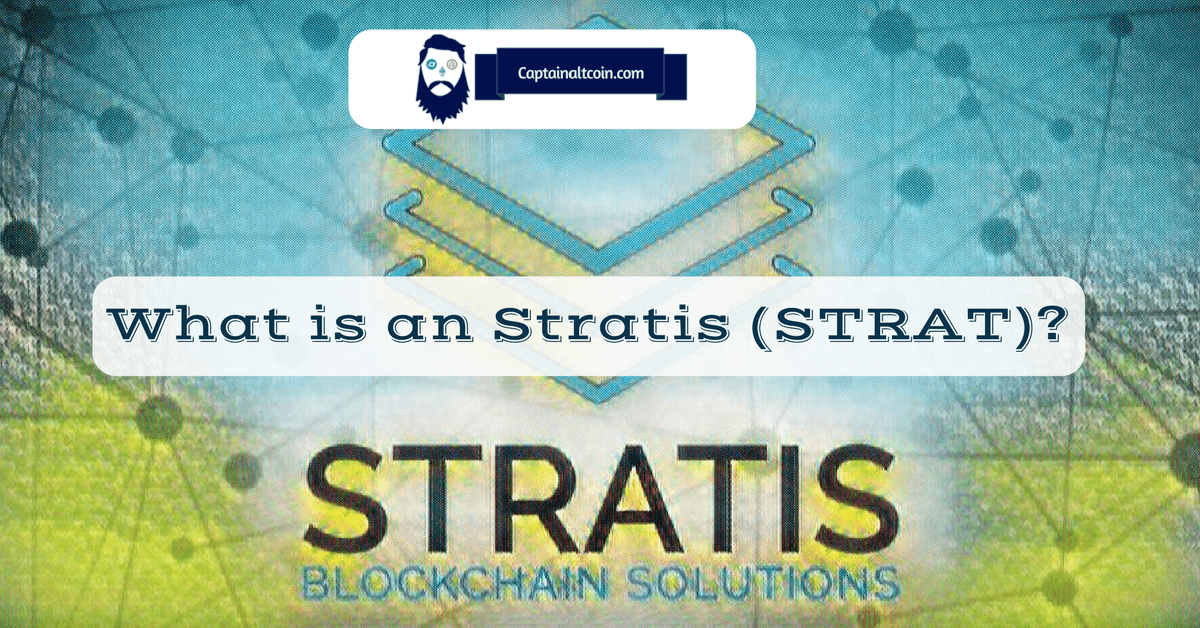 In this article I will provide you with detailed information on popular cryptocurrencies so that you remain better informed about them. I hope that this article will help you make the best decisions to use them and also to invest in them or not.
One such cryptocurrency is Stratis (STRAT). This cryptocurrency has quietly risen to the top ten list of cryptocurrencies by market cap. Stratis was created in 2016 by Chris Trew and it rose to a market cap of $1 billion back on 5th June 2017.
What is Stratis Cryptocurrency?
Stratis is a powerful and flexible Blockchain development platform that aims to help businesses, financial services and companies to develop, test and deploy new apps. Stratis will act like a blockchain-as-a-service (BAAS) platform for corporations and institutions, and it will help them to implement blockchain technology for various use cases across industries very fast.
Stratis is trying to make the blockchain use easier for everyone, and its motto is "We make blockchain easy for you". The vision of the Stratis platform is to become a one-stop shop for all blockchain things.
Technology wise, it is a clone of Bitcoin's core code. However, it has a few enhanced features and it is written in C# language instead of C++. It can also make use of Microsoft.Net Framework while at the same time taking advantage of the powerful Stratis API's and framework.
Stratis Makes Blockchain Easy for You
Stratis helps users in defining the blockchain strategy and integrating capabilities and solutions according to the requirements of each business, which means that the blockchain could potentially become accessible to the wider developer community.
Stratis also provides something similar to a test net. It is called the Cloud Stratis platform and allows developers to test their applications. Provision of blockchain nodes for Bitshares, Ethereum, and Bitcoin is also available. In this way, users don't have to maintain a full client or the network by themselves and blockchain implementations can be modified according to user needs, and these characteristics allow users to access these networks via APIs or lite clients.
What is the Stratis Token (aka STRAT)?
The network must have a 'Stratis Coin' to underpin all these advantages, so Trew created a new token called STRAT. STRAT is the native token that runs the Stratis platform. This token is a digital currency based on a PoS consensus process with low inflation and limited emission.
There was an ICO (Initial Coin Offering) of STRAT in July 2016, to fund the development and marketing of the Stratis platform, and the Stratis project was able to raise an equivalent of 915 bitcoins (worth $675K) in this ICO. 98 million STRAT tokens were distributed after this Offering.
Stratis rose from its price of August 2016 ($0.023) to today's price of $7.71, which is a 49,000% increase in just 10 months. That's a number hard to ignore!!
STRAT is issued at a rate of 1 token per block, and a new block is mined every 60 seconds.
Stratis has become one of the few currencies to be adopted and implemented very fast by numerous recognized cryptocurrencies wallets and exchanges, such as Ledger hardware wallets, Jaxx, and Poloniex.
Stratis Private Chains
A secure blockchain network typically has thousands of computers running the same protocol, which means that there is a huge advantage of using a conventional network with established security and stability rather than deciding to start from the beginning. Bitcoin remains the best known and the most secure cryptocurrency network, and you can develop applications on top of the Bitcoin blockchain. However, there are only a few businesses that would consider doing that, because Bitcoin has a comparative slow 10 minute confirmation times and a number of attacks on the network, which means that transactions can be delayed for hours.
Stratis will be required to create and propel a public or private blockchain, because it is the native value token in the Stratum platform. There is always an advantage developing apps using private blockchains compared to public blockchains such as Bitcoins, and the main advantage is the fact that private blockchains can be customized to perform exactly how you want it. Also, companies will not need to have expensive mining hardware to run nodes for their private Blockchains, due to the fact that Stratis will be proof of stake.
Total Fixed Supply of Stratis
After the ICO, a total of 98 million STRAT tokens were distributed. This is the fixed supply that will ever be available.
This is what the final breakup looks like:
| | |
| --- | --- |
| ICO (85.7 %) | 84 Million Stratis tokens were allocated to ICO investors |
| Bounties and Marketing Campaigns | 4 Million Stratis tokens were allocated |
| Advisors and Partners | 2 Million Stratis tokens were allocated |
| Stratis Team | 8 Million Stratis tokens were allocated |
| Total | 98 Million Stratis tokens were allocated |
Market Cap of Stratis
Of the 98 million STRAT tokens, 98 million are in circulation. The current price of each unit is $10.5. It crossed the market cap of $ 1 billion a few days back, and is still soaring high.
Team behind Stratis
Staking of Stratis Tokens
Staking is like earning dividends or interest on your holdings and it helps to secure the Stratis network. Right now, the price of each token is at about $10 USD, and it is 0.5-1% per annum returns on your "staked" amount.
It is important to note that there are special staking wallets for this purpose. I will explain them in more detail in further in this post.
How to Purchase Stratis Cryptocurrency?
Buy Stratis from Changelly
It may be a little difficult to buy Stratis directly in fiat currency. However, you can exchange your other coins, such as ETH, LTC, or BTC in exchange of STRAT tokens, and the procedure is very simple.
To purchase Stratis, you will need the following things:
Some altcoins or bitcoins to exchange for STRAT.
Stratis address where you would like to receive your STRAT tokens
Head toward Changelly – Cryptocurrency Exchange. Follow the steps given in this guide.
Note: This guide shows how to purchase Ripple in exchange for BTC. However, the process is exactly the same to purchase Stratis.
Purchase Stratis from Exchanges
Here is a list of established cryptocurrency exchanges listing Stratis:
Purchase Stratis from Shapeshift
Stratis can also be purchased by exchanging any supported cryptocurrency via Shapeshift.
Shapeshift currently supports 33 cryptocurrencies. However, I prefer using Changelly. It has better exchange rates and a better transaction history feature to track my funds.
Note: See our guide on Shapeshift if you need to know the step-by-step process of exchanging other cryptocurrencies for STRAT. This guide is for exchanging ETH for BTC. However, the process is the same to purchase STRAT.
Stratis Wallets
Stratis is a relatively new cryptocurrency. That's the reason why it doesn't have many wallet options available. However, to support early adopters, there are a couple of nice wallets out there for storing Stratis.
I did a lot of research and I found out that these wallets are the best:
Breeze is the future wallet and most awaited wallet by Stratis lovers. This wallet will be out in a month or two and it will support Stratis and Bitcoin. It also will provide seamless exchanges between the two cryptocurrencies. However, it is important to note that an initial version of the Breeze wallet will not support staking of tokens.
Currently, only the Nano S supports Stratis storage. The Ledger Nano S hardware wallet is simple to use and it is the safest way to keep your Stratis tokens secure. The Nano S can't be used for staking Stratis. However, it will keep your tokens safe. Currently, you can secure Stratis, Dash, Ripple, Zcash, Dogecoin, Litecoin, Ethereum, and Bitcoin with the Ledger Nano S hardware wallet.
Note: Monero is coming soon.
You can purchase Stratis from any place and then transfer it to your Ledger Nano S address.
This is an official copy of the Bitcoin Electrum wallet by the Stratis team, which is available on Windows, Linux, and Mac operating systems. Stratis Electrum Wallet is also a lightweight desktop wallet which doesn't download the blockchain, and it is easy to set up and use in everyday transactions. It is important to note that this wallet doesn't support staking of Stratis tokens.
StratisX Wallet is the official desktop wallet by the Stratis development team, and it is a lightweight wallet that doesn't download a full blockchain. This wallet has all the features to use Stratis safely. It also allows for the staking of Stratis tokens.
How Stratis Will Be Used in Real World
Some of the benefits of the Stratis blockchain that will impact the real world include:
Fintech – The sky is the limit for Stratis in the Fintech space. In this area, Stratis intends to solve issues like Identity Management, Identity Theft, trusting Escrows, clearance and settlement management or KYC compliances with losing the confidence of the customer by leveraging blockchain technology.
Provenance – It means product verification and tracking, and it has also led to counterfeiting and forgery of original products as manufacturing has matured. But, this problem will be solved once such products are put on the Stratis blockchain for tracking and identification, e.g. see Diamond verification on Everledger.
Internet of Things – Industry verticals like occupation, inventory, transportation, and supply chain can be impacted by Stratis. This will bring everything on the blockchain which is updated by internet consensus in real time. For instance, a smart lock enabled by Stratis platform will allow you access a fully automated AirBnB residence without any human interaction or dispute.
Medical Research – Stratis blockchain will provide an immutable database of record, which will enable medical science to solve its publication and research disputes. Here the publisher, researcher, and reviewer can work without worrying about the legitimacy of the record.
Sparking the new versatile economy – $STRAT is the energy used to power and secure the stratis blockchain, and it is traded on open exchanges as one of the top cryptocurrencies by market cap. It is used to pay fee per transaction and also as an instrument for transfer of value among participants in the Stratis marketplace. Stratis is also going to act as London based consultancy service. It will advise businesses on the features or blockchain specification to implement and how to do that.
Some of these exciting use cases are already in production. On the other hand, some are still being developed.
Stratis vs. Ethereum
Stratis is very similar to Ethereum in concept, because both Stratis and Ethereum support smart contracts. However, there is a fundamental problem on Ethereum, because Ethereum smart contracts are written in Solidity which is its native language. On the other hand, on Stratis, the contracts are written in C# language- the common language of the developer community. This means that developers do not have to learn an entirely new language to write smart contracts.
Writing smart contracts on Ethereum means a developer has to learn Solidity first.
Moreover, unlike Ethereum where every contract runs off of the Ethereum blockchain, Stratis supports contracts and other blockchain innovations on its sidechains.
One cannot deny that both projects have gotten fair words of praise and they have done remarkably well in the market, and companies like Microsoft support both of them.
Should You Invest in Stratis?
"Should You Invest in Stratis?" is the million dollar question.
Well, the correct answer obviously depends on your objectives and risk appetite.
Stratis is a relatively new cryptocurrency. However, Stratis is a quality project with a quality team and it does seem promising. Everyone needs a safe space, because there are hundreds of competing cryptocurrencies in the market, striving to gain adoption into the crypto-age. Stratis is one of the few cryptocurrencies to be adopted and implemented very fast by almost all recognized cryptocurrency exchanges, and with the Stratis's Breeze Wallet coming, one can only anticipate the best.
Official Stratis Resources
Here are some links to keep you updated about Stratis:
Summary
Stratis is already being referred to as the technology of the future, and it is backed by technology giants like Microsoft. Stratis might be relatively new cryptocurrency. However, it really seems promising.
I hope that you found this article interesting and that this detailed analysis helped you in making a good decision.
How to buy it?

Where to store it?

CaptainAltcoin's writers and guest post authors may or may not have a vested interest in any of the mentioned projects and businesses. None of the content on CaptainAltcoin is investment advice nor is it a replacement for advice from a certified financial planner. The views expressed in this article are those of the author and do not necessarily reflect the official policy or position of CaptainAltcoin.com