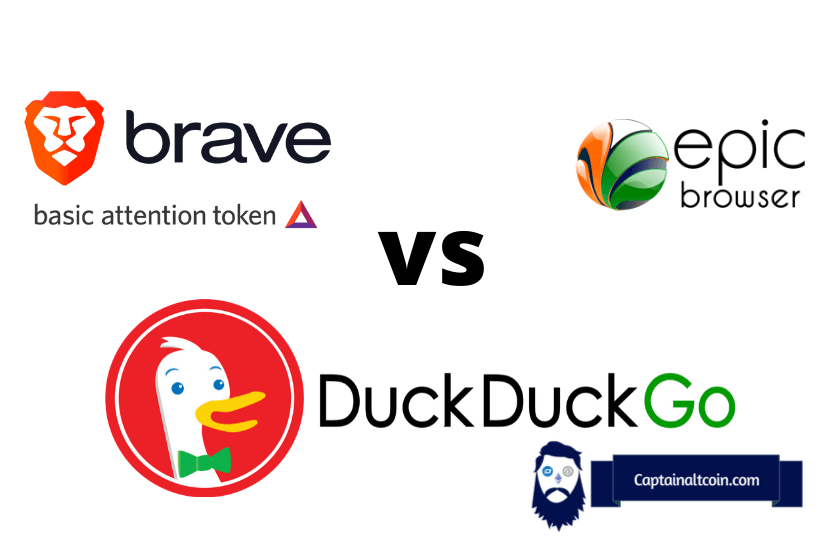 We are living through a digital revolution where your personal data is the most important currency in the new world of information.
Protecting this data, whose loss can be life-threatening in some cases, is of utmost importance. Most of our data is mined and collected via internet browsers like Chrome, which absolutely dominates the market share.
Other less popular browsers include Firefox, Edge and Opera. That data is then sold to various companies and advertisers, many of which have malicious and fraudulent intentions when targeting us with their ads and offers.
With the need for privacy protection getting more user attention, a slew of new privacy internet browsers strictly focused on privacy features bubbled up to fill the market vacuum. We will compare three leading privacy browsers in this article: Brave vs Epic Browser vs DuckDuckGo .
Brave Browser vs Epic Privacy vs DuckDuckGo Browser – Key Features
---
Before we move on, some of you might be thinking that I am mistaken in thinking that DDG is a browser when it is actually a search engine. That is, indeed, their primary service – DDG is a privacy focused search engine. However, they branched out to make a browser app for mobile platforms: Android and iOS while they offer a Chrome extension in place of a desktop app.
Epic is a privacy-focused internet browser that blocks all third party ads, trackers, fingerprinting, cryptomining, ultrasound signaling and other tracking scripts while also offering a free VPN with servers in 8 countries. It currently has web app for Windows and mobile app for Android.
Brave is also a privacy focused browser that strips away all trackers while adding another perk to its arsenal of features – cryptocurrency rewards with its native BAT token. Brave is essentially trying to build a new economic model that would replace the current online advertising system based on trackers and user-privacy destruction.
Brave has apps for all major OS: Windows, Mac, Linux, iOS, Android.
DuckDuckGo is a popular Google alternative, a privacy focused search engine, that developed their own mobile browser apps for both iOS and Android. As for the desktop app, they decided to launch a Chrome extension instead of a full fledged browser.
While we are talking about privacy, here is a list of top VPNs that accept bitcoin payments.
Epic Browser Overview
---
The Epic Privacy Browser was developed from scratch with a sole aim to provide comprehensive private browsing by default (no optional and toggling privacy modes like in other browsers)
This browser is, similarly to Brave, built on the Chromium browser engine, which is an open source base used for development of the leading web browser – Chrome. Epic by default does away with all Google services from Chromium so that your browsing does not go through Google's servers.
Epic Browser is a real extreme beast when it comes to privacy: it blocks, deletes, prevents anything that tries to interfere with your data.
Epic's first middle name is block
---
Some of these block are at convenience expense since Epic doesn't allow address aar suggest, URL check, auto-translate and URLTracker.
It also blocks certain types of WebRTC calls to prevent the leak of your IP address, even if you're using an encrypted proxy or a VPN.
Epic's default is extreme privacy includes
No History.
No Web Cache.
No DNS Pre-Fetching.
No DNS Cache.
No Third Party Cookies.
No Rogue Extensions.
No Spell-Check.
No Autofill.
No Password Saving.
No Google Sync..
No Automated "Most Visited Websites".
No Auto-Suggest.
No Alternate Error Pages.
Epic's other middle name is delete
---
Once you are done browsing with Epic and want to close the browser, it will wipe out almost everything:
Databases.
Shortcuts.
Data related to current tabs.
Extension states.
Topsites.
Web, Flash & Silverlight Cookies.
History.
Visited links.
Pepper Data.
Local storage.
Preferences.
Origin bound certificates.
Current session.
Media cache.
History provider cache.
Favicons.
Indexed DB.
Login data.
Application & DNS cache.
Jumplist Icons Data.
Epic's built-in VPN
---
Aside of its strict privacy protections, the Epic browser also offers a built-in encrypted proxy, similar to a VPN, which both hides your IP address and encrypts all of your data.
The browser's VPN has 8 locations in the United States, Canada, Europe, Asia and the United Kingdom, letting you choose the country you want your IP to be from so websites you visit won't know your real location.
Bear in mind, that some streaming platforms won't load as fast as they would without VPN turned on and also some websites, such as Facebook and Gmail, may require additional authentication steps with the proxy turned on.
Extensions
---
While the browser lets you use browser extensions, the selection is limited, which is a big minus for the power users who depend on many extensions for work or personal purposes.
For more information, visit the Epic Browser website.
Brave Browser Overview
---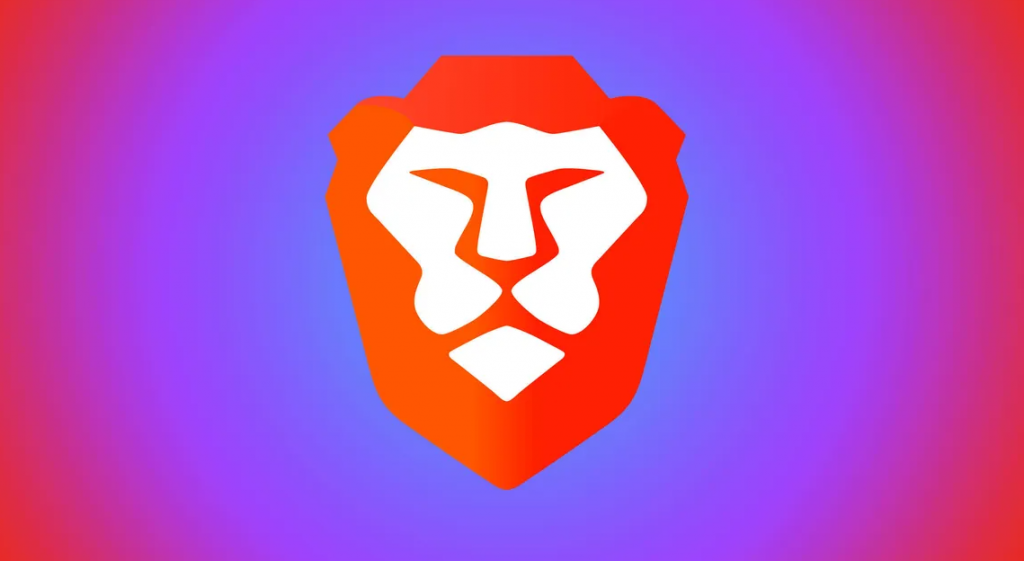 The free Brave Browser also uses Chromium technology and works as fast as Chrome. It also has built-in tracking protection and lets you surf anonymously over the Tor network. Until 2018, Brave Software developed its own user interface while simultaneously running Google's rendering engine. After months of coordination with the open source project Chromium, it was finally agreed to adopt their UI as well.
Brave, like many other alternative web browsers, relies on chromium technology under the hood, and that has two main benefits, fast performance and excellent support for modern web standards. But Brave has much more to offer, especially for users who care about privacy.
Here is a full Brave Browser review. Plus, read more about how does Brave cope against Firefox and who wins the battle between Brave and Google Chrome.
Security
---
The Brave Browser comes with a number of security shields that are primarily designed to protect your privacy while surfing.
The integrated ad blocker prevents ads based on tracking by third parties. Unfortunately, the motto here is: All or nothing! The feature cannot be configured individually, which means that you cannot, for example, define explicit exceptions for certain websites.
The program enforces a secure, encrypted communication via SSL and performs the update automatically if possible.
Third party cookies are blocked by default.
Private tabs block http links, scripts and tracking pixels.
Incognito mode provides support for the Tor network.
Synchronization feature makes your browsing history and bookmarks available on all your devices.
Default search engine is DDG
Privacy
---
A big difference to all other browsers is that Brave comes with a real private mode that lets you browse the internet anonymously. All you need to do is open a new tab with Tor support. Then all requests will be distributed through the Tor network.
Brave Rewards
---
Brave Rewards allows you to support your favorite sites with an amount of money you specify, even if the ad blocker is activated.
Many websites finance themselves mainly through advertising and can thus make their content available for free. By using an ad blocker you deprive such providers of their main source of income.
With "Brave Rewards" you can support your favourite websites with a freely selectable amount despite the activated ad blocker. The core of the system is the so-called "BAT" ("Basic Attention Token"), which rewards you with the cryptocurrency of the same name when you watch advertising. Brave then automatically distributes the tokens to the relevant pages depending on the time spent there. Alternatively, you can donate directly to a website or set a fixed monthly contribution.
The BAT system is deactivated by default and must be switched on manually. Without BAT, Brave is basically nothing else than a chromium-based browser with additional protection functions against advertising and tracking.
Buy crypto directly from Brave Browser
---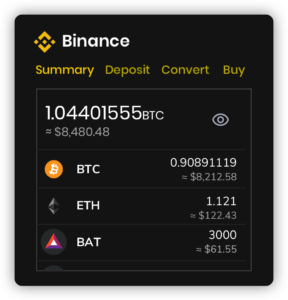 In April 2020, Brave desktop browser update (version 1.8) came out with a brand new feature: a Binance widget, the first exchange-browser integration of its kind.
The Binance widget can be accessed from the New Tab page in the Brave desktop browser. The widget has several functions for managing, buying, and trading cryptocurrency:
Summary: Overview of your Binance account balance
Deposit: All supported assets in the account where you can search for specific assets, and viewing fiat value
Convert: Easy conversion from one asset to another
Buy: Buy and sell crypto assets (Purchases are reflected in the Binance widget shortly after they have concluded)
Speed
---
Besides the protection of privacy, the Brave Browser is especially impressive when it comes to speed. By blocking advertisements, Internet pages load faster. This was also confirmed in our test.
For this we opened various news sites and shopping portals via Google Chrome, Mozilla Firefox, Opera GX, Apple Safari and the Brave Browser. The latter was around twice as fast as the competition in terms of loading times (while official Brave website claims that it can beat its rivals with up to 6x better loading times). And browser games such as Settlers Online or League of Angels also work with the Brave Browser as usual and without restrictions.
More efficient RAM usage
---
Chrome is known as a RAM scavenger, but Brave saves memory mainly thanks to the ad blocker and a few little tricks. The blocking of ads also leads to slightly faster loading times of web pages, but this is not always noticeable.
Extensions
---
Unlike Epic Browsers, Brave does offer support for all extensions from Chrome Store which is a huge usability plus for Brave in comparison to Epic Privacy Browser. You can also easily sync all your bookmarks, settings, passwords plus you can trade crypto directly from the Brave Browser thanks to their latest update where they integrated Binance exchange interface into the browser.
For more information, visit Brave Browser.
DuckDuckGo Browser Overview
---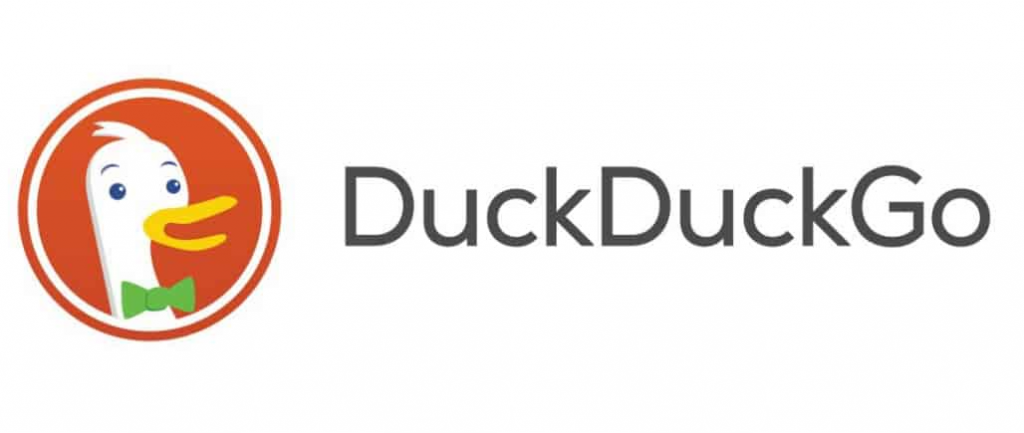 The DuckDuckGo website has long been a niche search engine where only most savvy internet users go to protect their privacy from the eyes of the Big Brother – Google.
The privacy focused search engine recently branched out and made an extension available for Firefox, Safari and Chrome, which allows private search, tracker network blocking and smart encryption.
The DuckDuckGo browser extension also rates websites you visit, giving them privacy grades from A to F when you visit a website. This quickly informs you how well your privacy is protected on any given site.
The grade is calculated on the presence of hidden tracker networks, the website's privacy practices and its available encryption.
In addition to the browser extension, DuckDuckGo has also released a new version of their mobile private search app for iOS and Android devices.
The DuckDuckGo browser extension is available for Firefox, Safari and Chrome.
For more information, visit the DuckDuckGo website.

DuckDuckGo vs Brave vs Epic Privacy Browser Comparison – Final verdict
---
So there is the rundown of these three private browsers: Epic Browser vs Brave vs DuckDuckGo.
They are all pretty similar in their approach and mantra: block and delete everything you can so the user can enjoy faster and safer browsing. However, Brave goes one, or even two, steps further with their cryptocurrency dimension plus a better usability over Epic Privacy due to their support for all extensions from Chrome Store.
In comparison to DuckDuckGo browser, Brave comes on top thanks to their broad support for all platforms and operating systems. DDG Browser on the other side only focuses on mobile platforms and neglects the desktop run OS.

CaptainAltcoin's writers and guest post authors may or may not have a vested interest in any of the mentioned projects and businesses. None of the content on CaptainAltcoin is investment advice nor is it a replacement for advice from a certified financial planner. The views expressed in this article are those of the author and do not necessarily reflect the official policy or position of CaptainAltcoin.com