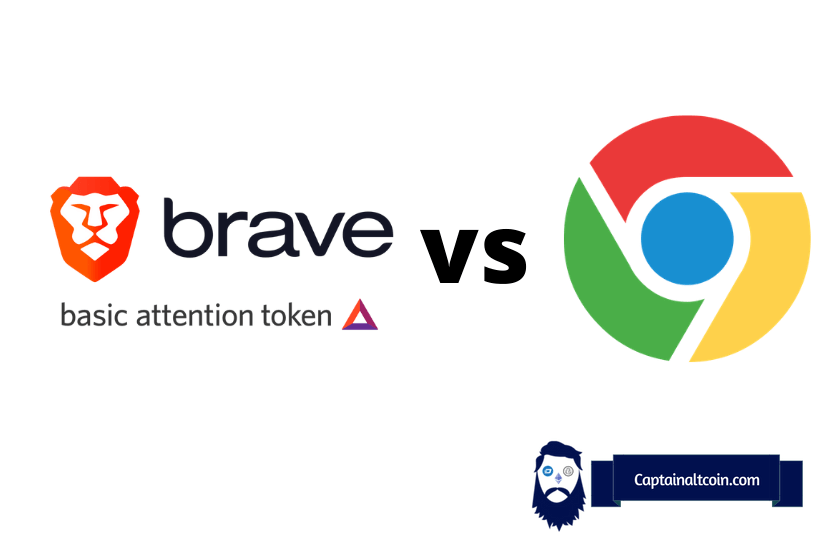 As of today, the Google Chrome browser still controls around 65 to 70% of the market share. But that seems to be changing rapidly.
I've been following the development and the growth of the new Brave browser over the past couple of years. I have recently done a deep dive into the browser to figure out what's better: Chrome or Brave.
In this head-to-head comparison, we are going to go over a variety of different attributes. First and foremost, we're going to go over a UX UI, we're going to go over performance, we're going to go over features.
We'll talk about some common myths and misconceptions about the Brave browser.
If you're new to Brave, let's quickly talk about what this browser is all about, and why it's gaining in popularity so quickly.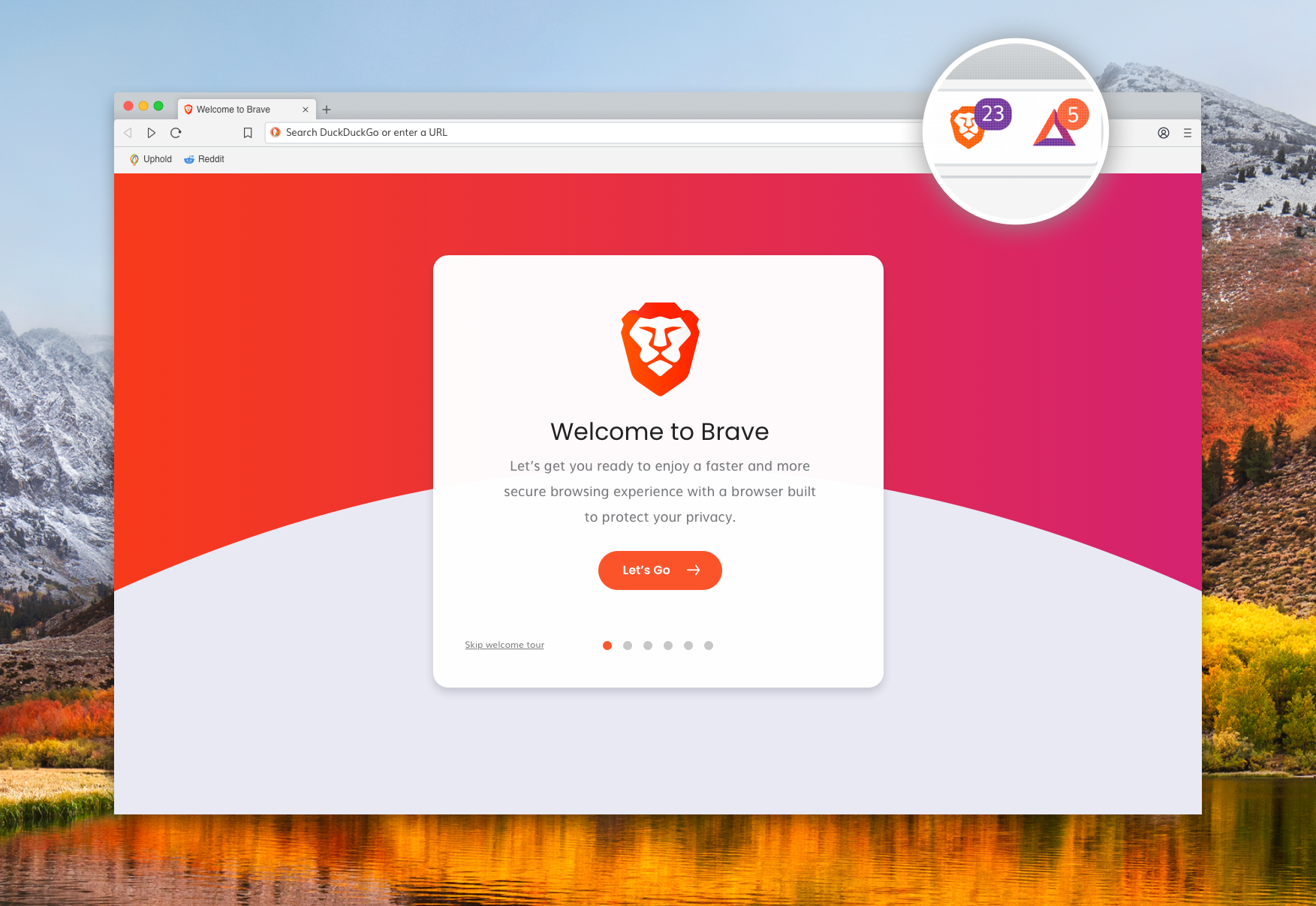 What is the whole deal with Brave Browser?
---
Brave is a privacy-focused browser that's meant to be faster and more efficient than other browsers. It is also implementing and testing a new economic model that helps users and creators interact with each other in a closer and more transparent way. This is huge because big companies like Google and Facebook have been exploiting our data without being transparent about it.
You can read a full examination of Brave in our separate review.
And while you are at it, read also our Brave vs Firefox comparison to see who comes on top in that battle. Last but not least, here is a Brave comparison against DuckDuckGo and Epic Privacy browser in a private web browsers battle.
One of the biggest objections that people usually have when they think about changing browsers is they are used to their old browser and it works fine. They are worried about their bookmarks and extensions, password manager, etc.
One thing that's nice about Brave is it's actually built on chromium, which is the baseline to Chrome. Except Brave doesn't have all of Google's spyware. So it looks and feels very, very similar to Chrome.
And you will be able to import and use all of your bookmarks and password manager to make a seamless transition.
Chrome vs Brave – Speed and Boot up Time
---
Brave claims to be able to load pages three to six times faster and there have been a lot of people that have run speed tests that confirm that. I can say my own experience, I feel like Brave is a lot lighter and faster than Chrome.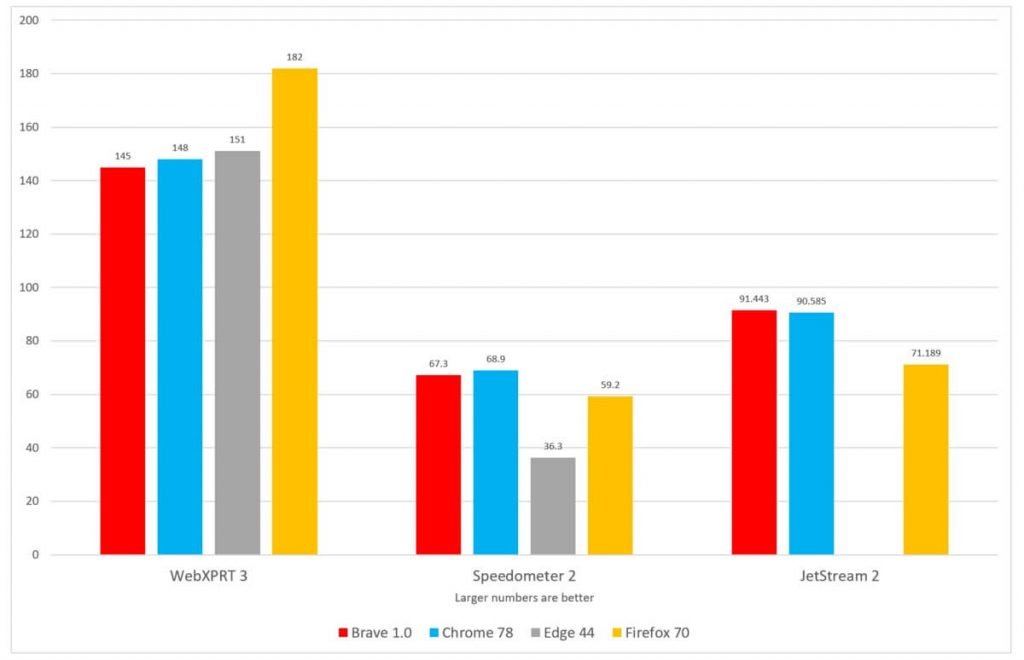 Because of a lot of the extra extensions that I would have to load into Chrome for privacy stuff, a lot of those tools are actually built natively into the Brave browser, for example, a lot of the adblocking stuff, HTTPS, just all of the things that really are important for browsing in today's world are natively built into Brave.
The reason for the fact that Brave is faster is because the ads themselves do not have to load on the Brave side. You could obviously get this same sort of feature with adblocking on Chrome, but it is not native to the browser. So that's one thing to note.
Boot uptime.
Similar situation as with opening speed – Brave boots up a bit faster and re-opens existing tabs before Chrome does.
Brave vs Chrome – Privacy
---
Another thing that is just huge is Brave has built-in privacy windows, with Tor. Tor is the best way to browse anonymously on the web.
Of course, Brave has a built-in ad blocker so you don't need an extension to stop those pestering ads from popping up (but please do note that legit businesses need funds for their work so allowing ads on your favorite sites that deserve it is worth considering).
Brave Browser makes a point out of the fact that they annihilate all trackers and third-party spy cookies while Google Chrome is essentially a trojan horse that Google planted into the computers of billions of users – it sucks up as much information as possible to send it over to Google servers which are then processed by AI algorithms to serve you surgically precise ads and empty your pockets on a whim.
Brave has done its homework on practicality. The browser looks modern and neat, there is a dark mode and it is easy to use. There is an automatic tracking protection feature that makes Brave similar to Firefox and also the new Edge, but it uses its own implementation called Brave Shields.


Additionally, this technology also blocks advertising. But you can remove it from individual pages by clicking on the lion icon in the address bar. Third-party cookies are also blocked by default and DuckDuckGo is set as the default search engine.
Brave Shields also forces sites to use HTTPS and thus makes it harder for those on your network to intercept and interfere with the content you visit which is especially useful when you are on public Wi-Fi hotspots, like those found in airports, cafés, waiting rooms, etc. Although upgrading to SSL isn't a silver bullet against all security and privacy, it's a pretty significant security upgrade.
Chrome vs Brave: CPU and RAM Usage
---
If we open the task manager and compare the RAM usage for both browsers you can see right away that the memory is not even close. Brave uses almost 3x less RAM than Chrome. Granted, Brave is using more power, it seems and I'm sure that's because it's using more CPU than it is using random access memory. The CPU is going to go up, as some websites are not optimized for Brave and that's just one of the problems that you see. But if you notice CPU is causing a problem, just modify your shield settings on Brave.
If you compare Brave vs Chrome RAM usage, Google Chrome is a very RAM-hungry browser, and I've never seen it open with less than 600 megabytes per RAM of usage. So in that case, Brave is also going to get a win.
It's interesting to note that Brave actually uses the same architecture as Chrome does – the open-source chromium architecture, however, the Google stuff that goes on behind the scenes, the tracking and all data inputs and outputs, maybe some of the machine learning inputs and outputs, those things are not happening in Brave because there is no connection out to the Google servers, nor is there a connection for your personal information into the Brave servers, your information is protected. That's a big contributing factor for Brave's better performance. They've stripped back to the chromium architecture to its bare bones for the UX and the UI, but not for the performance-hungry aspect.
Brave vs Chrome: User Interface
---
The user interface is almost identical to that of Google Chrome. You'll notice that Google Chrome's address bar is significantly wider and some of the buttons (home, bookmarks) are shuffled around a bit.
The menu options are also almost exactly the same with minor UI differences. But all in all, it's very similar because obviously, the chromium architecture is the base for both of these browsers.
Brave vs Chrome: Features
---
In terms of features both the Brave browser and Chrome have made significant strides over the last several years to introduce different functionalities to the browser itself. And one of the most important things to the Chrome ecosystem has been the introduction of Chrome extensions. Chrome extensions are basically browser plugins that you can use on your browser to introduce different functionalities to your browser itself.
The great thing about Brave is that it supports all Chrome extensions, you just download and install them as if you were using Chrome. This runs natively on the Brave browser just like it does on Chrome.
⚡️ A feature, of course, that we have to talk about is the fact that Chrome does not have native control over all of these different aspects and different things that you can use on the web. So in Chrome, you can't natively block trackers, you can't natively block in general ads and other things. You can't block cookies either – non of this works without adding an extension to Chrome.
All of these features are been put into Brave browser natively. And native code in my opinion is always better. It just runs better and runs cleaner.
Furthermore, obviously the introduction of the BAT ecosystem where you can send tips, you can receive basic attention tokens, and even go in and earn money for watching ads.
Another cool feature you get and Brave is social media blocking. So you can go in and turn off Facebook logins, in turn, off, embedded posts, Google logins, all the single sign-on options. And you can also block embedded posts, in blogs, on websites, etc. Because social media is now becoming very much like an app. as well.
Brave Rewards
---
Let's talk about Brave rewards, which is the economic model that Brave is currently testing on the world right now. The old-school economic model of how the internet makes money today, based on data mining and ads is just not right.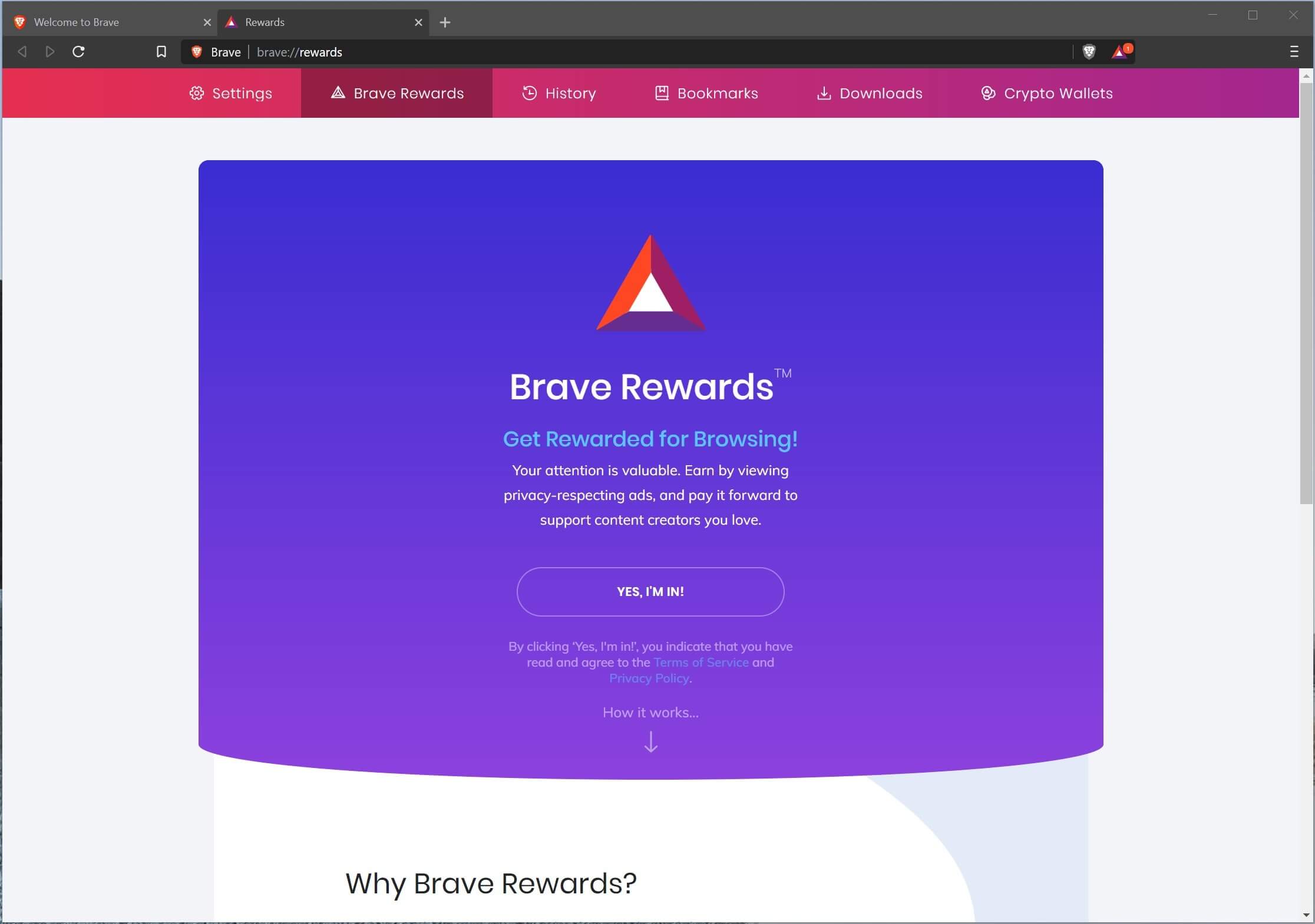 That is the core idea behind Brave – it is a move of trying to redefine and really democratize how ads work and how users get compensated and how content creators get compensated.
The two main ways that Brave rewards work:
as a user, you can actually get paid Basic Attention Tokens or BAT, which is Braves native crypto token.
as a content creator, you can get tips or monthly automatic contributions from other people that are using the Brave browser.
It is easy to turn Brave Rewards on – just go to Settings, then Brave rewards tabs – this is where you can either choose to turn on ads, so you can actually get paid to view ads or if you don't want to, you can just turn those off. You can also set up a wallet.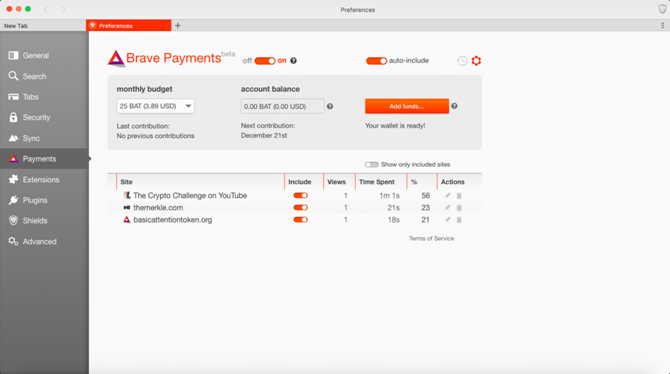 Testing new economic models like this is so important, because it gives power and controls back to you and me, creators and users, and we can directly contribute to each other without having that Google or that Facebook intermediary.
One drawback of Brave is the fact that it has integration with Uphold, which is a centralized company that holds your tokens and that you'll manage the rewards program through. It would be great to see a more decentralized option for people to use, in the future. But all in all, I think the Brave rewards ecosystem is definitely a step in the right direction.
The idea behind the token is you want to earn rewards, and then contribute back to creators, and the better that ecosystem becomes, the stronger the browser and its token become. The concept fails if everybody just tries to hoard it and get rich with price appreciation. If nobody's using the token, then it very well could fail.
Buy crypto directly from Brave Browser
---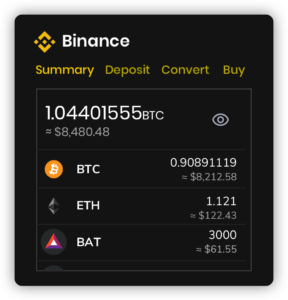 In April 2020, Brave desktop browser update (version 1.8) came out with a brand new feature: a Binance widget, the first exchange-browser integration of its kind.
The Binance widget can be accessed from the New Tab page in the Brave desktop browser. The widget has several functions for managing, buying, and trading cryptocurrency:
Summary: Overview of your Binance account balance
Deposit: All supported assets in the account where you can search for specific assets, and view fiat value
Convert: Easy conversion from one asset to another
Buy: Buy and sell crypto assets (Purchases are reflected in the Binance widget shortly after they have concluded)
How to get started with Brave Browser?
---
Getting set up with the Brave browser is pretty simple.
Step one, you download it.
Step two, you import your bookmarks.
Step three, you add any extensions that you previously had in Chrome.
And then step four is if you want to participate in the rewards program. You set up a wallet, you fund it, if you want to contribute, you turn on ads if you want to earn rewards from watching or viewing ads. And that's basically it.
Brave vs Chrome: Conclusion
---
Overall, I think head-to-head Brave has a little better performance. While it does have some bugs. And there are still some things that have to be worked out in terms of specific website functionality. I think Brave has a bunch of things that Chrome just can't compete with. And it goes a lot further than just the ability to block trackers and block ads because you can add an extension to Chrome to do that.
The ability to have a more efficient browser, the ability to have a browser that has a Basic attention token cryptocurrency ecosystem built in something that gives you full control and doesn't abuse you like Chrome often does.

CaptainAltcoin's writers and guest post authors may or may not have a vested interest in any of the mentioned projects and businesses. None of the content on CaptainAltcoin is investment advice nor is it a replacement for advice from a certified financial planner. The views expressed in this article are those of the author and do not necessarily reflect the official policy or position of CaptainAltcoin.com