Beaxy Exchange Review: Complete Beginners Guide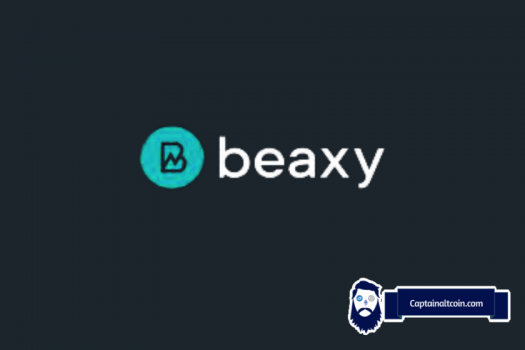 Beaxy Exchange Review: Complete Beginners Guide
Great Customer Support
Secure Platform
Intuitive User Interface
Lifetime Referral Program
Staking Program / Loyalty Rewards Program
Launched in June 2019, Beaxy is a new cryptocurrency exchange that aims to get ahead of its competition by offering unmatched security, performance, and superior tech. Referral programs, low trading fees, 24/7 support and options to customize the trading experience are also positive.
The platform aims to provide traders with a comprehensive service that appeals to both newer traders and more experienced participants.
The company is registered in St. Kitts & Nevis in the Caribbean Island, but also has offices in Chicago and Illinois. However, the company is actively researching the opportunities to be registered in Malta or Gibraltrar.
The team behind the platform, lead by CEO Artak Hamazaspyan and CTO Mittal Patel, has proven very transparent. Beaxy also incorporates its native BXY token, allowing users to participate in staking to receive a 50% discount on trading fees. BXY token itself is an ERC 20 token and gives users of the platform many other benefits, such as loyalty rewards and coin staking.
The project held an Initial Coin Offering (ICO) which ran until September 2018 with an excellent amount raised equaling $3 million. This exchange is available in 185 countries and 43 United States states and offers a referral program, which allows you to refer friends to the exchange and receive 10% of their trading fees for their account's lifetime.
Beaxy has also secured an exclusive partnership with OneMarketData, a leading provider of software solutions for the financial industry (Bloomberg, Scottrade, CreditSuisse, and more), to provide stock market exchange level order book and matching data systems, which will allow the platform to service more than 20 different order types, including limits, stops, trailing orders, OSO, and more.
It's also important to note that Beaxy will have an exclusive partnership with OneTick, its flagship software, a comprehensive suite for time-series data management, real-time event processing, and analytics. This means that no other crypto exchange will have access to this technology.
Beaxy Team
---
The Beaxy team is already pretty big and has 25 full-time employees and 25+ halftime contributors all over the world. The exchange team contains CEO Artak Hamazaspyan, CTO Mittal Patel, COO John Galvagno, and Director of Engineering Federico Almaraz.
The team members have assisted multiple conferences and are actively engaging with their users on social media. Artak has prior experience in leading a business and he has worked 10 years in software development with experience in C#, ASP.NET MVC, WebForms, C++, HTML, CSS, XML, JavaScript, JQuery, ExtJS and many other JS based libraries with databases, such as SQLSERVER, MySQL, Cassandra, Redis, MemCache, and MongoDB. Mittal is a full stack developer that has worked for IBM software labs as a Rational Product Developer for 4 years.
She specializes in developing low latency enterprise applications with extensive experience in Agile methodologies. She also has over 10 years of experience with technologies like Core Java, J2EE, AngularJS, JavaScript, Hibernet, and RESTful Web Services. Federico Almaraz is a perfect fit to be Beaxy's Director of Engineering since he has a remarkable 17 years of experience designing software, 10+ years of experience developing financial commercial software focused on security and high availability and 8+ years leading software development teams.
In 2019, the company announced that Nick Murphy and Bay Abbott had been appointed as Directors and co-presidents. Nick Murphy was the long-time Head of Operations for the platform and had been involved in all aspects of running the exchange. Bay Abbott is the Head of Partnership and any listing considerations are his responsibility. Other members of the team are:
Christopher Bethman – Senior Software Developer
Marcus McCurdy – Data Scientist
Nitesh Kumar – Software Engineer
Suyog Sakegaonkar – QA Engineer
Narine Khachatryan – Co-founder , Project Manager
Thomas J. Wilson – Director of Public Relations
Gayane Yepremyan – Graphic Designer
Marine Ghandilyan – Co-Founder, Lead of Legal Team
Stephen Silver – Attorney at Law
Jared Koreski – Director of Customer Experience
Martin Ludvigsen – Customer Support Administrator
Tyler Neelis – Customer Support Administrator
Darren Skepper – Customer Support Administrator
Kelechi Osuji – Customer Support Administrator
How to Get Started on Beaxy
---
Follow the steps below to trade one Beaxy:
1. Sign-up and create account
The first step to start trading on the Beaxy Exchange is to head to the official site https://www.beaxy.com/ and click on the "Register" tab. After that, you will need to type in your full name, email, password, and date of birth.
After accepting the Terms and Conditions and clicking "Sign Up", you will automatically receive a confirmation email with a verification link. After clicking on the link, you will be asked to log into your account.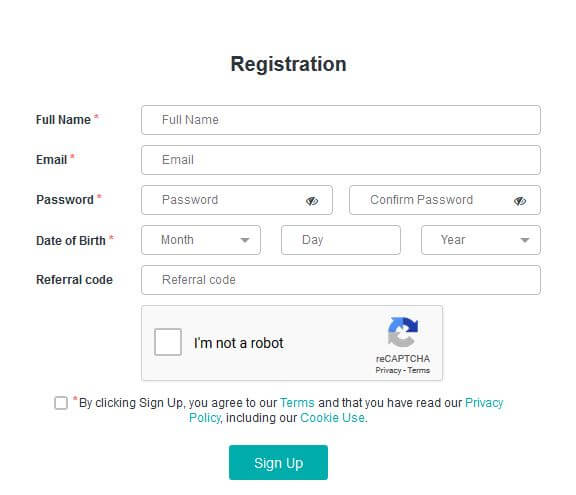 2) Submit your Identification
The next step is to log into your Beaxy account and pass the identity verification process. In order to trade on Beaxy, all users have to pass KYC. Once the team has approved you, you become a standard user and can withdraw up to 30 BTC worth of cryptos per day from any combination of their wallets. The KYC process is very straightforward and much easier to follow and comply with than the KYC-procedures at other major crypto exchanges. To start the KYC verification process, click on your "user" tab on the top right of the page and look for the "KYC" button.
Now, select your country of residence and also submit a picture of your National ID, driving license or passport. Those people who are submitting a National ID or driving license, will have to take a picture of both sides of the document. Also, users based in the USA must use a valid driver's license or state ID. They cannot use a passport for verification due to state-specific laws. Before uploading the document, you will need to select the country your document was issued in.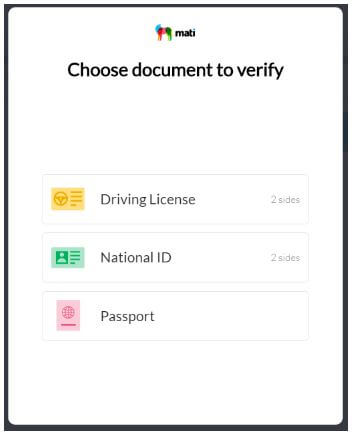 Finally, after you upload your document you will have to take a short video of yourself to show that you are indeed the person on the identity document you submitted. In the video you will be asked to make two circles with your head, with each rotation lasting about three seconds long.
Once you completed the above steps, you will have to wait until you receive a notification that your documents have been approved, which might take up to a couple of hours.
However, those looking to be active traders on Beaxy exchange can stake their BXY tokens to upgrade their accounts. There are 5 different tiers for User Account Status as follows:
Standard Account (30 BTC) – Default tier when registering for Beaxy exchange. No staking.
Silver Account (60 BTC) – Earned by staking 50,000 BXY and yields a 10% discount on trading fees.
Gold Account (100 BTC) – Earned by staking 150,000 BXY and yields a 15% discount on trading fees.
Platinum Account (200 BTC) – Earned by staking 500,000 BXY and yields a 20% discount on trading fees.
Diamond Account (500 BTC) – Earned by staking 1,000,000 BXY and yields a 25% discount on trading fees.
3) Deposit Funds
Now it's time to deposit the funds that you want to trade with. To deposit funds on Beaxy, click on the "My wallets" tab at the top right of the screen, and select your preferred currency. After that, click on the + icon next to it, which will expand the list of wallets you have for this currency.
The wallet columns include the Wallet Name, Available Balance, Reserved Balance, Locked Balance, Pending and Total Balance and the Is Default feature. The first time you deposit into a wallet, you will have to generate the wallet first. To do so, simply click "Generate address".
After generating an address, you'll see the standard QR code and alphanumeric string. Either of these two features can be used to transfer funds from an existing wallet. Beaxy allows you to have multiple wallets for each currency. However, your funds will only be deposited to the wallet set as default, and you can then transfer freely between your internal wallets.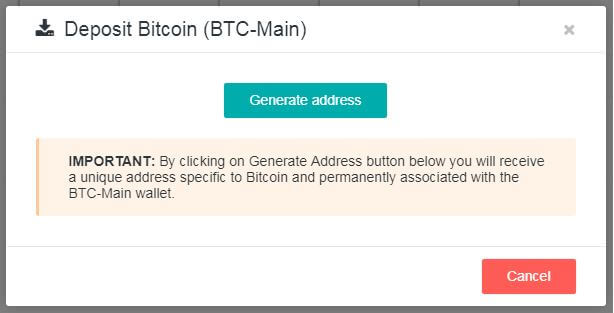 4. Start trading
After your transfers have been confirmed by the network and Beaxy displays your wallet's funds, you are free to trade on the exchange. To start trading, you can either also directly select the coin you want to trade in the drop-down menu on the left of the notification bell click on the "Beaxy logo" at the upper left part of the exchange to be redirected to the homepage or you can click on the "Beaxy logo" at the upper left part of the exchange to be redirected to the homepage.
Beaxy offers several different order types in addition to regular limit and market orders, including Limit IOC, Limit FOK, Take Profit, and more.
Supported Currencies
---
Beaxy Exchange has 22 coins listed with a BTC pair and 3 coins listed with a USDC pair, including:
Bitcoin (BTC)
Ethereum (ETH)
Beaxy (BXY)
Litecoin (LTC)
Ethereum Classic (ETC)
Monero (XMR)
Zcash (ZEC)
NEO (NEO)
Ripple (XRP)
EOS (EOS)
WAVES (WAVES)
DASH (DASH)
USD Coin (USDC)
Pundi X (NPXS)
ICON (ICX)
OmiseGO (OMG)
Polymath (POLY)
DragonChain (DRGN)
0x (ZRX)
Basic Attention Token (BAT)
AION (AION)
Metal (MTL)
Blockparty (BOXX)
Bitcoin Cash ABC (BCH ABC)
Beaxy Customer Support
---
Beaxy offers its users superb customer support. The platform provides 24/7 support to their users with live chat and an AI bot, which is especially valuable when a critical issue arises. There are also further resources aimed at newer traders such as the FAQ section and Knowledge Base, and the team is active on social media. It can be contacted across their different channels, including their Telegram group, Discord server, and Twitter account.
Beaxy's customer support also includes a massive Help Center where you can find tens of valuable articles explaining how exactly to use the exchange. Users are encouraged to first check their Help Center if a question arises. However, if you can't find an answer then just head straight over to their support ticket form or live chat and they will give you an instant answer.


Beaxy Fees
---
Beaxy offers its users an extremely attractive fee structure. The fees on the Beaxy exchange are fixed at 0.2% of whatever you deposit, however, the BXY token allows users to reduce their fees by up to 50%. There is also an option to earn a portion of trading fees by locking up PLS tokens and onboarding friends onto the platform via the referral program. There is also another way to get discounted trading because with the staking program, you will have the option to lock up some of your BXY tokens to receive a discounted trading fee.
As I already said, the Beaxy platform is powered by a token called BXY, which provides access to premium add-on tools such as custom SMS alerts, premium TradingView charting, access to the coin staking and loyalty reward programs and to purchases on the coming Beaxy App Store. It's also worth noting that Beaxy operates a loyalty reward program that incorporates the PLUS Token (PLS), an exclusive token to the Beaxy exchange. You can only trade your BXY tokens for this token and when you receive it you can lock them up for a certain time, which will get you a percentage of your trading fees back.
Beaxy Security
---
Security measures are one of the most important factors you should be looking at when choosing an exchange. The Beaxy team place security at the forefront of their priorities and the security protocols within the exchange are extremely effective and leave your account protected in many ways. The exchange uses two-factor authentication (2FA) and is compatible with both Google and Authy Authenticators. The platform is also pioneering a security practice known as "IP whitelisting", a system that can even protect users that have added their username and password into a Beaxy phishing site by blocking an attacker if his IP does not match the one of the actual owners of the account.
They also track the date since your most recent password change and emails can be generated for nearly any action if you so choose to provide peace of mind. The team also declares that requirements on the platform are according to PCI-DSS and ENISA safety requirements. Also, the funds are stored in multiple cold wallets distributed across dozens of secret geographic locations worldwide, which makes it essentially impossible for a criminal to compromise all of the exchange's funds. Beaxy has partnered with SaaS corporate Mati for KYC and all KYC documents submitted to Beaxy are encrypted and stored in AWS servers in the US.
One more thing worth noting is that Beaxy is in the final stage of discussions with Optiv, a cybersecurity giant. They are planning to provide penetration, cloud infrastructure, white box, black box, and many more tests to insure Beaxy's security.
With all that said, Beaxy does indeed follow top security practices, and offers security features that really bring the user peace of mind because they know that their assets are safe.
Beaxy Performance and Speed
---
The exchange makes use of high throughput and low latency database performance capabilities, and the Beaxy Exchange platform is built in-house utilizing the same technologies used by Bloomberg and Scottrade for high throughput, low latency database performance.
This technology can support hundreds of thousands of trades per second with less than a millisecond of latency, which is very fast when compared to other exchanges. However, like everything else, for this to really shine, you need actual trading volume. With over 100 trading pairs, Beaxy will have a maximum capacity of 22.5M tx/s.
Beaxy User Experience
---
Beaxy utilises a simple to use and intuitive UI, which is customizable and includes scrolling ticker settings for speed, visibility, and favorite pairs. There are both day and night modes available, making the trading panel easy on the eyes and presenting information and execution panels in a clean and easy-to-read manner. TradingView provides the price charts that are located in the center of the interface and provides a full range of technical indicators and various charting color options.
The integrated price charts are placed in the center of your browser, and at the top of the screen, there is a quick summary of important information such as the bid/ask spread, percentage change and volume updated in real-time. The order panel and trade history are placed on the left, while the right is reserved for the order book. You can find additional trading pairs at a handy drop-down menu, including a search bar for ease-of-access.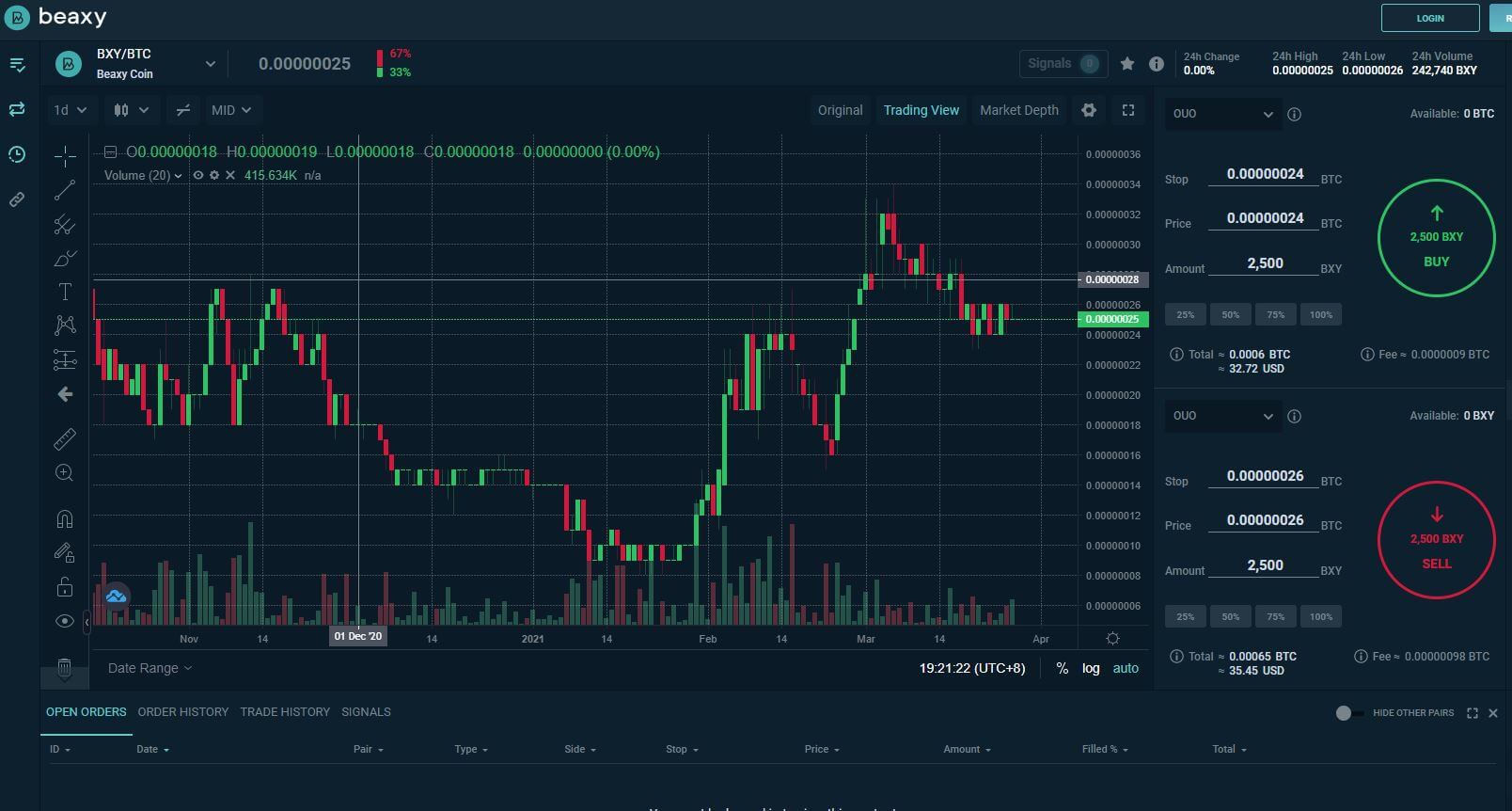 At the top of the interface are various important factors that can help you with your ongoing trades, including statistics like the volume, bid/ask spread and percentage changes. One of the best features is the calculator used to calculate the profits and losses of certain trades that you're thinking about making. The calculator is located at the top of the trading graph. There are also both the 'Buy' and 'Sell' tabs.
There are various explanations and tips on how to navigate the platform placed in easy to find locations. There are also various market orders available on Beaxy, such as Market, Limit, Post Only, Stop Loss, Stop Loss Limit, Limit IOC, Limit FOK, Take Profit, and Take Profit Limit orders, which will impress more experienced crypto traders.
In the future, the team behind the platform aims to add some very interesting features, such as OTC trading capabilities, margin trading, and portfolio management. They will also be adding advanced order types as options, including choosing between trailing stops, "fill or kill" orders, orders that expire at a certain time and many others which traders with complex strategies will find extremely interesting.
Unfortunately, Beaxy currently does not have a mobile app.
BXY Coin
---
The Beaxy private sale started in June 2018, raising $3 million in funding. In total, Beaxy is selling 60% of the tokens and there is a soft cap of $4.2 million and a hard cap of $ 19 million USD.
BXY tokens are the main in-site currency and their value is to be set by the open market. They work to pay trading fees, access add-on tools, polls, surveys, purchasing Beaxy merchandise and other services. BXY tokens serve two main purposes – they can be used to reduce trading fees significantly or to claim a portion of the revenue generated by Beaxy itself. Meanwhile, the PLS token will only be awarded as part of the Loyalty Rewards Program, and BXY holders can swap their BXY for PLS tokens at a 1:1 rate. The program targets those holding PLS tokens on the Beaxy Exchange. They will receive a percentage of all transaction fees collected by the exchange based on the duration the PLS Tokens are locked. A user will need to hold tokens for at least a month to earn a 15% discount. On the other hand, if you lock the token for over six months, this percentage will increase by up to 25%.
Conclusion
---
Beaxy is a new exchange that looks to be one of the most promising up-and-coming exchanges on the market, bringing many new features and a high-performance trading engine to market with a smooth user interface. The platform is set out in a way that makes it easy for new users to get acquainted. The exchange also features the most advanced interface, data compilation, trading tools, and security measures to date.
Beaxy aims to become a leader in the crypto trading space and is best suited to people with a good understanding of trading digital assets and using exchanges. As Beaxy is still building its reputation and developing its user base, it offers an attractive fee structure and various incentives, which should prove successful in attracting users to the platform and improving the validity of the BXY token.
Beaxy Alternatives
Other crypto exchanges to check out:
Useful Links
---
PROS
Great Customer Support
Secure Platform
Intuitive User Interface
Lifetime Referral Program
Staking Program / Loyalty Rewards Program
CONS
No Mobile App
Obligatory KYC for All Users
Not Available to People from the US
New Platform

CaptainAltcoin's writers and guest post authors may or may not have a vested interest in any of the mentioned projects and businesses. None of the content on CaptainAltcoin is investment advice nor is it a replacement for advice from a certified financial planner. The views expressed in this article are those of the author and do not necessarily reflect the official policy or position of CaptainAltcoin.com