Yieldnodes Review – Is YieldNodes Legit Service Or Just Another Scam?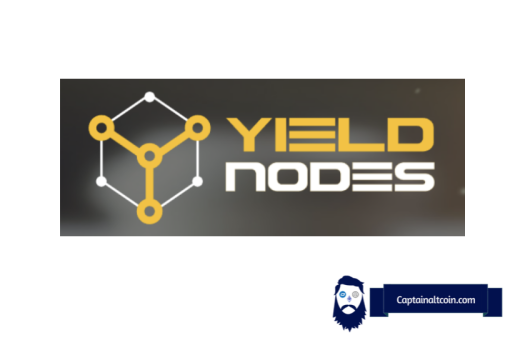 Yieldnodes Review – Is YieldNodes Legit Service Or Just Another Scam?
Beginner-friendly
High APYs
Completely passive
If you are looking for investment service platforms that offer passive income, you should definitely check out Yieldnodes.
Yieldnodes uses an advanced masternode rental program that is entirely based on the new blockchain economy.
Through masternoding and price gains, users can generate a decent amount of profit each month.
While Yieldnodes is still in its early development stages, it has already amassed a large number of users and gained a lot of traction in the community.
In this article, we will walk you through what Yieldnodes is, how it works, and explain all of its features in detail.
Let's dive in. Or just a sec before we do …
12/10/2022 Update
Another one bites the dust. It seems YieldNodes lost its battle to the bear market and we all lost money that is locked there. Their latest email is just a bad consolation and a bunch of shiny lies. We hope you heeded our advice not to overinvest and to take profits out as soon as possible, so you can mitigate or eliminate the risk for your principal investment.

What can you do now? Take it on the chin and move on.
Hunting for high APRs goes on and now that YieldNodes went down, a potential replacement for it that offers similarly high APRs is CakeDefi where you can get 25% APRs on their liquidity mining stablecoin pairs. Their model is a CeDefi – centralized-decentralized combo that simplifies access to DeFi protocols for beginners and tech non-savvy people.
What is YieldNodes?
---
Yieldnodes is a 'pay for service' system that brings the users a profit through a mathematical algorithm that incorporates masternoding.
It started out as a pure masternoding project, but it has changed into a hybrid of masternoding and staking. It grew through the acquisition of coins and partnerships and became more like a start-up in the process, with a lot of sub-projects and use cases that are being made right now.
Everything that is made goes into a pot, and each month, 85% goes to the participants and 15% goes to Yieldnodes.
To earn an income on Yieldnodes, users don't need any kind of knowledge of masternoding.
While creating a node and maintaining it is extremely technical, Yieldnodes cover the entire process and share profits with the users.
The developers behind Yieldnodes have been fully transparent with all the operations ever since they launched the platform in 2019, and the results are publicly released each month.
Key Features
---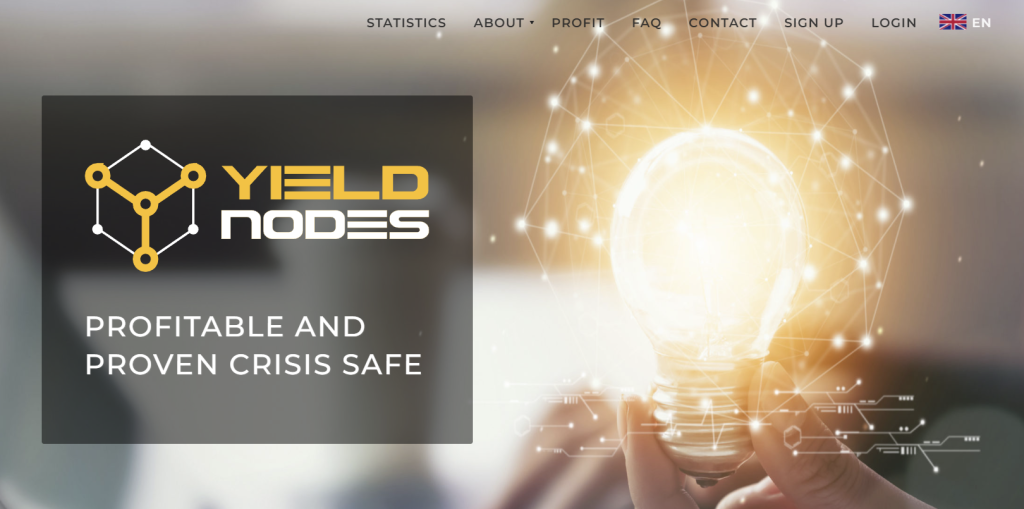 There are plenty of features that make Yieldnodes currently one of the most innovative investment services.
Let's check them out.
Masternoding
---
To grasp the concept of how Yieldnodes work, you first need to know what masternodes are and understand the process of masternoding.
Masternodes are network servers that have a completely different and unique status compared to other servers. They can offer innovative services, verify transactions, and help with network governance.
Once masternodes provide a certain service, they collect rewards in the form of fees. This results in an incentive structure similar to commissions.
To gain a 'node' status, masternodes have to stake coins – this process is fairly similar to putting money in escrow to collect rewards or getting a bank loan by offering collateral.
Masternoding is a great way to create passive income based on blockchain technology. However, there are a lot of risks associated with masternoding, especially if any part of it lacks functionality.
👉 In general, masternoding includes uploading a node, staking a ton of tokens, making specific configurations, and then connecting the full node to a network.
It is a useful way of generating blockchain-based income. Still, it can be challenging to navigate through, especially if one is a beginner.
For someone to set up masternodes on their own, it requires locking a specific currency and staking it. The number of tokens you would need to stake is typically extremely high and can cost thousands of dollars, while the rewards vary depending on the currency.
Yieldnodes streamline the whole process since users can join the investment pool that rents nodes and integrates a high-yield model.
Since you can use different node assets, investing in Yieldnodes is a much more affordable option than setting up nodes by yourself.
How does it work?
---
As we said, Yieldnodes work by integrating masternodes.
Through a large pool of investments, Yieldnodes offers users a chance to be a part of that pool and generate passive income through renting masternodes.
Even though this is a moderate-risk model, the platform has had a fair share of success in the past few years, despite the huge volatility of the crypto market.
YieldNodes Monthly Return
---
The average monthly return on Yieldnodes is approximately 10%. This is due to the great ROI that masternodes can receive using the proof of stake network model.
For comparison purposes, investing in real estate can generate an annual rate of 10% – Yieldnodes generates that in only one month.
The overall annual return was around an astounding 101% recently, which means that the users that chose the option of monthly compounding received a mind-blowing 265%.
👉 When the crypto market went through 'bull run' periods in recent months, users have even reported seeing massive returns of almost 20% a month.
Conversely, in situations where the market experiences crashes and the cryptos lose value, the returns can get a lot lower.
Although, even when Bitcoin lost 40% of its all-time high value in May 2021, users reported receiving a return of 7.9%.
The returns also depend a lot on the coin you lock in a masternode, you can find the full list of available coins and expected ROIs on their official website.
What Can You Do with YieldNodes Returns?
---
Once you receive your monthly yield, you can either choose to withdraw it, let the platform automatically compound it, or even both. That's one of the biggest advantages of Yieldnodes.
However, you should remember that even though you can withdraw the full yield amount, each deposit you make on the platform is locked for six months. This includes compounds as well since they are regarded as deposits. We will talk about this more in one of the following sections.
One other thing that makes Yieldnodes appealing is that they include an 'Emergency Contact' feature – you can add an email address of someone you know, so they get notified in case you don't login into the platform for a specific period.
How Does Yieldnodes Make Money?
---
Considering all of these great returns that users can receive, it's only natural to wonder how Yieldnodes makes money.
To put it simply, the platform generates a profit through the various masternoding activities and due to the fact that their ecosystem is rapidly evolving.
These activities even include exchange services and projects that Yieldnodes operates on the side (e.g., Sapphire and various third-party coins).
Exactly 15% of the profits that Yieldnodes generates go directly to them, while the remaining 85% is for the users.
Keep in mind that all of the return amounts are quoted once the platform gets its profit.
Does YieldNodes Allow US Residents to Join Their Platform?
---
Yieldnodes supports most countries around the world, and the list includes both the USA and the UK.
While joining the platform as a US resident is pretty much straightforward, the taxing part might be a bit confusing.
In the UK, revenue that comes from Yieldnodes is classified in the same way as mining, but it's best to consult a tax expert to make sure you are compliant with the rules in your own country.
Deposits & Withdrawals
---
We briefly mentioned how deposits and withdrawals work in one of our previous headings, but it's time we go into the details.
How Long Does it Take to Deposit?
---
Once you deposit funds into Yieldnodes, they are instantly converted into masternode coins.
As we said, creating masternodes requires locking up coins so the proof-of-stake model can recognize that your investment is trustworthy.
Generally, the locking process can last up to anywhere from six months to one year, which is why this type of investment has the longest waiting period. For instance, on the Ethereum blockchain, nodes lock up ETH for an entire year.
In Yieldnodes, your deposits are locked in for six months, and you can't withdraw them before that period has passed.
👉 All of the funds that enter the system are necessary for the platform to keep running the standard operations. Terminating masternodes is extremely time-consuming, which is also one of the reasons why a six-month waiting period is mandatory.
Each month, once you receive your 10% average monthly return, you will see your profits on the account balance on the 1st of each month, alongside your initial investment.
Additionally, the platform's team will explain all the details regarding the past month's return through an email. Sometimes, they might even include a video update.
How Long Does it Take to Withdraw?
---
Yieldnodes offers two types of withdrawals.
First, you can withdraw the complete amount you receive as a monthly profit (the profit is transferred to your account on the 1st of each month).
Next, you can withdraw your initial investment once the six-month lock period has passed.
Each time someone wants to withdraw funds, the platform has to dissolve the masternodes in which your funds are stored. This process can last up to a month.
Once the masternodes are dissolved, you can submit a request to withdraw the funds into a BTC wallet.
Users have reported being very satisfied with the way the team behind Yieldnodes moves the funds around the masternodes, stating that they always find the best way to return the investment.
Payment Methods
---
One of the great things about Yieldnodes is that you don't need any previous experience with cryptos or even actually own crypto to get started with the platform.
Yieldnodes allow users to make investments in fiat currencies like USD, GBP, EUR, and many more.
You can do this through a variety of payment methods, including Visa, Credit/Debit card, Mastercard, and Bank Wire. Once you transfer money from your bank, the platform exchanges the funds for cryptos and makes the investments for you.
Additionally, you can also deposit BTC or any other cryptocurrency through Coinify or Walleteze (the latter has lower fees).
Once Yieldnodes receives your deposit, it will take approximately one week for the funds to be converted into masternodes, after which you can begin earning.
Is Yieldnodes a Scam?
---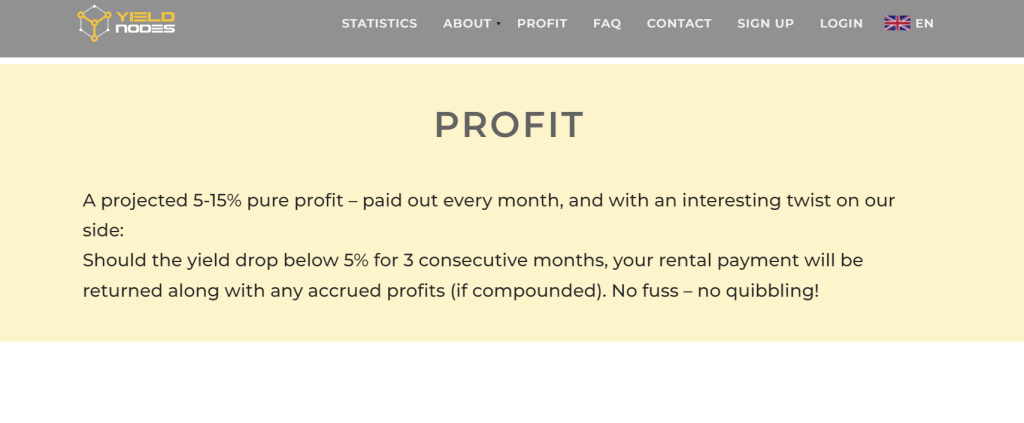 While there are some rumors stating that Yieldnodes is some form of an MLM or Ponzi scheme, there isn't any real evidence to support the claims.
From what we reviewed and analyzed, Yieldnodes is a completely legit platform with thousands of satisfied users and a transparent team behind it. This is confirmed even on platforms such as TrustPilot.
What's more, even though Yieldnodes still isn't regulated, it does perform frequent internal audits with a number of random investors that apply for it. We will talk about the audit process in detail in one of the following sections.
👉 The team behind Yieldnodes has made it clear many times that a 'clean name' is their top priority, and so far, they haven't strayed away from that principle.
One of the main things that were discovered during the audits was that the company is well-funded, which means both the compounds and deposits are in line with the working capital.
In other words, Yieldnodes is generating enough profit to share with the users and there is no indication that this company is some sort of scam.
How Trustworthy is Yieldnodes?
---
So far, Yieldnodes has proven to be a trustworthy platform for users wanting to invest money and get decent returns.
The founders are transparent in all of their activities and overall seem very genuine. Aside from inviting random investors to audit their work, they also have a lot of video appearances and notify users of any updates via email.
Yieldnodes still isn't regulated, but that's pretty much the case with most crypto and blockchain-related platforms since the market is still in very early stages.
Is Yieldnodes Safe?
---
While Yieldnodes is a legit and trustworthy platform, that doesn't mean that it's safe from risks. Just like any other investment service platform, there is bound to be some risk involved.
If you're not careful, even the funds in your wallet aren't completely safe. This is why it's always best to do your own research, see if the rewards outweigh the risks, and decide whether it's the right move to make a deposit.
In summary, you have to be able to trust the platform with your funds in order to receive a share of the profits. So far, there are thousands of users that seem very satisfied with their services.
How Are the Funds Stored and Protected?
---
Once a user's funds enter the system, they are automatically converted into masternode coins.
As we explained, creating a masternode requires locking up coins so the proof-of-stake model can validate the transaction.
All of the investments are relocated to an investor pool that is currently worth more than $10 million. Depending on how much profit is generated, users receive a monthly return once a month.
So in essence, funds are stored and protected via masternodes, which is one of the best ways to keep the money secure from hacking attempts due to the technology.
Check out similar services for passive income earning with DeFi/crypto – Crypto4Winners review and Freeway Supercharger review.
What Are the Risks of Yieldnodes?
---
When looking at Yieldnodes returns, they seem pretty much fixed, while the portfolio is well-balanced. These two things go a long way when it comes to mitigating risk.
However, because there is no capital guarantee, the users' funds are at a much higher risk.
Considering how volatile the cryptocurrency market is, there is always a chance that holding cryptos can go sideways. This is why a lot of investors choose to hold USD or EUR.
👉 If there were some kind of big crash to occur in the crypto market, both the net returns and investment values would be affected significantly.
Additionally, even a sudden decrease in cryptocurrency value combined with a large number of departures from the platform would make it harder for Yieldnodes to make payments and generate enough profit.
On the other hand, if the value of cryptocurrencies increases over time, it would make the returns much higher, and the investment would pay off big time.
Aside from these types of risks, there aren't many real downsides to using the platform.
The communication is great, users are satisfied, and the team is very straightforward and keeps their promises.
Something that Yieldnodes could use is a developed online community and an automated withdrawal system, but considering that the platform is still in the early development stages, we might expect these things in the future.
FAQs
---
PROS
Beginner-friendly
High APYs
Completely passive
CONS
Might face some problems with sustainability in the future

CaptainAltcoin's writers and guest post authors may or may not have a vested interest in any of the mentioned projects and businesses. None of the content on CaptainAltcoin is investment advice nor is it a replacement for advice from a certified financial planner. The views expressed in this article are those of the author and do not necessarily reflect the official policy or position of CaptainAltcoin.com