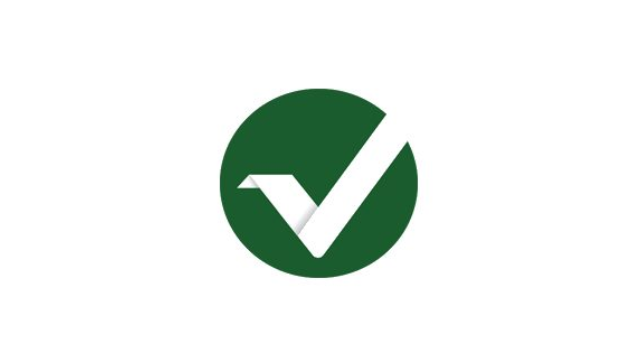 Vertcoin is a peer-to-peer cryptocurrency in the same vein as Bitcoin and Litecoin. Like its two predecessors, Vertcoin exists solely as a currency, and it uses the proof-of-work method of validating transactions, which means that you can use your system's computing power as a way to validate the network transactions. You receive some Vertcoins yourself as a reward for helping generate additional Vertcoins.
Unlike its two predecessors, however, Vertcoin is dedicated to keeping its mining functions decentralized, with the goal of being resistant to ASICs. This may seem like a minor change to some. However, it actually has much larger implications when it comes to the fair distribution, politics, and decentralization of the coin. Along these lines, Vertcoin also features its very own 1-click miner, which will allow users to put their computer to work when they are not using it.
How Vertcoin Works
Vertcoin's code is written to keep ASIC's away from mining the coin, which means that Vertcoin takes us back to the good old days when all you needed was a decent graphics card or your computer's processor to get into the mining game. Vertcoin believes everyone with a computer should be able to mine for it and join their network. The development team is wholly committed to keeping it that way, which ensures the long term security and fair distribution of the currency.
In the past, Vertcoin used the Scrypt-Adaptive-N algorithm for hashing, but since then, ASICs specific to Scrypt-N have surfaced, so the Vertcoin team had to start from the beginning.
On December 13th 2014, Vertcoin forked from Scrypt-Adaptive-N proof-of-work function to Lyra2RE and this new algorithm allowed the team to change memory usage and time cost independently, giving them more leverage against ASICs.
Then, on August 10, 2015, Vertcoin forked again. This time the team upgraded to Lyra2REv2. This update was necessary because a botnet was controlling 50% of the hashing power of the Vertcoin network.
The performance that the new Lyra2REv2 has is totally different than the original Lyra2RE algorithm. Instead of about 3000 KHS on the old one we are no up to about 14000 KHS reported by the miner on a GTX 980 Ti GPU. Lyra2rev2 has a good mix of compute intensive and memory intensive functions and so far it has done the trick to keep ASIC miners at bay. This means that the only viable mining hardware is either a GPU or CPU.
Vertcoin Additional Features
Vertcoin 1-Click Miner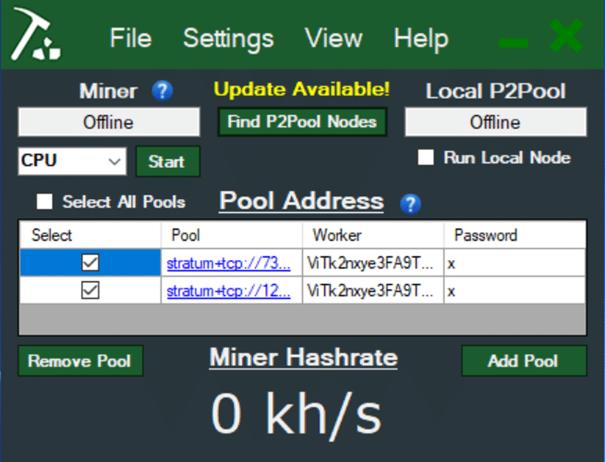 Another project currently in development is the 1-click miner, which is very convenient tool to help optimize computer usage and maximize income. It aims to provide a simple on/off style button, that when clicked, will turn on the mining software and turn it off again, which will be useful for those who want to mine while they are not using their machines. Simply click the button as you are getting up from the computer and it starts to mine automatically. When you sit back down to use your PC, simply click the off button and the mining software shuts down.
This software can easily be installed and configured to mine in just a few clicks. 1-Click miner can be downloaded on Vertcoin's website. Once you have it downloaded, you'll need to enter a wallet address for your mining rewards. After that, you'll need to select a mining pool to join, and designate whether you'll be mining with a GPU or CPU. After this basic setup, you'll be able to mine and earn Vertcoins when you don't use your computer.
Merged Mining
The only coin that is merge mineable with Vertcoin is MobileCash, which means that this feature is more theoretical than technical, but at least in theory, this feature allows miners to mine more than one blockchain at a time. The benefit is that every "hash" that a miner submits contributes to the total hash rate of both currencies, which results in solving cryptographic algorithms on both networks.
As I already said, this feature is more theoretical than technical, so I'm not sure how this would pan out on a larger mining network like Litecoin or Bitcoin's own.
The Vertcoin Team
Branding their project as "The people's coin," Vertcoin's team is constantly working to pursue advancements in blockchain technology.
James Lovejoy has been programming since the tender age of 10 and he started Vertcoin when he was still in high school. He is now an undergraduate researcher at MIT DCI and he works with his development team to improve the cryptocurrency. The team currently has 9 members from all over the globe, and they are highly active and always working on something. Other developers have experience in various programming languages, and some have even been in software engineering since 1998. They work in fields like physics, and have worked in cryptocurrency for years.
The entire team behind Vertcoin is made up of volunteers who work around the clock to ensure an open-source environment. The entire project works on 100% donations and anyone with an interest in the project is encouraged to donate or volunteer their time helping improve Vertcoin.
Vertcoin Support
There is a solid support team behind the token as well, which gives superior support to all users and those interested in the technology. It doesn't matter if you are a seasoned cryptocurrency fanatic or brand new to this wonderful world of digital currency and assets, the team is there to help and treats you just the same. Vertcoin support will take the time to help you in any way that they can, which says a lot about them, because nobody is paid for anything. As I already said, this is a completely volunteer based platform by people dedicated to their coin, so it's pretty spectacular as to how much free service that company gives away.
The community is pretty expansive and they have different channels on the social media networks. There are even more than 7,000 followers on Facebook alone, 25,000 on Reddit, over 55 thousand on Twitter, and Discord channel has 1393 active members. They have also just recently launched their own Instagram channel, as well.
History of Vertcoin
Vertcoin was launched in January of 2014, and like most cryptocurrencies, it started off promising, trading at just around $5.00. After a short four months the coins decreased in value until it settled into a steady price range of approximately $0.01 to $0.10. There were a couple spikes up to about $0.38 back in July of 2015 as well, but other than that Vertcoin had remained a cheap, penny cryptocurrency. And it all started to change in May 2017, when Vertcoin Tokens started climbing to a range of $0.20 and eventually all the way up to $1.60 each and then climbed all the way to $8.09 in a short period of just 11 days. However, prices retracted and fell approximately 30%, and it looked like it was just another spike. However, Vertcoin was not to be bullied by the bearish market and fought against the markets highs and lows until finally settling where it is now, at about $8.15.
The first halving of the block happened, and it happened at the perfect time and helped Vertcoin remain at such a high rate. Also, a lot of people supposedly benefitted from it.
Vertcoin Roadmap
The Vertcoin team is constantly working on something and they have a number of roadmap milestones slated for the coming year, including:
Implementing off-chain Atomic Swaps, which will allowfor the ability to transact with other blockchains in a decentralized way that is also direct. It is coming soon between Litecoin and Vertcoin and if this goes well it could cause significant gains in the price of Vertcoin.
Implementing Lightning Network transactions, which will make scalability very realistic, complete with instant blockchain transactions. It also means that the network will be able handle a tremendous amount of capacity by moving the bulk of transactions off of the blockchain for faster processing.
Introducing stealth address as a part of the merkelized abstract syntax tree(MAST) addition and the goal is to allow for completely anonymous transactions on a public ledger. Stealth addresses were actually already enabled and running on the Vertcoin network. However, they were removed until certain improvements could be made.
Working closely with SatoshiLabs to integrate Vertcoin into the TREZOR 2 hardware wallet, developing a mobile and browser wallet, and expanding exchange support
How to Buy Vertcoin?
The easiest way to buy Vertcoin is with Bitcoin. Once you have some coins, just trade Bitcoin for Vertcoin on one of these crypto exchanges – Poloniex, Bittrex, BleuTrade, SouthXchange, Shapeshift, Yobit, and Coinigi, where Bittrex and Poloniex dominate the market, accounting for 74.21% 21.47% of Vertcoin's 24hr volume, respectively.
LiteBit, Europe's biggest exchange, has a VTC/EUR trading pair. However, this only accounts for 0.61% of total trading volume. Bittylicious, cheap and easy way to purchase Bitcoins in the UK using a UK bank transfer, offers GBP and EUR trading pairs. However, these both account for even less trading than LiteBit.eu.
How to Store Vertcoin?
Vertcoin offers wallets to download from the official website, and there are versions available for Windows, Mac, and Linux. Once you've done that, you can now send and receive Vertcoins ($VTC), and after a transaction is made, funds should clear within 5 minutes. There is a small fee to help with the upkeep of the network, which is incredibly small, and transferring 100VTC will only lead to a fee of around 0.001VTC.
However, if you fancy a hardware wallet, the Ledger Nano S has you covered, and for mobile wallets, Coinomi offers Vertcoin support.
Conclusion
Vertcoin has lots of interesting features and has increased in value a staggering 20,000% over the past year. So far, the Vertcoin team has stayed on top of updating Vertcoin's core software to ensure that the currency remains ASIC resistant, which means that this cryptocurrency is more accessible to the wider audience and gives users access to more features instead of just paying for overpriced ASIC hardware. This coin will not stay in the shadows for long and this is a great chance to get involved with a great cryptocurrency, great community and great all-around experience within the cryptocurrency world. Vertcoin is also a coin that frequently adds major updates, which shows that it's not a stagnant cryptocurrency and it will continue to adjust in order to attract more potential miners.
It's a great time to get involved with the coin and cryptocurrency in general and Vertcoin sure does have all the correct ingredients that a recipe for success calls for.
Useful Links
How to buy it?

Where to store it?

CaptainAltcoin's writers and guest post authors may or may not have a vested interest in any of the mentioned projects and businesses. None of the content on CaptainAltcoin is investment advice nor is it a replacement for advice from a certified financial planner. The views expressed in this article are those of the author and do not necessarily reflect the official policy or position of CaptainAltcoin.com