VeChain (soon to be VeChain Thor) prides itself on being the leading blockchain platform for products and information. VeChain began primarily as a supply chain company. However, they have recently announced plans to evolve into a DApp platform as well (more on this later). They have a mission to build "a trust-free and distributed business ecosystem to enable transparent information flow, efficient collaboration, and high speed value transferring."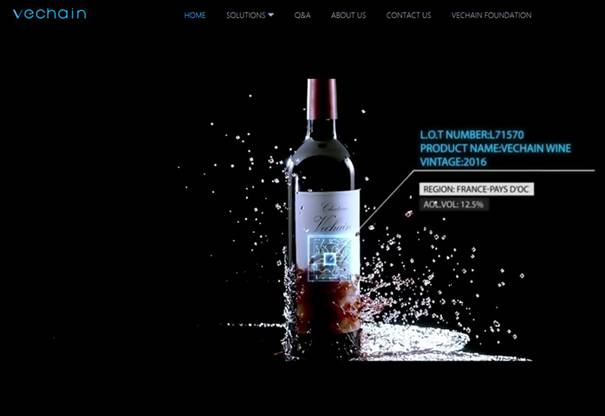 How Does VeChain Stand Out from Other Blockchain Companies?
Established in Singapore in 2015, VeChain is one of the first blockchain technology companies found in the world, which means that the vast majority of the VeChain team has years of experience. This also means that they have had more time than other businesses to perfect their technology and deliver products that users truly want.
The project has been around for over two years and has already proven itself with successful blockchain implementation in various industries, including luxury goods, agriculture, logistics, food/drug, and governments.
Using the technology, you can ensure the authenticity and quality of goods, track items through a supply chain, as well as maintain the quality control of food products.
Headquartered in Shanghai, VeChain has offices in France, Hong Kong, Singapore and other countries, allowing for global implementation of projects.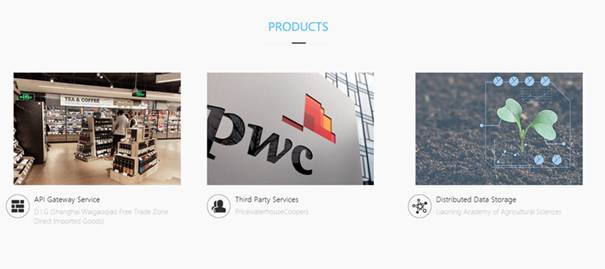 How Widespread Is VeChain?
In addition to offices in multiple locations throughout the world, VeChain has also deployed 111 nodes across the world, including nodes in the UK, Germany, Japan, China, and South Korea. This allows for efficiency and decentralization.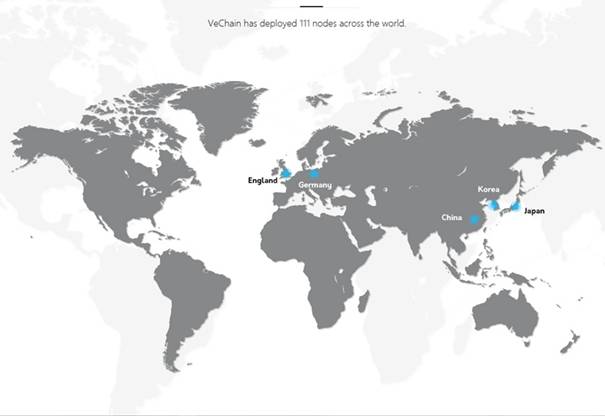 What Is the VeChain Foundation?
Established in July 2017 in Singapore, the VeChain Foundation is a non-profit entity that is responsible for the construction of the network, and technological research and development. The foundation will be the sponsor entity for VeChain, showcasing a commitment to its development, transparency, advocacy, promotion, construction, and governance.
The Foundation also plays an important role in business development and encourages and supports partnerships with enterprises that may be interested in utilizing blockchain technology as a service. This includes wallet development, payment services, smart contract development, and private key management.
It has also developed partnerships with a host of major companies around the world, including big names like Alibaba, Oracle, IBM, HSBC, Coca-Cola, Microsoft, PwC, Renault, Tencent, Cisco and many others.
How Can VeChain Be Applied to Real World Industries?
VeChain utilizes the blockchain to provide benefits for a range of industries, including luxury goods, the automotive sector, agriculture, logistics and retail. VeChain helps by addressing a specific concern associated with each particular sector while providing a solution. For example, in the liquor industry food safety is a crucial concern in trade relations where consumer health and safety are often questioned in the process of expanding trade and market access. Specifically, companies worry about how to stop counterfeiting, smuggling, unauthorized sale and how to make tracking and tracing more effective.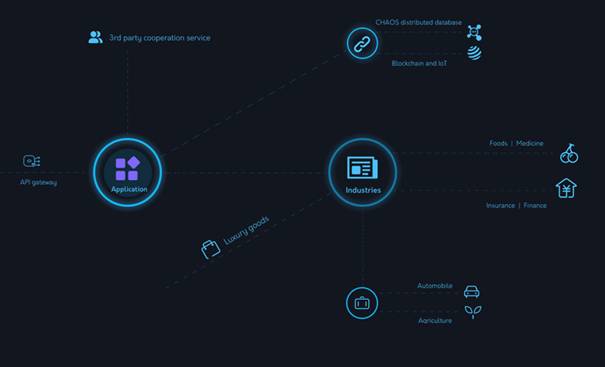 Let's think about a bottle of wine. VeChain provides the solution by using the blockchain to track wine and authenticate the service by monitoring each wine bottle throughout production, transportation, importation, and distribution, which will allow you to identify any weak points in the chain, improve efficiency and more quickly respond to disruptions. Businesses can save money associated with losses due to counterfeits, while consumers can easily access information about where it was made and when and how it made its way onto the shelf in front of you.
As another example, let's look at the automotive industry. This industry shows an entirely different solution that VeChain can provide, although equally important. This industry is very slow to digitalize and traditional collaboration is the norm. For example, in most cases information like car maintenance records is still frequently stored via physical papers whereas VeChain could provide digital profiles for each car based on its unique ID. It then creates profile authorization depending on the stages of car ownership. In this way, all the relevant information about the particular car will be in a digital profile operated via smart contracts.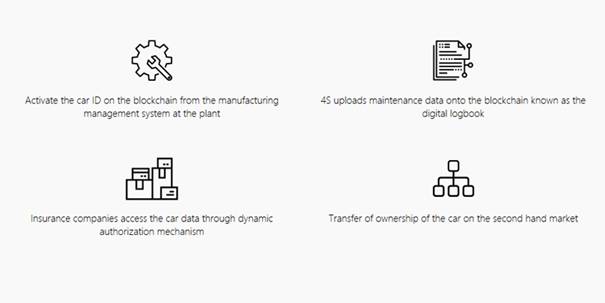 Let's turn to agriculture for yet another useful application of VeChain technology. China's agriculture industry is facing a series of challenges including decentralized and limited production scale, not enough product safety, low labor productivity, poor quality of products, and inappropriate use of fertiliser and pesticides causing pollution to the environment. VeChain utilizes the blockchain and its cloud services to help agriculture companies to enhance the planting method, improve the quantity and quality of the crops, decreases the impact of pesticides and fertilizers, and increase product margin.
VeChain also outlined on its website that they offer specific solutions for the retail, luxury goods, cold-chain logistics, and general logistics industries.
VeChain Thor
At the end of 2017, VeChain announced plans for a rebrand to VeChain Thor. Actually, the rebranding is scheduled to take place in February 26th, 2018. VeChain Thor is going to move the company beyond the supply chain into Enterprise DApp solutions, similar to Ethereum, which is in trying to push the company a notch higher to compete with the likes of Ethereum in terms of solving business solutions. The VeChain Thor platform will use two different tokens:
VeChain Tokens (VET)
Thor Power (THOR)
The VeChain Token (VET) is designed for companies as the smart payment currency to run business activities on the blockchain. During the transition period, the companies that hold more VET will be given higher priority and more rights on the new VeChain Thor blockchain.
On the other hand, the Thor Power (THOR) will be given to VET holders. They can use it to perform smart contracts and run applications on the blockchain. This is similar to the way NEO produces the GAS token for its holders.
VeChain Team
VeChain started as a subsidiary of BitSe, one of the earliest teams researching and developing blockchain technology. The company has started its ASIC mining chip design in 2014, owning the earliest and largest mining center in China. The company's Singapore-based team has grown to 150 staff members and they have a myriad of talent among their top management.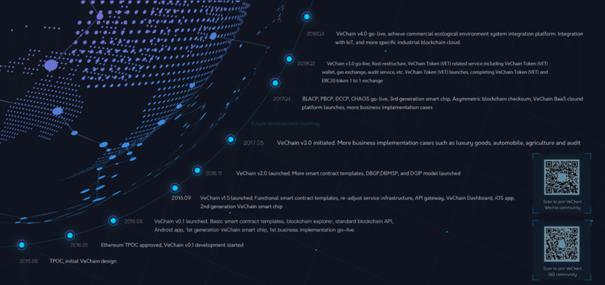 Team
Sunny Lu leads the team as CEO, who has a wealth of experience in IT and Information Security across luxury retails brands. For the majority of his career, he's led IT and Information System projects for several luxury brands, and most impressively, he was the CIO for Louis Vuitton China where he led the IS&T team in supporting the business growth of over 65 locations.
Other members of the management team include Advisor Bo Shen, the founder of Fenbushi Capital, and CFO Jie Zhang who has 17 years experience in IT assurance.
Partnerships
The team has been busy forming partnerships with various businesses so as to get a wider pool of clients. The major partnerships which it has made to date include the partnership with PWC and the partnership with DNV GL Company. VeChain is part of the PwC incubator program, providing it with access to markets in Hong Kong and South East Asia.
DNV GL is a global quality assurance and risk management company that provides services to oil & gas, maritime, power, and renewable companies. The strategic partnership with DNV GL should open the door for VeChain to get in touch with a massive amount of potential clients and later these clients may end up investing with VeChain.
Perhaps most importantly, the Chinese government, which is notoriously tough on regulations, has chosen VeChain to be the blockchain technology partner of the government of Gui'an.
What Is VEN (VET)?
VEN (soon to be VET) is the token used within the VeChain ecosystem, and users utilize it to pay for services and products or receive when they supply these things. 41% of the total tokens were distributed during the VeChain token crowdsale, and the income of this crowdsale will be used to fund development, marketing, finance and legal advisory of the VeChain Foundation.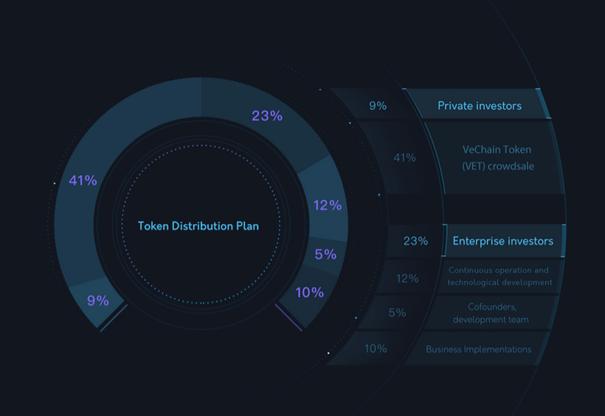 A further 23% of tokens go to enterprise investors who will use the future VeChain Token (VEN) as a key development target in their business activities. An additional 12% of tokens go to the continuous operation of the system, as well as technological development to be reserved for various operating costs and development of the VeChain. 9% of tokens go to private investors who are very influential in the community, and they will help a lot in technology and business development, 10% to business implementations, and the remaining 5% to cofounders and development team (as a reward).
How to Buy VEN?
It's important to note that you are not able to buy VEN with "Fiat" currency, which means that you will need to first buy another currency. The easiest to purchase are Bitcoin or Ethereum. You can purchase them at Coinbase using a bank transfer or debit / credit card purchase and then trade that for VEN at an exchange such as Binance.
Note: A complete list of exchanges where VEN is available on CoinMarketCap.
Register at Coinbase
For first time buyers of cryptocurrency, we recommend that you use Coinbase to make your first purchase because it is one of the few cryptocurrency exchanges that accepts credit cards (in addition to bank transfers). This platform is also easy to use and fully regulated by the US government so you know it is one of the safest and most reputable places to buy cryptocurrency from. Currently, Coinbase only allows users to buy Bitcoin, Ethereum and Litecoin. However, it does have plans to add more currencies to the platform. Coinbase charge fees ranging from roughly 1.49% to 3.99%, depending on your payment method. Credit card transactions result in fees at the higher end of the scale, but you will receive your currency instantly.
They have to adhere to strict financial guidelines, which means that you will have to carry out some identity verification when signing up.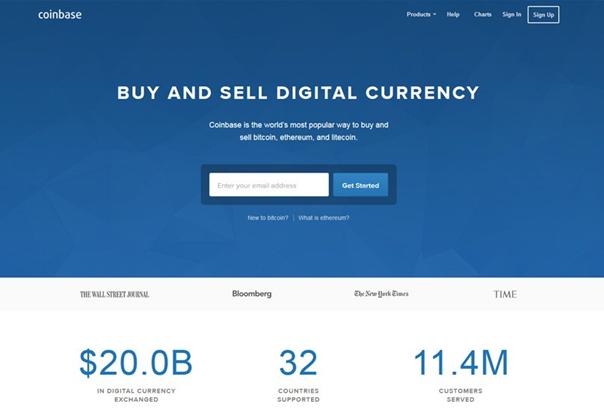 To get started, click the "Sign up" button where you will be taken to a registration form where you will need to enter your name, email address, phone number, and a range of other personal details in order to open an account.
Buy Ethereum
For this guide, we will be buying Ethereum to swap for our target cryptocurrency because it has far cheaper fees than Bitcoin for sending and the transaction also happens a lot faster. So in Coinbase, visit the "Buy / Sell" tab at the top of the screen and select "Ethereum". After that, choose your payment method and enter the amount you wish to buy – you can either enter a number of Ether or a USD amount.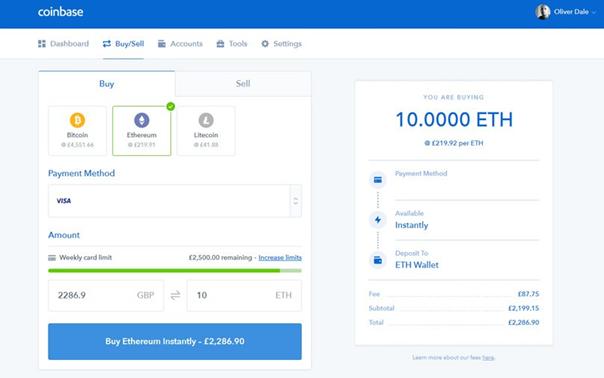 You will then be asked to confirm your transaction, and once that's complete, your Ethererum will be added to your account.
Important Note: If you are paying with a card, you might have to complete a verification with your card provider.
Buy VEN at Binance or Kucoin
You can now send your Ether over to Binance to make your purchase of VEN, where you'll need to click on your chosen trading pair (such as VEN/BTC) and enter the number of VEN you want to purchase, and then choose the best available market price or your own limit before clicking "Buy VEN".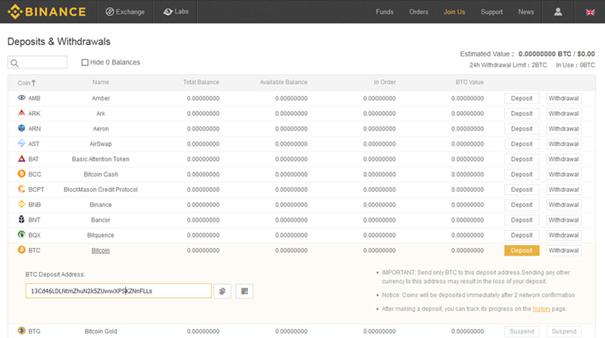 VEN is also available to purchase on the Kucoin Exchange.
VeChain (VEN) Market Price
VeChain started trading at the end of August 2017 at around $0.25 (~0.00005 BTC), and the price has remained relatively flat with a short-lived bump in the beginning of October 2017.
But the real rise in prices was witnessed in the months of December 2017 and early January, 2018, when the VEN saw a 2825% growth in price from $0.240301 to $7.03. The price increase has been driven by the announcement of the VeChain THOR rebrand as well as news of more partnerships.
The prices have taken a short downtrend from 11th January, 2018 to date, and a token of VeChain is currently going for $5.48 USD. However, there is no need to worry because the retracement in prices seems to be happening to all cryptocurrencies.
What Does the VeChain Roadmap Look Like?
The initial design for VeChain arrived in June 2015, with January 2016 seeing the approval for Ethereum TPOC and initial development of VeChain v1.0. A year later, VeChain V1.0 and the first commercial application were launched, followed by v1.5 three months later. In November 2016 there were some improvements for v1.5, which included a readjustment to the service infrastructure, the VeChain dashboard, an iOS app, functional smart contract templates, an API gateway, and the 2nd generation of the VeChain smart chip. In November 2016, VeChain v2.0 was launched with addition smart contract templates and models for DBGP, DBMSP, and DGIP. In May 2017, VeChain v3.0 was initiated with additional business implementation cases, including luxury goods, automobile, agriculture and audit.
Quarter four of 2017 saw go-lives for BLACP, DCCP, CHAOS, and PBCP, along with a 3rd generation smart chip, the launch of the VeChain BaaS cloud platform, Asymmetric blockchain checksum, and more business implementation cases.
For quarter two of 2018, VeChain will have v3.0 go live, with the update including rust-restructuring, VeChain Token (VET) related service including VeChain Token (VET) wallet, audit service, gas exchange, etc. This will complete the 1-to-1 exchange of the VeChain token and ERC20 token.
For quarter four, VeChain v4.0 will go live, achieving commercial ecological environment system integration platform and integration with IoT, as well as including more specifics for the industrial blockchain cloud.
Conclusion
VeChain is one of the most established blockchain companies in the industry and they provide companies across a range of industries with solutions to their common problems by using the blockchain. VeChain has a team with extensive experience in the industry they're targeting, so it's no surprise that they continue to grow.
Having partnerships with the Chinese government and giants like PwC and DNV GL Company, they should have no problem growing their clientele. Some people may question their plan to become a DApp platform. However, it looks to be beneficial for customers who are looking for a more robust blockchain solution to their specific business needs.
Its current set of nodes across various countries is a very good start, and as the set grows, it wouldn't be a surprise to see VET as one of the top performers of 2018.
Additional Resources

CaptainAltcoin's writers and guest post authors may or may not have a vested interest in any of the mentioned projects and businesses. None of the content on CaptainAltcoin is investment advice nor is it a replacement for advice from a certified financial planner. The views expressed in this article are those of the author and do not necessarily reflect the official policy or position of CaptainAltcoin.com