Wherever you are in the world, there's a good chance that you're expected to pay tax on anything you earn from buying and trading cryptocurrency. You might even be surprised that your government wants you to pay up for holding, staking, or giving away coins to someone else. Tax is one of the only tools governments have for striking against Bitcoin, so it's important to know where you stand.
The common misconception that Bitcoin is completely anonymous stems from the fact transactions can be traced back to the sender and receiver, meaning many early adopters enjoyed stacking and trading crypto without being taxed for several years. Nowadays, expect serious consequences for avoiding taxes on your cryptocurrency, even though the definition of what constitutes a taxable event seems unreasonable or illogical to people with a basic understanding of how Bitcoin works.
Tax season is again extended in most countries this year, so make certain you take the time to comprehend your obligations.
How to Do Your Trezor Wallet Taxes?
---
Trezor is a hardware wallet that offers high levels of security for managing private keys for Bitcoin and other cryptocurrencies. Trezor makes secure payments without disclosing your private keys to a possibly infected machine, unlike conventional cold storage.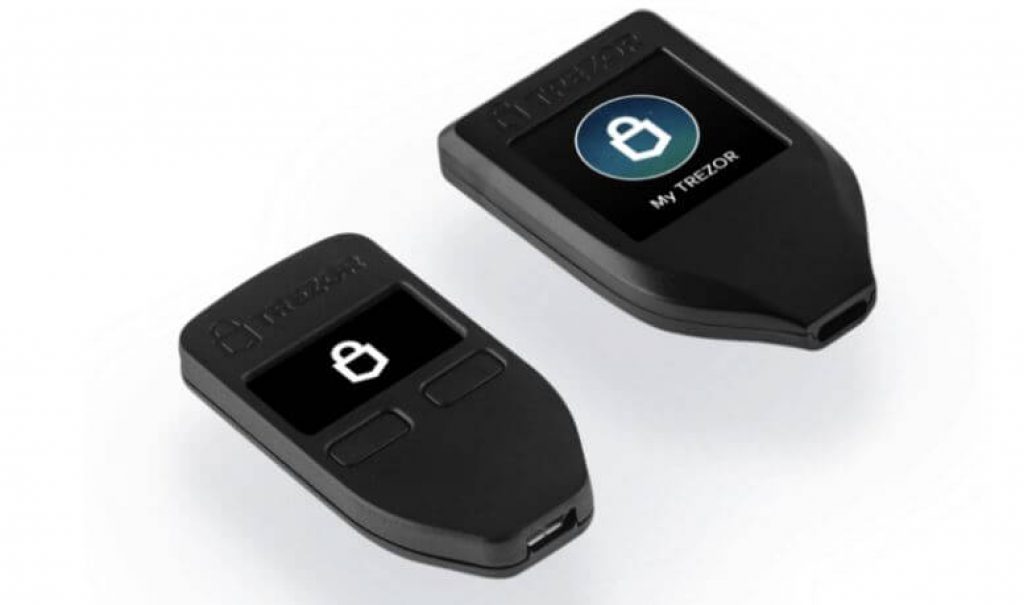 In this guide, we will go through different ways how to do your Trezor taxes, so without further ado, let's dig into details.
Integrate with a tax calculator via the Trezor wallet CSV/XLSX file
---
If you are unfamiliar with Accointing, it is a cryptocurrency exchange that allows you to import your historical data into its system. This way, you can use it to track your account balance, transaction history, etc., without having to manually enter everything. You can even export your data as a CSV or XLSX file, which makes it easy to integrate with Trezor.
Integrate with a tax calculator via the Trezor wallet API
---
There is an API capability built into Trezor that lets you combine your transaction history with a bitcoin accounting program automatically.
You will need the public address and key for each of the unique coins and tokens that are kept in your Trezor Wallet in order to complete this. This step must be finished before you may use your Trezor account to interact with any coin. All you have to do to get your Trezor transaction history via the API is insert your public address and key into the crypto tax app you are using after getting your public address and key.
What tools are best for doing your Trezor taxes?
---
Zenledger
---
ZenLedger is one of the most widely used applications for computing bitcoin taxes, with over 30 million downloads to date. The full edition offers a simple way to compute up to five different assets, while the free version only allows users to calculate up to three cryptocurrencies at once.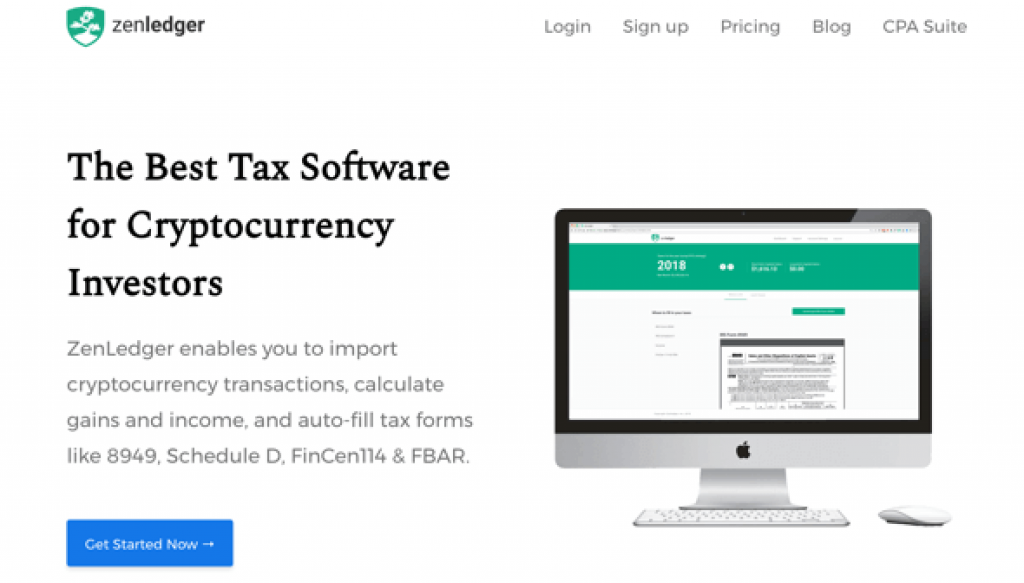 The application uses an easy-to-use interface that makes it suitable for both beginners and experts alike. It also has a built-in calculator, which can be accessed by clicking on "Calculate" in the main menu.
To import your Trezor cryptocurrency transactions into ZenLedger, you just need your public wallet address. All we need is your public address. You can find it on the Trezor device itself. Copy down the Public Address and paste it into the Trezor Wallet address field in ZenLedgers.
Select the correct coin from the dropdown menu. If the wallet is based in America, select Yes. Otherwise, select No. Hit the button Add Coin.
You are done! Now you can start importing your transactions into ZenLedger.
Koinly
---
Among bitcoin tax calculators, Koinly is the most often used.
Popular bitcoin tax software Koinly offers an automated and simple solution to this issue (given that most traders engage in a significant number of crypto transactions, which are considered taxable events).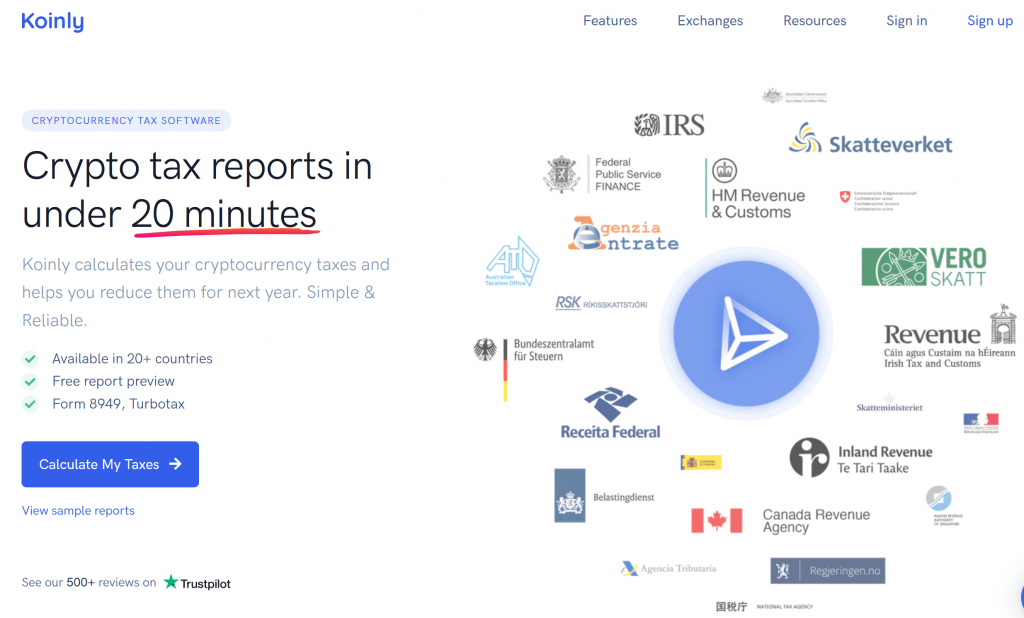 You can effortlessly trace all your cryptocurrency transactions with Koinly, which also offers a straightforward interface for tax calculation. It is now simpler to maintain track of your cryptocurrency assets and make sure they are accurately reported on your income tax return.
Koinly's platform allows you to create a unique user account, where you can store your personal information and keep track of your crypto assets. The platform has been designed to be easy to use and intuitive, so it will take only minutes to get started.
The tool is available as desktop and mobile apps, allowing users to access their accounts from any device.
The app allows you to easily import transactions from your Trezor wallet and automatically generates the appropriate tax reports. All you need to do is enter your personal information once and sit back while the app does all the work. Once the report is generated, you can print it off and submit it to your local tax office.
Coinledger
---
A cloud-based application called Coinledger links with cryptocurrency exchanges to gather trading data, which is then used to generate tax reports automatically with just a few mouse clicks.
The company has also developed an app for the iPhone and Android platforms that allows users to track their portfolios in real-time. The app can be downloaded from Google Play or Apple's App Store.

The platform has been under development for more than two years, but the company is only now prepared to release the beta version. Users in Canada, Australia, New Zealand, Singapore, Hong Kong, Japan, South Korea, Taiwan, China, India, Indonesia, Malaysia, Philippines, Thailand, Vietnam, and the United States will be the first to have access to the service.
CoinLedger now supports the importation of the transaction history files generated by the Trezor hardware wallet. This feature allows you to quickly access your transactions and gain insights about your portfolio.
Connecting your Trezor account to CoinLedger is easy. Just follow the steps below:
1. Click here to connect your Trezor account
2. Select "Import Transactions"
3. Enter your Trezor seed phrase
4. Then select the date range you want to export
5. Click "Start Export"
Read also:
Does Trezor Wallet report to the IRS?
---
The Internal Revenue Service (IRS) does not want to know where you keep your cryptocurrency assets. They simply don't care. This is according to the agency's latest guidance on crypto tax reporting. "If you hold cryptocurrencies, we're asking you to report any information about those holdings," reads the document published online.
Cryptocurrency holders must provide basic information such as name, address, date of birth, social security number, occupation, income source, and "any foreign financial accounts."
But the IRS doesn't seem to care whether you store your digital coins on a hardware device like Ledger or Trezor or even a paper wallet. In fact, the IRS says that it won't bother you if you keep anywhere between $5,000 and $50,000 worth of Bitcoin, Ethereum, Litecoin, Dash, Monero, Zcash, and Dogecoin in your wallet. However, if you exceed that limit, you'll have to pay taxes on what you've got left over.
And while most people probably keep less than $50,000 in crypto, there's one exception. If you happen to have $500 million in cash stashed away somewhere, the IRS might come knocking. But here's the thing: the IRS isn't looking for anything specific. All they want to know is how much cash you have, where you keep it, and how much interest you earn on it. And if you decide to give the IRS some of your cash, they won't ask you why.
FAQs
---
How do I get my Trezor wallet transaction history❓
In the Transactions tab of Trezor Wallet, details regarding specific transactions are displayed. By selecting the Export button, you may export the transactions list to CSV or PDF. Verify that you are using the appropriate coin. In the upper-left area of the screen, you can change currencies.
Does Trezor wallet send you tax documents❓
No, Trezor Wallet will not send you tax documents. You can use the Tax Calculator to estimate your taxes based on the information that is stored in your wallet.
Does Trezor Wallet provide CSV exports❓
Yes, you can export the transactions list to CSV or PDF by choosing the Export button. Just make sure you are using the right coin.
Does Trezor Wallet provide an end-of-year statement❓
No, Trezor Wallet does not provide an end-of-year statement.
Does Trezor have API❓
Yes, Trezor does have an API. A JavaScript platform called Trezor Connect was created by SatoshiLabs to facilitate the integration of the Trezor device with outside services (websites or applications). As an authentication tool, Trezor Connect can be utilized in Sign in with Trezor.

CaptainAltcoin's writers and guest post authors may or may not have a vested interest in any of the mentioned projects and businesses. None of the content on CaptainAltcoin is investment advice nor is it a replacement for advice from a certified financial planner. The views expressed in this article are those of the author and do not necessarily reflect the official policy or position of CaptainAltcoin.com