Stacked Invest Review – Is It Safe & How To Use It?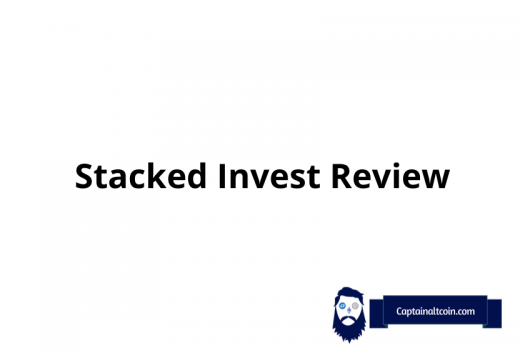 Stacked Invest Review – Is It Safe & How To Use It?
A lot of different trading strategies
Free of cost
Supports a lot of exchanges
Safe to use
Crypto is going mainstream. It seems like everywhere we turn someone is talking about Bitcoin or Ethereum, everyday that passes its popularity is growing. Probably the biggest factor for this change in mentality is of course that people are realizing that there's a lot of money to be made in digital assets.
Whether it be from trading or staking, millions are joining the fun. However, to anyone that knows anything about investing, making money requires knowledge. And like with any other asset class, people look for the easy route. In stock investing it's ETFs, in crypto there's trading bots.
But there's also many scams in the space, fake trading bots are everywhere and unfortunately many are falling for it.
So today we'll be looking at Stackedinvest, an interesting prospect in the space. Is it legit? Read on to find out more.

CoinRule
✅ 150+ indicators available to create your own trading recipes ✅ Highly customizable ✅ Auto rebalancing, DCA-ing, grid trading ✅ Affordable
Stacked Invest – The Overview
---
Stacked is a well known firm that has been around for years and offers automated crypto trading products such as crypto indices, access trading bots, and automated portfolio management.
It saw its descent in 2017 when Bitcoin was booming and people were looking for ways to make money in it. They were quite ahead of the curve as in those days, trading bots were not all that common. Stacked Invest saw an opportunity and seized it. 
Stacked Invest provides a service for users while funds stay in your exchange account.
And since, it has been only up for Stacked, gaining clients along the way. Although beware, do not take the popularity of a platform as the proof that it's worth your money, this is crypto after all. 
Please note that this article should not be considered as an investment advice.
Main Features
---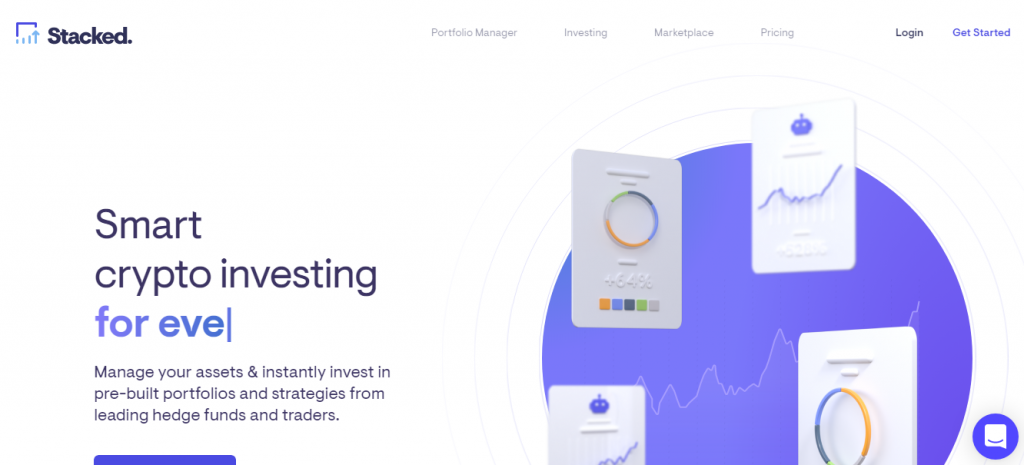 On Stacked traders can access crypto indices, trading bots and automate portfolio management services. The most unique feature is without down the pre-built index. Pre-built index work pretty much the same as ETFs for stocks.
But let's get into it, the main features are:
Pre-built bots strategies
---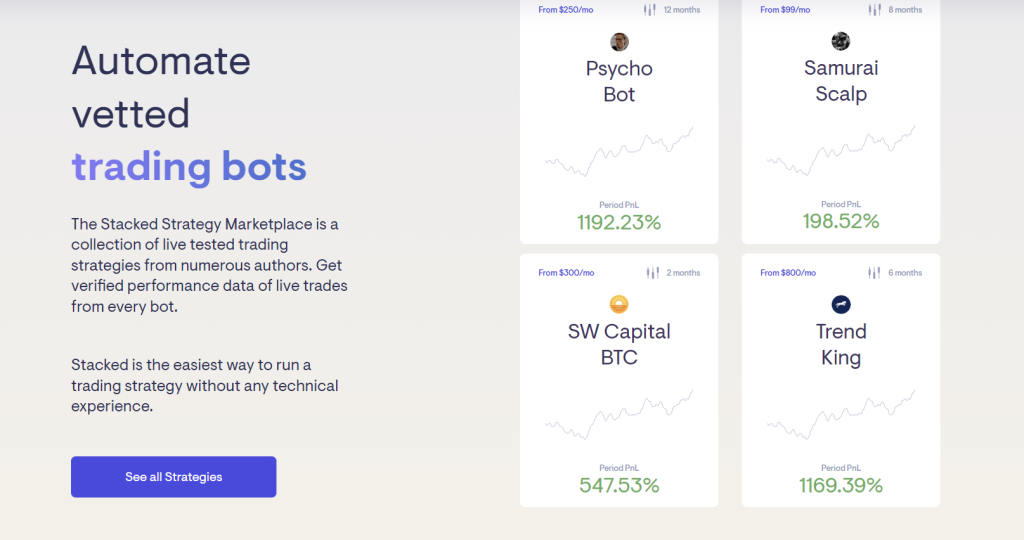 On Stacked invest you can subscribe to crypto bots built by the top traders. How does that work exactly? Simply connect your account and you'll start autotrading based on their strategies. 
With Stacked, you can get access to several trading bots that are created by top traders.
These bots open and close long and short positions, based on market conditions. Additionally you can view a detailed performance history that cannot be manipulated to assure the most transparency. If you also need some extra control for yourself you can always set a stop loss or take profit independently for more control.
Pre-built Crypto Indexes
---
Crypto Indexes are like the name suggests a pre-built crypto portfolio of index coins. Just like ETFs for stocks investors can passively invest in these indexes, allocating funds on a schedule.
This is the best option for newbies to crypto that want to have exposure to as many projects as possible while limiting risk. They also come with a performance history, strategies and characteristics, so each investor best decides for himself which suits him best.
Automatic Rebalancing
---
Stacked uses software that will based historical data find the most profitable rebalance strategy of any portfolio. If you allow it will also rebalance your portfolio automatically. You can also check the best historical rebalancing strategy here.
The rebalancing system, readjust the proportions of each asset in your portfolio. It By buying, or selling periodically it diversifies your investment and hedges you from the high risk crypto market.
Reputation
---
It is safe to say that Stacked Invest has one of the strongest reputations in the trading bot space. The excellent interface and all the rich features are what makes all the difference. A scammy looking platform is a huge red flag traders should not ignore, Stacked Invest fortunately isn't among them.
The connection it has with major crypto exchanges further points out its reliability. If big players like Binance trust Stacked, that's a huge point in my book.
Additionally many sites cover and show Stacked Invest in a favourable light. Most reviews are moderately positive or at least mixed, while users ratings are high. This proves that the platform is not one of the many trading bot scams out there.
Stacked Invest also managed to convince investors to raise over $2 million for their start up venture. That's a lot of money for an emerging and relatively niche sector like crypto trading bots. Investors saw a real value proposition if all that money was raised. Once one of the biggest contributors was the well known firm Alameda Research, certainly not something to pass on.
So in terms of reputation, Stacked Investing excels. Everything checks out, the platform is not a scan.
Exchange Support
---
Stacked Invest supports many of the biggest exchanges. For example Bybit, FTX, Binance,Bitmex, Coinbaseand Okex. These connections give investors exposure to liquidity, name brands and a wide range of digital assets all through one platform.
Although keep in mind, you do have to have an account on these exchanges to access their platforms. But that's not a problem once done, you're good to go.
Given Stacked Invest success and crypto exchange support it's safe to assume that this is only the beginning. More support will surely be added in the future.
Cost
---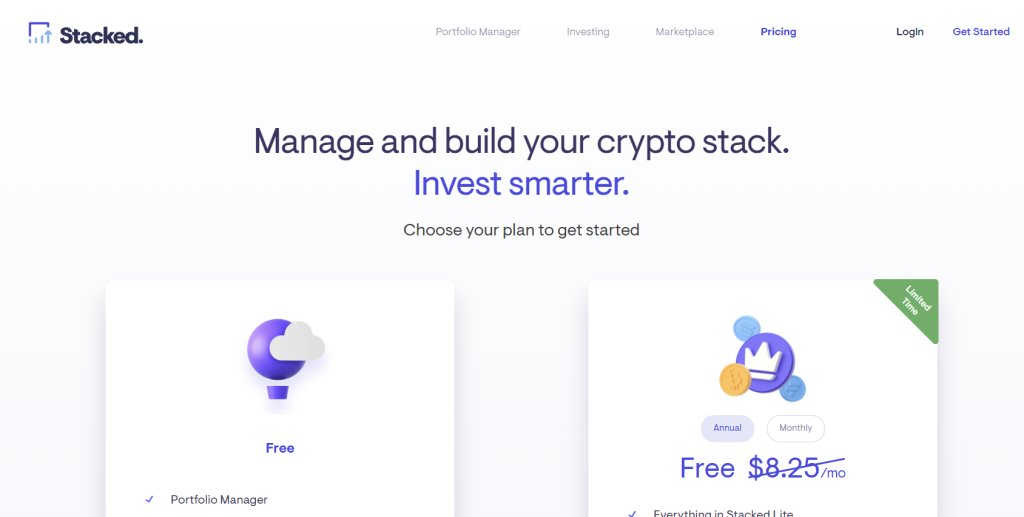 Surprisingly, access to the platform is completely free. The cost of the bot trading strategies are decided by the individuals offering them. Like we said before, everything is the hands of the marketplace. 
The platform provides access to everything for free. But individuals will be purchasing strategies and other aspects from the marketplace, this will cost you. It will vary based on the author of the bot strategy.
Accessibility
---
Automated trading platforms are usually quite complicated to use and certainly out of reach for the newbie crypto trader. But not Stacked, they aim to be as easy to use as possible, being accessible to all traders no matter the experience. Their prebuilt products are without a doubt among the easiest to use.
The platform is extremely intuitive with all the main features easily findable even by first time users.
All you have to do to start trading is to create an account, connect to an exchange and select your desired product.
Security
---
As you probably already know the cryptoverse is filled with hacks and security breaches. To decrease the risk of losing all your funds there's precautions you can take. One of them is for example not keeping all funds on one account, all your eggs in one basket so to speak.
But in terms of security Stacked has not yet had any issues and no cyber attacks have ever been reported. They take all the necessary precautions to secure your funds, going beyond their competitors.
First of all, the bot is non-custodial. Meaning that all your crypto is kept on exchanges and never on Stacked Invest.
Additionally Stacked uses API secured keys to communicate and execute orders with exchanges. It's only allowed to access trading operations, so it can't withdraw any assets. This greatly diminishes the risk for a hack as it complicates the hacker's quest of finding your crypto. 
Customer Support
---
Stacked offers a decent level of customer support to its users. The platform offers a live chat on Intercom so a team member is always available for you. There's even the automatic answer function that will instantly answer your question.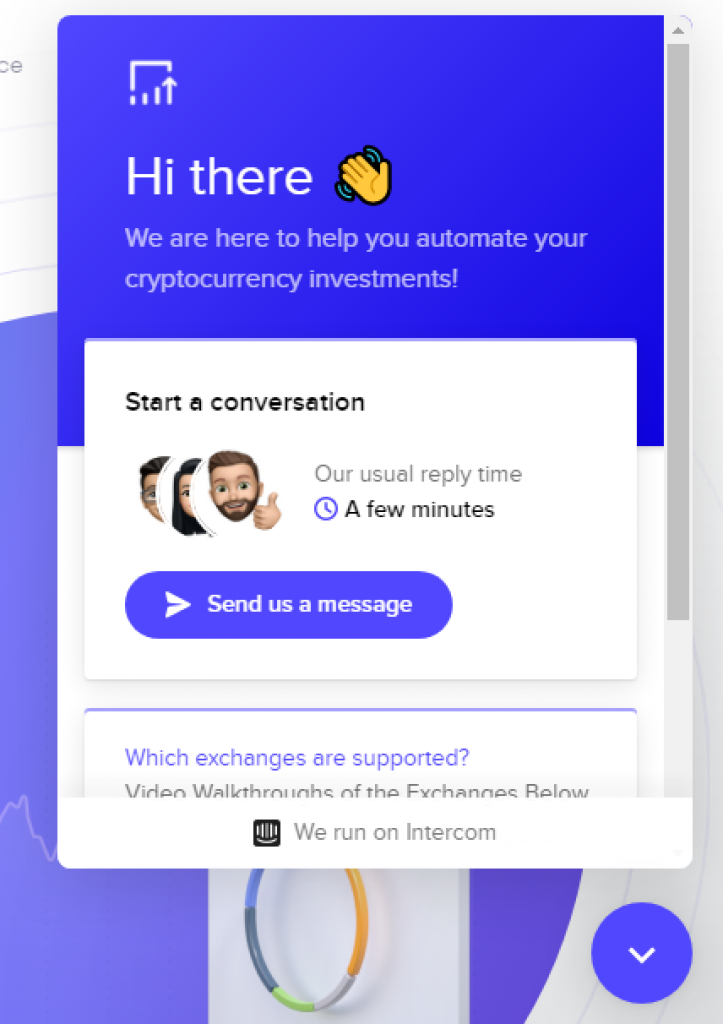 Although the customer support is only available from Monday to Friday. This is without a doubt a major downside, when dealing with money full availability should be expected.
The company also tends to answer questions on their Social-media pages. And there's also an FAQ section on the Stacked website. 
Profitability
---
Crypto is one hell of a market to be in. Monotony just isn't something we crypto traders are used to. Insane bull runs and scary crashes is what we expect. And the cryptoverse is full of opportunities to profit from the craziness of the market.
If you hadinvested 1000$ in Bitcoin 10 years ago and not sold it, you'd be rich now. But unfortunately for most traders, that only happens in our dreams. Crypto like any other asset class requires a degree of knowledge to make those huge gains. Newbies putting their savings in random small cap altcoins usually end up getting hurt, really hurt.
The same goes for automated trading products. The same skill is involved, you still have to pick the best bot trading strategy or crypto index. By investing without any knowledge you'd nonetheless lose your money.

So in terms of profitability, well it depends. How good of an investor are you?
The Verdict
---
Stacked offers benefits that traditional crypto trading does not. Both the crypto indexes and pre-built bot strategies are moves in the right direction, as they make passive investing and diversification that much easier. And not only that, it is also safe, secure and reliable althought unfortunately with lackluster customer support
But of course like with any investment product, knowledge is key. Invest without it, and you'll likely get hurt. Always make sure to choose bot strategies from reliable traders and an Index that makes sense.
But if, with necessary precaution of course, you're looking for some passive crypto investing, Stacked may be the right place for you.
In conclusion, Stacked Invest is a good platform if you're looking for a place to build crypto wealth without having to actively follow your portfolio. But as always do not invest what you can't afford to lose.

CoinRule
✅ 150+ indicators available to create your own trading recipes ✅ Highly customizable ✅ Auto rebalancing, DCA-ing, grid trading ✅ Affordable
Make sure to check out our guides on crypto bots:
PROS
A lot of different trading strategies
Free of cost
Supports a lot of exchanges
Safe to use
CONS
Requires some knowledge to pick the right strategy

CaptainAltcoin's writers and guest post authors may or may not have a vested interest in any of the mentioned projects and businesses. None of the content on CaptainAltcoin is investment advice nor is it a replacement for advice from a certified financial planner. The views expressed in this article are those of the author and do not necessarily reflect the official policy or position of CaptainAltcoin.com