Profit Trailer Review – Pros & Cons, Signals Covered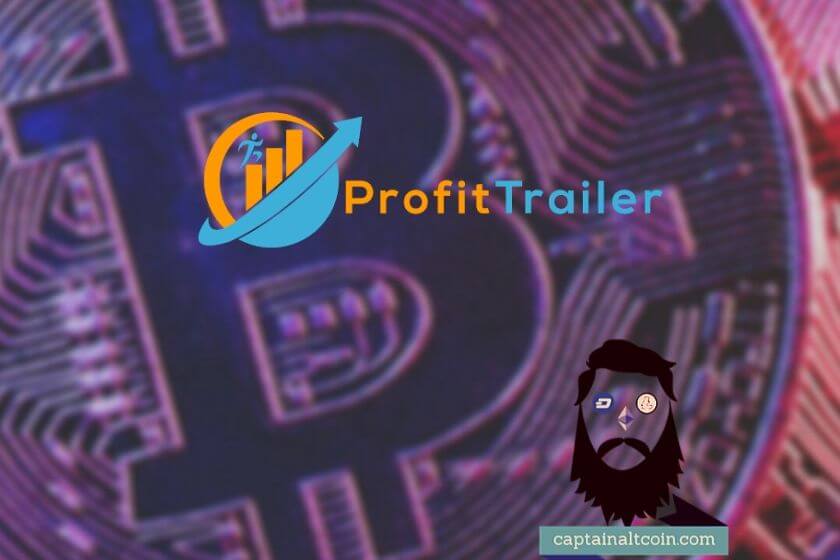 Profit Trailer Review – Pros & Cons, Signals Covered
Automatic updates and configurations
Clean and intuitive user interface
There are so many ways to make money with cryptocurrencies. Most trade on centralized cryptocurrency exchanges as the least risky method of entering a crypto world while others invest in risky ICOs.
And finally, there are people who put their day trading on steroids by using crypto trading bots like Profit Trailer, an intelligent cryptocurrency trading bot that does the trading for you and works round the clock 24/7. However, the bot allows you to take over and manually trade during specific time intervals.
ProfitTrailer review – Who is behind Profit Trailer? Where is it located?
---
Founded in September 2017, Profit Trailer is a company based in Rotterdam, the Netherlands. Profit Trailer bot is fully licensed and regulated under the law of the Government of Curacao, which is a quite common offshore place for company registrations in the crypto industry.
Profit Trailer is a decent bot but check out the below software – cloud-based and far superior in terms of features and ease of use:
Today, Profit Trailer claims to have more than 30000 active traders utilizing their automated bitcoin trading software. It is a far cry from the number of users that top crypto trading bots like Cryptohopper (see here for review), 3Commas (click here for review), Bitsgap (review here) or Quadency (review here) have but it is more than decent.
The development team, which allegedly consists of 7 people, is competent and open to new ideas and works to make the bot better constantly.


Profit Trailer – supported crypto exchanges and payment methods
---
This crypto robot is designed to help you automatically sell or buy crypto coins like Bitcoin, Ethereum, USDT, and a bevy of other altcoins at each of the following cryptocurrency exchanges: Binance, Bittrex, Huobi, BitMex, ByBit KuCoin and Poloniex.
Profit Trailer also supports all fiat currencies. The bot also accepts payments through PayPal, credit card, Mollie, Coingate, but you will be requested to provide personal information such as email address, name, and country when depositing funds. It's important to note that you can blacklist coins you don't want to trade which is very useful in order to avoid getting stuck in a low-liquidity shitcoin.
Profit Trailer interface
---
The brand has a clean and unique user interface and is compatible with the Windows, MacOS and Linux operating systems. Supported browsers are Chrome, Firefox, Safari, and Edge.
The product also provides extensive customer support and offers live support with real experts, video guides, support tickets, and a detailed FAQ. There is also a live demo for new customers to familiarize themselves with the platform. The brand has also provided external links to its social media platforms like Twitter, Facebook, Youtube, Instagram, and GitHub. There is also a 'News' page where you can find detailed articles on the latest topics in the crypto world. Finally, if you need additional insights, there are several Wiki guides and videos that can help you.
Read also:
How to Open an Account on Profit Trailer?
---
To become a fully registered member at the Profit Trailer bot, you will need your Profit Trailer software. You can buy Profit Trailer here. You can choose the lifetime or monthly plan, it's up to you. Next, you will have to install your preferred settings. Those who want to keep it simple can choose settings such as "LOSS" or "GAIN". However, those who want to step it up a notch can even combine five different buy/sell manual trading strategies, such as LOWBB, RSI, BBWIDTH, MACD, and EMAGAIN.  It's also important to note that a dozen pre-defined trading strategies are available and can be used entirely based upon your own risk profile.
If you need help in the installation process, you can contact the support team for help. There are also interesting video guides available to help you.
Profit Trailer Pricing
---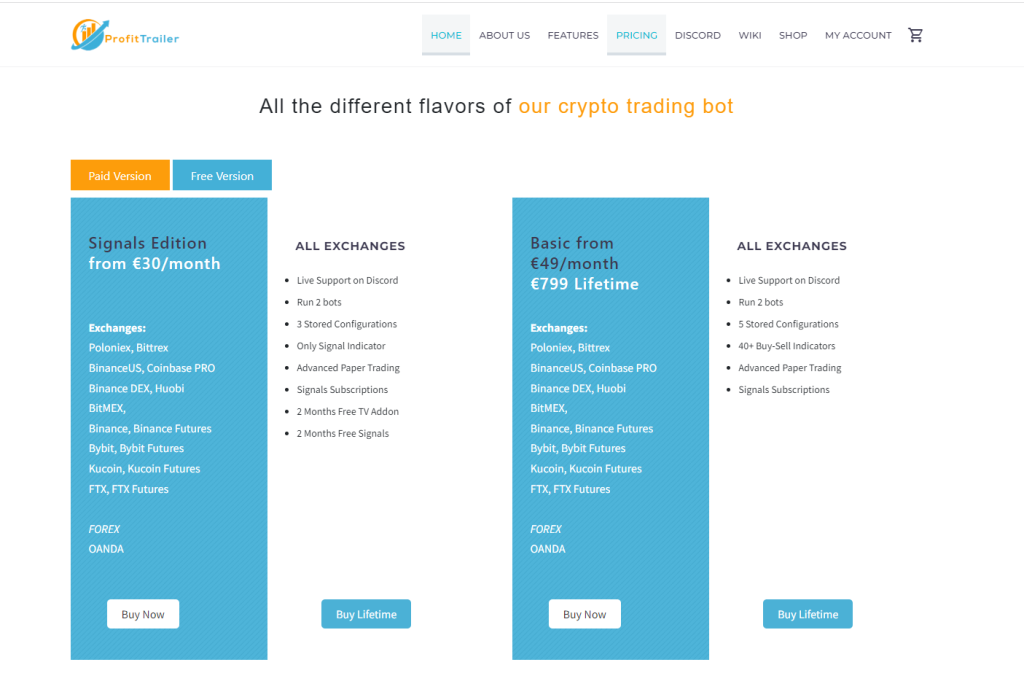 The trading bot comes in two different versions: Signals and Basic, and each one comes with a unique price. The prices are listed below:
Signals
---
All Exchanges
Live Support on Discord
Run 2 crypto trading bots
3 Stored Configurations
2 Buy-Sell Strategies
Advanced Paper Trading
Signals Subscriptions
2 Months Free TV Addon
2 Months Free Signals
Basics
---
All Exchanges
Live Support on Discord
Run 2 bots (3 lifetime)
10 Stored Configurations
40+ Buy-Sell Strategies
Advanced Paper Trading
Signals Subscriptions
Advanced Notifications
Advanced Stats
Profit Trailer User Interface
---
One of the outstanding features of this bot is that it provides access to an intuitive interface, which is intuitive and user friendly. The interface allows traders to monitor their trades and even see their progress in real time. It also provides users with a series of innovative options that work flawlessly across different devices.
The default settings you will find on the desktop GUI include:
Monitor: A user friendly interface that allows for the general overview of your trading and bot.
Possible Buy: Displays the potential trades of the bot and can be adjusted with the right configurations.
Pairs: Allows traders to see a list of their coins which they previously bought
DCA (Dollar Cost Average): Allows traders to be less impacted by the price fluctuations, but increases in cost every time you use it.
Sales: A window displaying your sales.
Configuration settings: Allows you to adjust settings. It is also where the robot suggests potential buy trades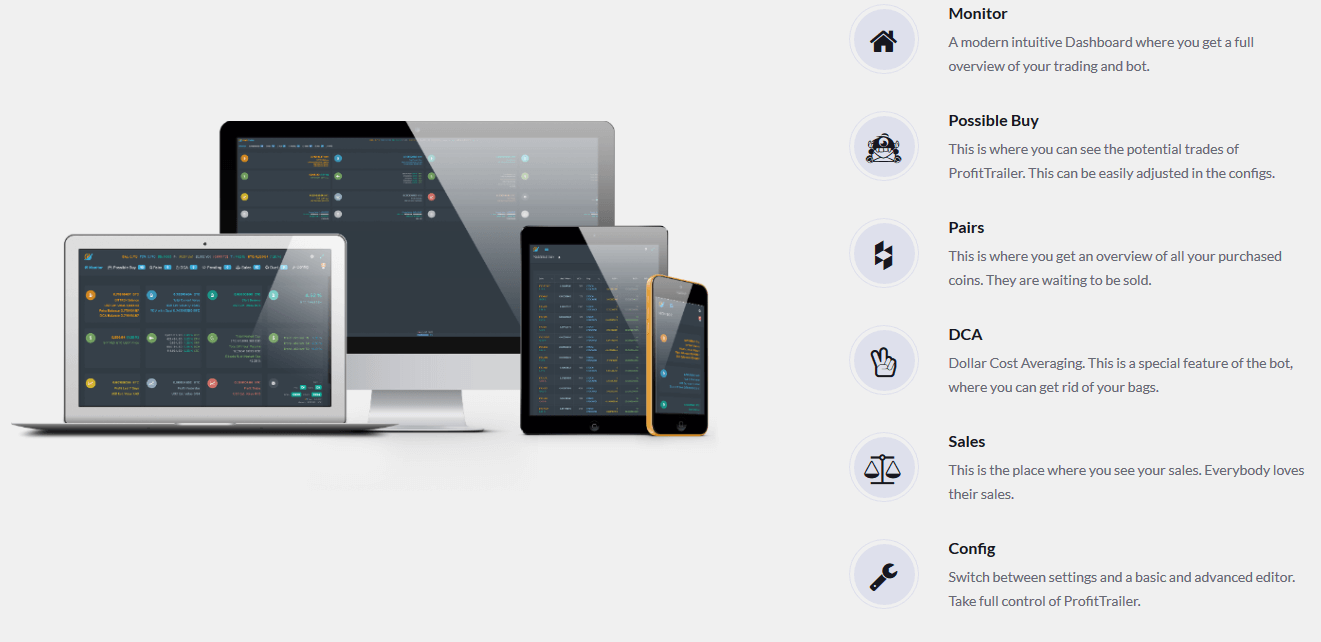 There are even more setting which can be accessed via advanced configuration. However, before starting out make sure that you have enough money to trigger the trades and have detailed risk management methods in place.
How Much Can You Make with Profit Trailer?
---
Profit Trailer does not guarantee you any amount of profits due to the ever changing nature of the market. However, those people who happen to stick with the right strategy and follow strict money management rules will have higher probability of making money in the long run. It's very difficult to give an average number because it really depends on a lot of factors. How much profit you can make with the bot depends on your stake, how much you trade, your strategy and settings.
Also, it's very important to avoid the common trading mistakes that can even be made with the best trading bot in the world. So it's hard to say something precise, but many users report profits of around 1% in a month while others could make 5x.
Profit Trailer is a decent bot but checks out the below software – cloud based and far superior in terms of features and ease of use:
How Does Profit Trailer Work?
---
Let's get something straight first – Profit Trailer is not a get rich quick scheme. This platform is basically an automated trading solution which auto trades your coins/funds in your exchange account. This bot is a great way to slowly accumulate coins, but you have to be smart.
Profit Trailer strictly follows the settings of the strategy you've chosen and simply works based on mathematical formulas that trigger a buy or sell order under certain market conditions. This robot comes with various strategies by default, which is great for someone who is not very experienced in picking manual trades because they do not have to spend their time looking at charts and keeping an eye over multiple time frames or exchanges. On the other hand, people who are experienced successful traders will have their own methods because every parameter of this platform can be personalized. This means that that regardless of where you are or what you might be doing the software takes care of all the things.
However, that does not mean this bot is fail proof so I suggest to invest a small amount of money at first until you have a good grasp of how they work, or which options you want to use. The truth is that the bot has a better chance of scoring high probability winning trades as they are unaffected by fundamental problem of humans like emotions, money and time management, etc.
The most important thing in achieving success is to know how to set the bot up, optimize it and what precautions to take in different circumstances.
Profit Trailer Demo & Backtesting
---
Profit Trailer has a demo account where you can test out your strategies for free and without any risk. Here is a nice video tutorial about Profit Trailer backtesting:
Profit Trailer Security and Safety
---
Profit Trailer is registered with the Curaçao Chamber of Commerce in the Netherlands Antilles and works under the strict laws of the government of Curacao, the company complies with all international safety and fairness standards. The bot uses the latest security protocols such as Secure Socket Layer (SSL) encryption, which creates a foundation of trust by establishing a secure connection. To assure visitors their connection is secure, browsers provide special visual cues, called EV indicators — anything from a green padlock to branded URL bar. Also, you have to be 18 years or older to start using the bot.
Profit Trailer is running very well for 2 years now and it has a quite good reputation. However, there are several things you should do to up your security:
Use 2 factor authentication (2FA)
Use IP restrictions on your accounts
Use a phishing blocker such as Metamask, Comodo, Avast, Malwarbytes
Use a Sandbox to run programs with sensitive information
Use a hardware wallet to store your coins and profit withdrawals
One more important thing to note is that all the necessary information, including how your data is used, can be found in the company's 'Privacy Policy' section on the homepage.
Mistakes That Users Can Make When Using Profit Trailer
---
It's important to note that Profit Trailer does not guarantee you any amount of profits because of the ever-changing nature of the market. However, if you happen to stick with the right strategy and follow strict money management rules then you will have a higher probability of making money in the long run. I suggest you start off small, basically, any amount you are comfortable playing/losing with. For example, about a couple hundred dollars worth to test the software and understand how it works.  
Profit Trailer has a strategy called doubling down in the case of a declining price. This is a generally good strategy because it allows the bot to buy more of the same coin at a lower price if something goes wrong, so it doubles the number of coins while it lowers your average entry price where you purchased in at. Then, when the price comes back up in a retrace you will make a profit when selling at least a bit above your average entry. However, every strategy should always be used responsibly and it's not a good idea to think that doubling down will always rescue your trade.
Another mistake many crypto traders report is using too many trading pairs, which is one of the most common trading mistakes because nobody can handle too many coins at a time. So it seems like the odds are greater when focusing on very few or even only one trading pair.
Profit Trailer vs 3Commas
---
3Commas.io is a much more popular automated trading platform that is constantly developed into a more powerful suite of trading tools. On the other hand, Profit Trailer is more of a specialized tool that is focused on a couple of specific trading tasks. 3Commas is a far superior crypto bot to Profit Trailer.
Conclusion – Profit Trailer Bot Review
---
Profit Trailer is a beautifully designed platform that has a great support team, with guys who "live and breathe PT" as they say. The bot system was launched in 2017 and thousands of traders have already used it. In those first 2 years of its existence, Profit Trailer has an excellent record in terms of percentage gains and it managed to become the No1 brand when it comes to automated trading software for cryptos. Also, the general reputation is overall really good.
Profit Trailer works in the most basic of ways. However, it's important to understand that a trading bot isn't a magic machine and won't make you rich if you generally don't know how to trade profitably. Keep in mind there are many settings and adjustments that you will need to make to your configuration files that will fine-tune when/how and why the bot does what it does.
Profit Trailer is a decent bot but check out the below software – cloud based and far superior in terms of features and ease of use:
If Profit Trailer is not to your liking, check out our other guides on its competitors or a direct comparison of two top crypto trading bots Cryptohopper against 3Commas.:
PROS
Automatic updates and configurations
Clean and intuitive user interface
CONS
Not cloud based
Non-transparent company background
No mobile app

CaptainAltcoin's writers and guest post authors may or may not have a vested interest in any of the mentioned projects and businesses. None of the content on CaptainAltcoin is investment advice nor is it a replacement for advice from a certified financial planner. The views expressed in this article are those of the author and do not necessarily reflect the official policy or position of CaptainAltcoin.com