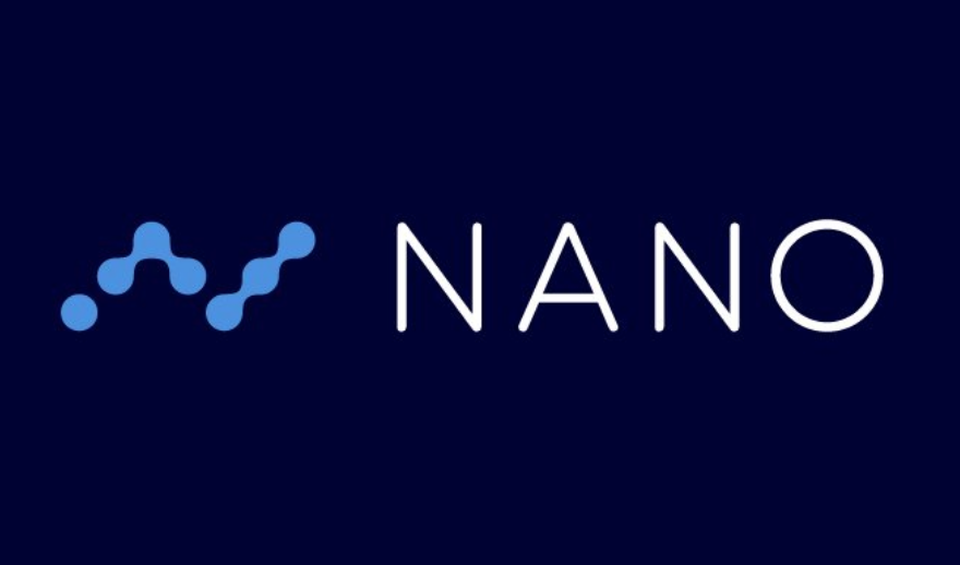 Raiblocks did a rebranding and renaming to NANO on February 1st.
Raiblocks and many other cryptocurrencies are tending to become another Bitcoin clone and a feasible and an efficient replacement to fiat currencies. Raiblocks development team is considering Bitcoin's practicality and its title of the most common currency.
They are concerned about:
– Scallability issues have users facing high transaction fees with an average $10,38 fee.
– Bitcoin's high calculation latency and average transaction time of 164 minutes.
– Bitcoin's proof of work consensus uses an estimated 27.28 TWh annually.
Raiblocks is operating with its personal block-grid called block-lattice and is aiming to make progress where Bitcoin has failed.
The cryptocurrency promises to deliver zero-fee transactions in real time without the same work-intensive overhead and energy consumption as Bitcoin.
How it works
Raiblocks is using DAG algorithm ( directed acyclic graph ) and instead of DAG ,they work with their private model – Block lattice.
This model operates as block chain but, with a few key changes. To open an account you go through the Raiblock's procedure, which is called an account–chain, and the user of this account can change its own chains, so each account-chain is updated from the block-lattice network,i.e., users can update these blocks on their account and without help of a network. If you send assets, you need to finish two transactions a sender and a receiver transaction. Person who receives funds has to sign a block and confirm the transaction. When just sender signed the transaction, it is not completed and it is marked as unresolved. Every transaction that is made is sent in UDP (User Datagram Protocol ).
This UDP packet enables offline transfers, if the receiver is not online at the moment.
Block-lattice has a lot of effective features, for example a ledger's characteristic in processing and storing transactions. Every transaction is a separate block, and every new block is swapped with the last one on the user's account chain. New blocks also record a history of transactions and account balance. Transactions are confirmed by comparing sending block and your contemporary balance on the previous block, on the receiver's side the sum is added to the account's previous block in a chain. Therefore a new block is formed with all necessary information about users and their account's balance. In this way, the ledger is spared from unnecessary history information like older ledgers, and is just keeping info about account balance.

The Perks of a Block-Lattice Infrastructure
Improved Latency
The account chains and accounts can be uploaded anytime by this new unsynchronised model. Using the model users are satisfied with faster and immedate transactions that are tending fee free.
Scalability Solutions
Raiblocks transactions, as we mentioned before, are managed separately from the main chain on a network. UDP packet records transactions on the separate blocks in one hand it decreases particular blocksize problems as well as storing only personal account balances not the whole ledger.
With Bitcoin's traditional distributed ledger, a transaction cannot be cleared until an entire block is built into the blockchain.
Storing more information and unnecessary data results with slow-moving transactions and expensive fees. Raiblocks' account chains are made to be floaty mechanisms, which will outcome scalability in contrast with legacy blockchains.
Energy Efficiency and Decentralization
Raiblocks' network is ensured with a DPoS (delegated proof of stake) model. This kind of model has a lot of advantages than Bitcoin's proof of work mechanism.
Raiblocks secured itself from mining attacks, using a system without miners and from centralization, by assuring that all Raiblock delegates hold their currency stakes which keeps them away from misusing their influence, by trying to centralize the currency. This way they will not put in danger the network and their investments ass well. Because of a block-lattuce grid, users only must verify the transactions when a problem occurs.
Result is running a node on the RaiBlock's network consumes much less energy than if the nodes were operating under a proof of work model.


RaiBlock's Trading History
Trading with Raiblocks during the past years was so low, as well as the price, in 2017 it raised $0.07-$0.10 range.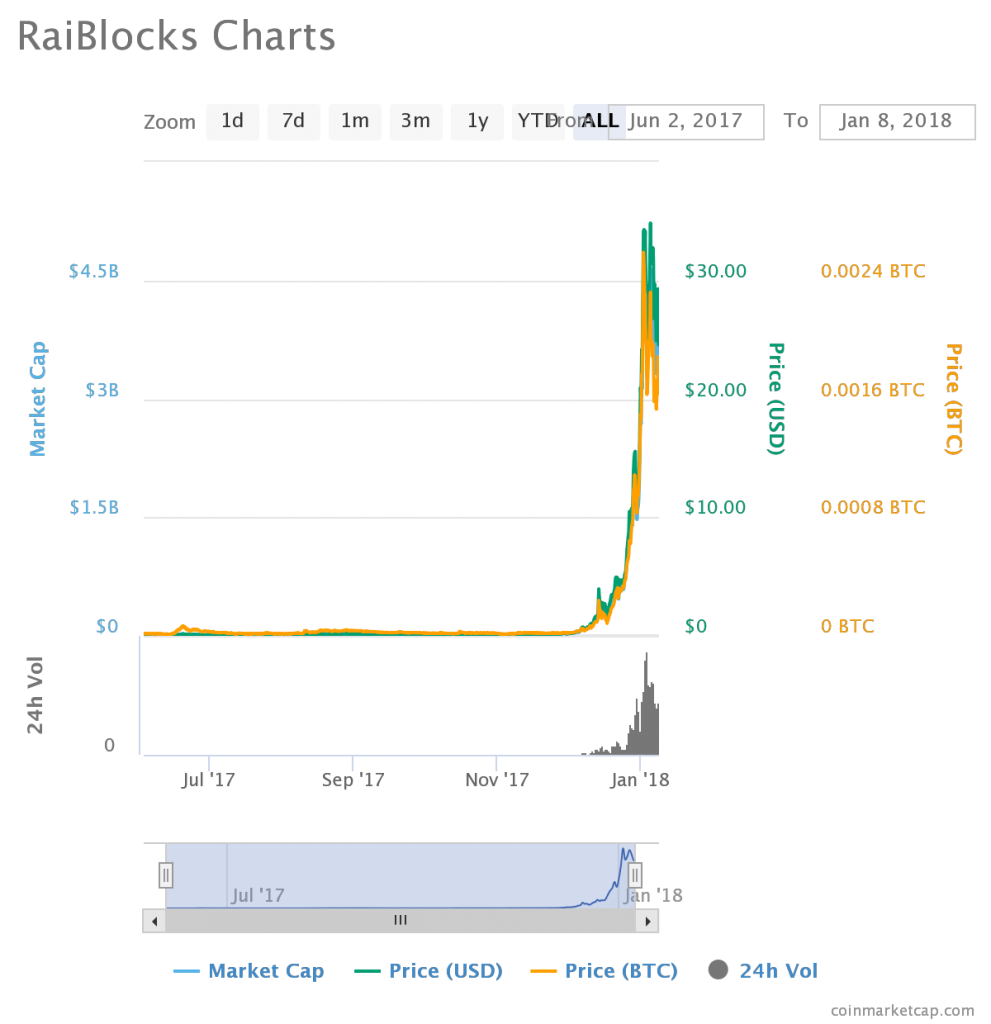 In December it made a serious jump $4.02 , but it didn't last long soon it decreased to $1.60. Then came the crazy January pump to $20+ per coin. Current price is $24.
Where to Buy RaiBlocks
Raiblocks is a in top 50 Coin Market Cap, despite its stagnation. BitGrail, Mercatox, and Bitflip are the excanges that trade with it. BitGrail is especially made for Raiblocks with 77.88% 24hr volume for its sole BTC/XRB trading pair ,second is Mercatox 21.69% 24hr volume for its own BTC/XRB pair and Mercatox which only accounts for 0.24% of all the coin's overall volume.
Where to Store RaiBlocks
There are three storage choices. You can hold it on an exchange which is dangerous and not recommended, RaiBlock's official web wallet, and Telegram. All three keep your private keys and accounts.
If you want to save and store Raiblocks visit their website.
The Future of RaiBlocks
The aim and a primary mission of any digital currency is getting into circulation, after that is a struggle to achieve successful and developed currency in a already competitive surroundings of a digital cryptocurrencies. The similar path had Raiblocks, most of its triumphs came after getting into circulation.
From this point, the development team takes over, to expand systems features and user's needs and services.
Raiblocks future plans and vision is building its way towards success . They announced to present new mobile wallet, adding chain pruning, also aiming for a bigger exchange like Binance or Bitrex, widening the network of user's and partners, and in the end bringing Raiblocks to be a competitive payment mechanism.

Final Thoughts
Raiblocks can be a serious rival in the future years, especially with new building solutions that could solve Bitcoin's latency and scalability issues, new mining solutions and usage of energy all of this has an expanding potential and on a good way to progress.
Any cryptocurrency that offer a solution for Bitcoin's stated problems and deficiencies will become a competitive rival to fiat currency in the future.
Hot New ICOs
If you are a real hard-core crypto fan, I am sure you are on a hunt for new hot ICOs all the time. Make sure to check our list of upcoming ICOs.
How to buy it?

Where to store it?

CaptainAltcoin's writers and guest post authors may or may not have a vested interest in any of the mentioned projects and businesses. None of the content on CaptainAltcoin is investment advice nor is it a replacement for advice from a certified financial planner. The views expressed in this article are those of the author and do not necessarily reflect the official policy or position of CaptainAltcoin.com