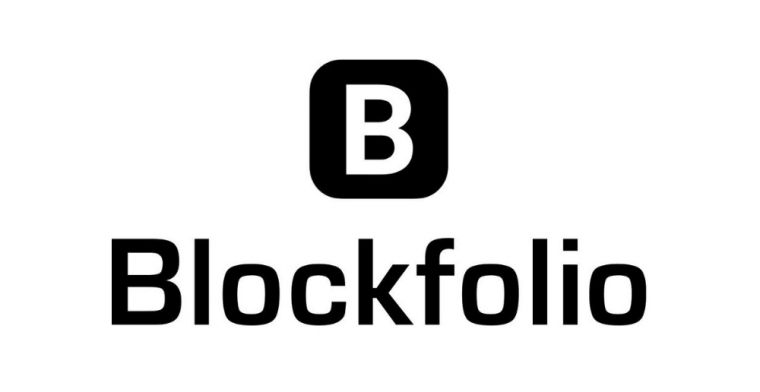 Having completed my reviews of other crypto tools and portfolio trackers, I realized that I still had the same problems as before: I had a bunch of cryptocurrency all over different wallets and exchanges and I needed a way to keep track of it all. This nudged me to do Blockfolio review – a review of the first, legendary crypto tool that is synonym for crypto trackers.
Therefore I decided to try out what many think is the granddaddy of cryptocurrency portfolio tracker/managers on the market, an application called Blockfolio.
About Blockfolio
Cryptocurrency portfolio tracking mobile application Blockfolio came to life back in 2014, when a group of Dash coin early investors joined forces to create a service that would give them the ability to keep track of their holdings.
A one-stop-shop to check out one coin's price, market information and development updates was definitely something that the crypto community needed, and said group of individuals (led by the current Blockfolio CEO Ed Moncada and UX expert Charlie Mason) decided to fulfill that need.
Ultimately the vision behind the Blockfolio project impressed a wide number of reputable investors, with entities such as Pantera Capital, Nirvana Capital, Chapter One, Danhua Capital, DCM Ventures, Abstract Ventures, Mayfield, Pathfinder, BitMEX and Huobi giving the project $11.5 million worth of capital investment back in 2018.
How does Blockfolio make money? To the founders' credit, they decided to collect money by doing a funding round instead of advertising ICO's and yet-to-be-confirmed-as-legit projects on the Blockfolio platform, even though that meant they would miss out on some serious financial revenue.
Blockfolio people felt that this was an important part of their project's identity as it clearly shows their intention not to be tied to scams and quick money making schemes. Looking at the investors' response, it seems like they made the right call.
Blockfolio features
While Blockfolio operates as your typical stat tracking application, their "unique" pitch is the signal feature which allows the teams behind cryptocurrencies to release updates directly to Blockfolio users.
The idea is to have these updates pop up on people's phones in the form of push notifications, which the user can click on and check out in more detail if he so desires. This feature, while quite useful and operational, isn't that unique in the crypto portfolio tracker market, as there are other projects that have implemented it as well.
The app itself can be downloaded from the Android/iOS stores and installed on corresponding devices. You'll notice that Blockfolio doesn't store cryptocurrency itself, but instead operates as a monitoring tool which lets you create your own selection of currencies you want to track.
You can use it as a simple one-touch access tool to monitor the price of your favorite coins or tokens; alternatively you can enter the exact amounts of said coin/token you own and then track your portfolio's performance in detail.
Check out our list of penny cryptocurrencies worth buying. And here is the list of most undervalued coins on the market.
Entering your cryptocurrency holdings into Blockfolio is a relatively simple process that still might confuse a few people new to the app. What you have to is to click on the white + button on your main crypto portfolio screen, which will then open a search menu containing over 8000 cryptocurrencies.
Chances are you'll find your desired cryptocurrency here, as both typing the full projects name or just its ticker is enough to pull it up.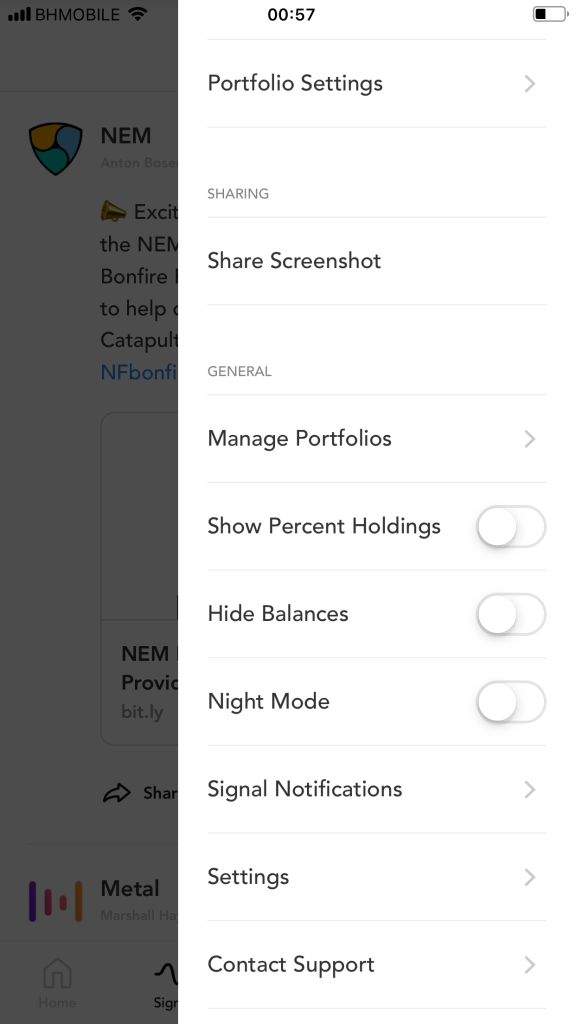 Say you have some Bitcoin you are interested in tracking. After finding it in the abovementioned search menu you can pick the "Watch" option which lets you do exactly that, monitor BTC's price over time. Additionally you can click on the "Add Transaction" button, which lets you enter any Bitcoin transactions you've ever made. You can enter both "Buy" and "Sell" transactions; the app lets you add transaction details like:
the exchange your BTC was bought/sold on
price you paid/received (per coin or in total; will be pulled from the selected exchange automatically if no value is entered manually)
quantity of BTC that was bought/sold
date of the transaction
transaction fee
any additional notes you feel are needed
Additionally, you can enter wallet transfers that you've made with other Bitcoin holders by simply entering the source/receiving address under the "Transfer" section.
Naturally this method of tracking may not seem very practical for someone who, say, uses their cryptocurrency for payments or makes dozens of trades on a daily level; having to enter all those daily transactions manually would end up being pretty tedious. People who will find the app useful are long term investors who want to sit on their cryptocurrency for a longer period of time without making frequent transactions.
Your portfolio value will, by default, be shown is USD but users can change this in the Settings menu to any other fiat currency in the world. Blockfolio will automatically calculate what your entire bag of cryptocurrency is worth and display the value on your home screen. Tapping on the value of the entire portfolio, found at the top-left of the screen, pulls up a chart of its value over time. This lets you track your portfolio's overall performance and whether or not you are profiting or losing.
Additionally, tapping on any watched/added cryptocurrency brings up a detailed overview of that currency, along with details on said bag's historical performance.
Daily volume, market cap, overall market rank and the total circulating supply will be listed among the details, with related signals (if the cryptocurrency is a part of Blockfolio's "signals" program) listed below. From here, you can navigate to "profit/loss", "transactions", "alerts" (custom made notifications which alert you when the price of a cryptocurrency reaches a certain price), and "book" sections for the related cryptocurrency.
Blockfolio Markets/Signal/News
Both your portfolio value and the cryptocurrencies you watch/own are located on the Home menu of your Blockfolio app. The app also has:
a Markets menu which lets you monitor the current market situation (cap, daily volume, BTC dominance and overall crypto ranking by market cap)
a News menu which grabs the latest stories released by various cryptocurrency news publications (we aren't on that list, yet!) and biggest crypto-related Reddits
a Signals menu which grabs the latest updates from projects that have signed up for this service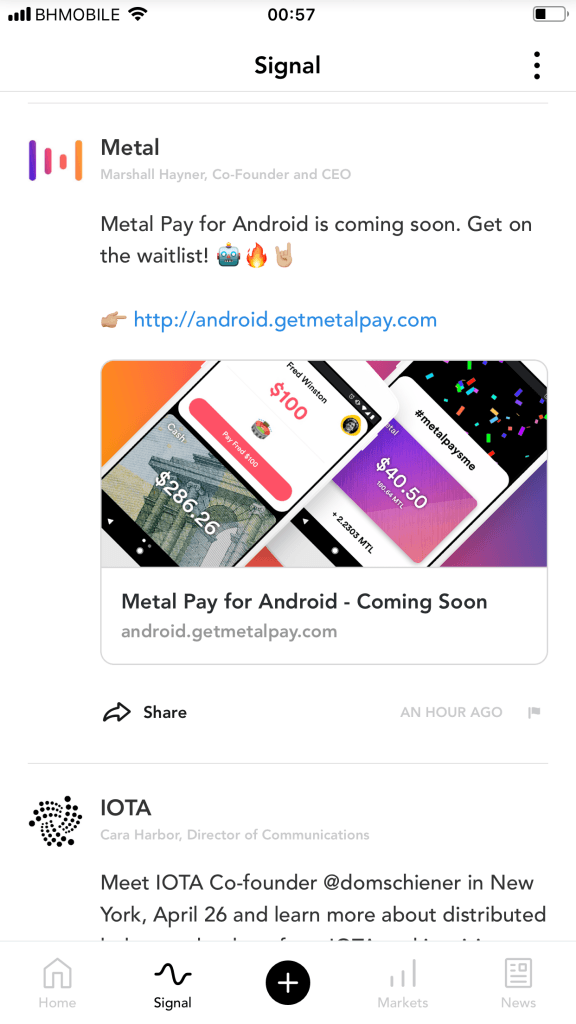 The Signals menu was introduced in the Blockfolio 2.0 update. It can be tweaked to only include signals from cryptocurrencies you want; it can also be completely turned off if you don't want to receive notifications.
You can at any time scroll through the list of available signals and check them out in detail even with notifications turned off. While people will find use for this menu, I don't feel like it's much more than another way for projects to serve non-controversial, "bullish" news and updates about their cryptocurrencies.
To sum it all up, the key features of Blockfolio's portfolio management include:
Free portfolio tracking of over 8000 cryptocurrencies located in over 300 exchanges
Built-in news feed that tracks news from internet's most popular sources
Built-in signals feature which brings you the latest updates from cryptocurrency projects
Built-in charts and detailed information about each cryptocurrency
Profit/loss calculation
Create and switch between multiple portfolios
Customizable home page
Customizable signals and price alert notifications
Easy data backup and restore
Can integrate with the Slack social network
More than 5 million users
Should I Use Blockfolio? Is Blockfolio safe?
Blockfolio is by no means a perfect portfolio app. One thing that should be addressed is the alleged data mining they performed on their users in 2017; according to Reddit and other social media, the company used its user's data to front-run cryptocurrency markets.
The team responded to the issue by categorically denying that they've performed any kind of spying or market manipulation. The rumors didn't make much sense honestly since anyone can enter false holdings and trades into their Blockfolio account, making trading based on this data pretty suicidal.
Other quirks I had with this application included its limited usability if you are an "advanced" user that wants to track frequent daily trades; the app's lack of exchange API key importing abilities makes it impossible to sync your transaction data automatically and forces you to enter each trade you make manually. This is apparently being worked on at the moment and the application should soon have the exchange syncing feature enabled. Additionally, Blockfolio cannot be accessed through a web browser and is currently only a mobile application.
Overall, Blockfolio will be a useful little gadget for any long term holder or market observer. While its functionality is somewhat limited, what it does have on offer does its job perfectly fine. If you are looking for a portfolio tracking tool, getting a free one that 5 million other people went with is never a bad idea.

CaptainAltcoin's writers and guest post authors may or may not have a vested interest in any of the mentioned projects and businesses. None of the content on CaptainAltcoin is investment advice nor is it a replacement for advice from a certified financial planner. The views expressed in this article are those of the author and do not necessarily reflect the official policy or position of CaptainAltcoin.com