Bitpanda Overview
---
In 2014, Vienna, Austria, a digital exchange was founded with the goal of simplifying investments for everyone. Since then, this company has developed to become one of the fastest growing fintechs in Europe, with over 2,000,000 users exchanging on a platform being led by more than 400 team members[1].
Bitpanda is an all-in-one digital exchange, and upon signing up and verifying, users can begin depositing and trading crypto, stocks and metals.
As one of the most secure and trusted platforms in the crypto space, Bitpanda is a registered digital assets service provider with the Austrian FMA (Financial Market Authority), as well as with the French AMF (Autorité des Marchés Financiers). Furthermore they hold a PSD2 license[1], an EU regulation focused on payment security and innovation.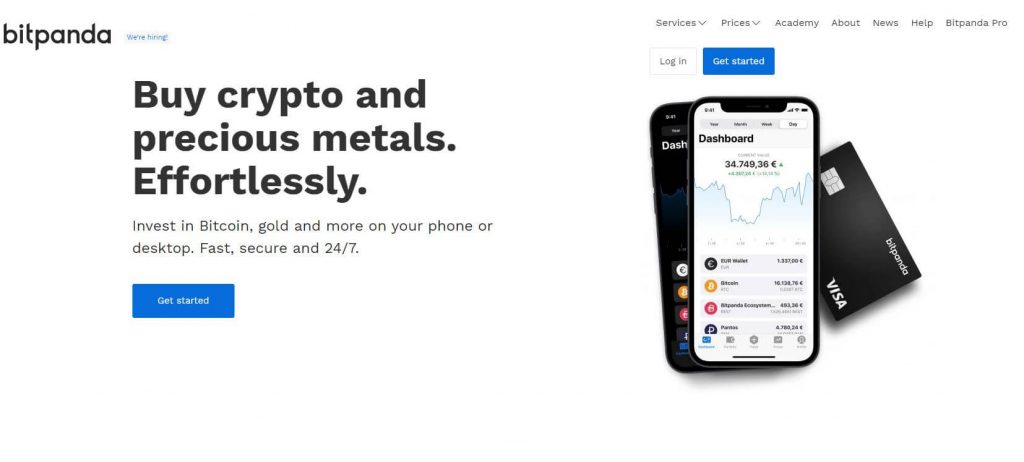 Location
---
At the moment, due to regulatory reasons, Bitpanda can offer its services to users of these 37 countries, and accepts these identity documents for its verification process. Unfortunately, abiding by these regulations means that Bitpanda cannot work in the US, but on the upside, following these regulations makes the platform as a whole more secure.
Fees
---
Deposit and withdrawal fees: On Bitpanda, the fees to deposit and withdraw crypto to and from your account depends on the coin. Each coin has a different minimum deposit and withdrawal amount, and while all withdrawals include a fee, deposits of certain amounts and above are free.
The entire list of deposit and withdrawal fees for all their supported crypto can be found here.
Internal transfers are not subject to any fees[2].
Trading fees: The fees for buying and selling crypto on Bitpanda are 1.49%, but you can reduce those fees by up to 20% by paying them with BEST[3].
Overall the fees are relatively welcoming to newcomers and beginners alike.
Supported Coins
---
There are currently 51 coins supported on Bitpanda; including Bitcoin, Bitcoincash, Ethereum, USD Coin, Tether, and BEST, the Bitpanda Ecosystem Token, which offers users a variety of rewards, perks and benefits. Click here to see the full list of supported coins.
While there are a few exchanges that support more coins, these coins are stored in secure offline wallets with state-of-the-art technology[6], and can be swapped for other coins anytime.
New coins are often announced on their blog page where they also post news and updates.
Payment Methods[4]
---
Verified and lightly verified users can pay or be paid through:
For deposits: SEPA, GIROPAY/EPS, iDEAL, SOFORT, NETELLER, Skrill, Visa and Mastercard, and of course, bank transfers.
For withdrawals: NETELLER, Skrill and bank transfers.
Accepted currencies: Euro, US Dollar, Swiss Franc, British Pound Sterling and Turkish Lira. Depending on the currency, deposit and withdrawal methods differ.
Users can also redeem Bitpanda To Go vouchers to receive cryptocurrencies directly.
Deposit and withdrawal limits: There are deposit and withdrawal limits and they differ based on account verification status and the deposit/withdrawal medium. By bank transfer, a lightly verified user can deposit €49,999 a day and withdraw €500,000 a day; a verified user can withdraw 10 times those amounts per day. Click here to see the full list.
Unverified users cannot deposit or withdraw funds[5] due to an EU anti-money laundering regulation: AML5.
These payment methods and limits ensure users move their funds swiftly and smoothly under a secure and regulated light.
Buying Limits
---
For both verified and lightly verified users alike, trade limits are unlimited. Users on Bitpanda can trade as much as they like without having to worry about reaching a certain limit[7].
Bitpanda Alternatives
---
In the vast world of cryptocurrency there are over a thousand exchanges[8] that offer trading crypto, and these sites can differ vastly from each other.
For example, you might find an exchange that targets professional traders, whose trade fees are low, but minimum amounts are high. These sorts of exchanges assume that professionals trade in high volumes anyway, and try to attract them with low fees, because every decimal of a percent would matter to a pro.
Alternatively, you might have an exchange that targets beginners with low minimum amounts, but charge high fees because beginners may not know or care much about trading fees.
But exchanges aren't just trading fees and limits, there are other elements that make up these platforms, such as: User interface, security, trading options, data analysis, accessibility, variety, customer support… and so on.
Here are some of Bitpanda's alternatives and how they compare with Bitpanda's features above.
Coinbase
---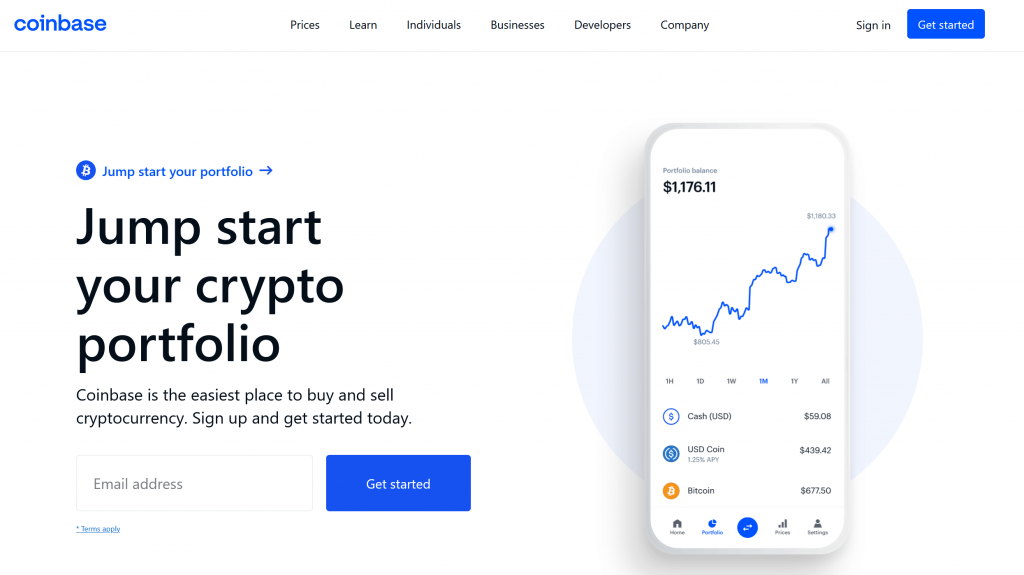 Location: While available in over 100 countries around the world, Coinbase currently supports 99 countries, the extent of which differs from country to country[9].
Fees: 0.50% spread for cryptocurrency purchases and sales (spreads can change depending on market fluctuations), as well as flat fees that can range from $0.99 to $2.99 depending on the transaction amount. Up to 2% spread margins for crypto conversions, and 25% commissions on staking[10].
Supported Coins: There are currently 53 cryptocurrencies supported on Coinbase[11].
Payment Methods: Bank account, debit card, wire transfer, Paypal[12].
Buying Limits: From up to $7,500 a week to unlimited depending on account type and payment method[13].
eToro
---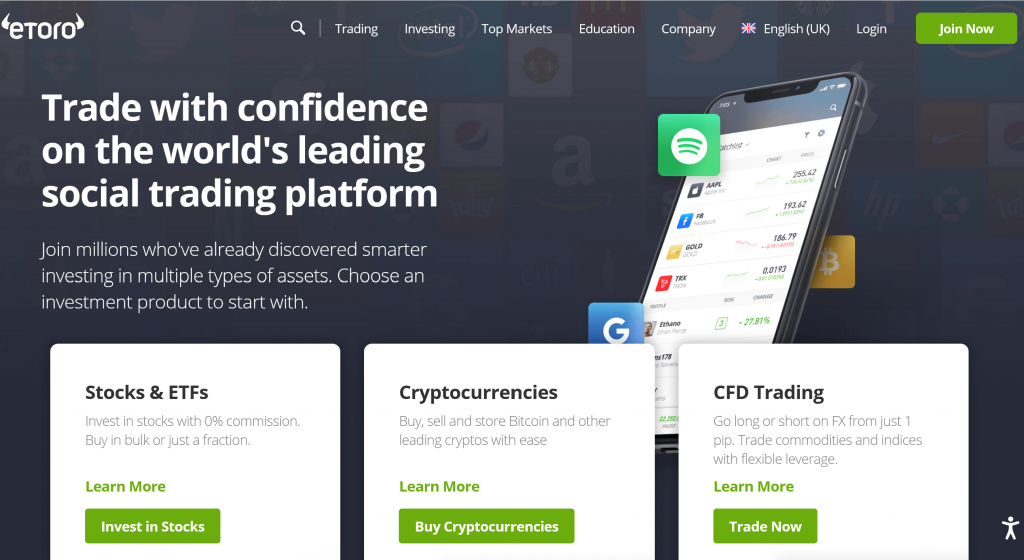 Location: eToro is available in 70 countries as of April 2021[14].
Fees: $5 on withdrawal fees, an average of 2.76% spreads (depending on the coin) on crypto purchases and sales, and crypto transfer fees that depend on the blockchain[15].
Supported Coins: You can buy from 19 cryptocurrencies on eToro[15].
Payment Methods: Debit/Credit cards, PayPal, NETELLER, Skrill, rapid transfer, iDeal, Klarna/Sofort Banking, bank transfer, local online banking, Trustly[16].
Buying Limits: From $10,000 a day to $1,000,000 per transaction depending on payment method[17].
Binance
---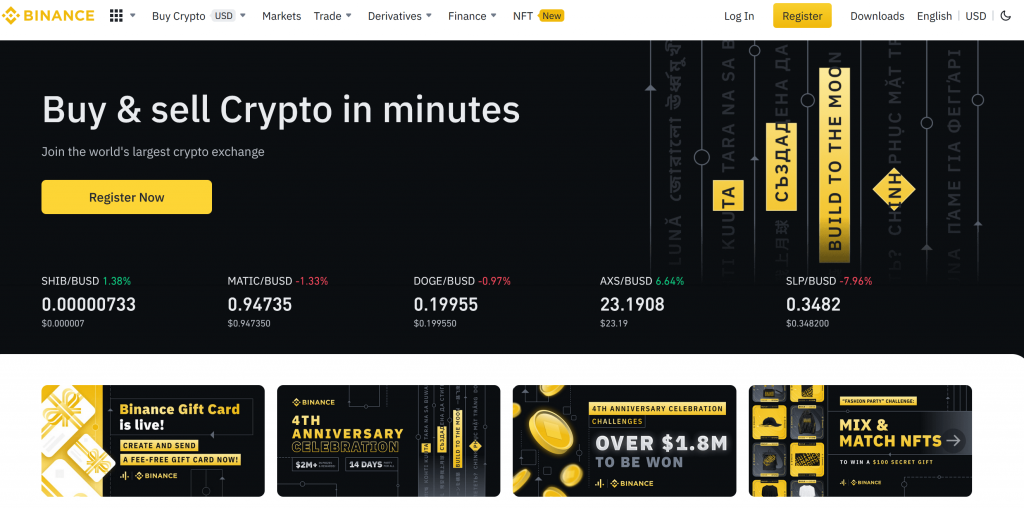 Location: Binance supports over 180 countries in varying capacities, but is limited in the United States[18].
Fees: Trading fees range from 0.1% to 0.012% depending on the trade, VIP level and BNB fee deductions, and withdrawal fees depend on the coin[19].
Supported Coins: You can trade over 150 coins on Binance[20].
Payment Methods: Over 62 payment methods can be found on this link.
Buying Limits: Binance has a very long list of all its order amounts, and it can be found here.
Kraken
---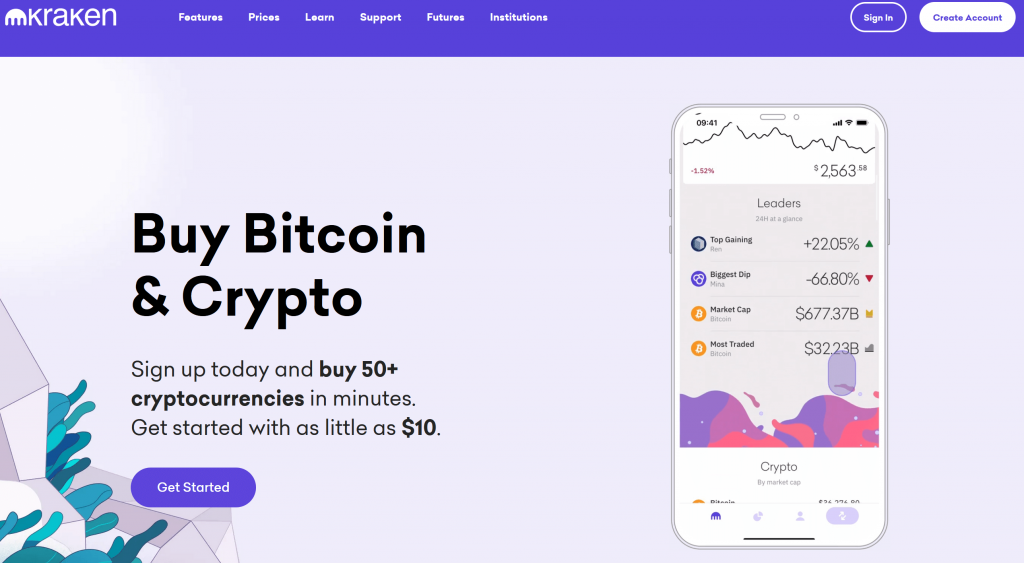 Location: 232 countries are supported by Kraken, of which 10 have limited support, and there exist 10 countries that have no support[21][22].
Fees: The fees can range from 0.05% to 0% depending on the volume and the nature of the trade[23].
Supported Coins: As of today, Kraken supports 62 coins on its trading platform[24].
Payment Methods: Kraken only accepts CAD (Canadian Dollar) in-person via either cash or debit card[25].
Buying Limits: From $5,000 to unlimited depending on verification level[26].
FTX
---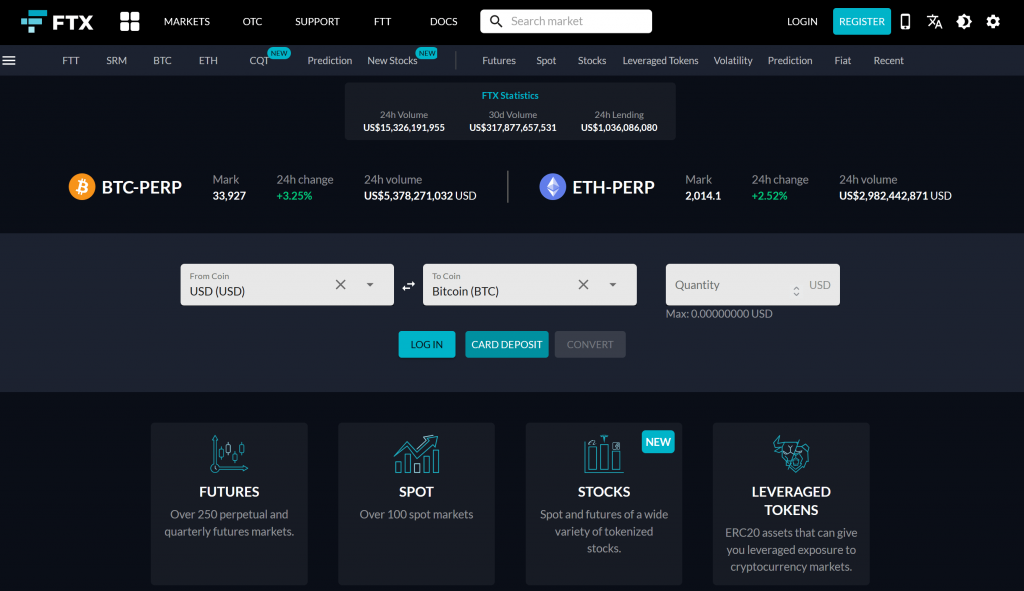 Location: FTX is essentially available for all countries except for these ones, which includes the United States.
Fees: Fees can range from 0.07% to 0% depending on the tier and nature of the trade, there are no deposit fees[27], but there are withdrawal fees on these coins, and fiat withdrawals below $10,000 in value will have a $75 fee[29].
Supported Coins: There are 42 coins supported by FTX[28].
Payment Methods: Credit cards and wire transfers[29].
Buying Limits: There are order limits that are detailed in this page.
Coinmama
---


Location: Coinmama operates in over 190 countries[30], some of which are served by third parties.
Fees: Up to 3.90% on buy orders, and sell fees of 0.9%-1.9%, all depending on the loyalty level of the account. An additional 5% express fee on transactions with a locked crypto rate and instant delivery.[31].
Supported Coins: Coinmama currently offers only 8 coins[32].
Payment Methods: Bank transfer, credit card, debit card, Visa, Mastercard.
Buying Limits: Order size limits start from $5,000, order limits start at 5 per day, and account transaction limits start at $15,000. These numbers depend on payment methods and account levels[33].
CEX
---


Location: Of the 251 countries currently listed on their website, 174 are supported by CEX, and 77 aren't, including the US[34].
Fees: Transaction fees range from 0.25% to 0% depending on the volume and nature of the trade[35], and deposit and withdrawal fees that are listed here.
Supported Coins: You can currently buy 63 coins from CEX[36].
Payment Methods: Bank transfer[37], Visa, Mastercard, S.W.I.F.T. , ACH, domestic wire transfer, Faster Payments, Sepa, QIWI, Skrill, Epay, Advcash[38].
Buying Limits: Account limits start at up to $3,000 in daily deposits and up to $10,000 in daily withdrawals, and reach all the way to unlimited deposits and withdrawals. These depend on account types and payment methods[38].
Conclusion
---
The extent to which crypto exchanges can vary has resulted in a diverse range of platforms that try to cater to different audiences. No single exchange can be the perfect place for everyone, but variety can ensure there's a suitable exchange for every trader.
While Bitpanda isn't quite available everywhere, it has optimized its remarkable services for the countries it supports, and thus, comfortably competes with some of the biggest exchanges in the world because of how well adjusted it is to its arena.
In case you want to check out a detailed comparison with other exchanges, read more here:
References:
[2] Support.bitpanda.com/contacts
[4] Support.bitpanda.com/payment-methods
[5] Support.bitpanda.com/AML5D
[6] Bitpanda.com/academy/Wallet
[8] Blockspot.io
[10] Coinbase.com/fees
[11] Help.coinbase.com/supported-cryptocurrencies
[12] Help.coinbase.com/payment-methods
[14] eToro.com/help
[15] eToro.com/trading/fees/crypto
[16] eToro.com/customer-service/deposit
[17] eToro.com/customer-service/maximum-deposit
[18] Investopedia.com
[19] Binance.com/fee
[20] Investopedia.com/binance-exchange
[21] Support.kraken.com/debit-and-credit-card-purchase
[22] Support.kraken.com/geographic-restrictions
[23] Support.kraken.com/fee-schedule
[24] Support.kraken.com/cryptocurrencies
[25] Support.kraken.com/can-I-deposit
[26] Support.kraken.com/deposit-withdrawal-limits
[27] Help.ftx.com/fees
[28] Cryptowisser.com/exchange/ftx/coins
[29] Help.ftx.com/depositing-withdrawing-fiat
[30] Support.coinmama.com
[31] Support.coinmama.com/fees
[32] Support.coinmama.com/cryptocurrencies
[33] Support.coinmama.com/limits
[35] cex.io/fee-schedule
[36] cex.io/buysell
[38] cex.io/limits

CaptainAltcoin's writers and guest post authors may or may not have a vested interest in any of the mentioned projects and businesses. None of the content on CaptainAltcoin is investment advice nor is it a replacement for advice from a certified financial planner. The views expressed in this article are those of the author and do not necessarily reflect the official policy or position of CaptainAltcoin.com