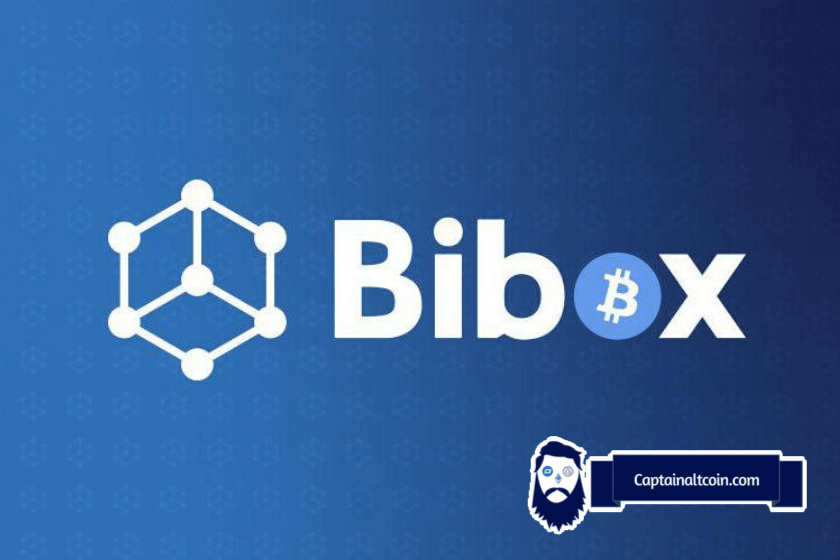 If you've ever purchased or sold cryptocurrency, you've likely done so through a cryptocurrency exchange. These platforms specialize in offering individual crypto owners a chance to trade their crypto assets with other people in a simple, quick, and relatively safe manner. This review will be about one such platform called Bibox, a comparatively small but upsurging platform for cryptocurrencies.
Throughout the years, a list of "premium" exchanges swam out to the top, with platforms like Binance, Coinbase, Kraken, Huobi, and others dominating the conversation.
While most traders prefer to turn to these behemoths of the crypto space for their trading needs, an evergrowing list of smaller exchanges does exist out there in the wild, looking to break the status quo and grab a piece of the market share for themselves.
Today we'll be taking a closer look at one such exchange called Bibox exchange; we'll be reviewing its quirks and features and ultimately attempt to determine if said platform is a place where you should be taking your crypto trading needs.
So what will be in this Bibox exchange review?
Well, we will go over everything the platform has to offer and how it fares against its more famous rivals (it definitely has a couple of competitive advantages over them).


What is Bibox and where is it located?
---
Bibox exchange came to be in China sometime in 2017 so it's a Chinese exchange, with several former employees of other industry giants (Binance, OKCoin, Huobi) breaking off of their original platforms and joining forces to create the exchange we're taking a closer look at today.
Key team members here include Aries Wang (founder, crypto entrepreneur, and investor), Meilun Li (product manager at Bibox), and Guojie Liu (director of operations, worked as an asset manager at Black Rock).
Some people will take this founding team as a sign of quality and reliability, as the platforms these individuals used to work for remain at the top of the crypto food chain.
Others will point out the shady dealings and problems (centralization, wash trading, price manipulation) that naysayers use to beat most crypto exchanges over their heads and claim that Bibox inherited all these problems and more.
As has become usual in the crypto world, there's evidence for both sides of this argument; while Bibox as a platform provides most of its traders with good service, there are individuals who claim they got burned by it (citing occasional inability to withdraw funds, wash trading and bot activity, and whales using the platform as a place to dump their bags as its biggest issues).
Trading volumes on Bibox – real or faked?
---
Bibox does tend to report some serious daily trading volumes (regularly featuring in the top 20 of Coinmarketcap's most active exchanges) but there are times when these volumes aren't backed with actual liquidity, which is one of the main reasons why the community likes to accuse the platform of wash trading.
While Bibox probably had moments where it engaged in wash trading, this practice has been somewhat of a dirty secret for the entire crypto trading community.
Most major exchanges will report metrics that clearly indicate wash trading-like foul play happening behind the scenes. The community has become somewhat accustomed to this, as they don't have much of a choice in the matter.
We can expect to see an improvement in this area as the entire space grows and either stricter regulation or more transparency and decentralization step in.
All that being said, Bibox managed to shrug off the criticism and survive up to this day. They originally focused on servicing only Asian markets, pointing out their user base of several thousand traders as the main evidence of the quality of the service provided.
Bibox Europe – upcoming new branch for EU
---
Looking to diversify their mostly Chinese trading community, Bibox recently announced its intention to open Bibox Europe. This platform (currently still in beta) will obviously be aimed at western customers including Bibox US customers; it will also be regulated by Swiss authorities, restricting access only to individuals from some ex-Yugoslav and ex-soviet countries (nothing that a decent VPN won't fix). Currently, the exchange has operating centers in the U.S., Canada, Switzerland, Singapore, South Korea, Japan, and Estonia, among other countries and regions.
Bibox exchange review – key features
---
Bibox has garnered a reputation in the community as somewhat of a good place to go to when you're looking for so-called "shitcoins", a popular term used by the community for anything that basically isn't Bitcoin or Ethereum.
While we can debate how real these trades are all day long, one thing we can't really debate is the platform's ease of use. Bibox offers a web-based trading platform visually and stylistically quite similar to Binance.
This is nothing out of the order in the world of crypto exchanges as several other platforms "took inspiration" from Changpeng Zhao's creation and simply added unique twists to it. As the old saying goes, why invent hot water when it's already there?
Bibox features an easy-to-use, intuitive Binance-like user interface that has a wide range of necessary features. Order book, trading history, and responsive and adjustable charts are included. The platform lets you switch between a basic or full-screen mode (the difference being in how advanced your interface will be).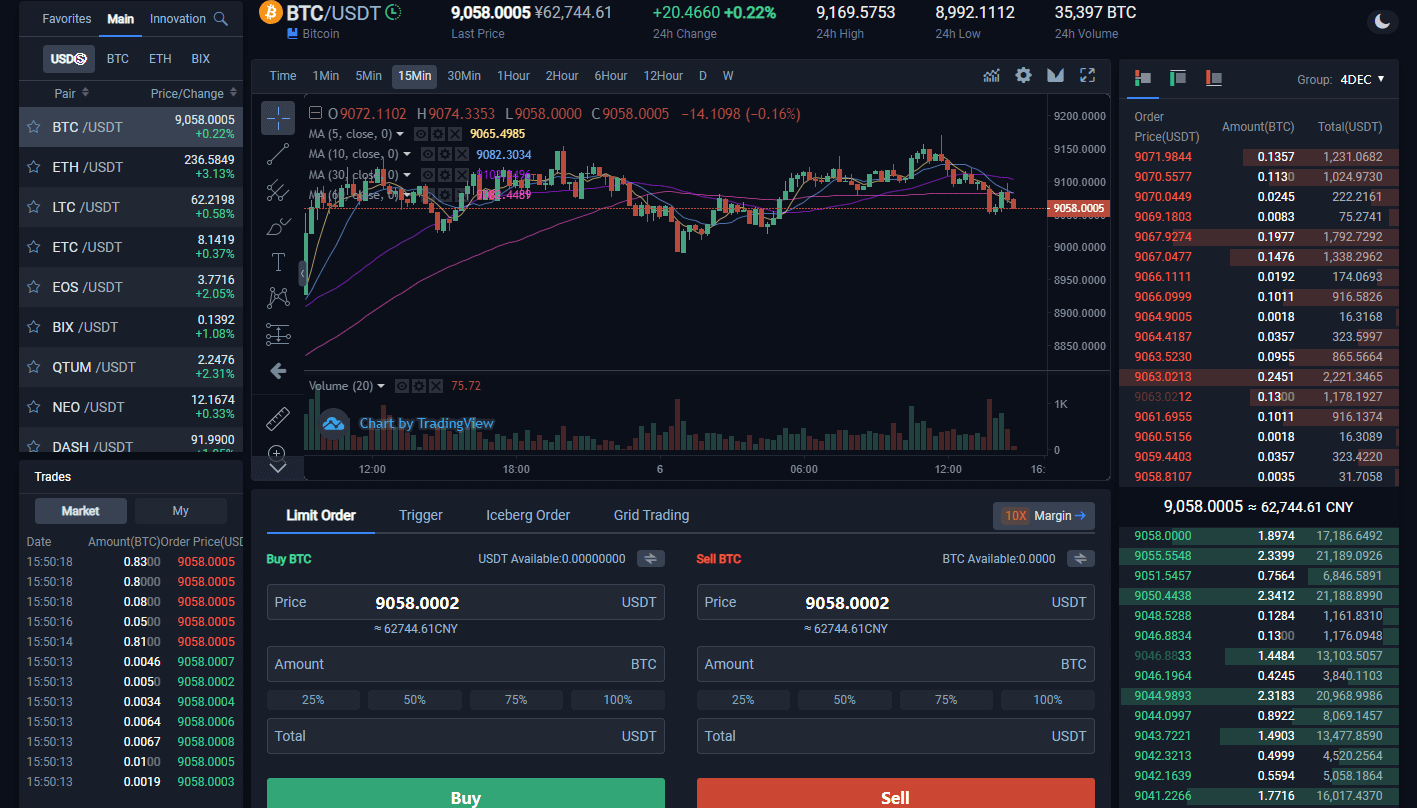 The platform also includes a number of more advanced technical indicators which traders can use to analyze the charts, establish trends, and predict future movements of their desired cryptocurrencies. While Bibox is originally a web-based platform, users can enjoy this exchange's offerings through native iPhone/Android apps.
To get to the trade screen, navigate to the "Exchange-Basic" to enter the transaction page. Select your desired currency pair; if you want to exchange ETH into BIX, select BIX/ETH. Enter the amount and price, and then click "buy" or "sell" to submit an order.
Bibox also has mobile and Mac OS apps.


Bibox fees
---
It is the benchmark metric that all traders are most interested in – what fees does the exchange charge for its services.
Bibox's trading fees for both takers and makers are now 0.10%. These fees are 2.5x slower than the industry average which hovers around 0.25% making it one of Bibox's main selling points.
Additionally, similar to the Binance model, if you trade with the exchange's native token (the BIX token), your fees are discounted by another 50%. This results in incredible cheap fees that are 5x lower than the industry standard.
Bibox token review – BIX
---
Similar to Binance, Bibox has its own exchange token with the ticker BIX. Token serves a similar purpose as the Binance one, giving traders who buy/sell crypto on Bibox a 50% discount on trading fees (provided you're paying them in BIX). This token was first launched through a 2017 ICO and is an ERC20-based token on the Ethereum network.
As Bibox's popularity grows so should the BIX token's value, as more and more traders naturally start looking for ways to spend less on trading fees. Said fees aren't too hefty, as all trades come with a 0.1% kickback to the exchange. This network fee can be reduced by using BIX tokens to pay for them (50% off during the first year with a discount halving each following year), as well as by advancing your status up the Bibox's VIP status levels.
The VIP program has 9 different levels (from VIP0 to VIP8) and can be moved up by increasing your monthly trading volume (added up in BTC).
Other than fee discounts, this program comes with 1v1 customer service, a designated API capable of handling 100 thousand orders per second, and an over-the-counter service that provides fast and easy trading to serious customers.
Supported coins on Bibox
---
There are currently over 90 coins listed on the exchange, with 200+ market trading pairs linked to the 5 base currencies of BTC, ETH, USDT, DAI, and BIX (Bibox's native token) being available. Besides those popular currencies, Bibox lets its users trade a wide variety of lesser-known coins/tokens.
The platform also has an active "Apply For Listing" program where unlisted cryptocurrencies can be submitted for review and potential listing. As implied before, Bibox regularly reports quite high daily trading volumes, which at times shoot over $250 million worth of crypto trades per day.
Creating a Bibox Account
---
To start trading on Bibox, you'll need to create an account. Creating an account is a straightforward process, and starts by going to the "Signup" button at the top right of the platform's webpage.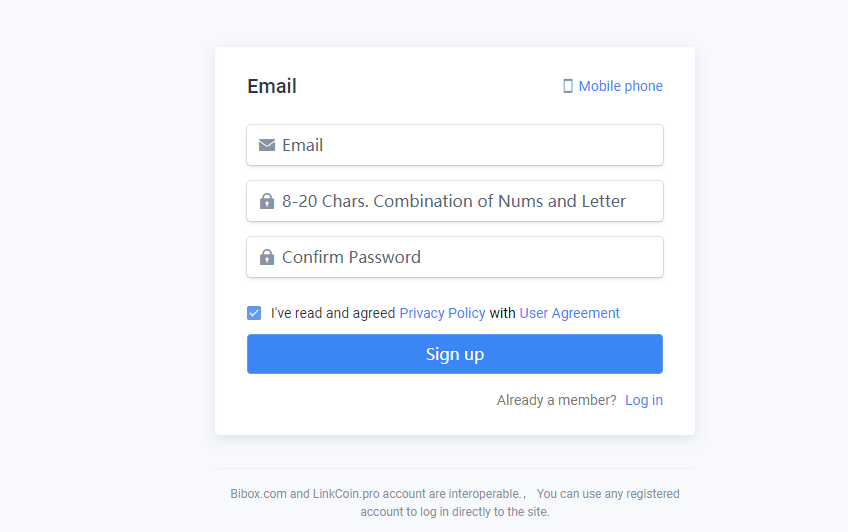 You'll need to provide an email that will be linked to your account, as well as a password of between 8-20 characters in the registration form. The platform will ask you to agree to the Terms of Use and click on "Sign up", after which an email with a verification link will be sent to the email address you provided.
You can click on this link to log into your account or you can copy the link and paste it into the requested field to complete the verification. After this, you can enter your email and password on the platform's "Login" page and access your fully functional account.
Depositing funds on Bibox
---
Bibox is a crypto-only exchange and you can't deposit fiat currencies but only one of the supported cryptocurrencies to its corresponding Bibox wallet.
After logging in successfully, you will need some funds for trading. To supply your account with said funds, click the "Funds" button, select "Master Account", choose the coin you wish to deposit, and click on "Deposit".
After this, click "Copy Address" and paste it into the wallet where your coins are currently stored (the wallet which you'll be using to fund your trading account on Bibox). Complete all the steps required to send the funds (the steps and time it takes to complete them vary from wallet to wallet).
Once you successfully made a deposit, a confirmation email will be sent to your email address and you'll have available funds for trading. Depositing currency to the platform comes with a fee of 0%.
Deposited funds need to be withdrawable and Bibox does offer this feature as well. After logging in navigate towards your account's "Funds" section and select "Master Account". Choose the coin you wish to withdraw and click on "Withdrawal".
Enter the address of the wallet to which you wish to withdraw the funds, add any remarks (if you have them) as well as the amount you wish to withdraw, and click "Submit". The funds should show up on the withdrawal wallet as soon as the related coin's blockchain process the transaction.
Withdrawal on Bibox
---
Withdrawal fees depend on the network fees of any cryptocurrency you're withdrawing but Bibox itself doesn't charge any withdrawal fees.
Customer Support
---
As for the communal section of the platform, there are the usual amount of social media profiles that Bibox uses to promote its business.
While their Facebook and Reddit pages seem to be literal ghost towns with zero activity on them, other avenues of organizing and communicating do seem a bit more populated. Bibox's BiYong (the Chinese equivalent of Telegram) has almost 8 thousand members. The platform does have an official Twitter account which doesn't get the highest of engagements on the posts they make, as an average of cca. 1-3 people likes/retweet Bibox's tweets.
However, the Twitter profile is quite active as well, mostly publishing information about upcoming listings, trade competition winners, and exchange-related updates.
The customer support provided by Bibox is among the more solid ones we've seen. The site is available in English, Chinese, Turkish, Russian, Korean, and Vietnamese. In addition, a support team is available to deal with any issues 24/7, and users can contact the team by opening a ticket in the Support Section or by clicking the "Help" popup on Bibox.com. Bibox support team can also be contacted via their Twitter account, Telegram group, and Facebook page.
There is also an FAQ page in the Support Section that addresses the most common issues, as well as a number of well-written Guides that'll give advanced and beginner users alike enough information to find their way around the platform.
Is Bibox safe to use? How secure is the Bibox platform?
---
As for the on-platform safety measures, Bibox implements a number of security protocols to protect client accounts (including Google Two-Factor Authentication, SMS Authentication, and a Funds Password). These security protocols and security measures increase the safety of the platform.
The team also provides a complete login record to help users keep track of their account activity. The team does not give out a large amount of detail regarding their storage practices but does claim to store the majority of user funds offline in cold storage wallets.
As the platform intends to open its doors to a more European customer base, it did decide to go and make its business as legitimate and safe as possible.
Many consider regulatory supervision as a crucial step towards achieving these goals and Bibox recognized that; while crypto itself is supposed to be trustless, modern crypto investors and the entire crypto-economy clearly aren't ready to operate in such conditions. In accordance with that, BiboxEurope has become a member of the Swiss Financial Services Standards Association (VQF) — supervised by FINMA. This gives BiboxEurope official authority to run their crypto business under European laws and regulations.
Additionally, starting from January 2020 (on the account of Swiss regulators requiring all crypto- service providers to be held under constant supervision of an external audit firm) BiboxEurope will work with Ernst & Young, and Grant Thornton to have their digital assets and dealings audited. This measure is designed to protect the customers of BiboxEurope from:
Inappropriate funds/deposits placement
Third-party jeopardy
Any transfer on/off without customers' authorization
It is important to note that this regulatory oversight has made the platform introduce obligatory AML & KYC registrations for each and every trader, meaning that you'll have to provide quite a few personal documents and some sensitive personal data before gaining access to Bibox's trading area.
Bibox staking
---
Offering staking as a service is getting very popular among cryptocurrency exchanges as almost all of them offer this feature. Most of them offer to stake on popular networks like Tezos or Cosmos (ATOM).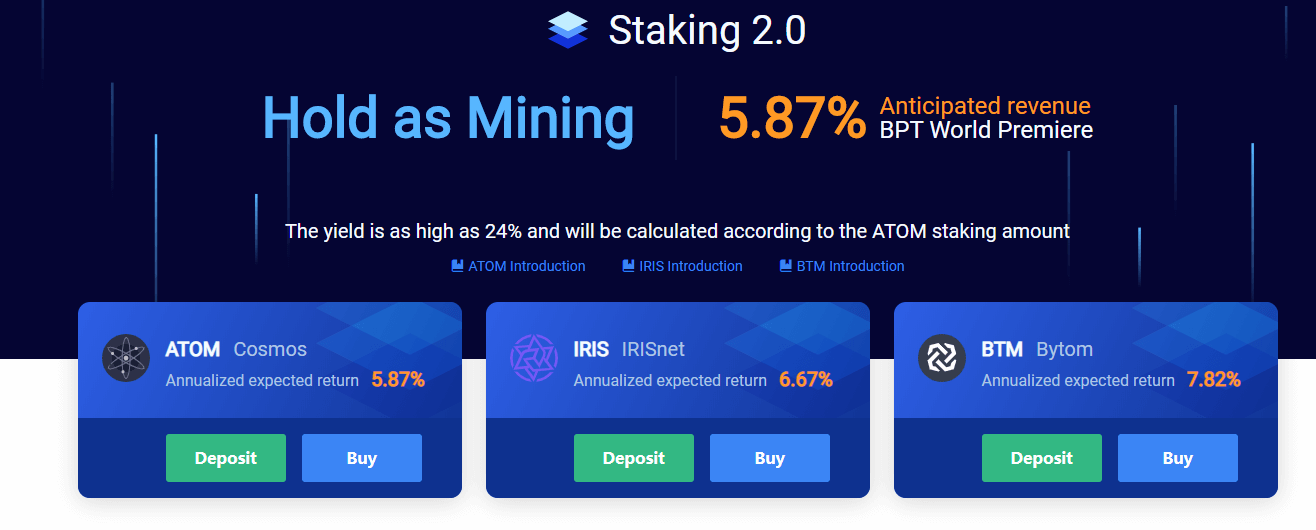 Bibox put a spin on the whole feature by combining staking with BPT token mining.
BPT is the native token of BlockPoolBlockPool and provides users with stable and secure services. It is also a super-node supporting PoS Tokens such as ATOM. It is a strategic partner of HPB and a Staking super-node designated by Bibox.
Users can take part in BPT mining withholding ATOM. Currently, there are three tokens that you can stake on Bibox: ATOM, IRIS, and BYTOM.
Bibox mining
---
Bibox expanded its services to this vertical as well – they are essentially offering cloud mining as you can rent out hash power through their platform.
Bibox margin exchange
---
Bibox has added margin trading to its platform to complement its basic spot trading offer. It works just like any margin crypto exchange and offers leverages of up to 10x on certain cryptocurrency pairs.
Bibox DEX
---
A lot of Bibox activities are modeled on the Binance ecosystem, even though they are struggling to meet the pace of development Binance set out. Decentralized exchange is another project started by Bibox and it can be found under the URL: https://dex.ceo/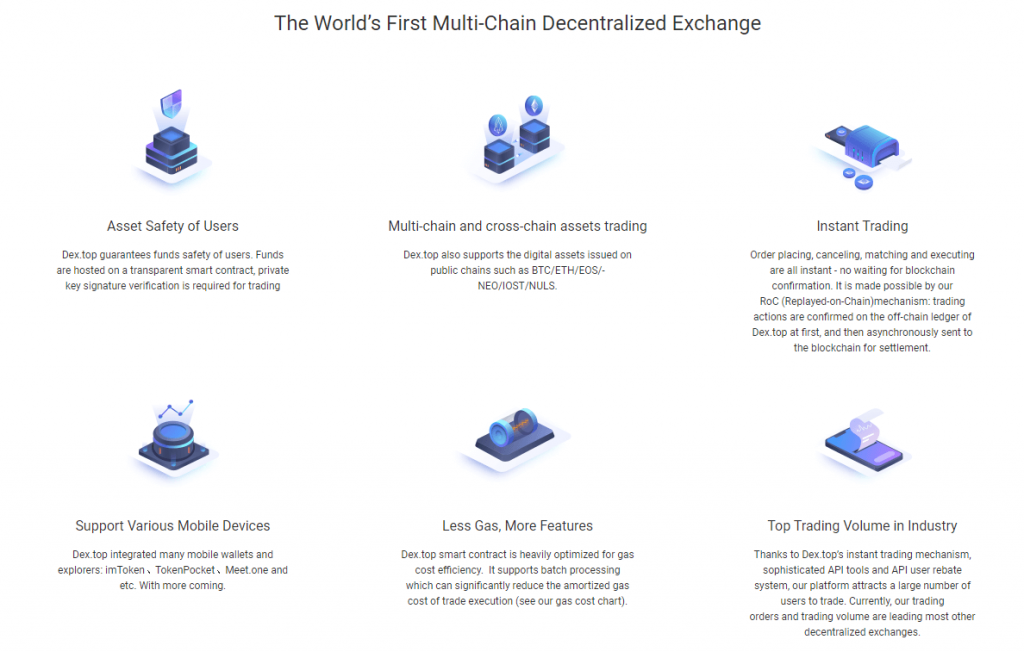 Unlike many other DEX-es, which are bound to one blockchain, Bibox built a multi-chain and cross-chain platform that supports the digital assets issued on public chains such as BTC/ETH/EOS/-NEO/IOST/NULS.
Partners and Affiliates
---
BiboxEurope received an equity investment from world-leading TOP 10 investment bank. On top of that, Bank Frick, Elliptic, and Ernst & Young are on the long list of partners the platform collaborated with to provide top-tier trading experiences to customers.


As such, Bibox is clearly buddying up with the members of the traditional banking establishment, which could only be beneficial in the long run (especially if you consider the possibilities of purchasing crypto with fiat/credit cards and trading fiat currencies pairs for crypto on the exchange).
Bibox also offers several ways of earning money by being an active member of this exchange community. Affiliate programs rewarding those who are diverting new users to the platform like the Bibox Partner and Bibox Ambassador as well as on-platform staking of various coins/tokens listed on the exchange are definitely going to interest those who prefer to stay out of the trading game.
Bibox review conclusion: Is Bibox legit?
---
Bibox is your typical modern crypto exchange platform. While it does provide solid service to some, others (mostly those who were burnt by something related to the platform) will point out that Bibox is definitely not without flaws.
Overall, this exchange is facing an uphill battle to nurture a solid trader user base for itself; measures like listing obscure tokens and running strong referral programs should help them out with that. It remains to be seen if Bibox will stand the test of time and break into the crème-de-la-crème of the crypto exchange world.
If you are not fond of the Bibox exchange review, here is a list of potential alternatives: Binance, PrimeXBT, PrimeBit, Deribit, Bitfinex, and Kraken.
PROS
Low fees
A wide range of trading pairs and crypto assets supported
One of the oldest crypto platforms
CONS
The lack of a centralized authority
The limited number of payment methods
Some users have experienced issues while withdrawing funds

CaptainAltcoin's writers and guest post authors may or may not have a vested interest in any of the mentioned projects and businesses. None of the content on CaptainAltcoin is investment advice nor is it a replacement for advice from a certified financial planner. The views expressed in this article are those of the author and do not necessarily reflect the official policy or position of CaptainAltcoin.com