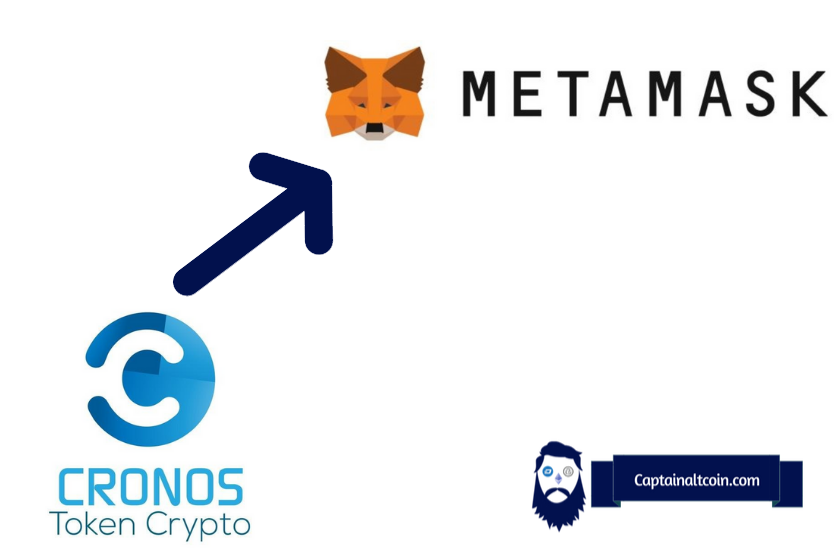 Intro
---
It is amazing how many alternatives to Ethereum are emerging these days in the crypto world. One of the networks that are growing is the Cronos network. This is one of the networks that provide an alternative to the Ethereum network since the transactions are faster and cheaper.
The Cronos network is a blockchain closely connected to its native token – Cronos (CRO) and its native exchange, Crypto.com. The network is focused on smart contracts.
This article will show you how to add the Cronos network to your Metamask wallet. This is by far the most popular DeFi wallet out there – it also works great in conjunction with Ledger Nano X or Trezor hardware wallets.
You probably noticed that the only network automatically added to your Metamask wallet is the Ethereum network, and if you want to add other networks, you have to do it manually. But don't worry about the complexity of this procedure since it's straightforward; once you log in to your Metamask wallet, you will add a new network by entering Cronos' data (Cronos network name, RPC URL, chain ID, symbol, and blockchain explorer URL).
The whole process will be done in a few minutes, so let's jump into details.
Hold your crypto on
Haru Invest
and earn 25%+ APY on BTC, ETH or stablecoins.
Log in to your MetaMask wallet
---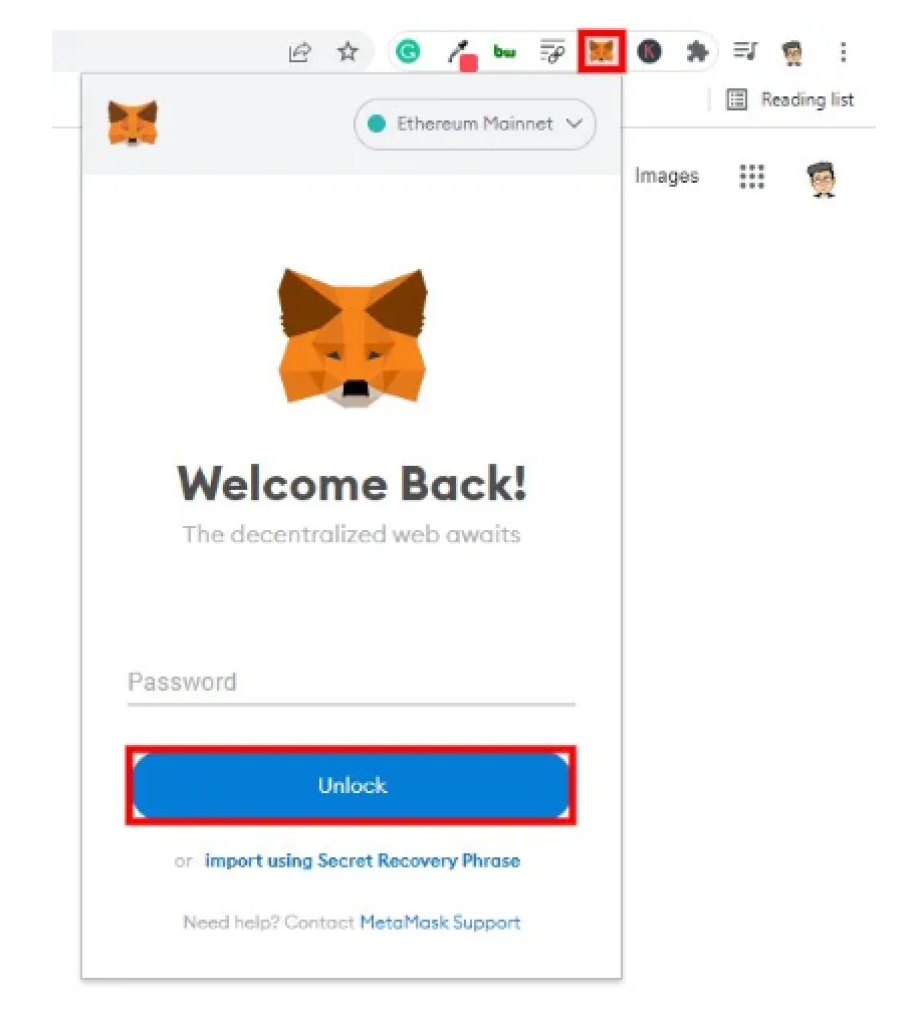 Please make sure to engender an account on Metamask before logging into it. You can generate an account absolutely free; download the Chrome extension here. After downloading an extension, you got to get through the onboarding process, establish the recovery phase (12-word password), and set the password you'll use to log in to your wallet.
Tap your password on the login shroud and press the "unlock" button once you make sure your account has been created.
Add a new network
---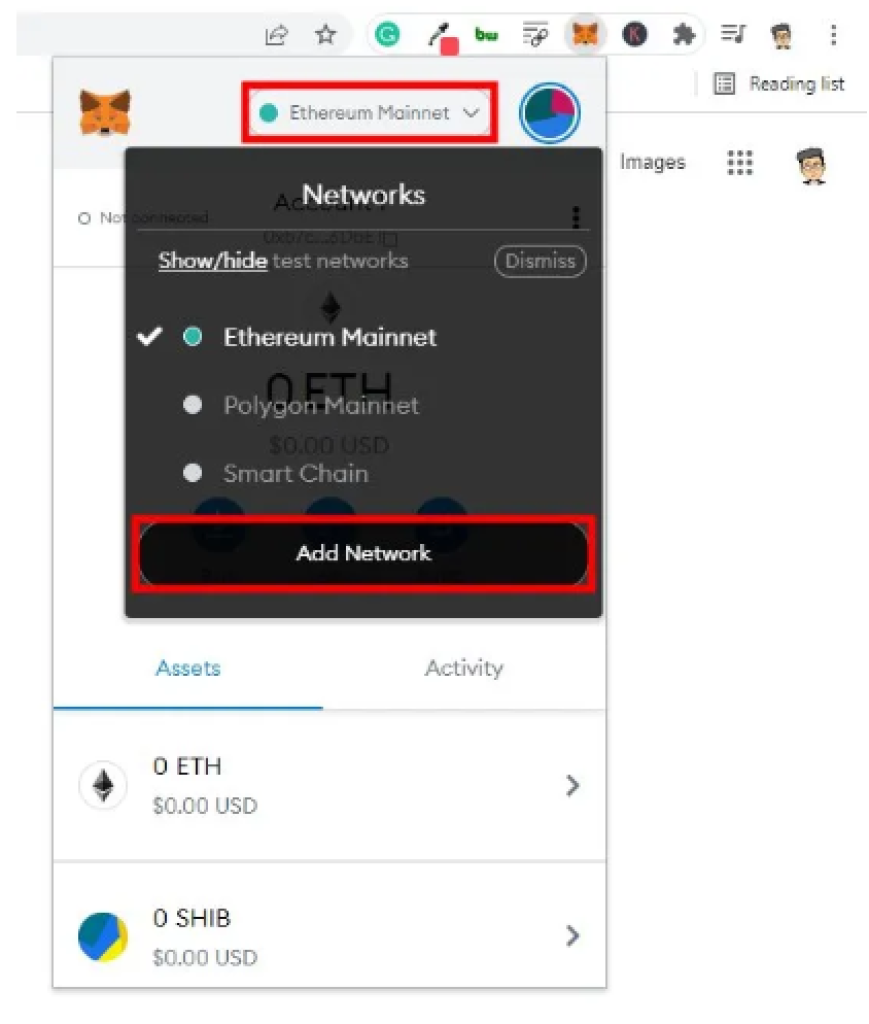 Once you are logged in, the next step is to add a network. On the top right side of your Metamask wallet, you will see the "Ethereum Mainnet" button (if you are adding any network for the first time, or you will see another network that you might add), and when you click on it, you will see the "Add Network" button.
Another way to add a new network (a more complex one, though) is when you click on your account circle and then on the "settings" button, as shown below.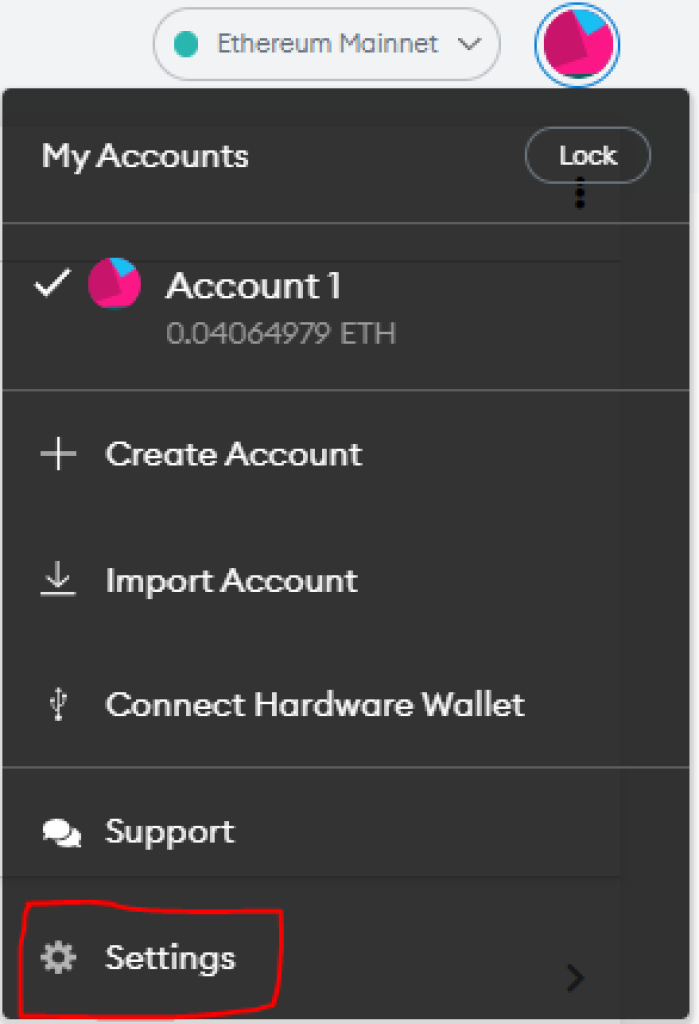 Add the Cronos network
---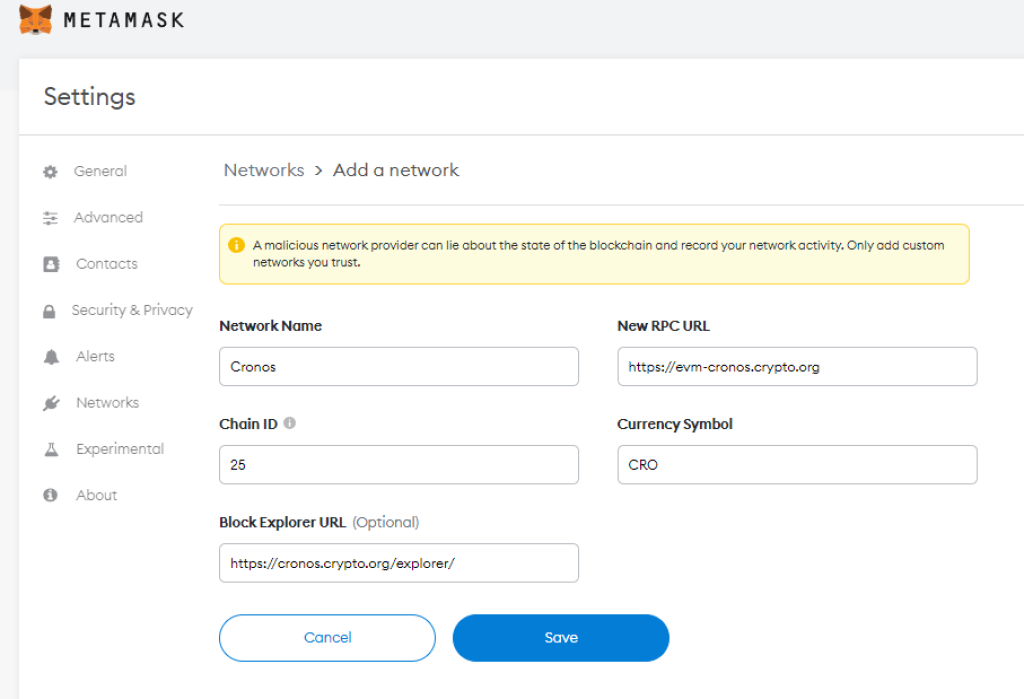 The next step is to fill out the necessary fields – Network name, New RPC URL, Chain ID, Currency Symbol, and Block Explorer URL (this one is optional). Please see below all the data you have to enter:
1. Network name: Cronos
2. New RPC URL: https://evm-cronos.crypto.org
3. ChainID: 25
4. Symbol: CRO
5. Block Explorer URL: https://cronos.crypto.org/explorer/
Double-check if all the entered information is correct, and then click on the "Save" button. And that's it – you have now successfully added the Cronow network to your Metamask wallet. Easy, right?
Send or receive Cronos (CRO)
---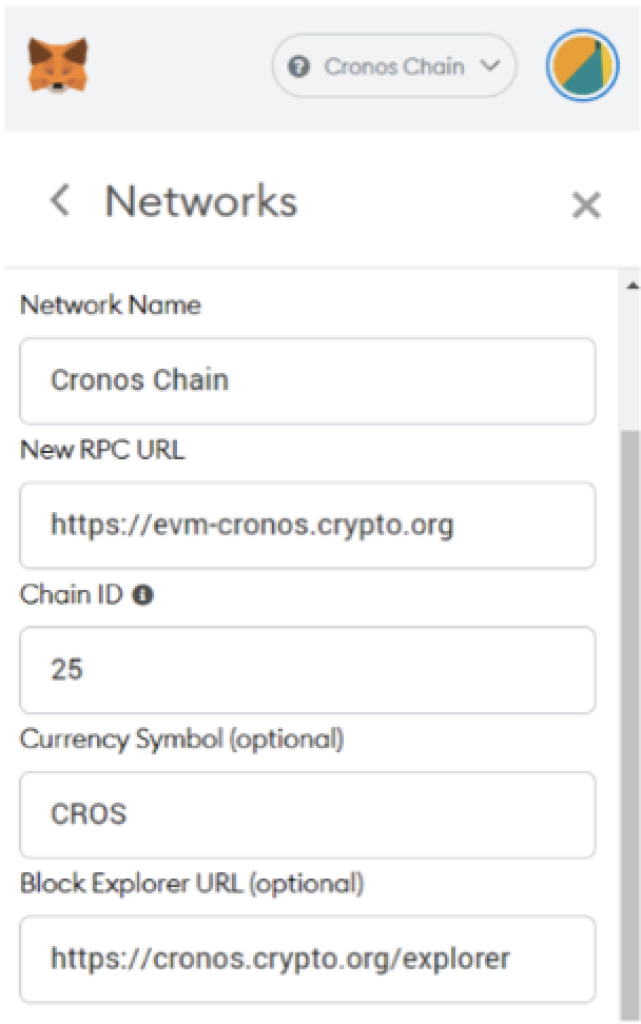 Once you add all the necessary network data and save it, you will immediately be prompted to check the Cronos mainnet on your wallet. In order to start sending and storing CRO tokens on the Cronos mainnet, you have to be the owner of the token. CRO can be easily bought on Crypto.com or Coinbase.
Another thing to note about the Cronos network is that you can't have any transactions on the blockchain until you are a CRO owner since this coin will be used as a gas fee (ETH is used as a gas fee on the Ethereum network for example).
Cronos mainnet
---
Conclusion
---
Cronos network is a growing blockchain with the one clear goal – to be an important player in the DeFi ecosystems. The native token and focal point of the network is Cronos (CRO) coin. The total supply of the CRO coin is 30 million, with 70 million coins burned in 2021.
The main focus of the network is on scaling the Chain DeFi ecosystem. The way it does this is by providing developers the ability to quickly port Apps from Ethereum and other compatible blockchains. Moreover, it got $100 million in funding and has a lot of possibilities with over 10 million users on the Crypto.com exchange (the native exchange of the blockchain).
Cronos can process way more transactions in a minute than Ethereum which makes it faster, cheaper, and more suitable to execute smart contracts.
In this article, we explained how to add the Cronos mainnet to your MetaMask wallet. The whole process is quite simple and should be done within a few minutes.

CaptainAltcoin's writers and guest post authors may or may not have a vested interest in any of the mentioned projects and businesses. None of the content on CaptainAltcoin is investment advice nor is it a replacement for advice from a certified financial planner. The views expressed in this article are those of the author and do not necessarily reflect the official policy or position of CaptainAltcoin.com