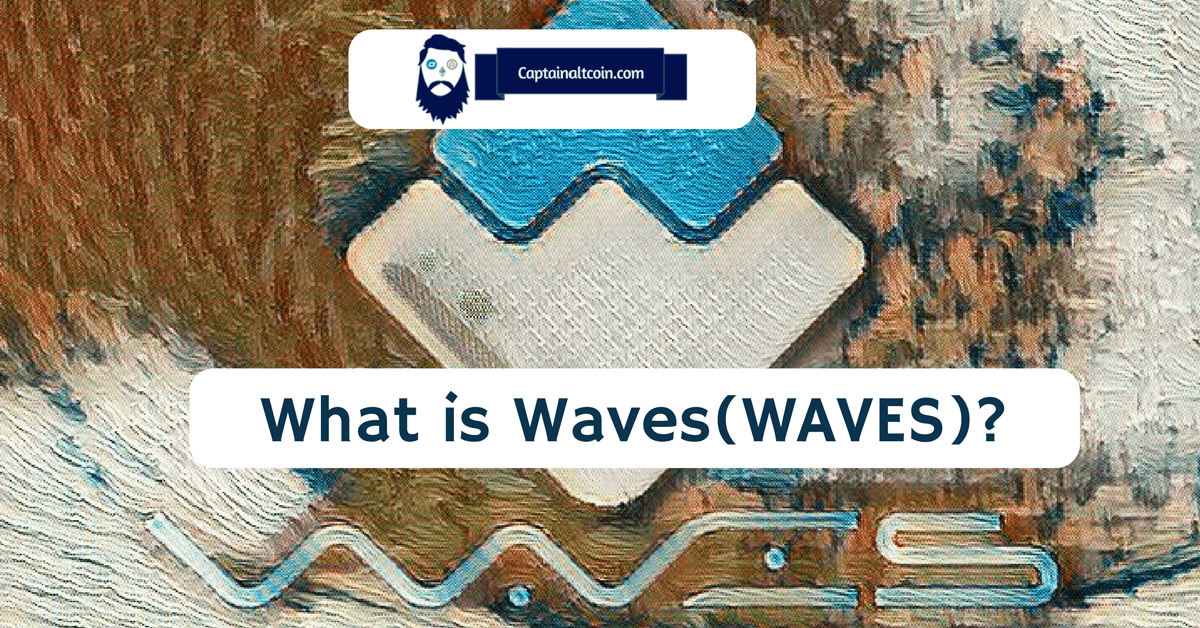 Bitcoin and Blockchain will change your life, and even if you don't want it to, your life will change.
The technology is still in its infancy and it has to break the adaptation barriers down for the masses, so there is a long way to go. There are a lot of areas of friction to be addressed to make this technology feasible for mainstream usage.
The process of listing shares of a company is highly complicated or unclear in many countries.
Trading of many immovable yet precious commodities requires a cumbersome authentication process.
Many countries don't have ready access to US Dollars, Euros, or Chinese Yuan, which means that buying and selling crypto-assets is still not easy in those countries.
A new ICO or a new startup comes up with a vision almost every day. The most daunting challenge for them to survive in the market is to get funding.
Imagine all these things were to change for the better!
That would make the world a better place!
A blockchain platform called Waves is now out to remove all this friction and to make life much simpler and easier for all of us.
Waves is one of the most innovative cryptocurrency platforms ever to be launched, and it advocates itself as a blockchain platform which intends to be a decentralized place for crowd funding and trading by tokenization.
This definition is too technical for you!!!
But before I give you a less technical definition, it's important to note that Waves prices are soaring high! Its price was $ 0.7 per unit in June 2016, and it is now above $5 per unit. This increment of above 600% is difficult to ignore.
What is Waves Cryptocurrency?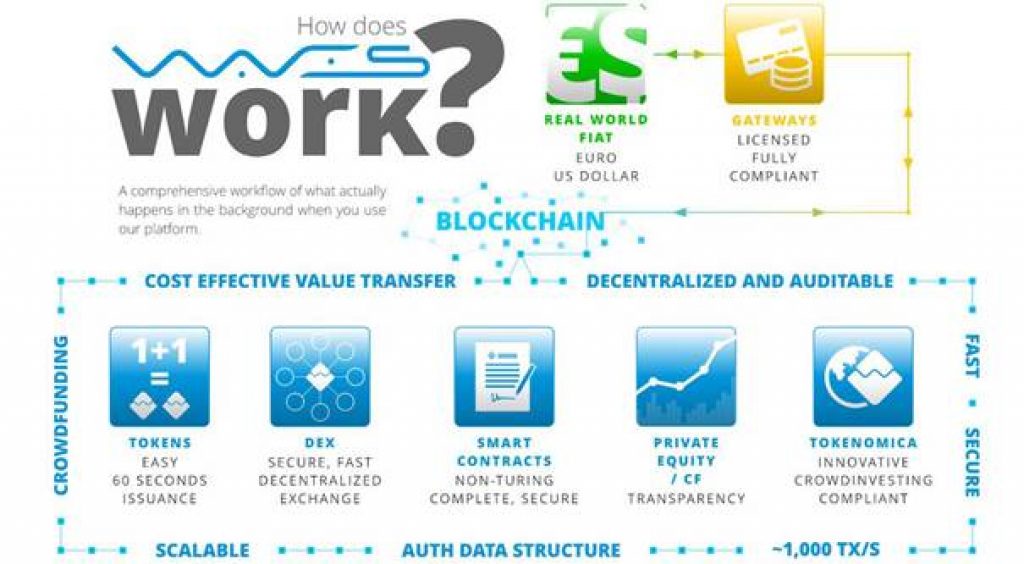 The Waves platform is designed with ease of use in mind and it allows any of the Initial Coin Offering (ICO) or startup companies to issue their own tokenized cryptocurrencies as a way to raise funds for developing their projects.
Waves first came to prominence in 2016 when it achieved the 7th most successful crowdfunding campaign to date (Waves raised roughly 30,000 BTC). The company is based in Moscow
Led by Russian physicist Sasha Ivanov, Waves is an open, decentralized blockchain platform that allows people to issue their own cryptocurrencies and build applications.
You can also decentralize crowdfunding and trading, because it will come with integrated fiat currency gateways like US Dollars, Euros, or Chinese Yuan right in your wallet.
You will be able to launch ICOs to fund your projects from around the world in a matter of minutes. The best thing is that you will be able to do that without going through intensive cryptocurrency coding, which will make life easier for startups and open up a new era of community-backed projects.
It is important to note that the Waves cryptocurrency (WAVES) has real world tradable value on different exchanges.
Is Waves Platform Different from WAVES Cryptocurrency?
The cryptocurrency (WAVES) is only one aspect of the larger Waves platform. As you probably already know, Bitcoin exists exclusively as a cryptocurrency. On the other hand, Waves is a software framework made up of many different tools to help developers build applications. Users pay fees using the WAVES tokens in order to run those applications.
Waves Features
Here are some of the key features of Waves cryptocurrency:
WavesDex– It might seem a little ironic to keep decentralized assets like BTC/ETH on centralized exchanges. Great examples of this level of stupidity are hacks likeMtGox (https://en.wikipedia.org/wiki/Mt._Gox) and Bitfinex(https://en.wikipedia.org/wiki/Bitfinex_hack).
So the question is, is it possible to keep and exchange decentralized assets on decentralized exchanges?
Most popular cryptocurrency exchanges are centralized. This means that all funds that are active on the exchange are stored in one place. There are some advantages to this model, such as speed. However, keeping everything in one place makes assets more vulnerable to distributed denial of service (DDoS) attacks, hacking and corruption. Waves platform includes its own decentralized exchange – DEX. It allows users to trade their BTC/ETH/etc. in exchange for Waves or any other asset token issued on the Waves platform directly on a peer-to-peer level. The vision for the DEX includes secure settlements on the blockchain, low fees, and fast transactions.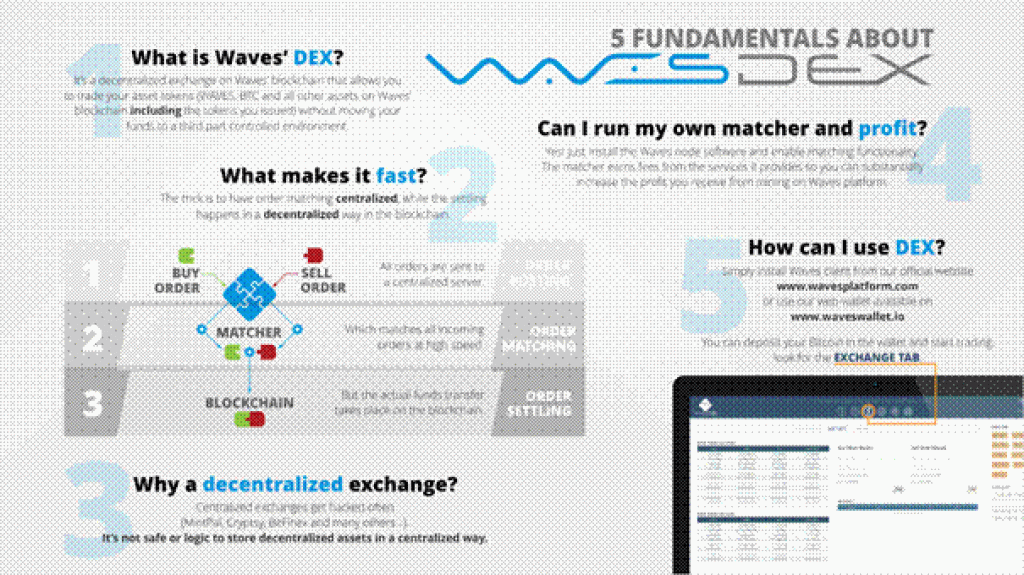 WavesDex can be used by installing the Lite wallet or Chrome extension in your browser (http://www.wavesplatform.com/downloads.html).
Tokenization– You can launch a new crypto token in one minute on the Waves platform. You need at least 1 WAVES token to make your own custom tokens or cryptocurrencies.
You can decide how many tokens to be issued, what name to give the token, and how many decimal fractions you want to keep.
This feature is perfect for crowdfunding and ICOs.
Perfect for Crowdfunding– Waves makes it easy for startups to plan and distribute tokens through a secure, easy-to-use marketplace, and also has tools for mass token distribution.
KYC/AML (Know your customer/Anti-money Laundering)– KYC/AML is needed to withdraw and deposit fiat money. On the other hand, KYC is not necessary for cryptocurrency transactions.
Best of both worlds– All transactions between fiat to cryptocurrency or cryptocurrency to fiat will be recorded on the Waves blockchain. This is like mixing the best of both worlds (i.e. decentralized systems and centralized systems).
Fiat Gateways– Fiat Gateways such as US Dollars, Euros, or Chinese Yuan will allow you to exchange any token issued on the Waves platform (or any other cryptocurrency like BTC/ETH) for "real" money. This money can be deposited in a bank.
Smart Contracts – Waves uses simplified smart contracts that are non-Turing complete, but powerful and secure. They enable easy token creation.
Low Fees– Fees are really low and each transaction comes with a cost of 0.001 WAVES. As you can see, transaction fees can be paid in tokens.
Fast– Waves has a one minute block time.
Accessible– Waves promises to offer a familiar and clean UX. The Chrome app and mobile apps are easy to use. One more thing worth noting is that no blockchain download is required.
Total WAVES to Be Produced
The Waves ICO period was from April 12, 2016 – May 31, 2016, and during this ICO, $16,436,095 was raised (equivalent to 30,096.7 BTC).
| | |
| --- | --- |
| ICO Investors | 85 Million Allocated |
| Development & Marketing | 9 Million Allocated |
| Strategic partners and backers | 4 Million Allocated |
| Pre-ICO bounties | 1 Million Allocated |
| Post-ICO bounties | 1 Million Allocated |
| In Total | 100 Million |
Market Cap
The total circulating supply of WAVES is 1 million tokens at the time of this article. The current price of each unit is $5.88, which makes its market cap approximately $588 million.
Team behind Waves
Waves was launched in 2016 and is headquartered in Moscow, Russia.
To date, Waves has attracted several major startups and businesses, and one of the best Waves success stories is Tokenomica, a venture capital organization. There's also ZrCoin, a green manufacturing technology business, and Upcoin, a political engagement initiative. Other key members of the Waves economy include Incent (a blockchain loyalty scheme), EncryptoTel (a VoIP and telecom provider), and MobileGo (a marketing drive for a mobile gaming platform).
Waves has an incredible team, probably one of the best in crypto, and they are constantly adding all-stars to their staff with strong backgrounds in their respective fields and some level of experience in crypto.
#1 Sasha Ivanov (https://twitter.com/sasha35625) – CEO and Founder
Sasha Ivanov is a Moscow-based physicist by education. He previously worked in internet payment systems software development and neural network prediction software for financial markets. Prior to starting Waves, he launched the first instant cryptocurrency exchange (https://coinsutra.com/cryptocurrency-exchange/) coinomat.com, the first tradeable cryptocurrency index (CoinoIndex.com), and the first fiat blockchain token (coinoUSD).
#2 Martin Spodymek (https://twitter.com/coremedia_info) – Head Community Manager
Martin is an engineer and he supports Waves for tech support and marketing. He is fascinated by blockchain technology and cryptography as a whole.
#3 Sergey Ishchenko (https://ua.linkedin.com/in/sergeyishchenko) – Front End Developer
Sergey is a software engineer with over ten years of experience. He specializes in Java and his primary responsibility on the Waves project is the Lite Client development and Distributed Team Coordination.
#4 Alexey Kiselev (https://twitter.com/alexey_kiselev) – Back End Developer
Alexey is a passionate programmer who graduated from Moscow State Technical University. He started programming 8-bit processors.
If you want to know more about Waves team, you can check the list here (https://wavesplatform.com/team.html).
Waves Wallets
Calling the Waves Wallet just a "wallet" is a bit misleading. It's a fully-featured lite client that lets you access all features of the Waves platform. It's constantly being updated and offers fiat integration, an intuitive interface, fast speeds, and custom tokens.
Popular Waves Wallets are:
How to Purchase Waves Cryptocurrency
Purchase Waves from Changelly
The easiest way to acquire some WAVES tokens is to exchange them for BTC/ETH.
You only need two things to buy Waves:
BTC/ETC/altcoin to exchange for WAVES tokens.
Your Waves address where you would like to receive your WAVES. You can create the address using official client here (http://www.wavesplatform.com/downloads.html).
If you need to know the step-by-step process of exchanging your cryptocurrencies for WAVES, follow the steps given in this guide.
Note: This guide shows how to purchase Ripple in exchange for BTC. However, the process is exactly same to purchase Waves. 
Purchase Waves from Shapeshift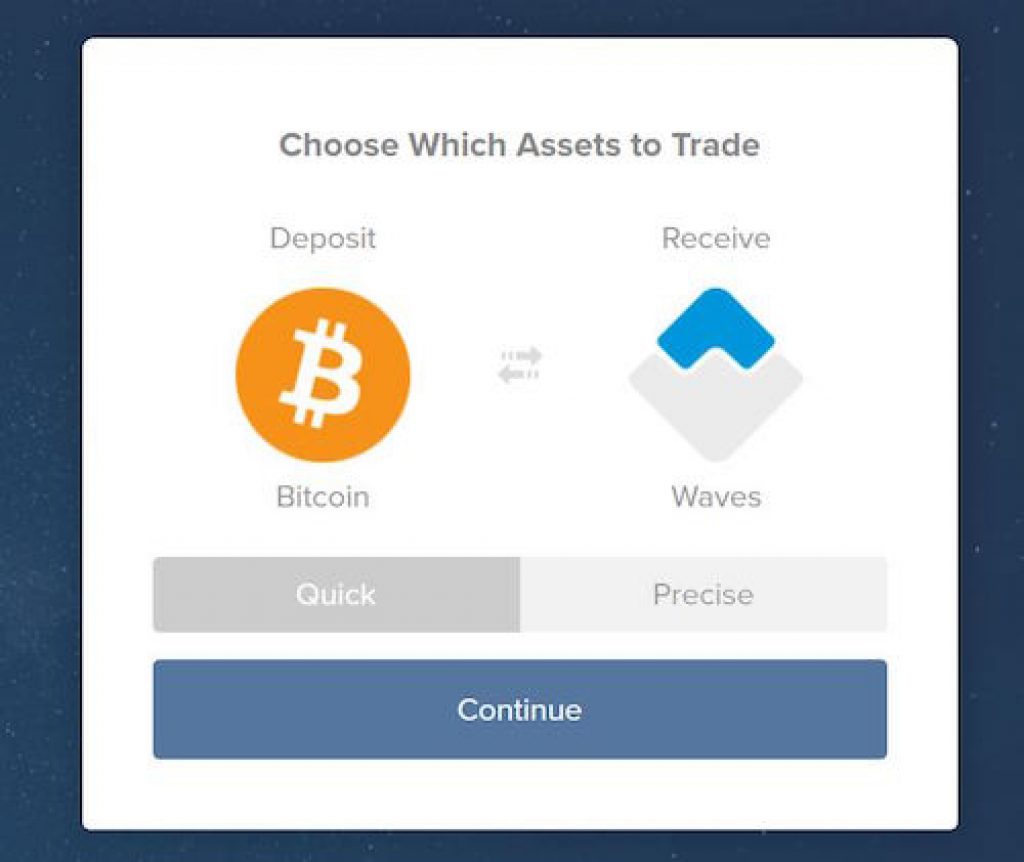 You can use Shapeshift to purchase your first Waves using any supported cryptocurrency. However, I prefer using Changelly for a more detailed transaction history to track my funds and better exchange rates.
See our guide on Shapeshift if you need to know the step-by-step process of exchanging your cryptocurrencies for WAVES.
Note: This guide is for exchanging ETH for BTC. However, the process is exactly the same to purchase WAVES.
Purchase Waves from Waves Wallet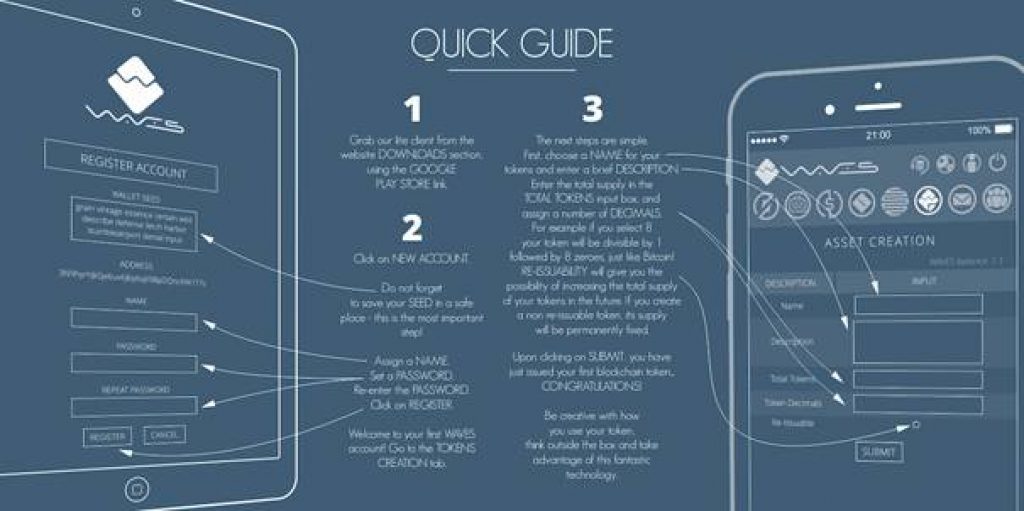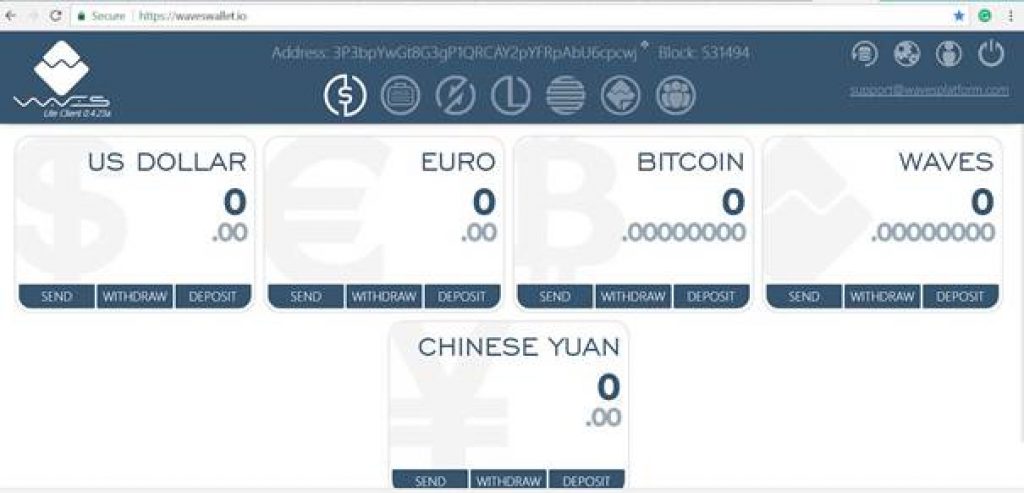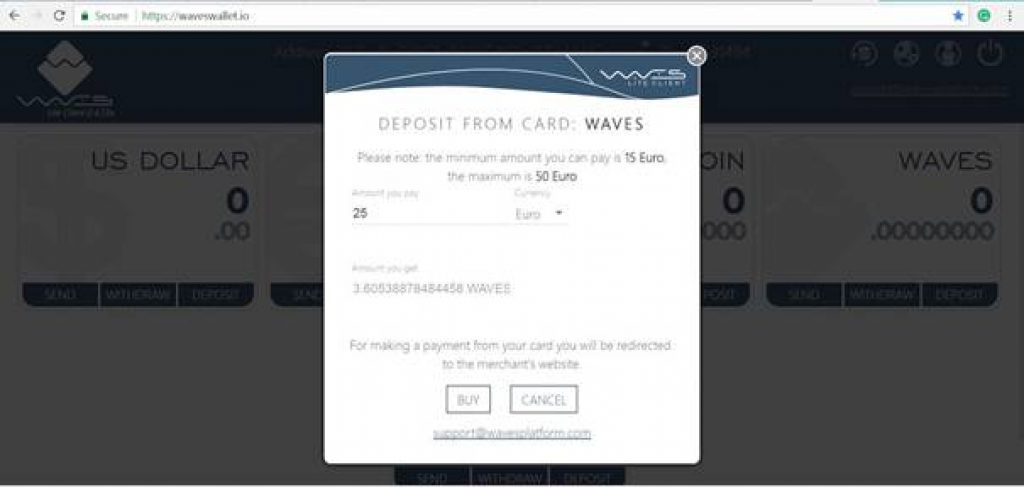 WAVES can also be purchased using the Lite Waves Chrome app or Lite Waves Wallet. The process of purchasing WAVES is the same for both of them:
Click New Account and register there (no need for phone number or email).
Write down the seed because it's the only way to recover your account in case of a lost wallet, hardware failure, or corrupted data.
Click Deposit on the Waves Wallet area.
Select and enter an amount in US Dollars or Euros.
Click Buy.
Use the secure gateway to pay.
Your WAVES will be credited to your Waves wallet.
You can also get Waves Cryptocurrency from exchanges, and WAVES is currently available on the following two exchanges:
Can You Earn Money Investing in Waves?
If you choose to participate in the Waves network, you can also earn tokens either by "leasing" your WAVES to other nodes or running a full node. Nodes handle processing transactions and. In return, they are rewarded with WAVES tokens for their work. Leasing some or all of your WAVES tokens allows you to contribute to the network. In return, you can earn rewards without actually having to run a full node. It's important to note that there are no guarantees when it comes to investing in cryptocurrencies. However, WAVES has experienced periods of considerable growth since the initial token release in 2016, so those who believe the Waves platform will grow and succeed may choose to invest in the WAVES token, or other tokens issued on the Waves platform.
Key Things to Look out for
You need to have at least 10,000 WAVES in your wallet to run a full node on the Waves network.
When it comes to choosing which projects to support, investors must rely on their own judgment because anybody can issue their own cryptocurrency on the Waves platform.
If you want to earn money from transactions fees by "leasing" your WAVES, you cannot spend the WAVES that you are leasing. This means that you will have to stop leasing your tokens before you can use them.
The Waves platform is active and growing. However, many core features are still under development and have not yet been released.
Waves vs. Ethereum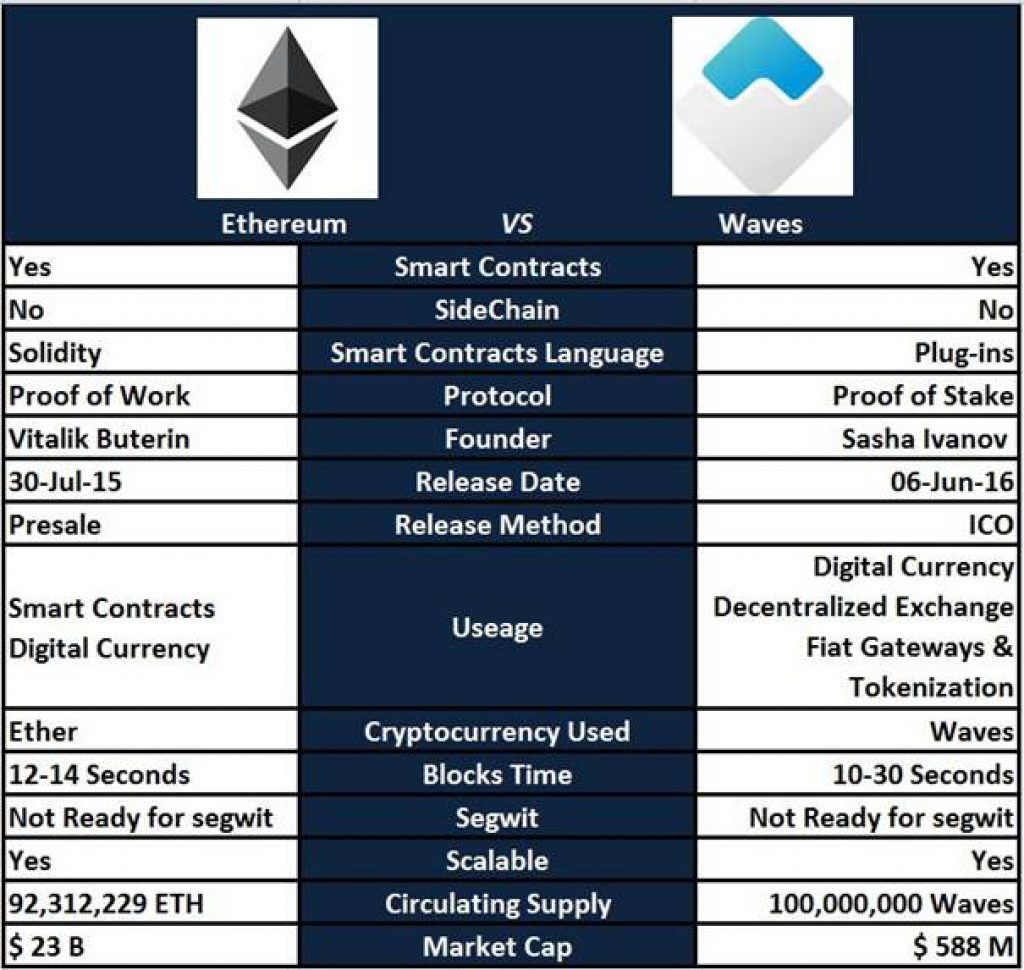 There are important differences between these two cryptocurrencies and technologies.
Waves intend to impact crowdfunding markets and fiat currency transfers on the blockchain. It also provides smart contracts. However, they are unlike the Ethereum ones.
Here, smart contracts are written by built-in plug-ins. They make the entire process much easier.
Waves make certain things simple by using plug-ins; things which could be very lengthy and complicated if done on Ethereum.
Use Cases
Here are some of the use cases that are being built or are already in production:
Incent – Incent is a blockchain loyalty scheme.
EncryptoTel (http://ico.encryptotel.com/) – EncryptoTel is a secure telecommunications infrastructure company.
MobileGo – MobileGo is a marketing drive for a mobile gaming platform.
ZrCoin (https://zrcoin.io/) – ZrCoin is a green manufacturing technology business.
Upcoin – Upcoin is a political engagement initiative.
Tokenomica (http://tokenomica.com/) – Tokenomica is a transparent venture capital organization.
With many other examples of interesting projects undergoing development on the waves platform, the future looks promising for Waves.
Conclusion
When Ethereum first launched in 2015, the potential was always there. It just took time for people to realize it. Waves was launched one year later and the potential is certainly there. However, the question is how long it will take for the market to catch up. With new projects announced every week and constant development, it is one of the most promising projects in crypto.
The network only sees around 30,000-40,000 transactions per day, only a handful of fiat gateways have been launched to date, and it still struggles with low liquidity on their decentralized exchange.
Also, the Russian government is considering banning ordinary people from purchasing cryptocurrencies, and ICOs are under fire. However, Waves works proactively in the direction of making everything about their platform as legal and accessible as possible.
Waves still has a very long way to go. However, if you believe in the project and the team's ability to realize their promises, it could definitely prove to be a great investment.
The Waves platform is worth a serious look and has already been home to a number of big success stories – including Upcoin and Tokenomica.
I hope this step-by-step beginners' guide on the Waves cryptocurrency helps you in making a good decision.
Resources
Below are some very useful links that can help you understand the platform.

CaptainAltcoin's writers and guest post authors may or may not have a vested interest in any of the mentioned projects and businesses. None of the content on CaptainAltcoin is investment advice nor is it a replacement for advice from a certified financial planner. The views expressed in this article are those of the author and do not necessarily reflect the official policy or position of CaptainAltcoin.com