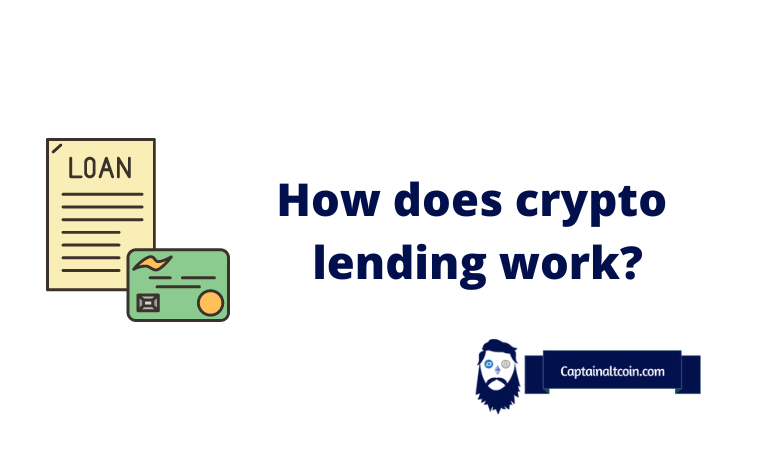 What Is Crypto Lending? 
Cryptocurrency lending has exploded over the past few years. This new form of online lending allows borrowers to borrow cryptocurrency from lenders who offer interest rates as high as 30%.
There are many benefits to using crypto lending platforms. For example, you can get loans without having to provide any personal information (on decentralized protocols like Aave or Curve). Also, there are no credit checks required.
There are many types of crypto loans available, but not all of them are created equal. Some are scams, others are legit, and most are somewhere in between.
How does crypto lending work?
Crypto lending is a relatively new concept, but it's growing quickly. There are currently over 50 lenders offering loans in this space, including companies like Cake Defi, BlockFi, Nexo, and others.
Crypto lending is a relatively new concept that allows users to borrow money against the value of cryptocurrencies.
This means that instead of borrowing fiat currency (like dollars) or precious metals (like gold), borrowers use their digital assets to secure loans. This makes crypto lending a great alternative to traditional banking because it eliminates the need to go through rigorous credit checks.
Lenders usually require collateral, such as cryptocurrency, to back up the loan. They may also require personal information and a full KYC before you can use the platform.
Advantages of crypto loans
There are many benefits to crypto lending, including lower fees than traditional banking, no minimum deposit requirements, and the ability to borrow against any type of cryptocurrency.
Crypto or Bitcoin loans are in many cases cheaper and easier than traditional bank loans, as crypto collateral must generally be available.
To take out a crypto loan, one must deposit cryptocurrencies such as Bitcoin, Ethereum, USDC or other cryptocurrencies as collateral. These can then be loaned up to a certain loan-to-value (< 90%).
A crypto loan can be taken out without a credit check by credit reference agency and even with a negative credit check entry.
Crypto loans are worthwhile for personal and business loans and are available quickly. This way, you can keep holding your cryptocurrencies and benefit from future rises while using them to get liquidity to pay or invest. In this article, you'll learn the best way to go about it.
So how can I start lending my crypto?
By choosing the platform where you want to deposit your coins and earn interest. Let's do a quick guide on how to lend your coins on Cake Defi, one of the more popular crypto lending platforms.
First, Cake Defi is a special, multi-purpose platform that allows you to get cash flow from cryptocurrencies by letting you to earn mony through liquidity mining, staking, and lending without much technical effort.
In crypto lending, one lends cryptocurrencies to Cake DeFi and receives interest in return. Crypto lending does not differ from classic loans in the way it works: As an investor, you lend your coins for a fixed period of time and receive regular interest payments for this over time. At the end of the term, the lent coins are returned to the investor.
Crypto lending is thus another way to generate passive income. With Cake DeFi, you can achieve an income of up to 6.5% p.a. with lending.
Cake DeFi Guide: Step-by-Step to Cake DeFi Account
Opening a Cake DeFi account can be done in two easy steps:
Step 1: Register with Cake DeFi.
To create a Cake DeFi account, you must first click "Sign Up" on the homepage. A window will then appear where one has to provide their first and last name, place of residence, an email address and a password.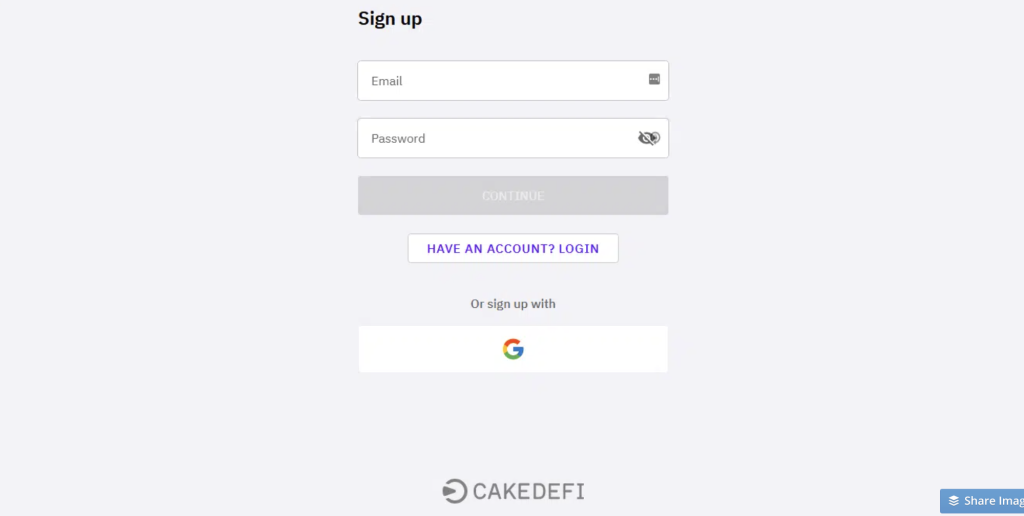 By clicking on "Sign Up" the account will be created. After that, you will receive an email from Cake DeFi, in which you have to confirm your data again.
Step 2: Identity verification at Cake DeFi
In order to use all of Cake DeFi's features, the next step is to go through an identity verification process. For this, you have to first log in with your user details and then click on the "Verify Now" button. In order to start the verification process, you have to click on "Begin" in the next window.


In the first step of this process, you have to provide a valid phone number. To verify the phone number, you will receive a code via SMS, which you have to enter on the homepage.


To complete the verification process, you need to upload a valid ID document, an address confirmation and a selfie. After the successful verification, you will have immediate access to your personal Cake DeFi account and can use all the features without any restrictions.
Cake DeFi Deposit Money
Once you're done with the KYC process, you can choose which Cake Defi product you want to use (this guide is about lending so we will choose that). You will then need to either buy crypto through CakeDefi by clicking on the top right button on the screen. Or, if you already own BTC, ETH or USDC, you can send it by clicking on the wallets tab and then depositing crypto.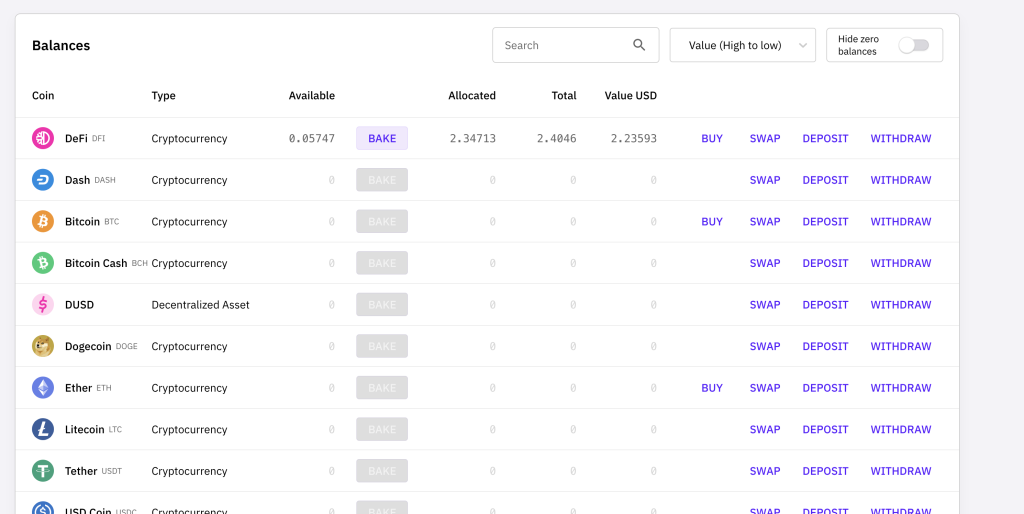 Once your coins land in CakeDefi wallets, you will go to app.cakedefi.com/lending and choose which which lending program you want to use.


Conclusion
In conclusion, cryptocurrency lending is a relatively new concept that allows users to borrow money or earn interest from lenders using their digital assets as collateral. This method has many advantages over traditional banking methods, including lower fees and faster loan approval times. As interest rates continue to rise, more and more companies will begin offering loans backed by cryptocurrencies.

CaptainAltcoin's writers and guest post authors may or may not have a vested interest in any of the mentioned projects and businesses. None of the content on CaptainAltcoin is investment advice nor is it a replacement for advice from a certified financial planner. The views expressed in this article are those of the author and do not necessarily reflect the official policy or position of CaptainAltcoin.com