Request Network has been experiencing some relatively unimpressive price action as of late. Opening the month of August with $0.058504/754 satoshi, the currency reached its latest peak of $0.070339/990 satoshi. The lows came on the 14th, when the currency plummeted to the values of $0.029655/498 satoshi. REQ managed to recover to almost 700 satoshi in the coming weeks before falling off a cliff again on September 5th and reaching the monthly lows of $0.039020/464 satoshi.
REQ can currently be purchased for $0.040699 USD (1.63% rise in the last 24 hours)/625 satoshi (0.93% rise in the last 24 hours). Daily trade volume is very low, sitting at 99 BTC. With a market cap of $30,553,900, REQ is currently the 148th most valuable cryptocurrency on the market.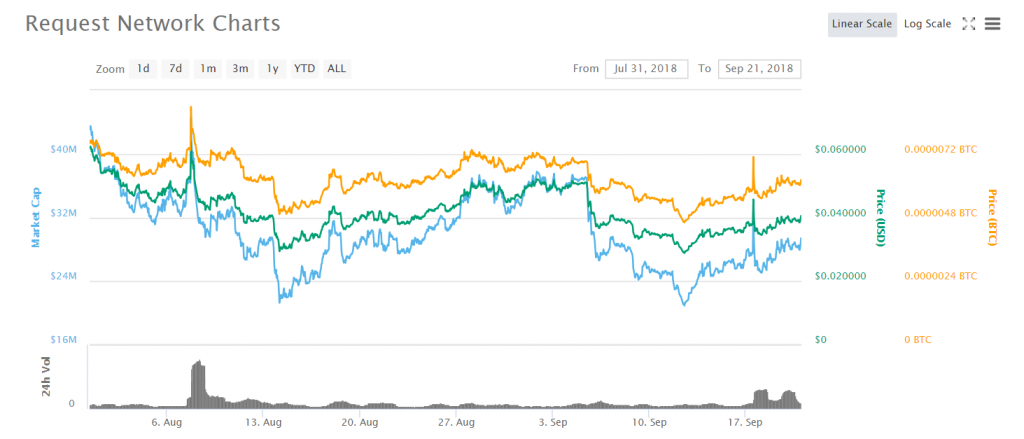 Trader elionu posted this short analysis of the cryptocurrency, thinking REQ might be close to reaching its bottom:
"Looks like it is picking up. If this is the bottom, there is a lot of room to go up."
Check out his idea here.
In the REQ's regular bi-weekly update, which came out on September 18th, the team confirmed several new important developments, including the release of Request Crowd open source code, an update on BTC integration and information about their visit to Consensus Singapore. Request Crowd is the project's crowdfunding platform which acts as a building block for developers to build crowd funded products. The Request Crowd website acts as a demo page to showcase the power of censorship-resistant crowdfunding campaigns.
There was also an update regarding the BTC request integration.
"Integrating a smooth experience to accept BTC requests has been a challenge. Every BTC request needs to specify an unused BTC address for payments AND for refunds. In addition to that, the payer needs to have ETH and an ETH address in order to accept the request," claims the team. The list of other current challenges and the steps the team is taking to move forward can be seen here. Team's very own Christophe Fonteneau and Robbin Mazurel were available for meet-ups during Consensus Singapore, which lasted from the 19th to the 20th of this month.
---
?Read here how to buy Ethereum.
---
In the mentioned bi-weekly update, Request Network also the Request Donations app which allows for seamless integration of various cryptocurrency donations directly onto someone's website, without technical worries, expensive overheads and complicated coding. The release was followed up with a live example at Needlist.co, a demo on Rinkeby, full source code and related documentation, with a YouTube example of how the entire thing functions. Check out the official publication to learn more, including full instructions on how to add the app to your website. The project was released in "good" time as a massive hurricane Florence recently hit the coast of United States, letting humane REQ holders help out those in need.
We're happy to support crypto donations for a good cause by @NeedsList4Good, in collaboration with @MakerDAO & #ProjectBiFrost.

Donate crypto today using the "Donate with #Dai" plugin, powered by Request! #HurricaneFlorence #tech4good #crypto4good https://t.co/CMZktx2jQl

— Request Network (@RequestNetwork) September 14, 2018
The project recently released a preview of the upcoming Request Mobile Wallet. This wallet will be a simple way of storing, securing and using your ETH, ERC20, ERC233 and ERC721 tokens in a fully-decentralized and trustless way, according to the team's official publication. The Request Mobile Wallet comes with a built-in Web3 browser which allows you to interact seamlessly with your favorite decentralized applications and also allows users to sign messages cryptographically without any third party input. The wallet also has Mainnet/Rinkeby support, can scan QR codes and sign transactions, has fingerprint/PIN protection layers and many more features, all of which you can preview on this link.
EDIT:
As Reddit user TheBounceSpotter points out, there is one big update on REQ we missed to mention:
"
Didn't see it in the article, but Gilded, one of the dapps built on REQ, just demo'd a low fee fiat on/off ramp via Wyre. This is huge because it can be utilized by DEXs as an on/off ramp to buy ETH or DAI without having to go through a centralized exchange. Heard it could be available to the public in the next few months.
https://www.reddit.com/r/RequestNetwork/comments/9ht9ba/crypto_fiat_on_ramp_demo/"
Request Network has delivered a couple of important updates in the last couple of weeks. We can blame the bear market or we can blame the team's previous blunders but the price action didn't exactly follow suit. One thing is for sure: similar activity will surely have a positive influence on REQ's fortunes in the long run.

CaptainAltcoin's writers and guest post authors may or may not have a vested interest in any of the mentioned projects and businesses. None of the content on CaptainAltcoin is investment advice nor is it a replacement for advice from a certified financial planner. The views expressed in this article are those of the author and do not necessarily reflect the official policy or position of CaptainAltcoin.com