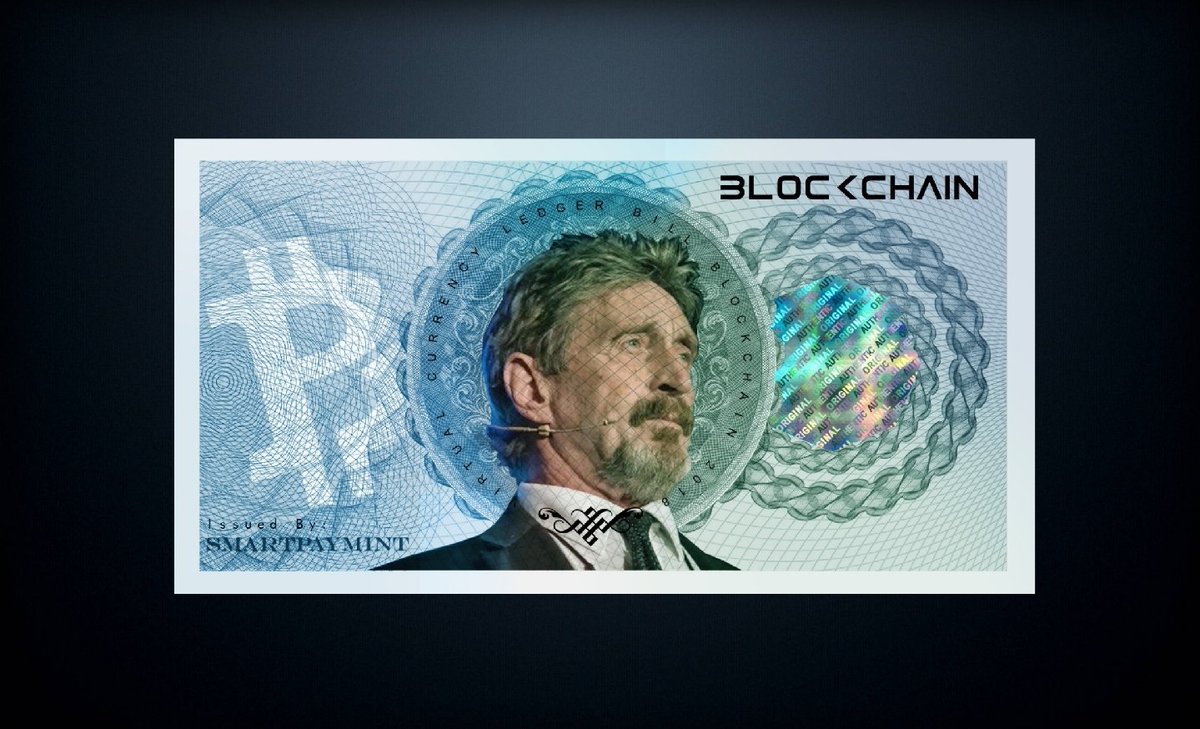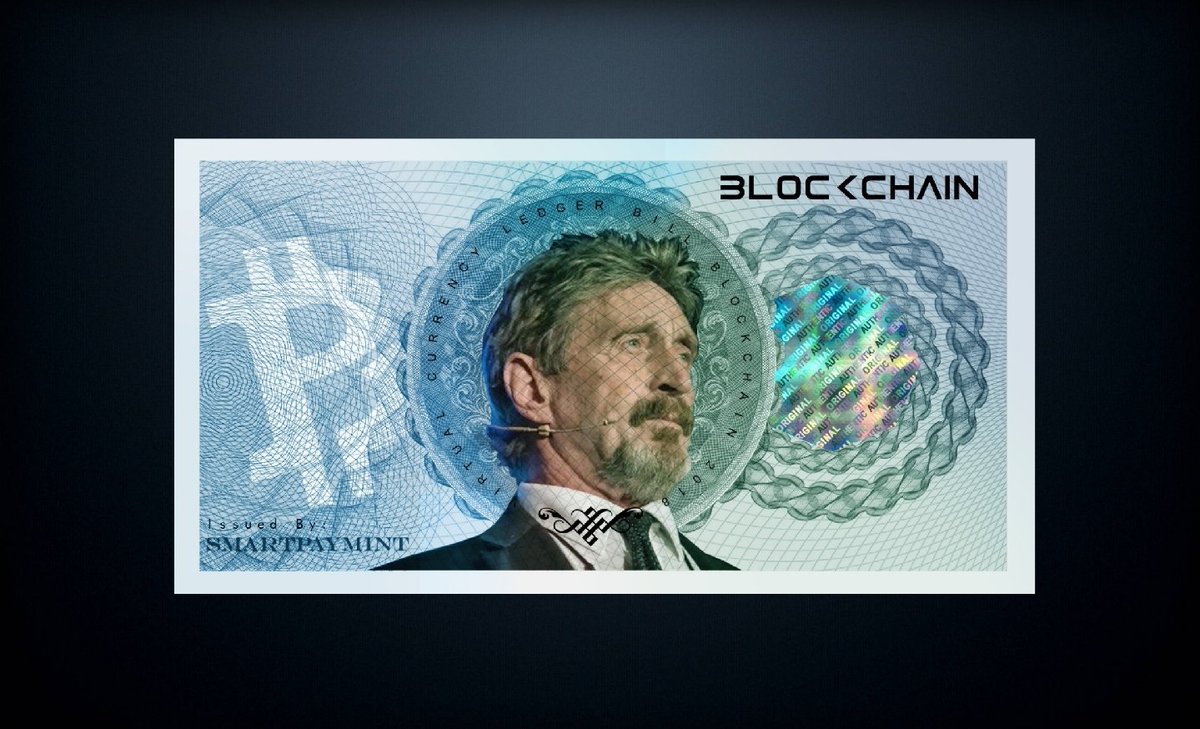 Source: @SmartPayMINT
John McAfee, one of the most outspoken and eccentric people in an already very eccentric world of crypto, seemingly can't and won't catch any rest lately. From riding out with his posse of family members and security guards into unknown in fears of SEC retaliation to releasing his very own Declaration of Currency Independence, McAfee seems deeply embroiled in what he once described as "a revolution against the waning power of governments and banks." Crypto is an excellent platform to conduct such a revolution, as it offers decentralization of currency and gives the payment systems back into hands of the people, And McAfee has been one of its most vocal supporters for quite some time now.
While McAfee and crypto have been winning some of the wars on the currency fronts, the battle is far from being over. The next logical maneuver in his master plan will apparently be a new cryptocurrency-based fiat coin, named simply and humbly "McAfee Coin".
Earlier today, McAfee tweeted out the picture posted above. The picture was made by SmartPayMINT, an online shop which lets you buy Ledger wallets and other crypto related products. As McAfee recently started promoting its followers content on his Twitter page, they probably decided to create a piece of original content to draw his attention and it clearly worked.
McAfee's full tweet said: ". @SmartPayMINT sent this. What's odd is that tomorrow night I am going to make an announcement of the new "McAfee Coin", based on a radical new concept: Fiat currencies (collectible) backed by crypto – the reverse of what banks are attempting. Seriously."
Naturally many people started wondering if this is real or just a spoof  by McAfee, who is to this day probably most famous for exclaiming:
"I'll eat my dick on the national television if 1 BTC does not touch $500k in the next three years."

Responding to naysayers (more specifically to a crypto-news.in article) he answered the question of this possibly being a hoax:
"No hoax. The "McAfee Redemption Unit" is real and coming in 26 days. The graphic is low res – don't want to give much away yet. Printed on currency paper, holographs on both sides, serialized, linked to the blockchain, redeemable, convertible, collectible

https://www.crypto-news.in/opinions/mcafee-coin-elaborate-hoax-stroke-don-quixote-genius/"

McAfee soon after posted the early graphics he tweeted about
The move will seemingly be a follow-up on the already mentioned Declaration of Currency Independence, which is a "is a direct response to the continued manipulation and destruction that stems from the deliberate degradation of Value across the whole of humanity," according to the document.
Most of his Twitter following seems to be on board, with @IncomeSharks saying:
"A nice mix between Crypto and Fiat. Will be interesting how you distribute the coin if true."

However others weren't that ready to jump on the hype train. Francesco Gadaleta (@ThisIsFrag on Twitter) asked a good question, saying:
"What's the point of printing other money when the goal is to get rid of the existing one?"

To which McAfee responded in his notoriously coy fashion, saying:
"Patience. You will see. You're just glimpsing a shadow of a shadow of what I'm doing. Young people!"

Ultimately it's still too early to tell what this new fiat coin will be like or if it will actually be printed out. There are plenty of questions surrounding it, most notable ones being what will McAfee Coin be backed by and how will it be distributed. Judging by his original tweet, more details will be revealed tomorrow. If we can be certain of anything, it's that the entire cryptosphere will be looking to see what those details are.

CaptainAltcoin's writers and guest post authors may or may not have a vested interest in any of the mentioned projects and businesses. None of the content on CaptainAltcoin is investment advice nor is it a replacement for advice from a certified financial planner. The views expressed in this article are those of the author and do not necessarily reflect the official policy or position of CaptainAltcoin.com