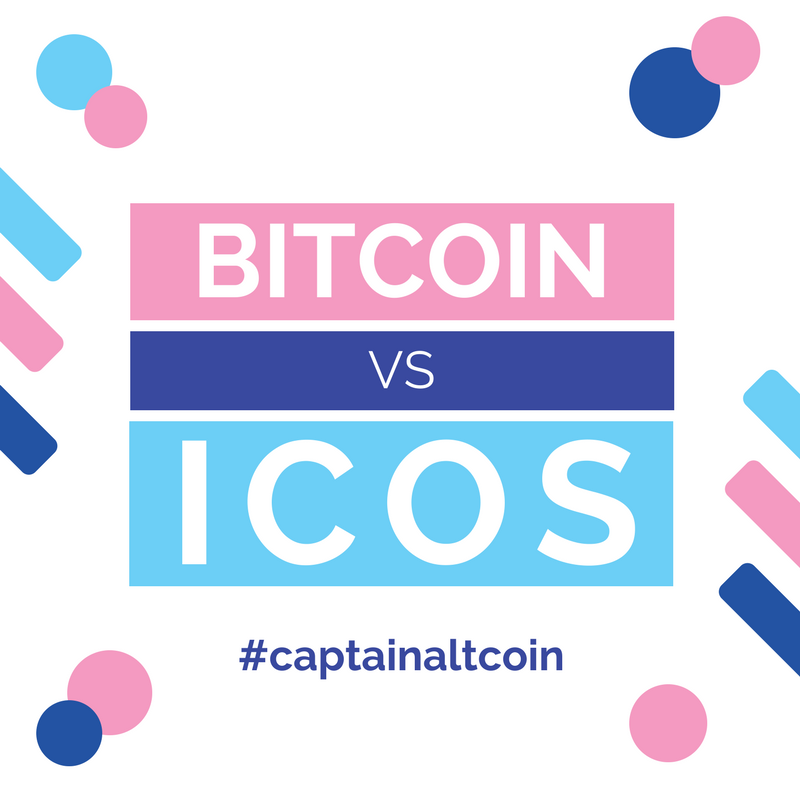 It is very difficult to decide is it better to invest only in Bitcoin or only in ICOs. Both are digital assets, but on one side, cryptocurrencies are highly volatile, while on the other side there are too many ICOs on the market.
Before we start discussing where to invest our funds, let us look at these digital assets separately.
Bitcoin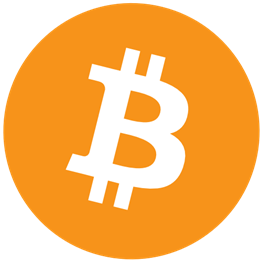 Bitcoin is a peer-to-peer payment system created in 2009. It is the first open source digital currency, and it is managed by an open source software algorithm that uses the global internet network both to create the BitCoins as well as to record and verify transactions.
Compared to a standard fiat currency, such as dollars or euros, the key distinguishing feature of BitCoin is that the quantity of units in circulation is not controlled by a person, group, company, central authority, or government, but a software algorithm controls the amount of BitCoins issued.
Bitcoins can be used to buy goods or services worldwide, provided that transaction partners accept Bitcoin as a mean of payment. A transaction implies that Bitcoin owners transfer their ownership of a certain number of Bitcoins, in exchange for goods and services. An increasing number of companies accept Bitcoins as payments for their goods and services. Bitcoins can be also exchanged for other currencies.
To summarize, Bitcoin is a fiat currency without an intrinsic value. In contrast to standard government backed fiat currencies, e.g. dollar, euro, Bitcoin is developed outside of an underlying economy or issuing institution, implying that there are no macroeconomic fundamentals that would determine its price formation.
ICOs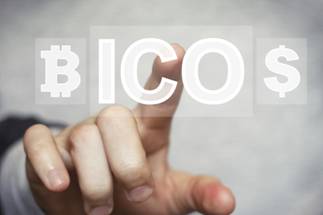 ICO or Initial Coin Offering is a method of raising funds for new blockchain projects. It is used by startups to go around the exhaustive and regulated capital-raising process required by financial institutions. In an ICO campaign, a percentage of the cryptocurrency is sold to early supporters of the project in exchange for fiat currency or other cryptocurrencies, but usually for ETH as the majority of the coins are launched on ethereum blockchain as ERC-20 coins.
Before the ICO, a startup company introduces a business plan on a white paper where it is explained in details about the project, the purpose of the project, the amount of funds needed to complete the project, distribution of funds raised, will they accept fiat money or crypto money and the duration of ICO. Supporters of the startup company can buy coins with fiat money of digital currency during the Initial Coin Offering. In case the ICO does not meet the minimum required funds by the company, the ICO is proclaimed unsuccessful and the funds are returned to the buyers or supporters.
Investors are buying coins at the ICOs hoping that the project will be a success after it is finalized and that the value of the coin that was bought will increase. There are many examples of profitable ICOs for investors, such as Ethereum, smart contracts platform. Ethereum's ICO raised $18 million in Bitcoins or $0,40 per Ether (Ethereum's coin). After the project was launched in 2015, the value of Ether surged to $14.
Bitcoin vs. ICOs
Bitcoin is world famous digital currency that reached its peak of popularity in 2017. The price was also supported by debut of Bitcoin Futures at Chicago Mercantile Exchange (CME) and the Chicago Board Options Exchange (CBOE). Consequently, in December 2017, price of the Bitcoin reached all-time record level.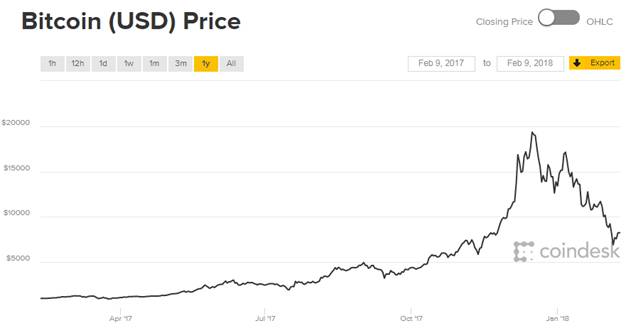 On 16th of December 2017, the price of Bitcoin reached the value of just over $19.000. Since then, the price has been steadily declining, and at the moment of writing this article the price is at $8.205,99.
This means, that since December 2017 high, the price of Bitcoin has dropped more than 40 percent.
If we compare the price of Bitcoin since it was introduced in 2009 (the price was below one USD cent) with the price of Bitcoin today, we can easily calculate that price has increased by 170 million percent.
On the ICOs side, according to the website icostats.com, five best performing ICO tokens NXT, IOTA, NEO, ETHEREUM and Spectrecoin have generated return on investment (ROI) over 1 million percent, 415,277 percent, 356,416 percent, 267,688 percent and 204,843 percent respectively, since their initial coin offering.

Looking at these stats, we can easily say that Bitcoin is a clear winner here. Bitcoin has generated higher return on investment since inception compared to the best performing ICO tokens.
But if look at the Bitcoin's rise in price since the start of the ICOs, the picture is somewhat different.
The statistic from icostats.com shows that these top five performing tokens have generated higher ROI compared to Bitcoin's ROI since they were introduced.


As you can see from the picture above, NXT has outperformed BTC by almost 18,000 percent, IOTA by more than 16,000 percent, NEO by more than 26,000 percent, Ethereum by more than 21,000 percent and Spectrecoin by more than 18,000 percent.
It does not end with these five tokens, there are 28 more tokens that outperformed Bitcoin since they were issued. The full list of tokens that outperformed Bitcoin can be found here.
What lies ahead?
Bitcoin will remain the world's most popular cryptocurrency for a foreseeable time despite the fact it has  become increasingly useless as a currency. Bitcoin transfers are taking longer than ever and the transactions fees are getting more and more expensive.
Just recently, an amateur Turkish football team completed the first ever transfer using the digital currency Bitcoin as they signed 22-year old Omer Faruk Kiroglu until the end of the season. Harunustaspor paid 0.0524 Bitcoin (£385) plus 2,500 Turkish Lira in cash (£841) to secure the youngster's services. Turkey's government has warned against the use of the cryptocurrency, saying it carries risks as no legal foundations were available for such transactions, but the club has shown a potential future for transfer payments with a first-of-its-kind move.
We believe that Bitcoin will continue to be the spine of the digital currency economy.
When it comes to ICOs, most experts agree that more than 90% will fail. There have been many unsuccessful ICOs and ICO scams recently. The ICOs are not regulated by authorities, and for that reason in September 2017, People's Bank of China banned ICOs, claiming that it is disruptive to economic and financial stability.
Additionally, the co-founder of Ethereum, Vitalik Buterin, said that it should be an established fact in the cryptocurrency industry that most token startups will fail. Buterin estimates at least 90 percent are going to fail. "There are some good ideas, there are a lot of very bad ideas, and there are a lot of very, very bad ideas," said Buterin, speaking as part of a panel on decentralized technology. "And quite a few scams as well."
Investing in ICOs should be done with great care. There should be a detailed due diligence of the startup company, company's white paper, project's viability, etc. There are many web pages covering initial coin offerings where you can do your research.
Conclusion
Industry experts like Wences Casares, believe that Bitcoin will hit $1 million sometime before 2027, speaking at the Consensus 2017 conference in New York. Even better, he believes that Bitcoin could hit one million dollars in as few as 5 years, saying on May 23, 2017, that the milestone will be reached "in 5-10 years". Wences Casares is an Argentinian technology entrepreneur living in the US. He is the founder and CEO of Xapo, a Bitcoin wallet startup, and a board member at PayPal, among various other roles. The tech giant bought his first Bitcoins in 2011.
If you invest today, compared to the current price of Bitcoin, it would mean a return on investment in Bitcoin of more than 12,000 percent.
Do not let the amount of $1,000,000 to miss lead you. In terms of investment, the percentage of the return on investment is the most important. Remember what we said before, that some ICOs have ROI of more than million, so that could mean that you could make more profit by investing in ICOs.
And yes, there is more risk in investing into ICOs due to many unsuccessful ICOs and many being a good old scam. But, on the other side, higher risk means higher returns. ICOs are a good thing if you are able to recognize the real potential for development.
Investing in Bitcoin carries a risk of high price fluctuations. Bitcoin has been around since 2008 and it hasn't lost its value or purpose. Making it a possibly safer alternative compared to ICOs. Lower risk, lower profits.
It is difficult to say which investment is better at the moment. It will probably depend on your risk appetite. So, if you are a risk taker you will probably invest in ICOs and if you are a risk adverse you will invest in Bitcoin. In any case, we suggest that you "do not put all eggs in one basket" and make a diversified portfolio of your digital assets.
---
Read more about other interesting coins we wrote about.
What is NXT coin? Here is a guide about SIA coin.
ARK is one of the top 30 coins for more than a year. Here is a guide about ARK.

CaptainAltcoin's writers and guest post authors may or may not have a vested interest in any of the mentioned projects and businesses. None of the content on CaptainAltcoin is investment advice nor is it a replacement for advice from a certified financial planner. The views expressed in this article are those of the author and do not necessarily reflect the official policy or position of CaptainAltcoin.com