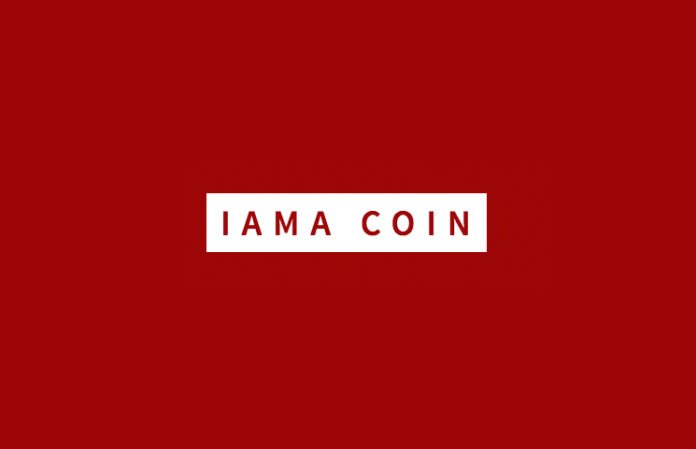 I am a Coin (IAMA) is a crypto-art project that Kevin Abosch, a popular Irish artist and photographer, launched in which the artist himself explores the value of a crypto coin. Abosch has created 100 physical artworks and tied them to the Ethereum blockchain with "virtual art," and he also created 10m virtual artworks, which were developed into ERC20 tokens that can be purchased by crypto fans around the world. The physical artworks are stamped using the artist's own blood (which may have included some sweat and a tear or two), with the contract address on the Ethereum blockchain corresponding to the creation of the 10m virtual artworks.
The virtual works are standard ERC-20 tokens, and token owners can share these artworks and even divide them into smaller pieces (they're divisible up to 18 decimal places) before sharing, and any fraction of an IAMA coin has the same intrinsic artistic value as one IAMA Coin.
It's important to note that the physical works will eventually become available to IAMA coin holders, which means that aside from their intrinsic value, they could be utilised as a means to trade for physical works with the studio's permission.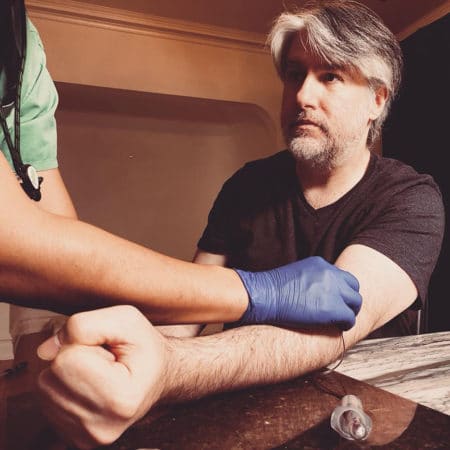 What Does This Mean?
Abosch sees humans as individuals within a collective species and he compares them to a newly minted coin. He asserts that humans are priceless and therefore they should never be reduced to means, "yet we are constantly being ascribed a value."
Abosch connects the physical with the digital in a way where they are together in one symbiotic relationship. Without the IAMA tokens, the physical artwork has no value, and without the physical artwork, the tokens don't make any sense.
---
?Read our guide on best cryptocurrencies you can buy on the market.
---
Abosch explained that he is an artist and that he is not trying to raise money for a company, so he decided to tokenize himself by tying his blood to the blockchain, and by doing the physical work, and the virtual work of his IAMA project.
How to Buy and Store IAMA?
It's currently impossible to buy IAMA tokens. Abosch will first make the virtual artwork available to existing collectors and afterward, to ordinary people, but we don't know the date when this will be.
IAMA is an ERC-20 token, so we recommend using MyEtherWallet but you may also use other native Ethereum wallets as long as they are ERC-20 compatible, such as Trezor and Ledger Nano.
Who is Kevin Abosch?
Kevin Abosch, a photographer, artist, ontologist and entrepreneur, is well known for his portraits of technology founders and world leaders from Google Chairman Eric Schmidt to Facebook COO Sheryl Sandberg to Twitter's Jack Dorsey, but he is most famous for creating and selling his iconic photographic portrait of a potato – "Potato #345" for US$1 million in 2016. This is one of the most expensive photographs ever bought. Abosch is much sought after for his portraits of top global celebrities from the entertainment and technology sectors, including Johnny Depp, Yoko Ono, and Malala Yousafzai, and many others. He has been pushing the limits of visual art for most of his career.
Abosch's iconic black backdrop shots have become something of a status symbol among the tech and entertainment elite, and they start at $150,000 and can run up to well over half a million dollars if commercial licensing comes into play.
But Abosch's path to becoming a world-renowned photographer is anything but traditional. Abosch didn't study art. He first began his career as a biologist with a passion to learn new technologies (he is familiar with deep learning languages like Python and he's the founder of a secure messaging app called OneOne). His first photography gig was in the 1990s, when he was working with CBS Records. The company needed someone to photograph a band and Abosch volunteered himself for the job. CBS asked to see his portfolio. However, Abosch realized he didn't have one, and instead, he pulled up eight of his favorite pictures, which he always carried around, and, after trying for a $5,000 paycheck, he negotiated down to $2,500 salary for the few-hour-long shoot. With that baseline set, Abosch continued to take on more jobs and had no trouble charging high prices for his time and work. The rest is history.
Abosch's Other Technological Projects
It's important to note that IAMA Coin isn't Abosch's first technological project. He also founded Kwikdesk, an internet platform which allows people to anonymously send messages of up to 300 characters that other people can find using specific hashtags. This platform requires no login or password and stores no database of users' identities. Users enter messages identified only by hashtags and a date for the deletion of messages is entered. This online platform also allows users to select a date when their messages would "self-destruct" and be removed – anytime between 24 hours and 10 days after they send them.
As I already said above, Abosch also created OneOne, an ultra-private messaging app providing seven channels of discreet text messaging. Like Kwikdesk, users don't have to set up an account so there is no login or password. They also don't have to authenticate with an email address, social media profile or phone number, which adds an extra layer of privacy. Messages are encrypted before leaving a user's mobile device, and after 24 hours, the app deletes the messages, whether read or not. There is also an option that allows participants to delete the messages from both users' phones at any time.
In 2016, the team behind OneOne decided to shut down the platform due to "insurmountable pressure from governments that don't share our view that privacy is a human right."
---
?What is pooled mining and which mining pool is legit to join and earn crypto? Read our guide on Genesis mining and Hashing24 review.
---
Abosch also recently partnered with blockchain virtual gifting protocol company GIFTO in order to create a unique crypto-artwork, called "The Forever Rose". The Forever Rose is set to be the world's most valuable piece of virtual art ever, with a price tag of US$1 million, which will be paid using two cryptos – GTO by GIFTO and IAMA. The US$1 million worth of crypto raised from the sale of the Forever Rose will be donated to The CoderDojo Foundation, a network of volunteer-led, computer programming clubs for children. Their mission is to ensure that every child around the world should have the opportunity to learn code and to be creative with technology in a safe and social environment.
Conclusion
IAMA Coin project is very interesting because it combines virtual and physical artwork with the artist's own blood. Some call cryptos "the future of money," while the others, like Kevin Abosch, take it even further and merge it with art.
This project begs the question, "Where can be considered as art?" This is a controversial question and open to debate. Most people don't consider the blockchain "art", but a new generation of blockchain-based art collections is bringing the digital art and cryptocurrency worlds together, and the line between the two is becoming increasingly blurry. In my opinion, the recognition of something as art is very flexible and there has never really been a concrete definition of what can be considered as art. For example, skyscrapers and houses are built to provide shelter from the elements and are once considered to be just functional structures. However, today they are widely known as works of art, so why can't the blockchain and cryptocurrency be too?

CaptainAltcoin's writers and guest post authors may or may not have a vested interest in any of the mentioned projects and businesses. None of the content on CaptainAltcoin is investment advice nor is it a replacement for advice from a certified financial planner. The views expressed in this article are those of the author and do not necessarily reflect the official policy or position of CaptainAltcoin.com