eToro Staking Review – How To Earn Rewards From Cryptocurrencies on eToro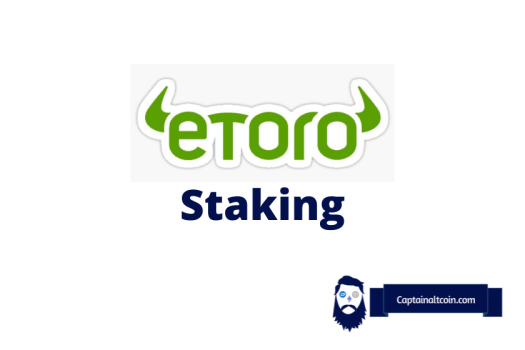 eToro Staking Review – How To Earn Rewards From Cryptocurrencies on eToro
Simple to deposit and start staking
75%-90% of rewards go to the user
Automatic compounding
Great demo accounts
Visa debit cards are available to verified customers from specific regions (UK and Europe).
Secure crypto wallet mobile app (eToro Money) tied to the eToro platform and debit card.
Staking cryptocurrencies on eToro
---
eToro is an Israeli-based, world-leading copy trading and investment company that provides access to a wide range of financial assets and services. Overall, the eToro platform features 2000+ financial assets, including currencies, commodities, stocks, ETFs, and indices, as well as cryptocurrencies such as Bitcoin, Ethereum, Litecoin, Bitcoin Cash, Stellar, Tron, and others.
What can you stake on eToro?
---
You can stake three cryptocurrencies on eToro, namely Ethereum (ETH), Tron (TRX), and Cardano (ADA). The company plans to add new cryptocurrency assets in the future.
How does eToro staking work?
---
Staking assets on the eToro platform is a straightforward process that requires you to take no action, as it is done by the company on behalf of its users.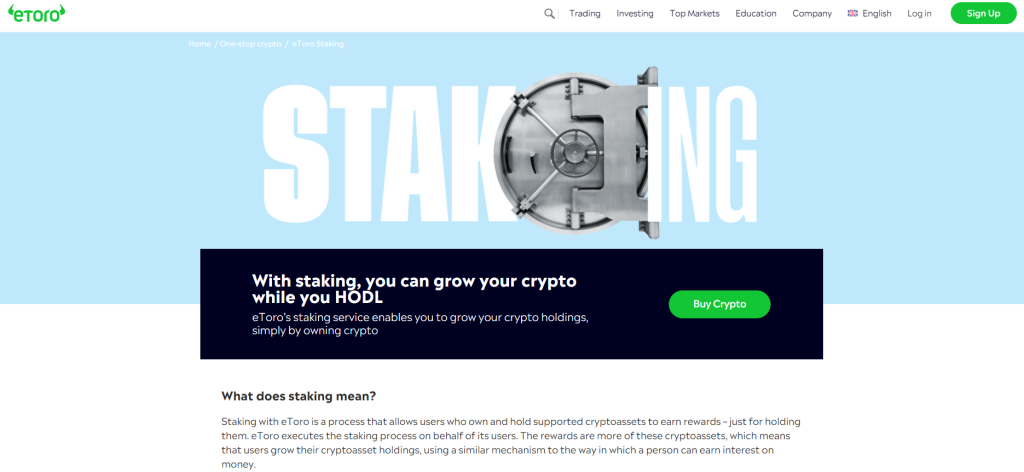 You can earn staking rewards, which will be paid to you every month, just for simply holding the assets in your account. Tron and Cardano can be staked directly on the investment platform, while ETH 2.0 is available only on the eToro Money wallet app.
Who can stake on eToro?
---
eToro accepts users from the USA and dozens of other countries from Europe and other regions of the world.
How to start staking Cardano (ADA) and Tron (TRX) on eToro?
---
While you can only stake Ethereum using the eToro Money wallet, Cardano and Tron can be staked directly on the platform. Staking rewards will be sent out every month automatically, so all you have to do is hold TRX or ADA in your balance to be eligible. There is a waiting period of 7-9 days before you start earning staking rewards, called "intro days".
How to Stake Ethereum 2 (ETH2) on eToro?
---
Staking ETH 2.0 on eToro is available exclusively by using the eToro Money wallet and not the normal app or web-based platform, as for Tron (TRX) or Cardano (ADA). Transferring ETH from the investment platform to the eToro wallet is possible, but only fully verified users are allowed to use the wallet app.
Holding Period (also known as Bonding Period)
---
In staking, the bonding period is the period of time delegators or stackers have to wait before their digital assets become bonded. In other words, your staked assets are locked for a period before you can use them or your accumulated staking rewards.
The lock period is different for each cryptocurrency, starting from 0 days for coins like Tezos (XTZ), 2-4 days for Solana, 21 days for Cosmos (ATOM), or 28 days for Polkadot. Usually, a longer holding period will bring higher staking rewards.
When is interest paid for staking on eToro?
---
Staking rewards will be sent by eToro within the first 14 days of each month for the previous calendar month.
Compounding frequency
---
Compounding frequency refers to the frequency to which your interest is accrued. In cryptocurrency staking, it simply means how fast your staking rewards are added to your main staked balance.
Ethereum 2 (ETH2), Cardano (ADA), and Tron (TRX) staking yield on eToro
---
The percentage of the staking yield rewards generated depends on the membership level of each user (Bronze, Silver, Gold, or Platinum), ranging from 75% for bronze members and up to %90 for diamond and platinum members.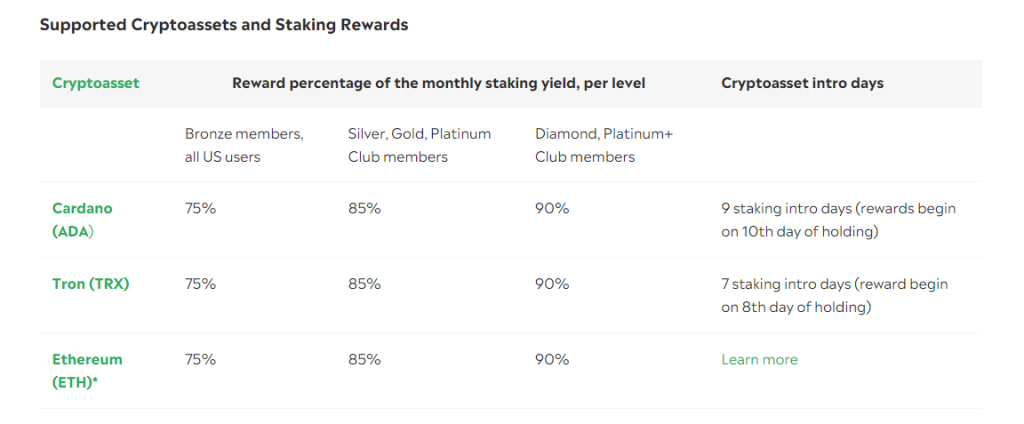 eToro Staking Fees
---
eToro retains a percentage from the yield generated by staked assets, as a fee that ranges from 10% to 25%, depending on your membership level and asset used.
Should I stake on eToro?
---
If you are looking for a secure and easy-to-use platform for staking assets, yes. However, if you are not into copy trading and you want to find the lowest possible fees on the market, eToro is probably not the best solution.
How Much Can You Earn From eToro Staking?
---
You can earn an average of 4%–5% APY staking Tron or Cardano on eToro and a 5%–7% yield for Ethereum.
In which countries is eToro staking available?
---
eToro allows users from dozens of countries and regions to use the platform. However, US customers have limited privileges, and staking is not currently available for them. For the list of countries supported by eToro for Ethereum staking, you can visit here.
FAQs
---
What is the minimum amount that a reward on eToro can be❓
The minimum amount for staking rewards on eToro is $1.
Can you lose money through staking❓
Yes. There are risks of losing money when staking digital assets since both the staked assets and the yield rewards are in cryptocurrency. Apart from losing money due to market volatility, you can also lose money if the asset price drops below the minimum amount that your APY allows you to earn.
Can you live off of staking❓
Yes. Although it is not easy, some investors are making a full-time living from staking cryptocurrency assets. The key to their success involves many factors, such as portfolio diversification, holding period, and amount invested.
Does eToro allow staking❓
Yes, you can stake three crypto assets on the eToro trading and investing platform: Ethereum (ETH), Cardano (ADA), and Tron (TRX).
Can staking go wrong❓
Yes. Staking is a process with many risks, such as the risk of a network failure, the price of the asset dropping dramatically due to market volatility, or getting a penalty from the system.
Is staking crypto always profitable❓
No. A lot of the time, staking cryptocurrencies is not always a profitable activity for the short term, and for the long term, it is impossible to tell what will happen with the staked assets, but profit is possible if they appreciate.
How much profit can you make from staking❓
Staking crypto will earn an average of 4%–7% APY, depending on the staked asset and lock-up period.
Is staking safer than trading❓
Some people think that staking is safer and more reliable than trading, especially if you are new to investing in cryptocurrency. To reduce the risks to a minimum, it is recommended to stake stablecoins like Tether (USDT), USDC, or BUSD.
Where is the safest place to stake cryptocurrency❓
Some of the most secure platforms for staking crypto assets are Coinbase, Binance, eToro, Kraken, KuCoin, ByBit, Uphold, Cake Defi, Nebeus, and others.
PROS
Simple to deposit and start staking
75%-90% of rewards go to the user
Automatic compounding
Great demo accounts
Visa debit cards are available to verified customers from specific regions (UK and Europe).
Secure crypto wallet mobile app (eToro Money) tied to the eToro platform and debit card.
CONS
eToro is not currently available in all US states, and its customer support is limited.
It supports a limited number of cryptocurrencies, from which only 3 are available for staking.
Fees are high compared to alternatives available on the market, especially for crypto assets.
The customer support services are sometimes slow or difficult.

CaptainAltcoin's writers and guest post authors may or may not have a vested interest in any of the mentioned projects and businesses. None of the content on CaptainAltcoin is investment advice nor is it a replacement for advice from a certified financial planner. The views expressed in this article are those of the author and do not necessarily reflect the official policy or position of CaptainAltcoin.com