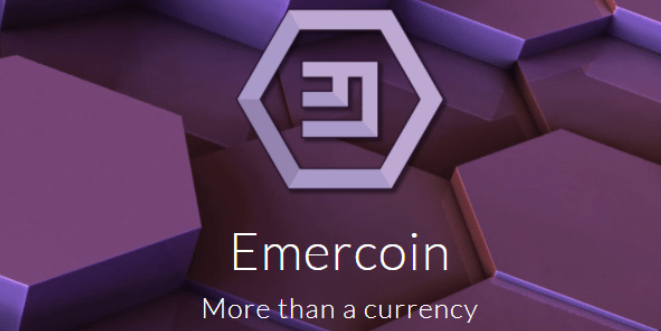 Emercoin had experienced quite a rollercoaster of a price action in the last couple of weeks, especially if we look at its USD value. While BTC peaked on July 2nd at 48692 satoshi, USD had to wait to the 30th to record its recent high of $3.38. Ever since, both prices kept going down with one small blimp upwards on August 24th. Overall Emercoin looks like a currency in a downtrend that doesn't really show many signs of bottoming out.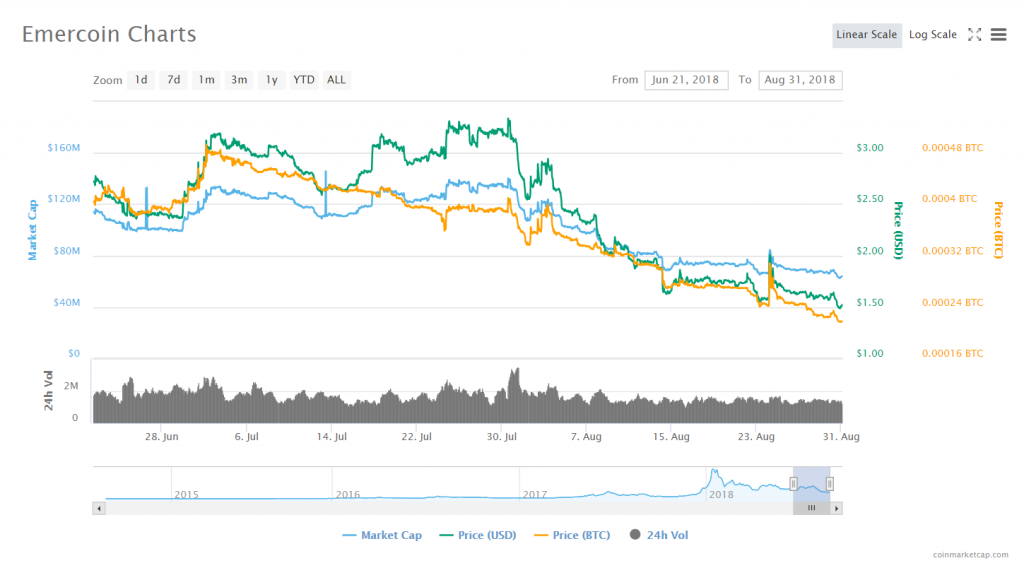 Emercoin is a rather old project, considering it was created in now distant 2013. The project is a real jack of all trades, a blockchain platform that has developed a wide array of easy-to-use decentralized SDKs (software development kits) that let people develop software in a hassle-free, simplified manner. The number of services they provide is truly impressive:
EmerDNS– A perfect tool for people who fear the tightening grip of government regulation on internet. It's a decentralized domain name system free of censorship, operating under the "dns" abbreviation in the Emercoin NVS. The name of your DNS cannot be altered, revoked, or suspended by any authority. Only the owner of the private keys to the connected payment address can control the DNS record. Emercoin recently commented on the latest GDPR legislation delivered by the European Union; you can read more about it, how it can affect you and how Emercoin can help you become GDPR compliant here.
EmerSSH– Decentralized public key infrastructure (PKI) keeping your root certificate keys safe from rogue centralized servers. Operates under the "ssh" abbreviation in the Emercoin NVS.
EmerSSL– A decentralized infrastructure of SSL certificates, it makes man-in-the-middle attacks impossible. Allows developers create passwordless website authentication, with Emercoin's blockchain serving as the decentralized, trusted store of hash sums for client SSL certificates. It's very easy to use as you have to generate your private certificate only once, and then use that certificate for secure, passwordless access to selected websites.
EmerDPO– EmerDPO is a decentralized solution which helps you digitally validate the ownership/authenticity of physical/digital goods and services with Emercoin blockchain playing a key role in it. EmerDPO operates under the "dpo" service abbreviation in the Emercoin NVS.
ENUMER– ENUMER is a system for supporting ENUMER telephone records on Emercoin's blockchain, stored under the "ENUMER" abbreviation in the EmerNVS. This service is a decentralized, scalable service which can help provide free, fast and reliable VoIP services.
EmerLNX- EmerLNX is a peer-to-peer text-based advertisement link exchange network based on a per-click payment model. EmerLNX operates under the "lnx" service abbreviation in the EmerNVS. This project is apparently frozen "until it can be further developed".
EmerMAGNET– EmerMAGNET is the storage of BitTorrent magnet links under the "magnet" service abbreviation in the EmerNVS.
EmerNVS– Emercoin provides a service for storing name->value pairs in its blockchain (Name-Value Storage, or NVS).
EmerTTS– Trusted Timestamp is an upcoming feature of EmerNVS which automatically applies the current timestamp to any record added to the Emercoin blockchain. The blockchain network checks whether the timestamp is correct and rejects attempts to upload records with a timestamp differing from the current network time by more than ±2 hours.
There is a lot more information about each one of these services on this link. All of these services can be purchased with EMC, the official currency of the project. There are several main ways to obtain EMC:
Mint EMC with Proof-of-Stake minting (PoS)
Mine EMC with Proof of Work mining (PoW)
Earn EMC by providing products or services in return for it
Trade EMC on one of the participating exchanges that supports EMC (Binance, HitBTC, Indacoin, Bittrex, USDX and more)
The project takes pride in being flexible, thanks to its Name-Value Storage concept which allows people to store arbitrary data on the blockchain. It also claims to be very reliable as a result of a hybrid PoW/PoS algorithm. The PoW algorithm is SHA 256, meaning that Emercoin can be merge-mined with Bitcoin. Finally, Emercoin is secure as its NVS logic isn't Turing-complete and cannot be used to inject malicious code.
---
?Interested in pool mining? Check out the leading Genesis mining platform and our review of it.
---
Deloitte, Foundico, Vinchain, UnaDesk are just some of the project supporters, giving it legitimate "smart money" backing. Also Delloite, Prover eZuce, HashCoin and Russian Railways are apparently using these SDK's to run and support their business operations.
Emercoin recently made two strong partnerships: one was with Infopulse, an international software R&D company that wants to use Emercoin's technology to develop blockchain solutions. The other was with the Business and Technology University in Tbilisi, Georgia; the university had Emercoin create an open-source "Trusted Diploma" platform for them on top of the Emercoin blockchain. This blockchain system enables administrators to store and share verifiable diplomas and other education certificates through the power of decentralized blockchain technology.
Overall, Emercoin looks like a quality cryptocurrency project with a long history, an impressive list of use cases and a growing adoption. With fundamentals as solid as that, seeing this currency go up in price during an upcoming bull-run wouldn't be a surprise.

CaptainAltcoin's writers and guest post authors may or may not have a vested interest in any of the mentioned projects and businesses. None of the content on CaptainAltcoin is investment advice nor is it a replacement for advice from a certified financial planner. The views expressed in this article are those of the author and do not necessarily reflect the official policy or position of CaptainAltcoin.com