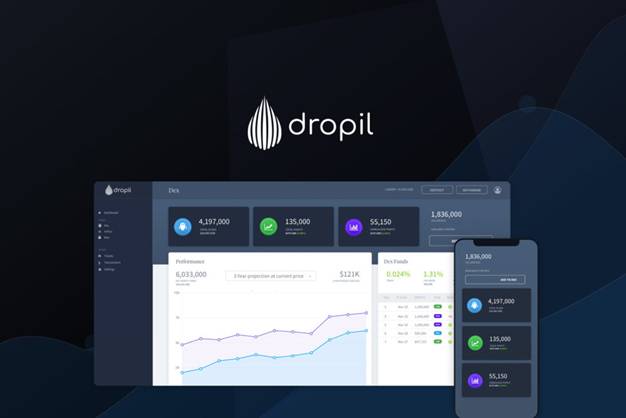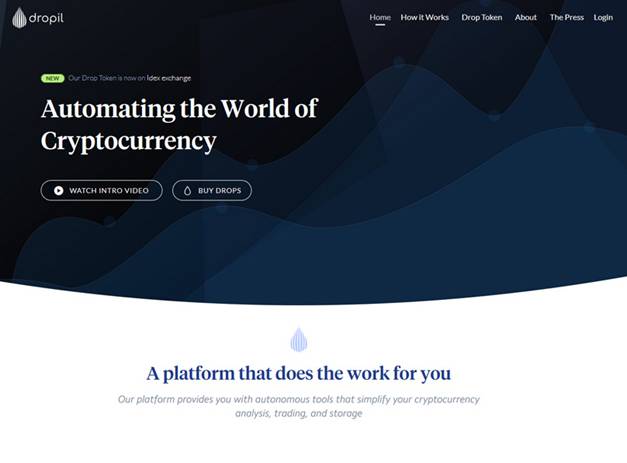 For many people, entry into the world of crypto investing can be a daunting experience. Trying to figure out where and how to invest and hearing all the stories about people mishandling their money will put even the most trigger-happy investor on guard. Multiple start-ups decided to offer a solution to this problem; one of them is Dropil.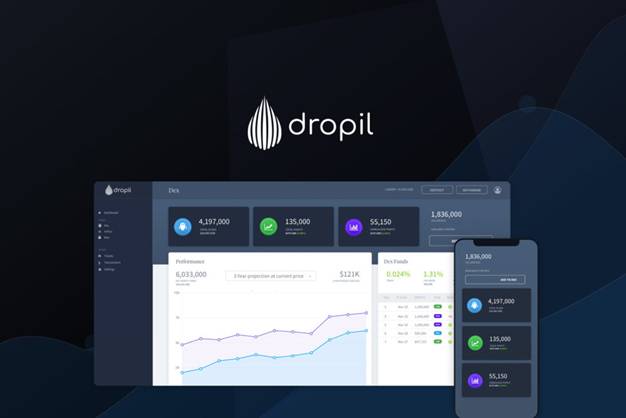 Dropil can, in a way, be characterized as a lending platform. Many crypto investors shudder at hearing the word "lending" being mentioned, as platforms like Bitconnect and Davor brought quite a lot of negative press to the term. Dropil however isn't an actual lending platform as it does "lend" your money but only to use its automated trading bots to invest it for you. To ensure their safety in legal terms, the company founders registered it as an IBC (international business company). They also claim they are completely privately funded which might give them extra flexibility but can also result in mismanagement and issues moving forward, so take that information for what you will.
Dropil markets itself as a "simple, intuitive, and automated tool for the cryptocurrency market". They offer financial planning and investing into cryptocurrency to inexperienced investors by utilizing a wide range of automated tools. Long-term investments, short-term investments and retirement plans that are "better than any other opportunity in the world" are something that the Dropil platform prides itself with.
Their main selling point is the automation of the trading process; the platform offers trading with very little input required from the investors while guaranteeing them high profit margins with minimized risk of suffering losses. This lifts the burdens that come with regular investing from investors backs and creates a stress-free, low friction, easily accessible experience. The platform focuses on delivering the information that you need instead of wasting your time with useless analytics that you maybe don't care about as a beginner investor.
The list of investors who can benefit from Dropil is extensive:
People looking for stable investments with minimal maintenance/residual revenue generation.
People who like to enjoy the benefits of having a highly diversified portfolio
People who want protection from market volatility
People who want to invest in the blooming crypto market, but do not have:
Large investable capital: there are a number of issues which prevent investors with low initial capital from becoming serious investors. Some exchanges suggest daily limits of 10 thousand USD per day, many advanced trading platforms require 25 thousand USD minimum to day trade. Finally, some private advisors recommend initial investors to move in with investments of up to 1 million USD.
Basic trading knowledge: Majority of population lacks even the basic trading knowledge required to take a part in the crypto markets. Without this basic understanding the odds are stacked heavily against them and they will almost definitely lose anything they invest in cryptocurrency.
Advanced trading knowledge: Even more investors lack the advanced TA, charting and strategy knowledge. Even investors who possess those arent 100% guaranteed to succeed in the crypto markets. This is almost regularly caused by overconfidence, loss aversion and overthinking their moves. Dex limits this human error factor by implementing a trading AI.
Time to constantly monitor markets: Cryptocurrency markets move much faster than anything ever seen before. People don't have time to constantly stare at charts so Dex, an AI designed to do exactly that, will do it for them.
A risk threshold for trading or even holding:  Risk is an important factor that every investor needs to consider when making his investment/trading plans.
People who do have advanced trading skills, time, and capital and wants to hedge their crypto investment portfolio with low maintenance and safe assets.
People who want to invest by HODLing and having a steady investment return
People who want to maintain their privacy while investing.
People who do not wish to partake in automated investing can still earn revenue by holding the network token which should increase in value as the adoption kicks in.
Those who want to setup investments for the benefit of another, such as first start investments for their children.
About Dropil's system
Dropil's trading robot system called "Dex" does all the heavy lifting for the user, while their expertly managed portfolio balancing algorithm called "Arthur" manages risk. As the final component the platform offers DROP tokens which ensure privacy and the development of an inner economy, bringing added value and exclusivity to the project.
Dex
Dex is the key aspect of the Dropil's trading service. It is a smart trading robot platform that isn't a single bot but rather a collection of carefully curated and tested bots. These bots are programmed in-house while making sure that the logic strategies and designs implemented in it weren't given away anywhere outside of the platform.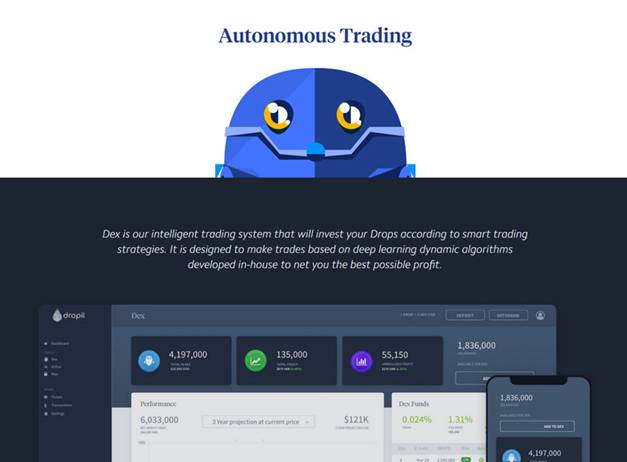 Dex has been perfected since its implementation to automatically swap and scale strategies based on live trading markets for any crypto on any exchange. It is capable of collecting new trading data and using it to make consistent updates and adjustments to its trading algorithms. This AI system is meant to efficiently manage investing and portfolios, ensuring profitable returns with minimal risks.
Dex is made out of several running modes which are a combination of logic optimized for specific tasks. Each mode follows a specific set of strategies; the AI is adjusted to automatically switch to a different set of strategies in reaction to market movement and changes. Each mode (or instance) trades only one pair, on a single exchange, one account at a time. While these modes operate independently from each other, their performance is stored in a central repository to allow for continuous analysis of all trading.
The Dex system utilizes group logic rules and is mixed with some human oversight to ensure the best possible portfolio performance. Security measures have been set in place to consistently deliver maximized profit with minimal risk. Diversification across multiple platforms and multiple tokens is one of those measures. Your investments are pooled together depending on your chosen risk level, which ensures their safety in even the most volatile of markets. A set of automatic and manual protections related to API, connectivity, exchange and operating system issues create the final safety net of the Dex trading algorithm.
Arthur

Arthur is another important part of the Dropil platform which manages people's portfolios and provides arbitrage analysis. A somewhat less sophisticated bot, Arthur focuses on monitoring exchanges and tokens of your liking and provides you with information you need to spot the top arbitrage opportunities out there. Its system can monitor 13 different exchanges, with no API or user account requirements. There are plans of adding more in the future to expand Arthur's functionality.
DROP Token
Third and final element of the Dropil ecosystem is the DROP Token, which is and ERC-20 protocol powered coin. The team chose ERC-20 to ensure high compatibility and quick execution of interactions with exchanges, companies, users and the community as a whole.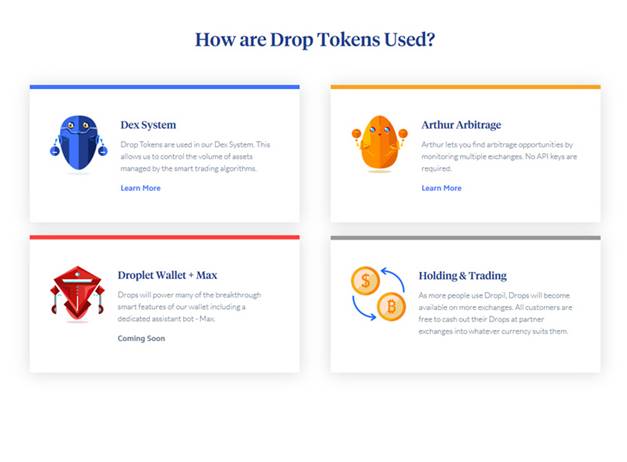 The DROP Token is hard-capped at 30 billion coins, which is a volume that should provide optimal performance in respect to volume of managed assets. The final cap also included calculations related to achieving an ideal user base and considered the fact that the coins need to be traded and circulated with an initial value that would encourage widespread adoption. Somewhat lower cost of entry, combined with the requirement to use DROP to utilize the features of Dex/Dropil, should ensure large token implementation and keep its demand on an expanding trajectory.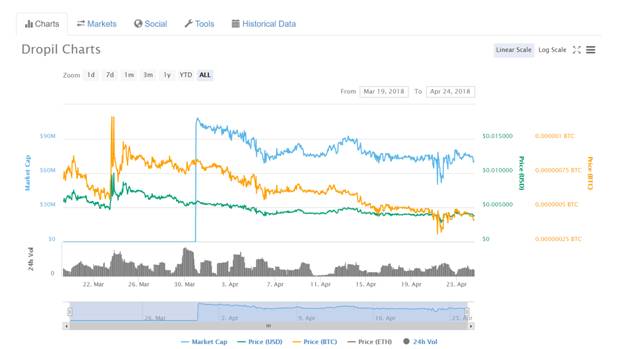 While the team predictions were that the DROP tokens will increase in value over time, the current price is somewhat lower than the initial one. As the platform is still in its infancy, it remains to be seen how the token will react in the future.
The tokens were generated during the token event on January 10th. 1 DROP was priced at 0.0000036 ETH. Sixty percent of tokens were distributed and sold during the ICO which happened on February 7th, with 20 percent going to the founders, 15 percent to the Dropil vault, and 5 percent to the Dropil team. There is also a lock on 50 percent of the founder token supply. An encouraging piece of information is the fact that the team clearly states on their home page that they will never lock away user tokens, meaning that you will be able to cash them out anytime you want. A smart wallet for DROP tokens is currently in development and will be available "soon". The token is currently traded on Tidex and RightBTC and should probably look to expand onto some better known exchanges if it wants to achieve wider adoption.
Roadmap
The roadmap states that the team is focused on bringing the right people aboard to ensure that Dropil will soon become "industry standard for next-gen investment plans". Alongside all the previously mentioned milestones, there is wallet integration planned by the end of the Q2 of 2018. At the same time, a higher limit on investing will be implemented, ensuring that advanced traders will be able to invest higher amounts of money. The team states that they are working hard on bringing the DROP token onto some bigger exchanges and some movement on that front should be expected around April 2018 and beyond. As a final element of their roadmap they say that a nex-gen retirement plan is in workings, which should enable users to create long term retirement arrangements on the platform.
Team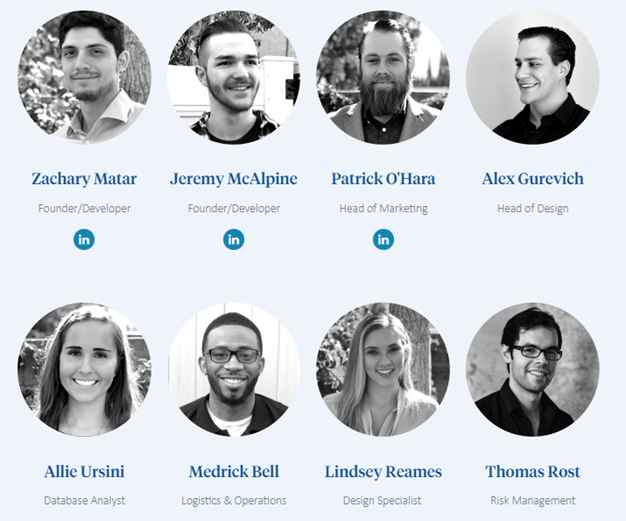 The team behind the project are real people, mostly young and talented individuals with previous experience in various blockchain and non-blockchain related enterprises. While their Twitter accounts all date back to April of 2018, Linkedn accounts date way back. This could signal a team that was focused on development and work and just recently decided to switch into promotional, Twitter related activities. Only quip I had was the name of Thomas Rost, who was apparently a risk management officer for the project a while back, suddenly not being present on the current team list. All in all, they seem transparent and dedicated to the project.
Conclusion
At the end of the day, Dropil looks like an innovative platform that lets users easily become investors in the world of cryptocurrency. Investing, trading, arbitrage and more are completely automated and algorithm based, which should impress tech-oriented people and those who don't have enough time on their hands to invest themselves. The platform definitely seems interesting but it probably won't be the first choice of any advanced investor out there. If you are just a newbie looking to dip your toe into the crypto waters for the first time, you might want to check out Dropil.
Check out the following links:

CaptainAltcoin's writers and guest post authors may or may not have a vested interest in any of the mentioned projects and businesses. None of the content on CaptainAltcoin is investment advice nor is it a replacement for advice from a certified financial planner. The views expressed in this article are those of the author and do not necessarily reflect the official policy or position of CaptainAltcoin.com