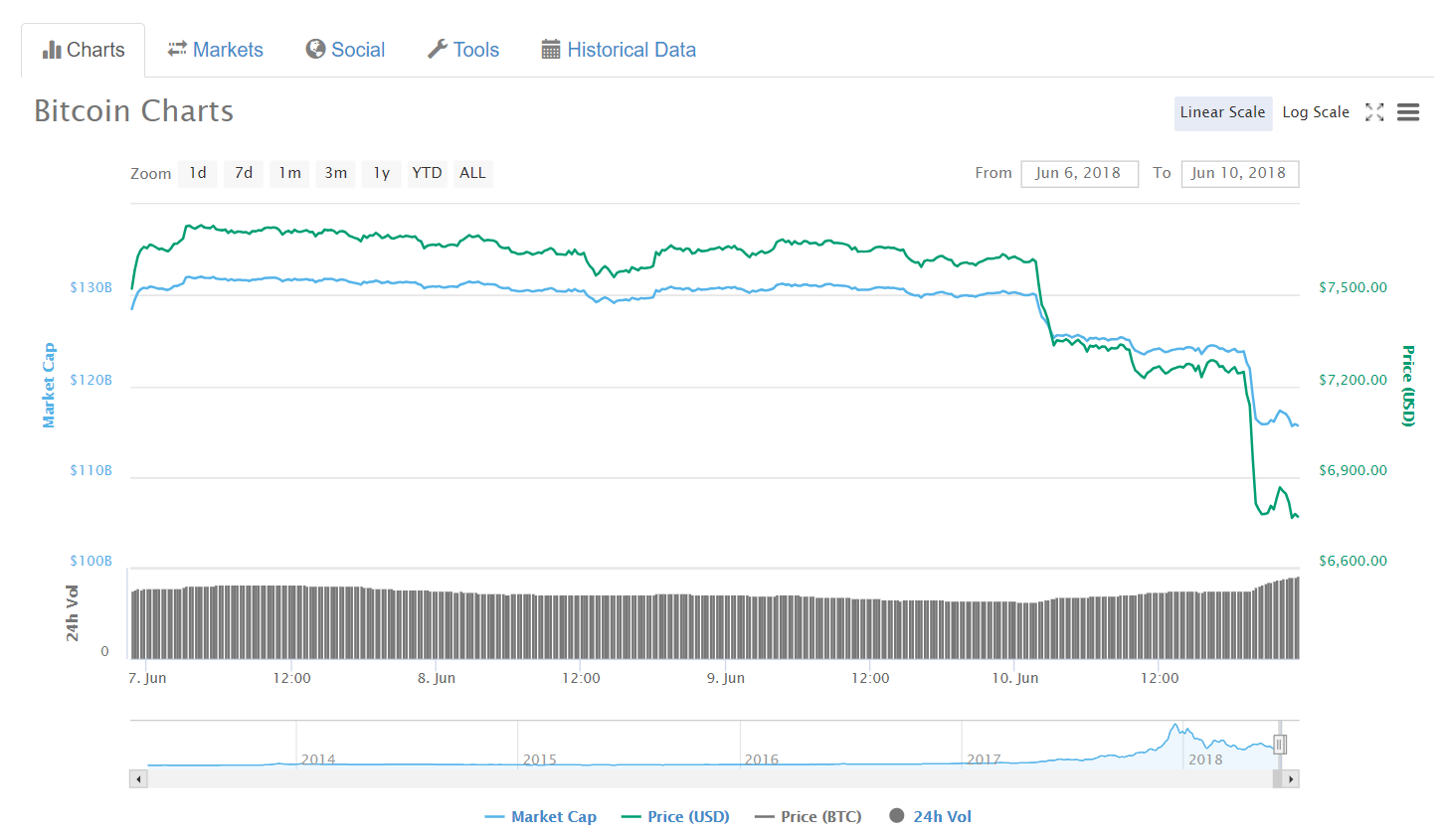 Well most of us thought we had it good for a while with those few days of calm and a couple of green candles here and there, didn't we? The "good" sideways movement of Bitcoin has abruptly stopped on early Sunday morning when the cryptocurrency experienced a flash crash which took the entire crypto market down with it. The flash crash turned out to be more than that as the price steadied itself for a little bit and then experienced an even bigger drop just hours before the day closed. In total, Sunday's decline saw Bitcoin drop to the lowest point it has been at for the past three months. The total market cap of crypto has suffered significantly, dropping under $300 million for the first time in
The day began decently, with the price hovering around $7600 USD until an hour and a half of selling action which lasted from half past 2 to 3am UTC+2:00 resulted in the price dropping to just above $7300 USD. After some slight sideways movement, the price dropped down another $100 USD and stayed at those levels until 6pm, when it tumbled down from $7200 USD to $6770 USD in barely an hour. The market has since kept bleeding just barely, leaving Bitcoin at around $6700 USD, 12% lower than where it was at the beginning of the day. This latest price decline brings the total BTC price loss for 2018 to 53 percent.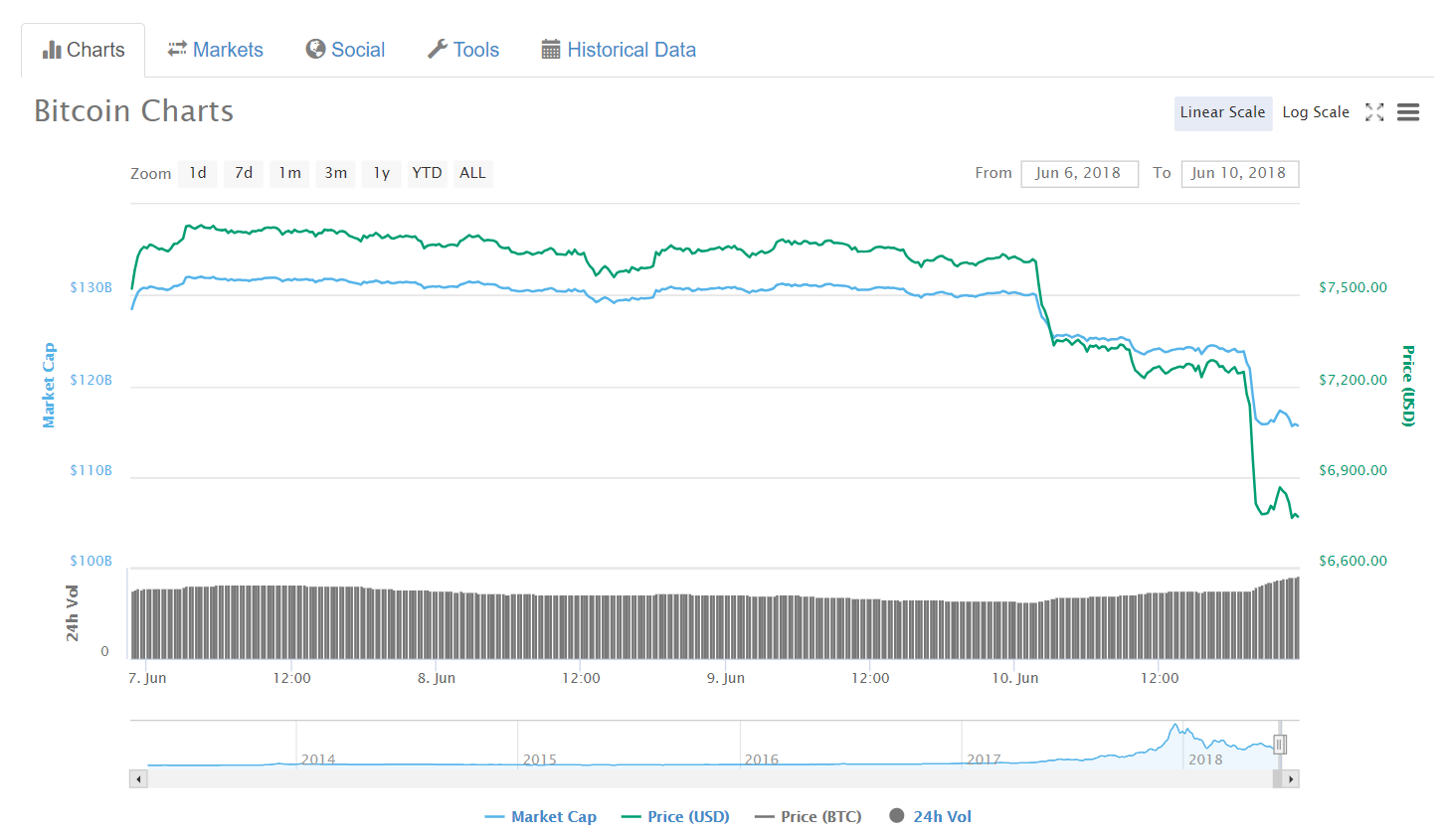 Unsurprisingly, the entire market suffered a serious pullback as well, with every token recording daily loss in double digit percentages. EOS, IOTA, TRON and Ripple are among the biggest losers of the last 24 hours, with their drop-offs going from 15% (XRP) upwards to almost 20% (TRX).
What caused the drop?
The theories about what caused this latest "red wedding" started to drop during the day. Many people saw the recent Coinrail exchange hack as the main, or at least a contributing cause. Coinrail is a small Korean exchange that barely got into top 90 world's exchanges by trading volume so the hack was never going to result in a massive volume dump. Still, almost $45 million USD worth of coins was stolen, with NPXS token ($19.5 million) and Aston X ($13.8 million) suffering the biggest losses. Tron lost $1.1 million dollars which might help explain why it was the biggest loser among top 10 cryptocurrencies with a drop of 19.54% at the moment of writing. Coinrail has moved 70% of its funds into cold storage and has seized its trading activities until a full investigation is conducted. This probably didn't have much of an effect on Bitcoin's price but it could have contributed to the drop.
There has also been active talk in the past few days about a "mysterious Asian whale", a holder who amassed nearly 94 thousand BTC (currently worth just north of 636 million USD) on his address. This whale apparently started selling off the coins in the period of March 25th to May 27th, reducing his wallet balance to 8000 BTC. According to WalletExplorer data, most of the funds were bought and sold on Asian exchanges Huobi and HaoBTC, which suggests the person who owns the address is Asian.

Some sources claim that the coins were garnered through OTC transactions, which whales tend to do to avoid influencing the global spot markets. The source in question, BABI Finance, claims the address belongs to a Dubai-based broker acting on behalf of an unknown buyer. Such a large movement can in fact "make" the market and cause a certain type of sentiment on it. A big whale selling off almost 90 thousand BTC is as bearish of a signal is it gets.
Most importantly perhaps, US government has subpoenaed 4 major exchanges (Coinbase, Kraken, Bitstamp and ItBit) to hand over "comprehensive trading data". This was done in an effort to battle increased market manipulation practices that are almost certainly running rampant on the crypto markets. The investigation has been motivated particularly by talk that Bitcoin futures on CME Group Inc.'s CME exchange played an important role in the price of this cryptocurrencies futures to be manipulated.
What comes next?
Honestly speaking, the general feeling around the market was that something like this was bound to happen sooner rather than later. Traders have noticed the slow price decline that was correlated with significant decreases in trading volume over the past two months. Such a movement clearly implies that the market is in a bear run and that further drop-off should be expected.

This drop does fit in the narrative that we are yet to see the bottom of the bear run that started back in January of 2018. Some people feel that we will be going down even lower, possibly going below 5000 by the first half of July. Others offer more bullish predictions, claiming that 5.5 thousand is a realistic bottom. A twitter user @CryptoMessiah was somewhat bullish as he noticed similarities to the period of 2013-2014:

All in all, it's clear that bears still aren't ready to stop playing with the market. It remains to be seen what the future brings but further drop-offs don't seem unlikely from where we stand right now.

CaptainAltcoin's writers and guest post authors may or may not have a vested interest in any of the mentioned projects and businesses. None of the content on CaptainAltcoin is investment advice nor is it a replacement for advice from a certified financial planner. The views expressed in this article are those of the author and do not necessarily reflect the official policy or position of CaptainAltcoin.com