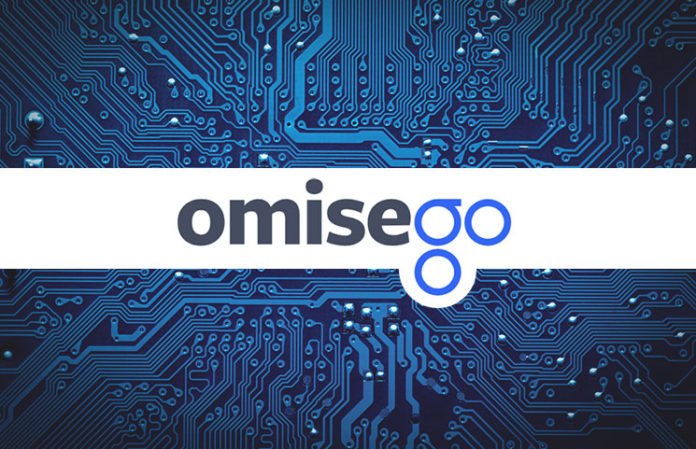 OmiseGo had a slow month of July. Reaching its monthly highs of $8,70 USD/131108 satoshi on July 3rd, the token's value slowly dipped towards the July 31st monthly lows of $6,11 USD/79256 satoshi. August started off with somewhat of a consolidatory pattern, as the price hasn't really moved strongly in any direction. One OMG token is currently valued at $4.50 USD (4.28% drop in the last 24 hours)/0,00071598 BTC (1.24% drop in the last 24 hours). As this is an ERC 20 token, it is purchaseable with Ethereum as well for the current price of 0.01267638 ETH (1.66% drop in the last 24 hours).
Token's market cap is currently sitting at $631,619,880 USD, ranking OMG as the 20th most valuable cryptocurrency in the world.
CryptoMedication from TradingView offered his view on the coin's technicals: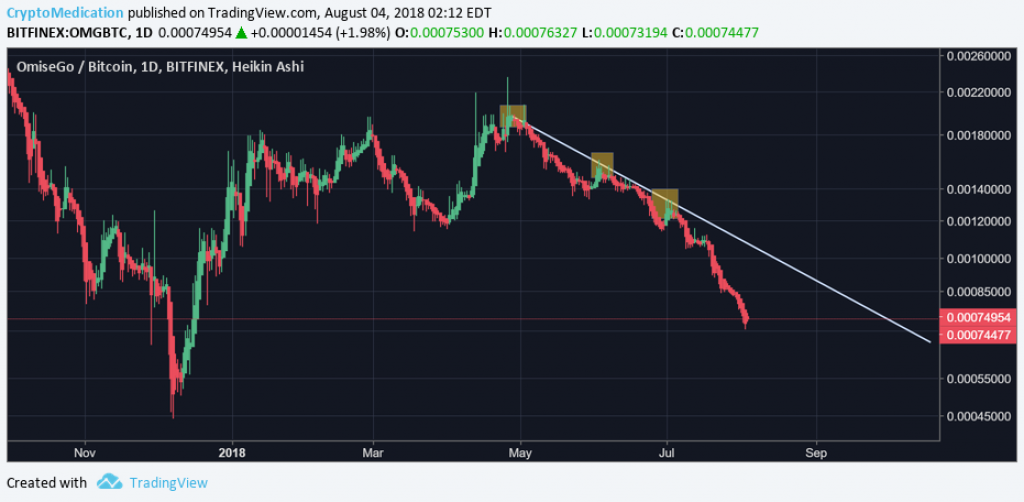 "Short-term downtrend still holding steady on the $BTC pairing for $OMG. Lots of red candles at the end here. RSI = dramatically oversold. Remember, we are in a bear market, so it can remain oversold for as long as it needs to be oversold. In other words, don't adopt the fallacious trading logic (in a bear market) that says, "Oh! It's finally hit the oversold point. That means that we must be due for a bounceback now!" This mentality will get you savagely wrecked." He went into the volume of the currency as well:
"Volume ain't looking much better on the 4H either. You can clearly see that the buy volume is descending on this chart, with the body of the last candle that's forming currently right now not exhibiting an open that is dramatically above the close of the preceding close (Heikin Ashi bars). This is probably what can be attributed to the slight rise in the RSI , but overall there's nothing to write home about when it comes to $OMG." You can check his complete analysis, alongside plenty of easy to understand graphs, on this link.
---
What is bitcoin mining all about? Is it profitable to mine bitcoins in 2018?
---
OmiseGo recently got embroiled in somewhat of a controversy, as 837 thousand tokens were moved through an exchange. Many rumors suggested that this was done by the OmiseGo team themselves and the community started looking for explanations and answers. Redditor jet86 responded to the community with these words:
"I'm not sure why people are upset with other people choosing to do what they want with their private allocation of tokens. As per the crowdsale doc and this clarification post from when the tokens were unlocked, OmiseGO is not selling the tokens that are to be used for staking once PoS is live. The allocation does include allocations for OmiseGO team members, but also for advisors as well as early contributors (as many community members have already pointed out), some of whom may not have an ongoing direct involvement with the development of OmiseGO. These people are, of course, free to do what they like with their privately owned OMG tokens."
This is important as massive dumps like this one signal weakened belief in the project and strong presence of insider trading (at least in the regulated markets they do). Crypto market is however still unregulated and this could just have been a single whale dumping his stack, but the questions still need to be asked. For now it is unclear who was the investor that sold the mentioned amount of tokens was but there are murmurs that he/she was a former OmiseGo advisor. To their credit, OmiseGo came out with an announcement to calm the rising FUD:
"The tokens reserved by OmiseGO for staking on the OMG Network are still being held by the company and are still 100% destined for that purpose. It's important to our own future to build transaction volume on the network and build a system that is both worthwhile for stakers and appealing to consumers." They further added:
"We're not hiding any bad news; we are still working hard on delivering the OMG Network, iterating on the eWallet SDK, and delivering scalable, decentralized financial tools to the world."
---
What is pooled mining and which mining pool is legit to join and earn crypto? Read our review of Genesis pool mining and Hashing24 guide.
---
Other development has been chugging along slowly, sometimes too slow for the market clearly agitated by the lack of price action and certainty/communication from developers. A community update was released back in July, when details of what has been done in previous period were revealed. Mentioned advisor/team tokens were distributed and one of people who received them was probably responsible for the mentioned sell-off. There were several technical updates regarding Plasma and the upcoming eWallet.
Business development updates focused on partnerships including Status, Stanford's Center for Blockchain Research, MoU with Shinhan Card and the launch of Neutrino in Japan and Singapore. Finally, there were several community events that OmiseGo hosted/attended in cities such as Bangkok (Thailand) and Zug (Switzerland). Check out the entire community update here.
Recently we also had a Cosmos update for July 2018.
"There is yet more work that needs to be done to lay down the tracks for the Cosmos-SDK before it can take us to the horizon. To get there, we still need to implement gas pricing, chain upgrades through on-chain governance, dynamic slashing to handle varying levels of infractions, and fee distribution," said the team's official publication.
Previously published on Tendermint, this latest update came from the Interchain Foundation's blog. The reasons for this have been explained in the blog post itself. ICE Consolidated Feed is also being developed by NYSE as a tool that will give people access to real-time data of several key cryptocurrencies that currently dominate the market. OmiseGo holders will be glad to hear that their project will be included among these.
There has also been a short, unconfirmed update regarding Omise Payment. Omise Payment online shopping service, managed by Omise Japan Co. (the company that manages OmiseGo as well), will start offering pay-easy (Pay-easy) settlement and net bank settlement as a new means of payment. It is still unclear if the project is tied to OmiseGo in any way, but the features of the network (low fees, live instant transfer, no credit cards required, payments from ATM, PC, smartphone) do sound a lot like what OmiseGo wants to offer. Finally, Omise announced that their plug-in for Shopify integration has been released. Thanks to this, users can easily plug the Omise Payment Gateway service into their Shopify stores and start accepting card payments. This could also have strong implications for future OmiseGo liquidity and usability.
OmiseGo remains a project in development, looking to present its testnet to the users and holders that are getting a bit impatient. With plans to launch the mainnet in Q4, surely the testnet is just around the corner. At the moment, the community doesn't have much choice but to sit tight and wait for further developments.

CaptainAltcoin's writers and guest post authors may or may not have a vested interest in any of the mentioned projects and businesses. None of the content on CaptainAltcoin is investment advice nor is it a replacement for advice from a certified financial planner. The views expressed in this article are those of the author and do not necessarily reflect the official policy or position of CaptainAltcoin.com