The main differences between Coinbase Wallet and Ledger Nano models:
---
Both Coinbase Wallet and Ledger are wallets designed to allow users to keep and manage their digital assets safe. The two cryptocurrency wallets offer similar functionality, with a few significant differences between the two wallets. 
✅ The main difference is that Coinbase Wallet is a digital wallet, available as an app for Android and iOS or a browser extension, compared to the Ledger Nano S Plus, Ledger Nano X and Nano S Plus models, which are hardware wallet devices (physical products). 
In other words, Coinbase Wallet is what we refer to as a hot wallet, and Ledger wallets are cold wallets (not connected to the internet/work offline).
Coinbase Wallet and Ledger are non-custodial wallets (the user controls and stores the private keys), but the Coinbase Wallet is accessible exclusively online, which makes it a hot wallet. 
✅ A second difference is that Ledger Nano X and Nano S Plus users only connect to the Ledger Live app when they want to transact cryptocurrencies through a USB-C cable or Bluetooth. The Ledger Nano X and Nano S Plus are more secure when kept in offline mode to avoid getting cryptocurrency funds exposed to hackers or other security threats.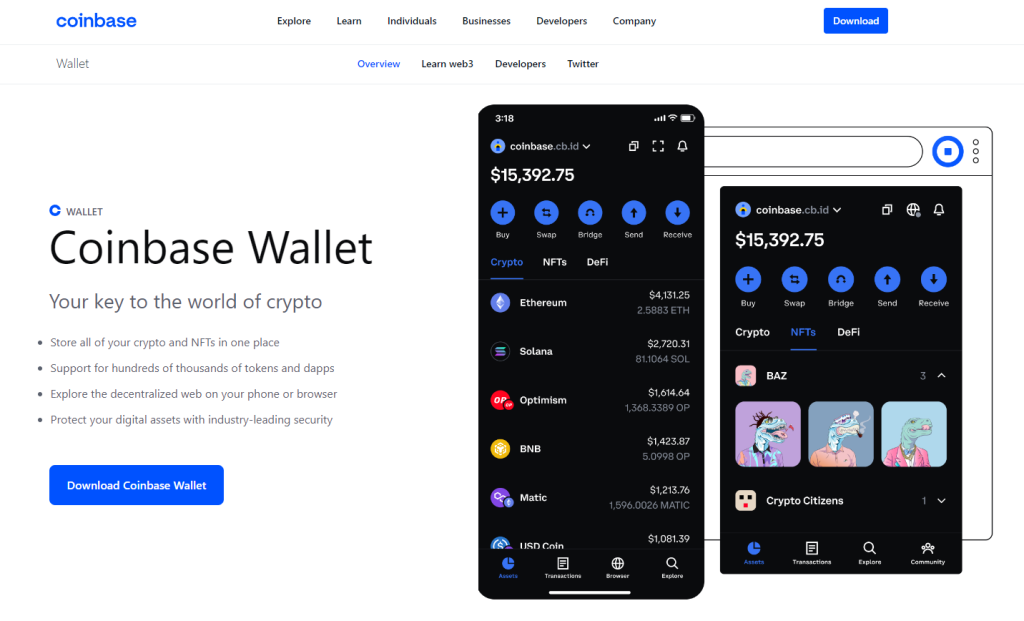 ✅ The third difference between Coinbase Wallet and Ledger Nano is the number of supported coins and blockchains. Ledger devices are compatible with 5500+ coins, and Coinbase has only 1100+ cryptocurrencies.
Coinbase Wallet is a free wallet app, while Ledger costs money
---
Coinbase Wallet is a free digital wallet solution that doesn't cost anything other than the blockchain fees, which are mandatory with all the other wallets.
Ledger Nano X costs $149, and the Nano S Plus is much more affordable (at $79). The Ledger can connect to hundreds of digital wallets, including Coinbase Wallet.
Coinbase Vs. Ledger – security differences
---
Coinbase Wallet has similar security features to Ledger, with Ledger being more secure because it doesn't connect to the internet. 

One of the most secure ways to keep and manage your cryptocurrencies is by connecting your Ledger device to Coinbase Wallet so that you enjoy the security features of both wallets.
To connect the two wallets, you have to open Coinbase Wallet and pick "I already have a wallet", then select Ledger from the list and click the connect button. When Ledger users connect to Coinbase Wallet, they can send and receive cryptocurrencies, trade NFTs, or stake their coins using various Defi protocols.
How to transfer crypto from Coinbase Wallet to Ledger?
---
There are a few easy steps that you need to follow to transfer cryptocurrency from Coinbase Wallet to Ledger Nano X or Nano S Plus. The first step is that users need to connect the Ledger device to the Ledger Live app to obtain the receiving address for the coin they wish to transfer funds to.
After you have copied the receiving Ledger address from the Live app, you need to login into Coinbase Wallet and use the send function to transfer tokens to the Ledger address.
What is the best cryptocurrency wallet type?
---
Hot wallets are always online, which means they are easier to use when compared to cold wallets. However, hot wallets are considered less secure. The best type of wallet depends on the needs of each user, and some users are considering a combination of the two types (hot and cold wallets) as the most secure way to store and manage cryptocurrencies.
FAQs
---
What's the safest crypto wallet❓
Some of the safest cryptocurrency wallets on the market are Coinbase Wallet, Trezor Model T, Ledger Nano X, Trust Wallet, Exodus, and Mycelium. Ledger Nano X is considered one of the wallets with the best security features.
Can I use Ledger with Coinbase Wallet❓
Yes. You connect your Ledger Nano X or Nano S plus to Coinbase Wallet. To do so, you need to use the "I already have a wallet" function on Coinbase Wallet, select "Connect Ledger wallet" from the list, and then click "Connect now". The final step is to sign a message on your Ledger that will allow the device to connect to the Coinbase Wallet.
Is Coinbase Wallet a good wallet❓
The short answer is yes. Coinbase Wallet is one of the most secure digital wallets available on the market and is backed by Coinbase.com, of the world's largest digital assets exchanges. Since Coinbase Wallet is a non-custodial or self-custodial wallet, users are solely responsible for securing their private keys.
Is Ledger the best wallet❓
Ledger Nano models (X and S Plus) are some of the best and most secure cold wallets for storing and managing cryptocurrency assets. It connects to the Ledger app through either USB-C or Bluetooth, which means better security. 

Investopedia.com has named Ledger Nano X "the best hardware wallet" in 2022, praising the fact that it offers cold storage and connects to devices through Bluetooth and USB.
Do I need a Ledger with Coinbase Wallet❓
No. Coinbase Wallet does not require a Ledger, although it is compatible with both Ledger Nano X and Nano S Plus.
Does Coinbase Wallet report to IRS❓
No. As opposed to Coinbase.com, which is a centralized cryptocurrency exchange, Coinbase Wallet does not have a KYC (know your customer/client) system, so it can't report anyone to the IRS.

Users should use transaction history records to calculate cryptocurrency-related taxes and report to the IRS.
What's the point of Coinbase Wallet❓
Coinbase Wallet allows users to store their cryptocurrency private keys on their mobile or computer device, bringing peace of mind knowing the keys are not on a centralized exchange, such as Binance.com or Kraken.com, which are prone to hacking threats.  

Elon Musk once said on Twitter, "not your keys, not your money", and exchanges that don't allow users to export private keys should be avoided at all costs, especially when you plan to store cryptocurrency for the long term.
Can Coinbase Wallet be hacked❓
Yes. As with any other wallet accessible online, Coinbase Wallet can potentially get hacked. On the other hand, cold wallets are considered hacker-safe, as they don't connect to the internet. 

CaptainAltcoin's writers and guest post authors may or may not have a vested interest in any of the mentioned projects and businesses. None of the content on CaptainAltcoin is investment advice nor is it a replacement for advice from a certified financial planner. The views expressed in this article are those of the author and do not necessarily reflect the official policy or position of CaptainAltcoin.com