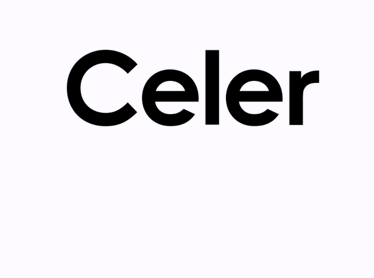 Off-chain scaling has been one of the more popular solutions that are being considered for the issue of low throughputs on modern decentralized blockchains.
Second layer platforms that would take most of the load off the actual blockchain can create an environment where it's possible to exchange cryptocurrency in a fast, easy, and secure manner. One such platform recently saw itself become Binance Launchpad's third ICO and is being touted as the next best thing in crypto. The name of this platform is Celer Network and we'll be taking a closer look at its features and prospects in this article.
What is Celer Network
Celer Network is a project that wants to provide an infrastructure for development of highly scalable, decentralized applications. Unlike with other two Binance Launchpad projects, Celer's idea is nothing really new and has been addressed by several other cryptocurrency projects.
Check out our review of Fetch.ai and Bittorrent token – first and second ICO launched by Binance Launchpad.

Lightning Network or RSK for Bitcoin, Raiden Network or Plasma for Ethereum, and blockchain agnostic protocols like GEO, Loom, and others have all delved deep in the idea of providing off-chain solutions for issues like scalability, privacy, liquidity etc.
Celer's focus will be on scalability, looking to improve the throughput of many crypto blockchains.
The project is blockchain-agnostic, meaning that its application won't be limited to a single decentralized ledger. "It enables everyone to quickly build, operate, and use highly scalable decentralized applications through innovations in off-chain scaling techniques and incentive-aligned cryptoeconomics," to quote the project themselves.
Overall, second layer platforms have solidified themselves as popular solutions for known blockchain ailments. By moving most of the transaction activity off-chain and then simply emitting the final balances on-chain, it's possible to scale a decentralized blockchain network to where it's capable of handling millions of transactions per second.
Celer is confident that on-chain solutions won't bring the desired global throughputs to future decentralized blockchains and are proposing to solve this problem with their off-chain platform.
Celer Network is not a standalone blockchain but a networked system running on top of existing and future blockchains. Its architecture is named Cstack; this architecture will be layered to enable faster development/maintenance. As such, Celer Network will have four main layers:
cRoute – This layer is in charge of value transfer routing. It uses DBR (distributed balanced routing) to distribute payment traffic in a decentralized and trust-free manner. cRoute is transparent, decentralized, and can achieve 15x greater throughput than Raiden or the Lightning Network.
cOS – This layer is the project's off-chain Dapp development framework/ mobile-based off-chain operating system. It provides design patterns and standardization, enabling developers to handle operation, storage, disputes, and tracking of the off-chain infrastructure.
cChannel – This layer is a sidechain suite that provides liquidity and assists rapid state transitions. eChannel is a generalized state channel which utilized DAG technology to support off-chain state transactions. This layer allows gaming applications, exchanges, insurance platforms, and other high throughput applications to function on Celer Network.
cApps – Application layer of the ecosystem. Designed to scale and maintain user privacy.
First launched token by Binance's token sales platform was BTT – read our price prediction for Bittorrent token.
Celer Network's layered architecture is cleanly split up to allow for rapid evolution of each individual component.
With its generalized state channel and sidechain suite that support fast and generic off-chain state transitions, its value transfer routing mechanism that can outperform other popular state-of-the-art solutions, its development framework and runtime environment for off-chain applications and its new cryptoeconomic model that provides network effect, stable liquidity, and high availability for the off-chain ecosystem, many see it as the solution that will unlock internet-level blockchain scalability.
CELR Token and Tokenomics
Celer Network token was given the ticker CELR and is of the ERC-20 standard. It has a total supply of 10 billion CELR and 6% of that were sold in a public ICO that was held on March 19th, 2019. The ICO was a one-time only event and all tokens were sold out within seconds, with the project accumulating $4 million worth of sales. ICO investors were required to use BNB to purchase their CELR.
One interesting thing about the ICO was the token price; each CELR was priced at $0.0067 per token. Public investors will be pleased to hear that his price didn't differ much from the token's seed sale price (11.5% of tokens were sold during this stage), which sat at $0.0065.
Also worth noting is the private sale (15.5% tokens allocated) which saw the tokens go for $0.0150; all of this implies that investors should be discouraged from dumping their tokens early, meaning that the price should remain stable.
Naturally this only works in theory as CELR price dropped significantly in just a couple of days since the ICO. The token currently sits at just above $0.002 which shows us that someone did in fact dump their tokens onto the market. That "someone" might be coming from one of the groups that were handed the rest of the CELR supply:
Foundation – 17%
Team – 18.3%
Advisors – 1.7%
Marketing & Ecosystem – 5%
Remaining 25% will be handed out to Celer nodes as mining rewards.
The token will be used to drive the network's economy (called cEconomy) and perform the following services:
act as an incentive for maintaining a stable and abundant liquidity pool in Proof of Liquidity Commitment process
get used in Liquidity Backing Auction to increase the priority of liquidity backing bids and therefore statistically increase the liquidity interests payout
get used in State Guardian Network as a membership staking token to protect state availability, provide connectivity oracle and act as a dispute state transition computation engine. CELR token stakers receives service fee for the various services they provided for the network
get used to pay the service fee and transaction fee to off-chain service providers
This economy will look to provide stable liquidity and availability to every member of the ecosystem and will include a proof of liquidity commitment, liquidity backing auction, and state guardian network.
Celer Network introduces a consensus algorithm called Proof of Liquidity Commitment (PoLC). Liquidity can become a problem for off-chain scaling, and the project introduces this type of mining to incentivize liquidity providers (called Network Liquidity Providers or NLBs) into locking their liquidity into "dumb boxes" or Collateral Commitment Contracts (CCCs). While their funds are in these boxes, they can only be used to supply Celer Network's liquidity.
Liquidity Backing Auction (LiBA) is another element of the project's economy, enabling off-chain service providers to solicit liquidity through "crowd lending". Off-chain service providers who lack liquidity can start a LiBA on Celer and borrow liquidity for a certain amount of time; interested "whales" can provide said liquidity by bidding to stake their funds into a CCC and after some complicated mathematics takes place, one of them will become the liquidity backer. PoLC and LiBA are designed to make the process of bringing transactions off the chain simple and feeless.
Final element of the project's economy is the State Guardian Network, or a special side chain which monitors the entire ecosystem. CELR token holders can stake their CELR into SGN and become state guardians. Users who are going offline can submit their state to SGN's and have them watch over it for a certain fee. Goal of SGN is to make sure that only the most recent states are broadcast onto the blockchain. This feature is similar to Lightning Network's Watchtowers.
Recent Developments and Future Roadmap
The project recently saw the launch of the 2.0 version of their public testnet, alongside the release of CelerX, a layer-2 Dapp gateway mobile application/wallet. Testnet 2.0 (officially called Sirius) will see the project's developers work on "refining user experience and expanding development framework features".
CelerX is a part of this refinement effort, as it represents a unique layer-2 platform for iOS and Android users. It contains several interactive games and even a prediction market which users can access and use with minimal transaction latency. The platform also features feeless transactions and off-chain smart contract execution. On the development framework side, the new Sirius testnet provides a variety of useful features for those who are looking to build on top of it:
Javascript SDK
Dynamic deposit and withdrawal
Full ERC-20 support
Multi-token channel support
Conditional payment with oracle integration
Elastic scalability for full node deployment
There's more to the technology of the project which isn't anything new or revolutionary but seems to be very well implemented and actively developed (project's GitHub is regularly updated and development/community channels are generally buzzing).
Near future will see the devs working on various aspects of the project's architecture, before a full Ethereum mainnet is rolled out in Q2 of 2019. Fully functional network is expected in second half of 2019, with SGN and LiBA features set for their mainnet launches at that time. For more details, check out Celer Network's official whitepaper and roadmap.
Team And Partnerships
Nothing really stands out about the project's team, as most of the individuals involved seem to have significant experience with coding and developing. Most important members of the team are:
Mo Dong (Co-Founder) – Engineer with experience in designing networking protocols, distributed systems, formal verification and game theory-based mechanisms.
Qingkai Liang (Co-Founder) – Another skilled individual who invented 5 adversarial resistant routing algorithms that have been successfully applied in the industry (Raytheon BBN Technologies and Bell Labs).
Junda Liu (co-Founder) – Experience in developing DAG-based routing, worked at Google on developing dynamic datacenter topology capable of 1000 terabit/s bisection bandwidth and interconnecting 1 + million nodes.
Xiaozhou Li (Co-Founder) – Worked on building high-performance and cost-efficient systems, had his technology built in projects such as Barefoot Deep Insight, Google TensorFlow, and Intel DPDK.


Celer Network has made many technical partnerships with some popular blockchain-focused projects like AELF, ChainLink and QTUM. The project has received financial backing from various sources, including Arrington XRP Capital and FBG Capital. Perhaps most importantly they were invested in by Pantera Capital, a well-known supporter of some of the more successful blockchain projects on the market.


In Conclusion
Celer Network definitely stands out of the Binance Launchpad bunch mainly due to its relative readiness for real world application. While it's still in early stages, it seems to be much closer to being implemented than Fetch.ai and at the same time doesn't suffer from questions about its necessity that BTT struggles with. Ultimately, Celer is a project aiming to provide multiplatform scalability support for the blockchain market; whether or not their solution turns out to be effective and commercially accepted is only a matter of time.
Learn More/Stay In Touch With The Project:
https://medium.com/@CelerNetwork

CaptainAltcoin's writers and guest post authors may or may not have a vested interest in any of the mentioned projects and businesses. None of the content on CaptainAltcoin is investment advice nor is it a replacement for advice from a certified financial planner. The views expressed in this article are those of the author and do not necessarily reflect the official policy or position of CaptainAltcoin.com