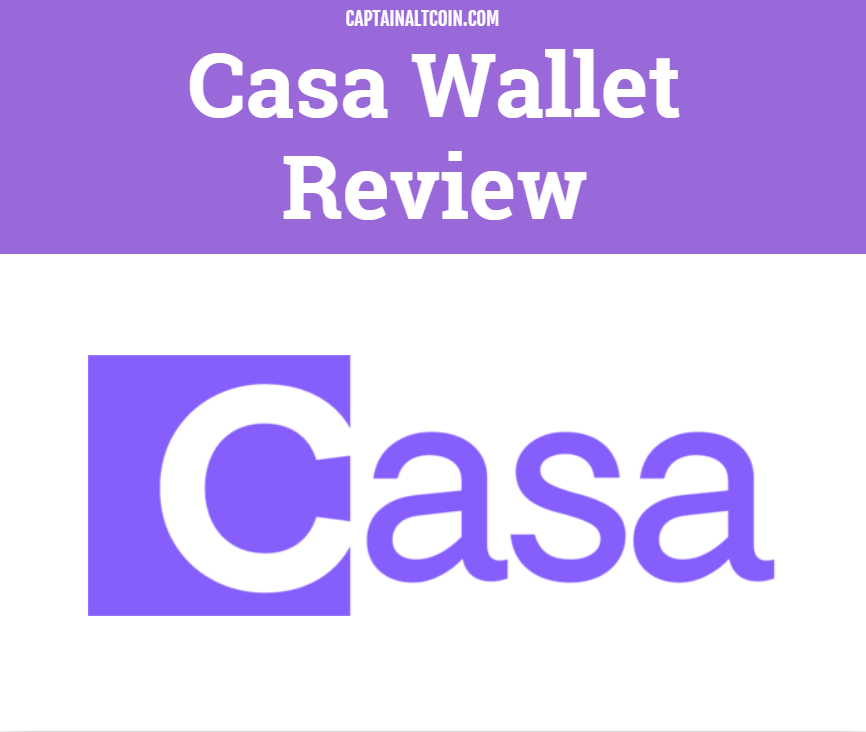 Storing cryptocurrency safely is one of the burning issues currently facing the crypto world. HODLers (a term used for people who hold their coins for longer periods of time) use various wallets, which function like online balances for crypto, for this purpose. However the wallet market is still young and unsettled, with a few solid, but flawed products controlling the most of it.
Hardware wallets like Nano Ledger S or Trezor are considered as generally the safest options for storing your funds. With these wallets users get to retain control over their private keys while storing funds offline, away from possible hacks. The main issue with hardware wallets is that they lock the funds away from liquidity, meaning they are only suitable for long-term hodling.
Another issue with these wallets is that they are small, physical objects which can be lost and destroyed. If you lose both your physical wallet and its recovery seed, you can say goodbye to your stored crypto.
As for the digital wallets, they are basically the opposite of their hardware counterparts. While these wallets allow you to store funds in a way which makes them easily accessible and tradable, the private keys are stored on the wallet service providers servers. Cases like MT. Gox and Coincheck have taught us why you should avoid storing private keys on internet-connected, centralized databases.
These wallets often have daily crypto (or fiat) deposit/withdrawal limits. This is a safety measure utilized to prevent massive server overloads and minimize the theft of funds in case of hacking; however it can be a problem to "big players" looking to store/move larger amounts of crypto.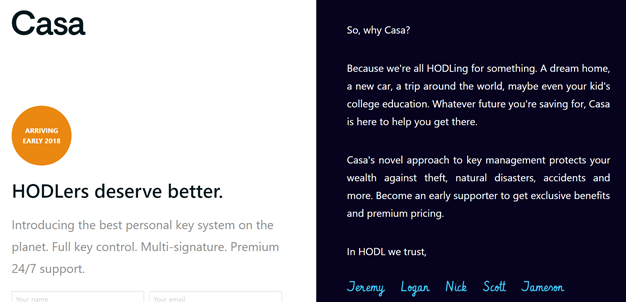 A new start-up named Casa has recently announced its intention to help big cryptocurrency holders securely store their funds. Upon the announcement, a financing round was held during which venture capital firms such as Lerer Hippeau, Compound and Boost VC invested around 2.1 million dollars into the project. The start-up has been working hard since then and a fully functional product is about to be launched in early 2018.
Team
---
The CEO and founder of the Casa project is Jeremy Welch (pictured below), a well-known figure in crypto and technology worlds. Welch is a serial entrepreneur who has dabbled in a wide variety of enterprises in the past, from advertising technology to an electric vehicle charging startup. He helped organize a Bitcoin conference at Duke in 2013, and in 2016, he founded a home-sharing app. Dissatisfied with both the centralized control of digital solutions and the single point of failure of many hardware wallets, Jeremy Welch collected an impressive team of engineers and turned his home-sharing start-up into a company that aims to create an industry-leading wallet system.
Casa has so far been marketed as "premium HODLing software", obviously targeting bigger market players, often called "whales". The company expects people who own from $400,000 to $10 million in crypto assets to be their main customers. The Casa project has been supported and joined by some high profile figures including Jameson Lopp, a former designer at BitGo. Lopp is a popular guy in the crypto twitter-verse and an announcement he made on the morning of March the 2nd raised quite a few eyebrows. In this announcement he explained that his three year stint at BitGo has come to an end; at the same time he reassured his fans not to worry, as he already has another project lined up. In a follow-up post he explained that this project was actually Casa.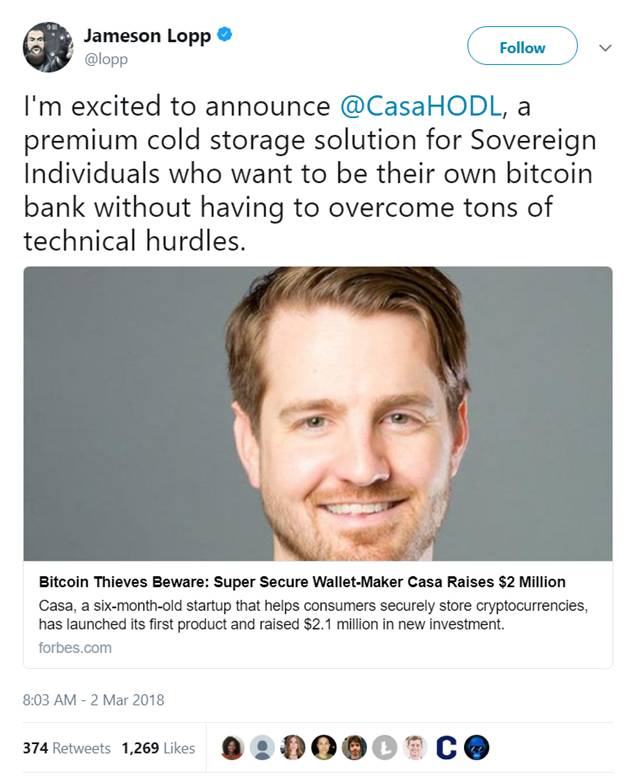 Lopp added that the best thing one can do as a designer is to "work on a problem you have yourself". As a noted HODLer himself, it is understandable why he decided to put his name and expertise behind the Casa development. The list of big name developers doesn't end there as the lead designer of the project is none other than Scott Hurff, man famous for creating designers.how and helping design Tinder.
Read also:
Casa HODL Reviews – How it works
---
The technology behind Casa requires users to make three individual requests to transfer funds before any transaction is authorized. Welch's goal is to create an easier way for customers to manage their own private keys, the sets of numbers and letters that let you transfer cryptocurrencies. The wallet itself will have five keys, of which one will be on the users' phone and one will be kept by Casa for emergencies. The company recommends that users store each of the other three keys at their home, their office, and at their bank's safety deposit box, making sure that no two keys are stored in the same location. The three other keys will be stored on Trezor or Ledger hardware wallets (Casa offers integration with both).
Casa will be requiring three of five multi-sig approvals to release funds. Every transaction of your funds will need to be electronically signed with three of your five different keys. For the hardware wallets, that means plugging them into a computer. So, if you were home, you could sign with the app on your phone, sign with the wallet at your house, and then go to your bank or office to sign with a third key. "Someone can't come to you with a gun, put it to your head and say, 'Transfer me all your money,'" said Welch when explaining the details of the technology. A similar "multi-signature" approach is used by BitGo, a digital wallet start-up focused on helping companies store their cryptocurrency; their system is a bit different (and arguably weaker) as it requires only two approvals.
This isn't a revolutionary concept as it has previously been implemented similarly in another storage system used by wealthy (and paranoid) crypto holders. This system is called the glacier protocol and was famously used by the Winklevoss twins to store their crypto; still, that system remains a bit too complex for commercial usage.
At launch Casa will offer support for Bitcoin only. They do plan on adding Ethereum support next, with Litecoin and various ERC-20/ERC-721 tokens being in their sights as well.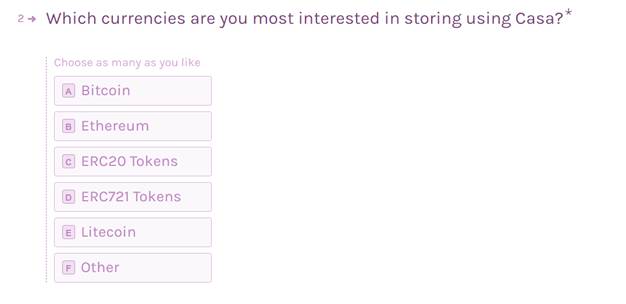 A questionnaire on Casa sign-up page gouging interest in certain coins
Prospects
---
The fact that it utilizes tried and tested technological solutions while having some important cryptoverse personalities implementing them means that Casa shouldn't struggle to attract clients. Rich users are expected to be willing to pay USD fees which will reportedly run into five figures in order to use this wallet. Casa reportedly has a few clients signed up already, and another 100 or so on its waiting list. Casa's intention to help high-volume individuals is demonstrated clearly by the planned fee structure.
According to Welsh the annual fee for using Casa will be in the five-figure range. It will offer 24/7 phone support. But Casa faces big challenges, one of which is getting customers to follow directions and store their keys in different physical locations.
As mentioned, the biggest challenge the company may face is how to make the entire process convenient enough for potential users. Many whales, while caring about the safety of their money, care more about the value of their time. A task of setting up multi-sig security systems might be too bothersome for most people, in which case they might start taking shortcuts, Cornell professor Emin Gün Sirer says. "A user might say, 'Well, I'm going to place two of my extra Trezors next to each other on the mantle.'
Now you've fooled yourself into thinking you have extra security." Keeping two hardware wallets together and going there with your phone will mean that now three of the five keys needed to transfer your assets are all in the same place. Clearly this can be dangerous in case of someone knowledgeable breaking in and finding your two wallets; all they will need to do to gain access to your funds is to force you at gun-point to surrender the phone key.
⚡️ Given the 'effort' involved, high crypto net worth individuals may prefer to offload all responsibility to a fully insured third party. Speaking of, Coinbase recently opened a custodial service for its customers and BitGo acquired Kingdom Trust, another regulated custody solution where people can hold crypto assets. It should be expected that other custodians will start offering their services to the consumer market in the near future. These services could potentially be more convenient for the average whale.
It remains to be seen how (and if) Casa plans to solve this convenience issue. One thing is for sure: the safety they plan on bringing, if set up correctly, will be unrivaled by anything we have seen on the market so far. The Casa team sees the question of managing your own keys as a philosophical one, claiming that "The only way you're using Bitcoin [as it was originally intended] is if you're managing keys". All they now have to do is hope that people will want to take on the work and responsibility of managing their own keys. That's one mighty dangerous bet against human nature itself, but not one that cannot be won. Especially when betting on people who want to keep their money safe.

CaptainAltcoin's writers and guest post authors may or may not have a vested interest in any of the mentioned projects and businesses. None of the content on CaptainAltcoin is investment advice nor is it a replacement for advice from a certified financial planner. The views expressed in this article are those of the author and do not necessarily reflect the official policy or position of CaptainAltcoin.com