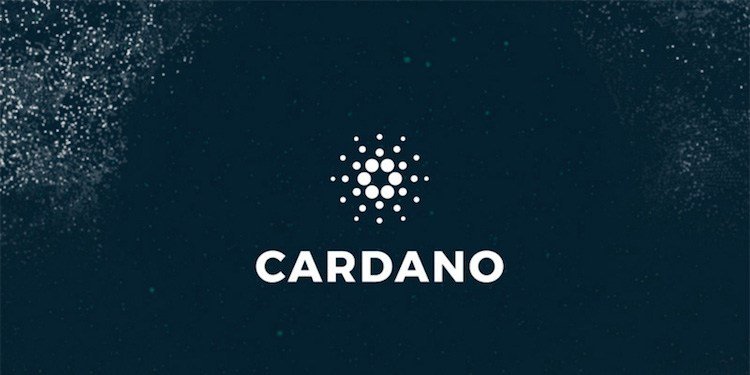 Cardano has been faring rather meh as of late. July saw it fluctuate a bit and reach a monthly high of $0.1902/2539 satoshi when the news cycle was greeted with the information that Cardano is being considered as a possible addition to the Coinbase infrastructure (both the trading and custody service). It has been a strong run down ever since, as the alt managed to clock a monthly low of $0.14/1857 satoshi on July 31st. The first half of August was rather negative for the price action as well, as we saw the coin devaluate all the way down to $0.0869/1456 satoshi on august the 14th.
ADA has managed to slightly bounce since that and is shyly tagging along in the latest recovery/bullrun/bulltrap that the market is currently experiencing. The price action has been somewhat positive and the coin seems primed for a short term breakout. There has been a slight recovery from the August lows and one ADA is currently valued as $0.103159 USD (4.98% rise in the last 24 hours)/1692 satoshi (3.89% rise in the last 24 hours). It boasts one of the better trading volumes at 13,568 BTC, most of it coming from Upbit (31%) and Binance (49%). With a market cap of $2,774,619,328, ADA is currently the 9th most valuable cryptocurrency on the market.
For the daily dose of Cardano TA, we went to InvestingScope on TradingView: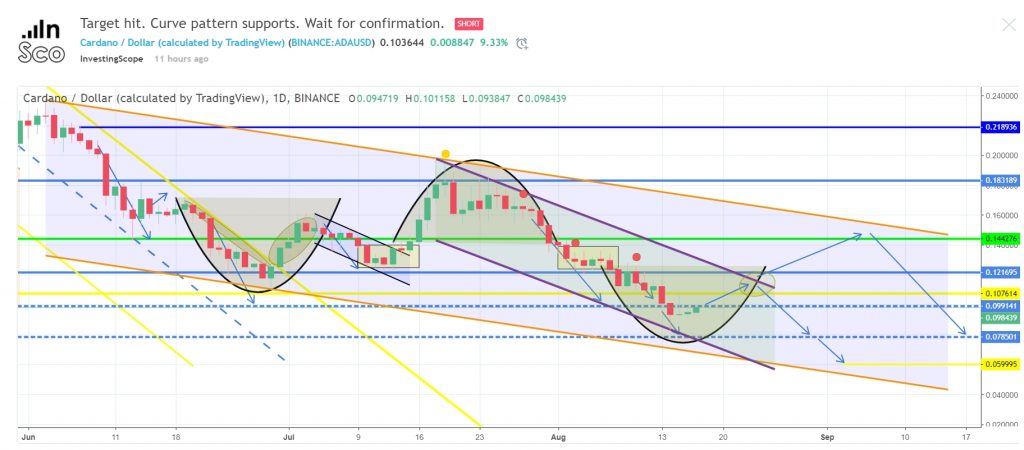 "TP1 = 0.099141 (December 11th, 2017 low) hit as Cardano followed methodically the curve shape on 4H (RSI = 45.508) to a 0.8355 bottom. We now see this pattern reversing as implied by the rising curve on its way to a critical level which is 0.1157. That is our break-out point for the short term trend setting as it is the Lower High on the smaller Channel Down on 1D. If it breaks the larger 1D Channel Down (MACD = -0.013, Highs/Lows = -0.0097, B/BP = -0.0281) should make a Lower High just above 0.1445 and then resume the downtrend. In both cases our T2 = 0.078501 (Dec 08, Nov 30, 2017) remains intact and under circumstances (if ADAUSD is rejected within the smaller Channel Down, then 0.059995)." Check out the official account of the trader and this entire post for further updates.
The project and its development team are working on delivering the final product, which still seems some time away from being ready. Charles Hoskinson recently revealed that currently final polishes are being done on the Icarus/Yoroi wallet projects.
And just days after that, Icarus was launched, with IOHK (the company in charge of its/Cardano's development) publishing a blog post which confirmed the release. Icarus is a reference implementation for a lightweight wallet whose development began with a series of concepts back in March. A part of the IOHK team decided to research the possibility of creating a lightweight wallet that would have all the features of Daedalus but would be fast, easy to set-up and require very little space (thus be compatible with mobile devices).
---
?Read Coinbase and Bitstamp – head to head comparison.
---
The wallet was almost ready in late June, with the code base quality tested by Allied Testing and audited by Kudelski Security. In July it saw the Emurgo team become included in the wallet testing/final adjusting. And as a result, the Icarus codebase has been released on GitHub, allowing developers to start creating their own wallets. Emurgo immediately attested to the quality of the codebase by confirming their own implementation of the Icarus wallet, called Yoroi, will be coming out in late September.
The project also released a weekly technical report on the 16th of August, as per their usual practice. The highlights included several important things:
Daedalus V1 Cardano wallet API is being integrated, with most of the work being done
Cardano 1.3.1/Daedalus 0.11.1 release is in preparation, with final improvements being made
Work on proof of concept 1 for the App platform, focused on permissions UI and sandboxing app state based on permissions provided by the user
Work on wallet backend development
Work on the proposals for the Communication Protocol Design
IELE testnet post release improvements
Byron testnet pre-release preparations
As always, the project sprinkled in a couple of public appearances here and there, looking to introduce more people to the Cardano idea. We saw them visit Port Harcourt in Nigeria as well as Warsaw and Krakow in Poland. Charles Hoskinson was also very "public" as he held a surprise AMA on the 10th of August, where he addressed several questions regarding the Cardano project. The questions included ones related to the mentioned lightweight wallet, Ledger integration, Cardano's use cases, IOHK funding, slowness of development, his "beef" with Vitalik and many others. You can check out the complete AMA here (with timestamps provided) if you want to learn more. Some time after that Hoskinson attended the Blockchain Futurist Conference in Toronto where him and several other keynote speakers sat down and had a chat about the influence and adoption of the blockchain technology with none other than Larry King.
Great time with Larry King pic.twitter.com/kORZWnBF46

— Charles Hoskinson (@IOHK_Charles) August 15, 2018
With most of the attention being taken by the ETC Coinbase listing, IOHK still managed to get a lot of work done on Cardano. However, the fact that they are way behind Ethereum, EOS, Tezos, Stellar and other similar projects in terms of having an actual working platform does hurt both their price and their adoption. Thanks to this, Chinese government's crypto research wing CCID ranked Cardano as the 14th best cryptocurrency in the 4th round of its public blockchain ranking index. As things stand, there is a lot of work ahead of Cardano; one wonders how long will the market wait for them to get it done.

CaptainAltcoin's writers and guest post authors may or may not have a vested interest in any of the mentioned projects and businesses. None of the content on CaptainAltcoin is investment advice nor is it a replacement for advice from a certified financial planner. The views expressed in this article are those of the author and do not necessarily reflect the official policy or position of CaptainAltcoin.com