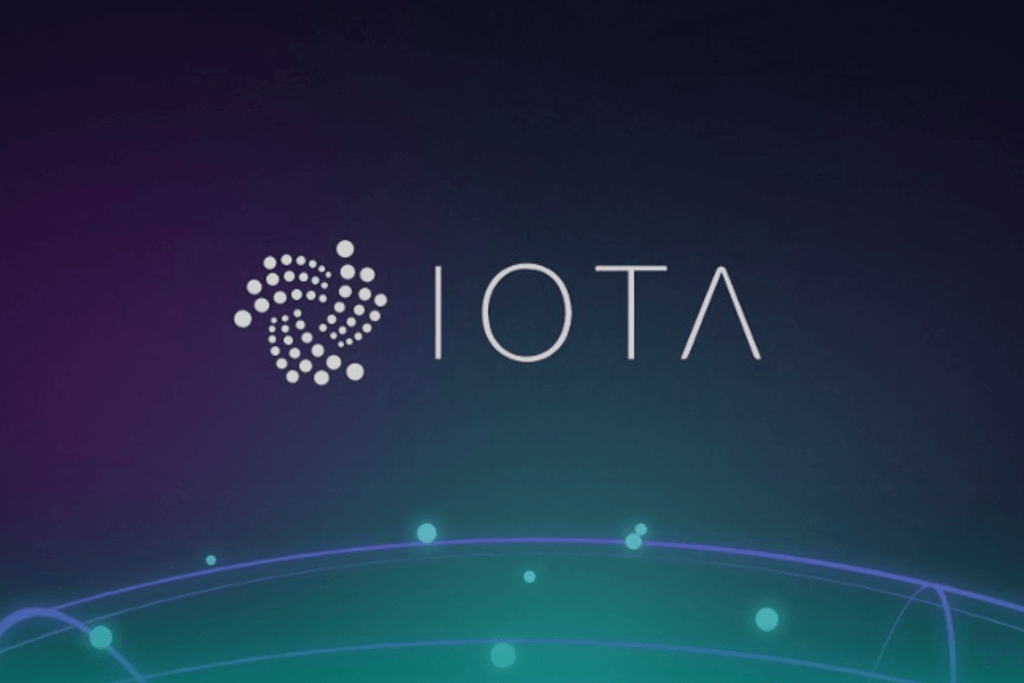 How to Buy IOTA Cryptocurrency | A Step by Step Guide
403 ERROR
The request could not be satisfied.
---
This distribution is not configured to allow the HTTP request method that was used for this request. The distribution supports only cachable requests. We can't connect to the server for this app or website at this time. There might be too much traffic or a configuration error. Try again later, or contact the app or website owner.
If you provide content to customers through CloudFront, you can find steps to troubleshoot and help prevent this error by reviewing the CloudFront documentation.

---

Generated by cloudfront (CloudFront)
Request ID: RkJY0SSk2slTTRzunwQymI18iCQAbrdJVbpTtbiKHyBJ_8rCZXmfVw==

IOTA is in the top 5 digital currencies, because of its various features, that users have recognized. IOTA is gaining more and more popularity recently and it is in the top 5 digital currencies. It made an enviable upraise since its launching, especially by the end of 2017. The main reason for such success is the thing that IOTA has free fees or zero fees as well as other attractive features like speed and scalability. An appetite for IOTA spread among the investors and other users, but the new traders are not familiar with some of the options and they are not clear with the way of exchanging IOTA. At the moment there is a small number of exchanges that support IOTA. Here we will lead you, step by step, how to buy IOTA.
How to buy IOTA
At present there are several exchanges that work with IOTA, but we recommend two exchanges, where you can buy IOTA, which are easy to use and safe. None of the exchanges will not accept Fiat money, therefore, in order to buy IOTA you have to already possess certain digital currency, to be able to trade it with IOTA. If you don't have other currencies you need to buy one, Bitcoin or Ethereum can do the job. After you done this task use one of the following crypto exchanges:
–Bitfinex  is a currency storage and exchange platform. One of the biggest exchange platforms of Bitcoin and other currencies. Bitfinex trades up to 10 different currencies and is one of the most used and has a largest trading capacity. Bitfinex has lately discontinued serving U.S. individual customers which will influence U.S. investors to search for another option.
– Binance is quite "young" exchange which is mostly focused on the Chinese market and coins, but it supports English users as well. You have probably heard that Binance collected $15 mil. through the ICO in July 2017. Despite it is pretty new Binance become one of the 10 daily trading exchanges among its rivals.
After purchasing Bitcoin or Ethereum you can trade and invest in IOTA. Follow the instructions below and learn how to use each exchange.
Have a look at the current IOTA price or IOTA price prediction for 2019 & 2020.
How to Buy IOTA on Binance
Binance is relatively easy to use and the first step, in order to start buying IOTA, is the registration process.
1) Register A Binance Account
To make a Binance account complete its registration form found here. After you open the form you have to input your email address and choose a password. Pay attention to the password and try to think of a strong one. An email will be sent to your address in order to be confirmed.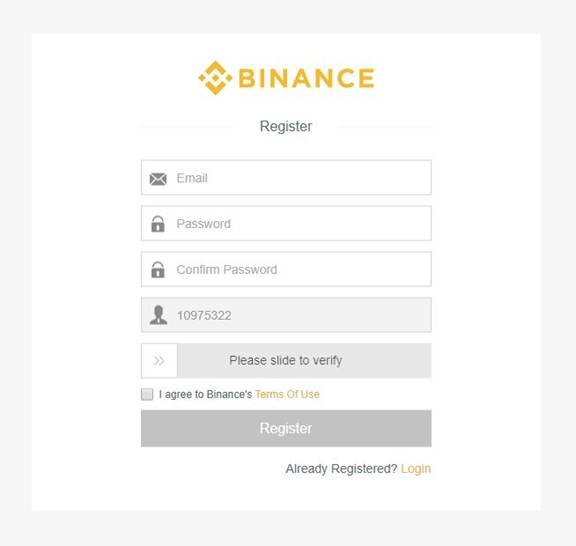 2) Login
Once you verified your email address by clicking on the sent link, your account is now activated. Hover your mouse on the login and click on it.


Access your account by logging in (providing your email and password).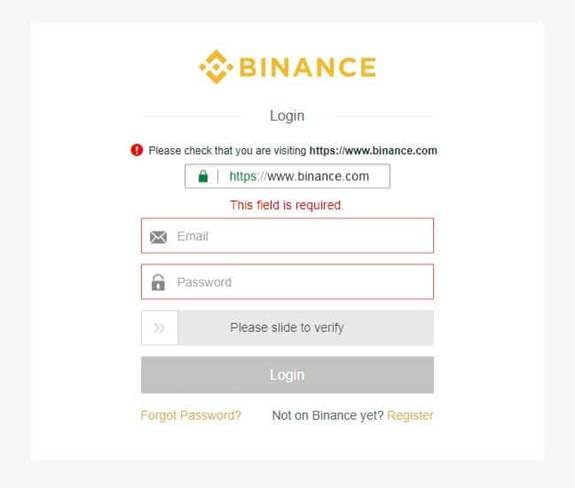 3) Continue Setting Up Your Account
After you accessed your account, Binance personal account page opens. It is recommended to use and enable 2 Factor Authentication (2FA) or the Google Authenticator app. to harden your account security. The Google Authenticator can be freely downloaded from the Google Play Store or Apple IOS Store. 2 BTC on 24 hours will be your starting withdrawal limit, which can be expanded after finishing Binance's Identity Authentication process.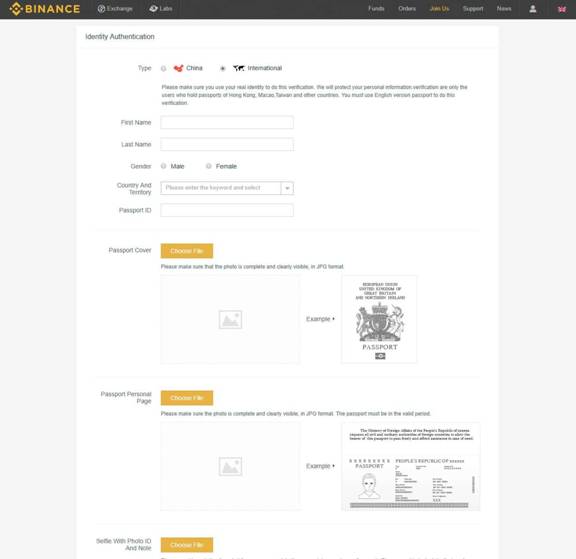 4) Deposit Cryptocurrency to Binance
Your next task is to deposit desired cryptocurrency on your Binance account. Binance supports a lot of currencies onto you can place your funds. However trading pairs are expressed in Bitcoin, Ethereum, and USDT (Tether). Ethereum will be used as an example. Click deposit and send funds to the provided address. The same step is used for all offered currencies on the exchange.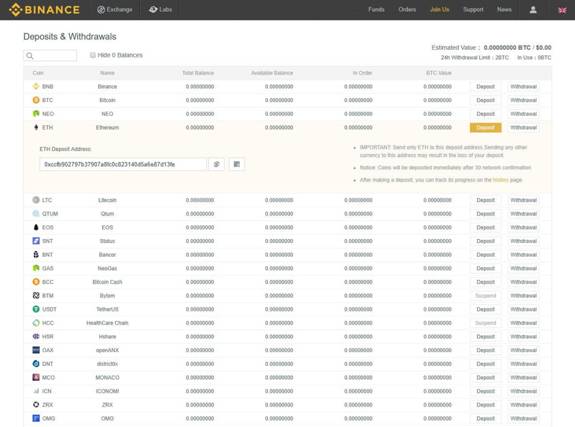 Pending deposits can be seen during the transaction confirmation time.


5) Buy IOTA With Bitcoin or Ethereum
Almost done! After the deposit confirmation you are able to trade your selected currency for IOTA. Select the exchange tab on the top menu.


In Bitcoin and Ethereum markets IOTA is traded, find IOTA on one of the markets that you want to trade on.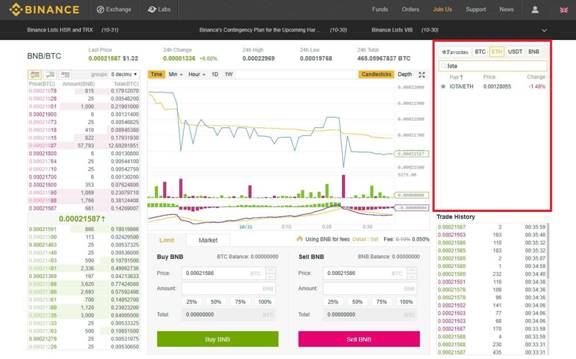 Choose IOTA market order (market or limit). Binance trading fee is 1%. You have to know if you choose market order you are offered to select percentage of your ETH to buy IOTA, therefore this order will buy the maximum and the cheapest IOTA from ETH you selected to exchange. When your order is fulfilled an available IOTA sum will be shown.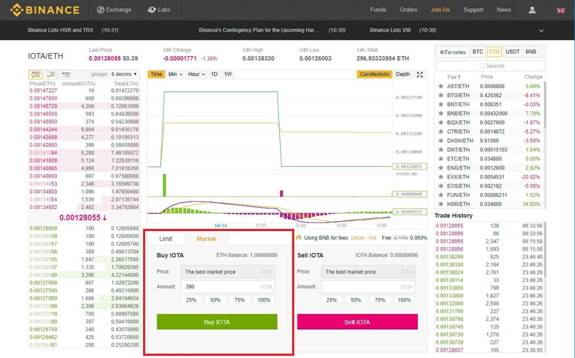 Later you can withdraw your IOTA from Binance to the desired wallet.


Buying IOTA on Bitfinex
Because buying IOTA on Bitfinex exchange is pretty like the Binance's process, the following steps are pretty shorter.
1) Sign Up and Verify Email
First step to do is sign up for a Bitfinex account and confirm you email address by following the link.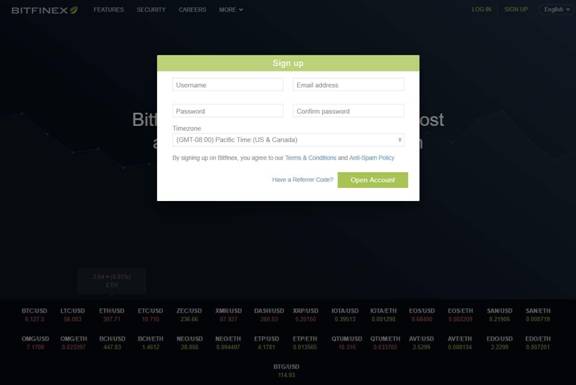 Similar to the Binance steps, the next step is to enable 2FA by selecting the security tab. This will improve your protection even better.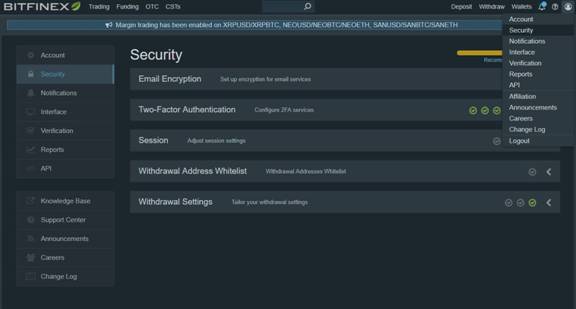 2) Deposit Cryptocurrency to Bitfinex
Selecting the deposit tab in the upper part of the window and selecting the aimed currency you want to deposit. Bitfinex operates both Bitcoin and ETH markets.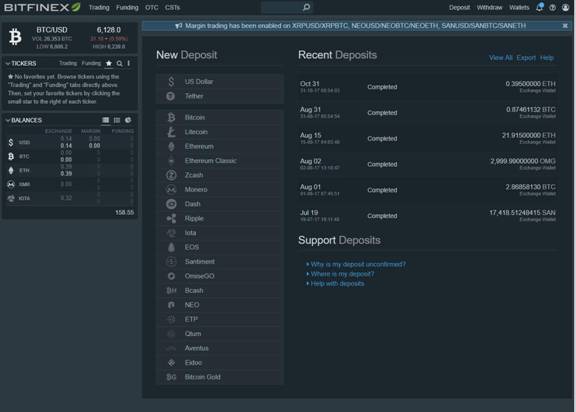 In both exchange guides (Binance and Bitfinex) ETH currency is used as an example.
3) Buy IOTA Using Bitcoin or Ethereum
In the next step select the trading pair (IOTA/USD; IOTA/BTC;IOTA/ETH …) you decided to trade on Bitfinex.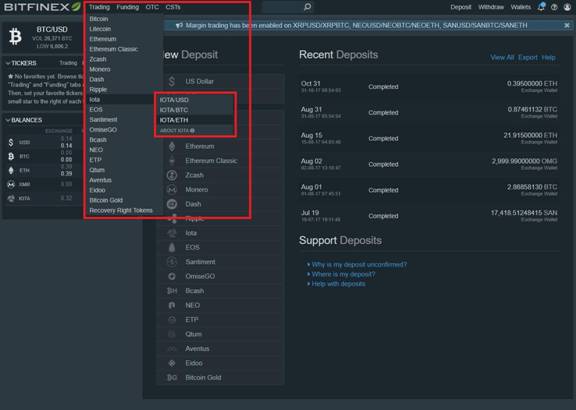 After selecting the trading pair, choose the order type, among the number of markets. The best option is to select a market order, because of automatic selection and purchase of a largest amount by the most affordable price at the particular market.
Just click the green circle and then Exchange/Buy button.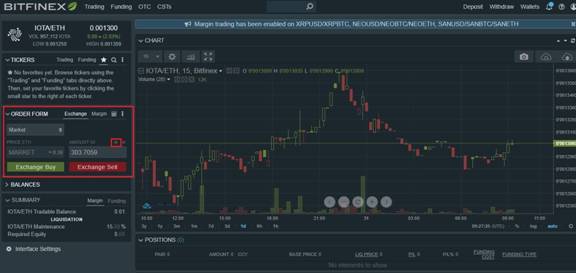 As soon as your transaction is finished, IOTA will be shown on your account balance.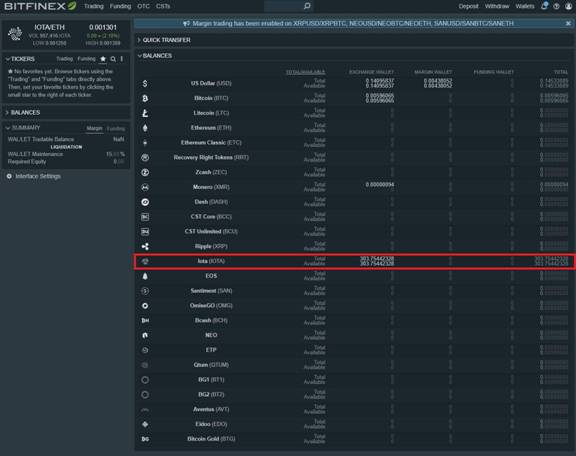 Summary
IOTA's "exchange deficiency" and Fiat money "not supporting policy", compared to other digital coins, do not influence its recent popularity and easy buying feature. Remember if you don't have any digital currency and you want to buy IOTA, first use separate exchange and buy crypto currency with Fiat money, after this step you are able to trade with IOTA. For keeping IOTA safe and off the exchanges buy yourself a wallet. There are a lot of IOTA's wallets on the market, but the best advice is to use the official one IOTA GUI Wallet Client.
Don't be passive, take a chance and taste the "digital currency cake".

CaptainAltcoin's writers and guest post authors may or may not have a vested interest in any of the mentioned projects and businesses. None of the content on CaptainAltcoin is investment advice nor is it a replacement for advice from a certified financial planner. The views expressed in this article are those of the author and do not necessarily reflect the official policy or position of CaptainAltcoin.com