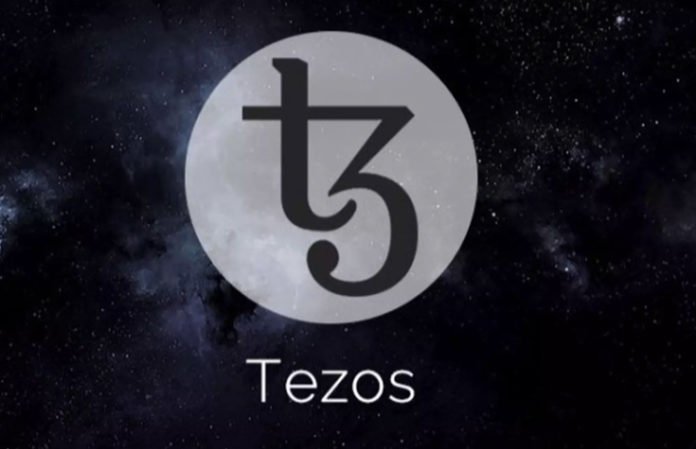 One of the biggest stories of the month of July has been the Tezos cryptocurrency and its betanet launch. Tezos announced itself as somewhat of a "currency of all currencies" that looked to solve the governance chaos currently plaguing the entire crypto market. If the project was to become operational, Bitcoin, Ethereum and every other currency could have used its blockchain to vote on their own native network issues and upgrades.
Tezos project, while promising much, ran across numerous issues during its formative year of 2017. Allegations of fraud/unlicensed securities selling, misrepresentation of how the funds would be spent, complicated ownership structure which delayed the project development (all of those are nicely summed up in this article), retroactive AML/KYC checks and many more problems surfaced soon after the company concluded its $232 million USD worth ICO.
As a result, the initial platform launch and even the Tezos XTZ coin distribution to ICO investors have both been delayed numerous times. This has led to 4 class action lawsuits being filed against the Tezos foundation and the people in charge of the ICO funds, Arthur and Kathleen Breitman.

Naturally, XTZ coin valuation suffered as a result of these controversies, hovering between 30-40 thousand satoshis for the entire 2018. Early May saw Tezos price starting to recover, as news broke that the betanet is finally entering its final pre-launch preparations stage.  The coin managed to climb above 75 thousand satoshis (around $6 USD at the time) and was trading at just above 71 thousand/$4.5 USD when the ground fell from under it.
The betanet was launched on June 30th and the coin seemed to be doing relatively fine before a major sell-off absolutely trashed its price, leading it from the mentioned $4.5 USD all the way down to $1.93 USD.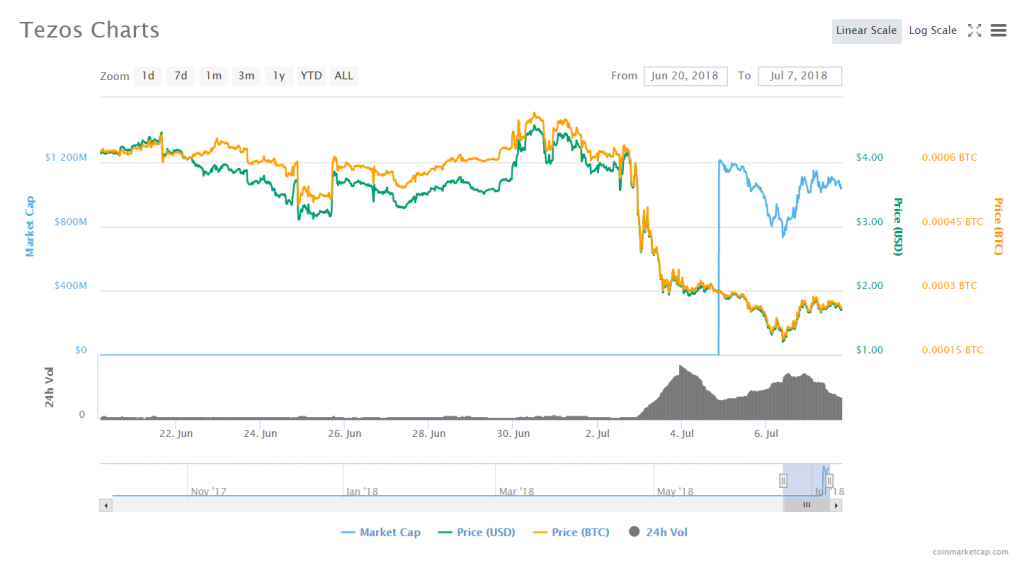 The coin has been hovering around these levels ever since and is currently traded at $1.69 USD with a drop of 1.07% in the last 24 hours. With a marketcap of just over $1 billion USD, Tezos remains the 19th most valuable cryptocurrency on the market.
While there are many theories on why this drop in price happened, it is clear that it was caused by an unusually large sell-off of XTZ coins. Look at the chart above and notice how the drops in price perfectly align with the increases in volume. The drop also coincided with XTZ getting its official exchange listing on Gate.io.
Even though cited as a smaller exchange, Gate.io is currently placed as 22nd largest exchange in the world in terms of daily trade volume. While Reddit sources claim that Gate.io only saw 3% of the total Tezos supply traded on its servers (suggesting that the sell-off was conducted by a small minority that doesn't reflect the feelings of the rest of the community) one wonders what will happen when XTZ gets listed on a bigger exchange.
If only 3% of the supply managed to bring the price down this hard, how big of a drop will we potentially see if the coin gets listed on Binance? Further expansion of the Tezos market could see a lot more holders looking to sell off their coin for a quick buck, as XTZ is still three times more expensive than its original ICO price of $0.47 USD.
This however could be just a blip on the radar on Tezos' route to multi-billion dollar market valuation. Alok Vasudev, an angel investor who is not invested in Tezos but follows the project closely, recently said:
"I think early volatility will be the norm as these high-profile projects come to market. Lots of folks invested expecting much shorter times to liquidity. I'd expect selloffs at launch and after lockups expire for a lot of projects."
Recent market movements do suggest that this sell-off might have been a temporary one, as XTZ experienced a 35% recovery after reaching a monthly low of $1.33 USD in the days prior. While some will begrudge the project for its early woes and mishandlings, others will point out its fully functional blockchain and an ability to earn money by "baking" your coins on the Tezos network. It is likely that this latest drop was caused by the first group deciding they've had enough and dumping their still profitable bags onto the market. Time will tell if Tezos will manage to overcome these early troubles and fulfill its original goal of becoming the one coin to govern them all.

CaptainAltcoin's writers and guest post authors may or may not have a vested interest in any of the mentioned projects and businesses. None of the content on CaptainAltcoin is investment advice nor is it a replacement for advice from a certified financial planner. The views expressed in this article are those of the author and do not necessarily reflect the official policy or position of CaptainAltcoin.com