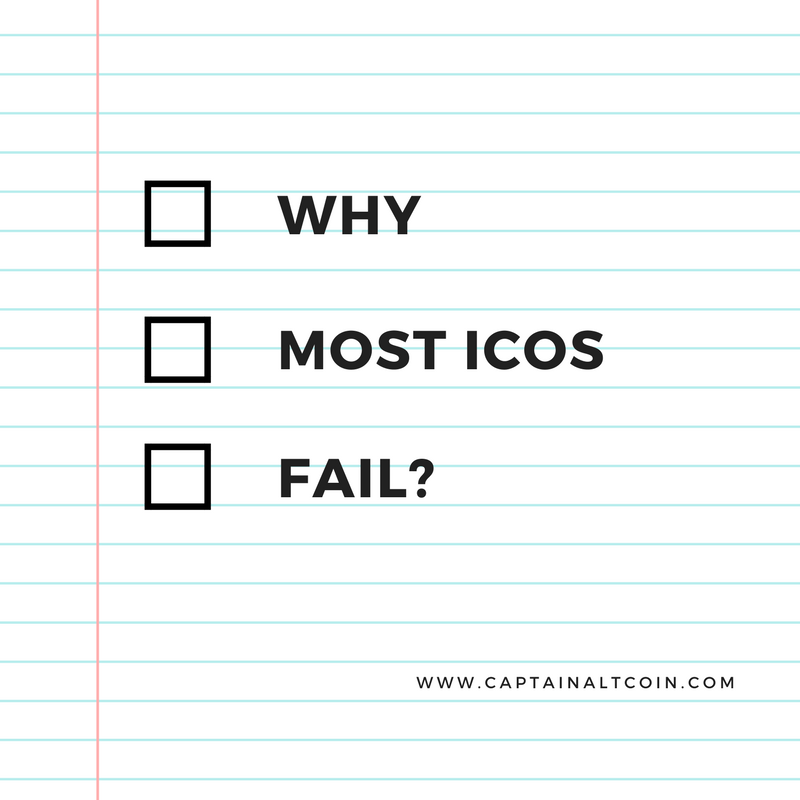 According to CoinSchedule.com, there were 235 ICOs in 2017 alone, raising more than $3,7 billion. The peak was in September when it was raised more than $800 million.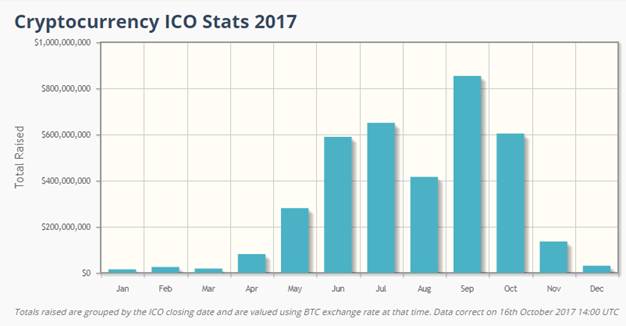 Top Ten ICOs of 2017
| | | |
| --- | --- | --- |
| Position | Project | Total Raised |
| 1 | Filecoin | $257,000,000 |
| 2 | Tezos | $232,319,985 |
| 3 | EOS Stage 1 | $185,000,000 |
| 4 | Paragon | $183,157,275 |
| 5 | Bancor | $153,000,000 |
| 6 | Kin Kik | $97,041,936 |
| 7 | Status | $90,000,000 |
| 8 | TenX | $64,000,000 |
| 9 | MobileGO | $53,069,235 |
| 10 | KyberNetwork | $50,000,000 |
ICO is short for Initial Coin Offering. It is also called Initial Public Coin Offering (IPCO) or Initial Token offering.
ICO is a method of raising funds for new blockchain projects. It is used by startups to go around the exhaustive and regulated capital-raising process required by financial institutions. In an ICO campaign, a percentage of the cryptocurrency is sold to early supporters of the project in exchange for fiat currency or other cryptocurrencies, but usually for Bitcoin.
Before the ICO, a startup company introduces a business plan on a white paper where it is explained in details about the project, the purpose of the project, the amount of funds needed to complete the project, distribution of funds raised, will they accept fiat money or crypto money and the duration of ICO. Supporters of the startup company can buy coins with fiat money of digital currency during the Initial Coin Offering. In case the ICO does not meet the minimum required funds by the company, the ICO is proclaimed unsuccessful and the funds are returned to the buyers or supporters.
Investors are buying coins at the ICOs hoping that the project will be a success after it is finalized and that the value of the coin that was bought will increase. There are many examples of profitable ICOs for investors, such as Ethereum, smart contracts platform. Ethereum's ICO raised $18 million in Bitcoins or $0,40 per Ether (Ethereum's coin). After the project was launched in 2015, the value of Ether surged to $14.
There were many successful ICOs in the past couple of years, but there have been also many unsuccessful ICOs and ICO scams. ICOs are not regulated by authorities, and in September 2017, People's Bank of China banned ICOs, claiming that it is disruptive to economic and financial stability.
According to the co-founder of Ethereum, Vitalik Buterin, it should be an established fact in the cryptocurrency industry that most token startups will fail. Buterin estimates at least 90 percent are going to fail. "There are some good ideas, there are a lot of very bad ideas, and there are a lot of very, very bad ideas," said Buterin, speaking as part of a panel on decentralized technology. "And quite a few scams as well."
Failed ICOs
According to the analysis conducted by Bitcoin Market Journal, the number of ICOs that have avoided providing such information is high. They evaluated more than 600 token sales and concluded that only 394 completed, or in another words reached their end date.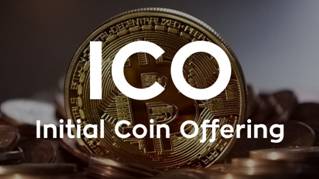 Only 35%, out of these 394 completed ICOs, reported how much money they have raised.
Does this mean that other 65% failed or they just did not publish the funding figures?
Christopher Keshian, Managing Partner at the blockchain asset hedge fund Neural Capital, said: "As an investor, I assume that when an ICO chooses not to report their token sale, they were not able to hit their target raise".
But the absence of the report does not mean there are no results. Just because the people behind ICOs choose not to report funding figures, we cannot assume that they have failed.
There could be many other reasons behind not reporting raised figures:
Lack of regulatory reporting standards. ICOs are under no regulatory obligation to report on funding figures or on the economic health of the company or the project, which make analytics regarding ICOs difficult to find out.
Lack of reporting experience. Teams with lack of experience may feel uncomfortable reporting, considering their tokens are likely on the market and are under high volatility.
Lack of Know-How. Some teams do not have know-how to issue a profitability report or to know that they should announce a report at all. Others may have concentrated their efforts on producing the ICO documents without considering the division of labor needed for the wrap-up.
Lack of time. There is only one third of ICO's that were highlighted for no funding report outside of the two months from their ICO end date. This could mean that the companies need more time to complete their reports on raising funds.
For people like Yazan Barghuthi these are poor justifications. He believes that absence of funding reports has a purpose of distracting attention from the fact that ICOs overly rely on discounts and favorable deals from institutional investors to get their tokens sold. "Funding is such a core part of overall project management, that at any given point in time, a company should be able to tell you +/- 0.5 percent how much in funding they are holding. And that +/- 0.5 percent allowance is being generous", Barghuthi said.
The most troubling part about the lack of reporting on raised funds is that it could be hiding more serious issues. According to the latest researches, it is expected that more than 90% of all ICOs will be unsuccessful. There could be many reasons behind the failure of ICOs, such as project technology is hard to reach, management issues, no clear direction of the project, etc.
But in order to reach better transparency, it is not enough to have a white paper published on the web site or post regular social media statements on Tweeter or Facebook, startup companies need to issue regular profit reports as well as quarterly statements.
"It's easy to see the logic in not wanting to broadcast bad news, but these teams should think again", Grant Blaisdell, co-founder and CMO of Coinfirm, said. "Does Apple not report a bad quarter? Of course they do, and it's broadcasted across every media channel imaginable. If they're serious and passionate about building a real business then you would report your failures alongside your successes."
Conclusion
If you are thinking of investing in ICOs you should be very careful. Make a detailed research about the startup company, read their white paper, decide if their project is viable, search for comments about the company on internet, etc. There are many web pages covering initial coin offerings where you can do your research.
Some ICOs will be successful and their token's value will increase, at the same time it is likely that there will be more unsuccessful ICOs.

CaptainAltcoin's writers and guest post authors may or may not have a vested interest in any of the mentioned projects and businesses. None of the content on CaptainAltcoin is investment advice nor is it a replacement for advice from a certified financial planner. The views expressed in this article are those of the author and do not necessarily reflect the official policy or position of CaptainAltcoin.com