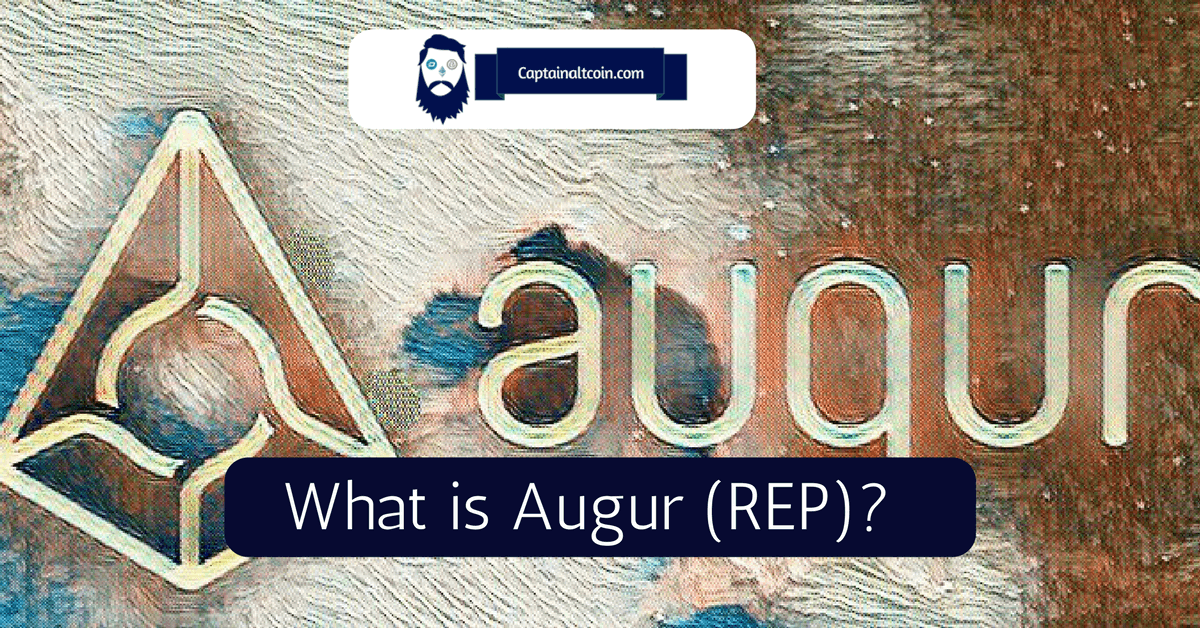 An Augur was a priest who, duh, practiced augury (interpreting the will of the Gods) during the era of Roman military and political dominance.
However, today Augur refers to what some people like to call "the world's most undervalued crypto project."
There are various prediction markets today that use crowd wisdom to successfully forecast future events. However, Augur stands out since it's decentralized in nature and rewards those who successfully predict outcomes through their platform. In essence, Augur is controlled entirely by users who remain anonymous. This feature allows them to make predictions and earn income without having to divulge any personal information.
Augur operates on the Ethereum blockchain. This means there are no central servers where the platform can be turned off. To use Augur, you simply need to go to the Augur website. After that, you choose the type of prediction you are interested in to get started. Also, you can create any topic and put a bet on it.
Shares are sold based on prediction as well as the chances of a particular prediction coming true, which means that you can think of the current market price of any share in any market as an estimate of the probability of that outcome actually happening in the real world. For example, a share priced at 64 cents has a 64% chance that a certain event will or will not take place by a certain date. Those whose predictions do not come true don't earn anything and would lose the wager predicted, while those who make accurate predictions gain the equivalent of $1.00 per share.
This platform can be extremely beneficial in the future and there are many reasons why this is so. Augur promotes wealth sharing through accurate predictions and has the potential to be an amazing source of information for any individual or company who wants to gauge public opinion on any given topic. It also makes it possible for people who are interested in particular outcomes to come together through their platform.
Augur's ICO: Predicting Future Success?
Augur is already off to a solid start, and from August to October of 2015 it raised $5.2 million (http://augur.strikingly.com/blog/the-crowdsale-what-s-new-and-what-s-next); $500,000 of which was raised (https://btcgeek.com/augur-raises-over-500000-on-first-day/) on the first day of its ICO offering. The sum of money raised is impressive considering the fact that this offering took place in 2015 and given the amount of interest and popularity there was with initial coin offerings compared to the interest today. It is important to note that in 2017 alone, the company has more than doubled in value with respect to their coin price.
Market cap history:
The market cap for Augur was $99,024,700 on October 6th, 2016
On March 16th, 2017, Augur passed market cap $100 million
On April 25th, 2017, Augur passed market cap $150 million
Augur had a market cap at $216,603,000 on May 23, 2017
The market cap for Augur exploded to $320,480,000 on May 24th, 2017
Augur had a market cap at USD $285,665,600 on August 25th, 2017
Augur's Management Team – Dr. Jack Peterson and Joey Krug
Dr. Jack Peterson is an entrepreneur, physicist and software developer, and he is also one of Augur's core developers. He holds a Ph.D. in Biophysics as well as a Bachelor's degree in Physics and Genetics.
Dr. Peterson has published a number of peer review articles (https://lifeboat.com/ex/bios.jack.peterson) on topics such as information theory, complex networks, and statistical mechanics of heavy tailed distributions, including automated kinetic model extraction for single-molecule experiments, modeling and simulation of protein-protein interaction networks and social networks, and the statistical mechanics of "heavy-tailed" distributions. He also has extensive experience working with website development, blockchain programming and scientific computing.
Additionally, Dr. Peterson was a National Defense Science and Engineering Graduate Fellow, and he is now a member of five distinct Lifeboat Foundation boards.
Dr. Peterson is currently building Augur's JavaScript API and front-end, and he is also active on Twitter (https://twitter.com/tensorjack). He is focused on the success of Augur stating in a pinned Tweet his one resolution for 2017 is to launch Augur.
Joey Krug is a young computer scientist who co-founded Augur together with Dr. Peterson. He began programming Apple computers and then moved onto building his own desktop. Krug was the valedictorian of his high school's graduating class and a senior officer of this college investment club, but he took a leave of absence from college to focus full time on Augur.
He was made a Thiel Fellow in 2016 (https://news.bitcoin.com/augur-core-developer-thiel-fellow/). Thiel Fellows are given a $100,000 grant each for the development of new technology. They also have access to important business connections and valuable advice from seasoned professionals in their field, so becoming a fellow is naturally a huge boost not only for Mr. Krug but also for Augur.
Tony Sakitch (https://www.linkedin.com/in/tonysakich/) served as Augur's Director of marketing from 2015 to 2016, and he was recently named as a leader in Blockchain technology. He continues to do amazing things within the industry which are documented on his personal website (http://www.tonysakich.com/).
Augur's Advisory Board Dream Team
Augur's advisory board dream team includes Ethereum founder Vitalik Buterin (https://en.wikipedia.org/wiki/Vitalik_Buterin), well known legal expert Houman Shadab (http://www.nyls.edu/faculty/faculty-profiles/faculty_profiles/houman_shadab/) and GMU professor Dr. Robin Hanson (http://economics.gmu.edu/people/rhanson). This board is noteworthy and adds value to the company currency. When it comes to navigating murky legal matters, Augur has a competitive advantage thanks to the fact that it has a well-known attorney as part of its core advisory team.
Augur's Practical Applications for a Practical Future
It is important to note that Augur isn't just for tech experts. It is a simple to use platform that can be used in many different ways, and that just about anyone can take advantage of. Here are some of its many practical applications.
Sport Wagering and Predictions – Augur is already being named as a perfect platform for sports wagering (http://www.espn.com/chalk/story/_/id/17892685/the-future-sports-betting-how-sports-betting-legalized-united-states-the-marketplace-look-like). The fact that it is an Internet-based platform with little overhead helps keep fees small. In fact, Augur's fees are set by users. They are vastly lower compared to traditional trading and betting platforms. This enables those who place bets to earn more than they would on different platforms. Its decentralized nature ensures that it remains fair. This is an achievement that is difficult to replicate with centralized betting platforms.
Moreover, the fact that Augur is a prediction market will make it near-impossible (https://www.reddit.com/r/Augur/comments/4984m6/is_augur_immune_from_being_shut_down_by_cftc_like/) for the CFTC (Commodity Futures Trading Commission) to shut down.
Presidential and Political Outcomes – Sport Wagering will be the primary use, at least in the beginning. However, there are so many other ways Augur could be used. It could be used to gauge the likelihood of projects being completed on time or on budget, or by businesses to offer internal incentives to employees. Augur can also be used to bet on the outcome of any local, statewide or national election in any country. When the election takes place, the results are verified by individuals on Augur. They earn Augur currency (known as $REP) for providing accurate information.
The use cases are nearly unlimited. I think that some of the more interesting ones have likely not yet have even been conceived.
The "Wisdom of the Crowd" Idea
Augur is based on aggregated crowd wisdom, which states that the average prediction made by a group is superior to that made by any of the individuals in that group. Markets are the perfect way to aggregate this collective wisdom, because the platform is not based on deriving opinions from a few experts in a particular field. It is based on what users of all ages and walks of life have to say about a particular event, person or happening.
Crowd predictions are far more unbiased than expert opinions, and that is one of their main advantages. People offer their genuine feelings on present and future events because they want to earn money from the platform. Moreover, aggregate wisdom makes it easy to see a particular problem from all angles. This increases the odds of getting a clear, accurate picture.
Naturally, crowd predictions also have some disadvantages. There is concern that crowd opinion may not be as well rounded as it may seem. This is especially the case if there is a lack of diversity in the crowd. Also, they aren't always right. Furthermore, as a result of unforeseen events opinions can drastically change.
Can Augur Predict Outcomes Occurring in Everyday Life?
Augur can provide an interesting way to gain insight into events in everyday life. A peek at the platform (https://app.augur.net/?page=markets&desc=false) makes it clear that users are interested not only in major political and sporting events but also other popular topics of interest such as financial happenings related to cryptocurrency and current healthcare legislation.
Thanks to this diversity of topics, Augur is an amazing platform even for those who would not normally buy stocks or make bets. Users can monitor outcomes in real time. Also, there is always a great deal of excitement because something is always happening on the platform.
REP Tokens – An Investment Vehicle through Prediction Currency
The vast majority of Augur participants will never hold, see, or need to use REP, but in order to fully grasp the Augur platform, it's extremely important to understand how REP works.
It is important to note that REP tokens are only used by those who verify whether or not a certain event took place. This means that they are not needed to use the Augur system, and regular participants making bets on the platform will use Ether, or any other Ethereum sub currency.
Each reporting period, reporters risk their REP as collateral to ensure the outcome they reported is truthful. The total amount of REP is fixed at 11 million but REP that's lost each reporting period by reporters who's reported outcome didn't match the consensus is distributed as an additional reward to the other reporters. Normal users of Augur won't have to worry about REP, as bets are placed in Ether or BTC.
Even so, REP tokens enable owners to earn a small percentage of the profits generated from Augur's user fees, which makes them a valuable investment.
The value of REP tokens is speculative. However, we feel they're a solid investment for a variety of reasons. Each REP token entitles you to 1 / 22,000,000 of Augurs total market fees, so the more REP you own and report correctly with, the more fees you will collect.
Only a certain quantity of tokens (http://blog.augur.net/guide-to-augurs-rep/) has been created. Also, there are no plans to make more for the foreseeable future. Those who did not buy REP tokens at the time of the initial offering can purchase them on exchanges such as Kraken (currency pair REP/EUR, REP/BTC, REP/ETH, and REP/USD), Bittrex (currency pair REP/BTC, REP/ETH), Poloniex (currency pair REP/BTC, REP/USDT, and REP/ETH), and Yunbi (REP/CNY). Augur currently advises REP token owners to use either the Ledger Nano S wallet (https://www.ledgerwallet.com/products/ledger-nano-s) or a cold storage solution to store their tokens.
You don't need REP to trade on Augur. REP is is more like a license to be a reporter for Augur. If you report honestly you earn half the fees the system generates weighted by your fraction of the total amount of REP that is also reporting. If you report against consensus then you can lose up to 20% of your REP each reporting season (every 2 months) or if you have the majority of the rep all to yourself and report untruthfully as an attack you could find your reputation tokens forked so they lose value independently of the honest reporters.
Augur Coins and Tokens: Do Your Own Research
It is strongly recommended to get to know the platform a bit better if you are not sure Augur is right for your portfolio. Even those people who currently own $REP and use Augur should keep up with their social media channels in order to stay in the know of future happenings. If you want to keep up with company happenings, you should follow the outlets below:
Summary – Our Prediction for Augur's Future
Augur and other decentralized prediction market platforms such as Gnosis (https://gnosis.pm/) aren't commonly used today, but their future utility remains bright. Augur offers a really unique service to propel our society forward, has an amazing platform, and is managed by an expert team. All in all, Augur is a winning platform that is on the rise. We think that Augur will probably become a household name in the near future.

CaptainAltcoin's writers and guest post authors may or may not have a vested interest in any of the mentioned projects and businesses. None of the content on CaptainAltcoin is investment advice nor is it a replacement for advice from a certified financial planner. The views expressed in this article are those of the author and do not necessarily reflect the official policy or position of CaptainAltcoin.com