The past week wasn't a very eventful one for our old friend TRX. The coin kept moving in a slow bleed/sideways pattern, with a couple notable attempted break-outs that never really managed to break the status quo. The price first broke out shortly from a weekly low of $0,0329 USD/415 satoshi, reaching $0,0386 USD/469 satoshi after a recovery. Yesterday we saw the coin reach weekly highs of $0,04037 USD/493 satoshi but this was either a short pump and dump/failed attempt to rally as the price consolidated down almost immediately. Currently, one TRX can be purchased for $0.034522 USD (a drop of 3.59% in the last 24 hours). A market cap of $2,273,265,822 USD leaves this coin sitting at 11th spot of coinmarketcap's list of most valuable cryptocurrencies.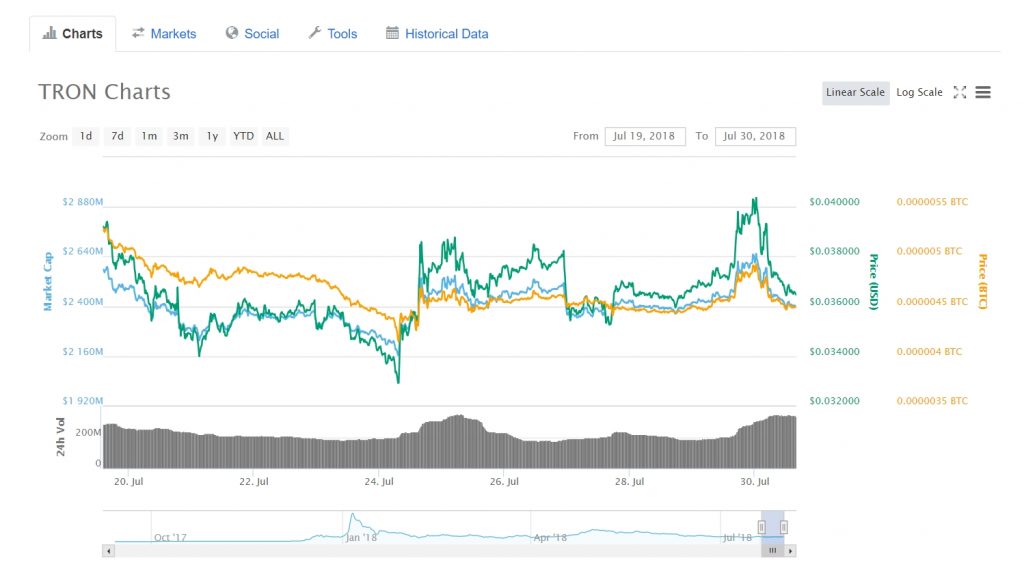 Tron has had an interesting week event-wise. Tron Foundation had a booth at this year's Blockchain Partners Summit in Seoul, where people were given an opportunity to converse about their TRX currency and take a picture with a cardboard cut-out of Justin Sun. They also released a full list of cryptocurrency exchanges that have completed/will be completing the Tron migration; the list can be seen here. TronLink wallet was announced and confirmed, and Tron Foundation explains it with these words:
"TronLink provides similar usage to the Tron Network as MetaMask does with the Ethereum Network. Developers will now be able to create and interact with DApps in the browser which opens up a whole new realm that Tron has never seen before."
---
Europeans like Bitpanda exchange as our article on it explains in more detail.
---
Additionally, Super Representative elections are moving along nicely. Peiwo APP, Justin Sun's old messaging app, announced its decision to run for the coveted SR title recently. Infinity Stones, company that provides cloud management and blockchain security solutions, did the same on July 24th. Finally, BitTorrent will also be participating in the election as a candidate, with its sister protocol uTorrent joining in as well. In this ongoing process, CryptoGuyInZA recently became the 12th Super Representative with 104,214,129 million votes. Currently, 15 of the first 27 Genesis Representatives have been replaced by the following community Super Representatives: Team Tronics, Skypeople, Sesameseed, GryptoGirls, TrxDexCom, CryptoGuyInZA, Tronstronics.com, CryptoDiva, Justin Sun, uTorrent, CryptoChain, TronOne, MLG-Global, BitTorrent, Lianjinshu.
On July 24th Justin Sun confirmed what many knew weeks before: he has officially completed the purchase of BitTorrent. In line with this purchase he later announced some details about the project Atlas, the "secret project" that Tron teased heavily in the past couple of weeks. The project will apparently be an integration of Tron and BitTorrent that will attempt to improve the BitTorrent protocol with the aim of lengthening the lifespan of BitTorrent swarms.
"By integrating the TRON network into Bittorrent, we aim to improve on the currently exisiting altruism. At this point, there are no incentives for peers who have completed downloading to continue to seed. We intend to extend rewards to peers who seed torrents, infusing more resources into the torrent ecosystem," said this official announcement of the Tron Foundation.
TRON network will serve as the underlying protocol of this project, and hundreds of millions of BitTorrent users will become a part of the TRON ecosystem. BitTorrent will be the largest application on the TRON network and Justin Sun hopes that this will allow TRON to surpass Ethereum in daily transactions and become the most influential public blockchain in the world.
---
If Coinbase doesn't support your country, use Cex.io – read how Cex.io works – it is a safe Coinbase alternative. Coinmama is also a reputed exchange for buying cryptocurrencies – click here to visit Coinmama.
---
And most importantly, Tron Foundation and Justin Sun confirmed the launch of the beta version of TVM or Tron Virtual Machine. The full version of Tron TVM can be expected on August 30th, when Tron completes its mainnet upgrade.
"TVM is a lightweight, Turing complete virtual machine devised for the development of TRON's ecosystem. TVM aims at providing millions of global developers with a custom-built system for blockchain that is efficient, developer-friendly, stable, secure and easy to optimize. In addition, TVM will be fully compatible with Ethereum, providing faster speed and lower costs; developers can easily develop DAPPs on TRON network using mainstream development tools, including Remix, Truffle, Web3.js and browser wallet plug-ins," said the official blog post by the Tron Foundation. Check out the blog post for a complete list of developer, engine and third party tools that this improvement brings.
All in all, Tron is advancing steadily and bringing its users almost weekly important updates. It will be interesting to see how will the market react to the upcoming TVM full release and Tron mainnet completion.

CaptainAltcoin's writers and guest post authors may or may not have a vested interest in any of the mentioned projects and businesses. None of the content on CaptainAltcoin is investment advice nor is it a replacement for advice from a certified financial planner. The views expressed in this article are those of the author and do not necessarily reflect the official policy or position of CaptainAltcoin.com