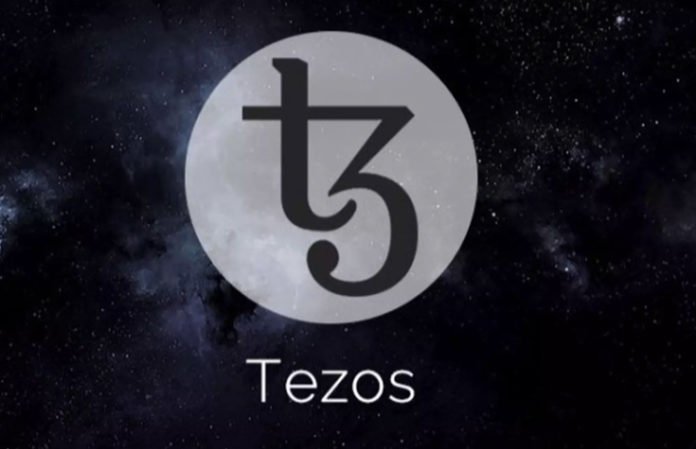 Tezos didn't really have much promising price movement as of late. Peaking at $1.90/27265 satoshi on August 5th, the currency reached a monthly bottom of $1.19/19679 satoshi on the 14th. Baring a short pump and dump to $1.68/25775 satoshi, Tezos pretty much flat lined throughout the rest of August. The currency broke out for a September high of $1.74/26667 satoshi on the 15th and has for the most part stayed above/around $1.50/24000 satoshi ever since.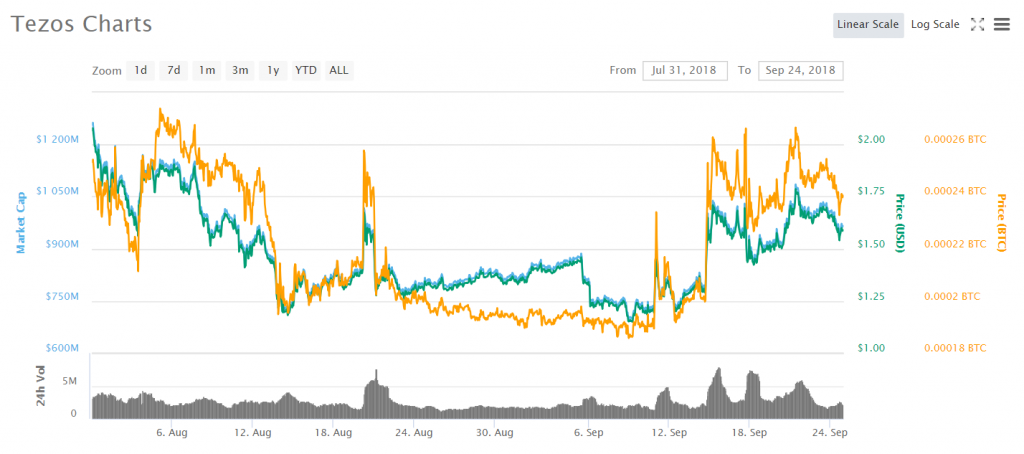 At the moment of writing, one XTZ can be purchased for $1.48 USD (-6.06% drop in the last 24 hours)/23121 satoshi (-2.19% drop in the last 24 hours). Daily trade volume is laying low at 341 BTC, with 51% of it coming from HitBTC and 47% coming from Gate.io. With a market cap of $899,630,200, Tezos is currently the 17th most valuable cryptocurrency on the market.
First piece of Tezos TA on TradingView EVER was posted hours ago by a user named Arelowo:
"I've been waiting for an exchange to list $XTZ so I can do some trend analysis. Unfortunately there is not enough history on Bitfinex to create anything meaningful. I only consider the betanet when trying to chart out a price so the $11 high on HitBTC should not be table into consideration. The first exchange to trade was gate.io and it came out between $4-$3 dollars. IT quickly fell to a little over $1 and has been trading sideways since. I think a breakout would need to be over $2 to see any real momentum."
Check out his complete analysis with the chart included here.
This smart contract platform and one of the biggest Ethereum competitors has had a major update for its community just a couple of days ago. Namely, the project officially left its "experimental" stage and launched its very own mainnet, even though the actual mainnet "launch" happened in late June.
"On June 30, the Tezos Foundation proposed a genesis block that became the seed of the Tezos network. For a time following the proposal, there was an expectation that, while fully operational, the network had a higher likelihood of experiencing unscheduled downtime along with maintenance and adjustments, and so we regarded the network as a betanet. Over the course of the last few months, we have been happy to see the network operating smoothly and efficiently," said the Tezos team in their latest mainnet announcement.
After the genesis block was launched, the network ran rather smoothly and without major issues. It also managed to collect over 400 bakers (validators), all of which gave the Tezos Foundation faith that the network can now be regarded as a "mainnet". The project did experience hick-ups upon the mainnet confirmation but considering how low projects like EOS set the bar regarding mainnet launches, the issue could be seen as minor; it turned out later that the issue was indeed minor as it was quickly resolved via a github hotfix.
Several exchanges confirmed the launch of Tezos trading mere days after the mainnet went "live". Bitfinex led the charge with XTZ/BTC and XTZ/USD pairings, and platforms including HitBTC, CoinFairValue, Bitpanda and Evolve Markets also went ahead and enabled trading pairs for the currency. This massive post-mainnet boost of liquidity seems like an organized effort of the project. XTZ has also been added to the master branch of Trezor's core software, so it seems likely that the currency will become a part of this hardware wallet's lineup sooner rather than later. Tezos co-founder Arthur Breitman covered the latest developments around the Tezos mainnet in this 10-minute video posted on his YouTube channel.
In community related efforts, Redditor CapitalerOnReddit proposed a formation of a Stack Exchange community which would be used primarily for building good, discoverable FAQ's about the project and for sharing information about it. Also, a community Medium blog called #WeAreTezos was launched and it is expected that this publication will deliver plenty of interesting updates to Tezos investors and fans in the future. Already posting two blogs, one titled "Why Mainnet Matters" and the other "How We Will Manage Over Delegation", they are already providing topical and useful content about the platform.
There were some other minor updates around the project. CCID Research, a Chinese IT media initiative working under China's Ministry of Industry and Information Technology, unveiled the fifth round of its public blockchain rankings and Tezos earned the 27th spot in the ranking, with somewhat mediocre grades in basic-tech, applicability and creativity (with a total index of 78.1). Cortez wallet offered an upgrade to its software and now has two Tezos supporting wallets, one for the mainnet and other for the betanet. Overall, Tezos is recovering nicely from its early-year controversies and it will be interesting to see what kind of challenge they can mount in the smart contract platform market.

CaptainAltcoin's writers and guest post authors may or may not have a vested interest in any of the mentioned projects and businesses. None of the content on CaptainAltcoin is investment advice nor is it a replacement for advice from a certified financial planner. The views expressed in this article are those of the author and do not necessarily reflect the official policy or position of CaptainAltcoin.com