The native token of the popular online community Reddit, known as MOONs, has seen a sharp surge in its value over the past 24 hours, with the price more than doubling from $0.09 to $0.20 before consolidating. This price movement follows an update to Reddit's Terms of Service (ToS) that allows for the free trading of MOONs and other digital assets issued on the platform.
MOONs, originally conceived as an experimental method of rewarding user engagement in subreddits such as R/Cryptocurrency, live on the blockchain. In this ecosystem, user contributions can earn points in the form of tokens. Thanks to Reddit's recent decision to utilize Arbitrum's Nova network, users can now independently trade MOONs on decentralized exchanges (DEXes) like SushiSwap.
Reddit's previous ToS, which prohibited the trading of asset rewards received by users, presented a roadblock for exchanges interested in listing MOONs. Violating these terms would have resulted in possible legal action from Reddit. Hence, users interested in trading MOONs had to traverse a complex process involving setting up a Web3 wallet, copying seedphrases, and connecting to Nova, among other steps.
Trade on US-Banned Exchanges With No KYC 🤫
Tired of missing hot new listings because your favorite exchange is banned in the US? 🇺🇸
With RocketXchange you can finally trade on Kucoin, ByBit and more without registration or KYC! 🙌
Simply connect your wallet to access every coin. No VPN needed.
Seamlessly bridge between EVM, Solana, Cosmos and 100+ chains. Discover the next crypto gem with low fees.
Take your trading to the next level with:
Instant access to banned CEXs 🚫
No KYC required 🙅‍♂️
Trade on your terms – no registration required
Maintain full custody – tokens stay in your wallet
Access liquidity across leading DEXs and CEXs
Bridge assets quickly between any blockchain
Escape CEX limits today with RocketXchange!
Show more +
The new policy adjustment, however, allows users to trade MOONs more freely. It also potentially paves the way for crypto exchanges to list MOONs for trading. According to Michael, such a listing would likely attract exchanges looking to boost their volumes.
Moreover, the potential user base for this native token is quite substantial. Reddit's R/Cryptocurrency community, for instance, currently boasts over 6.6 million users. A listing of the token would potentially enable these users to trade MOONs directly on crypto exchanges.
Adding to the speculation of a possible listing is a recent hint from a Kraken customer support agent, who suggested that the team would be updated on these latest developments.
However, it's crucial to note that these are speculative assertions. As Michael pointed out, the volatile and rapidly-evolving nature of the crypto space means situations can change quickly.
The listing of MOONs on top-tier exchanges, while currently unconfirmed, presents an exciting possibility for the future of Reddit's native token. With this development, Reddit is one step closer to further integrating blockchain technology into its platform, which could redefine the way users interact with the website and each other.
How Do You Earn MOONs:
---
Moons are distributed monthly according to each user's contributions within the r/Cryptocurrency community(posts,comments,etc..). Users will earn moons based on the karma points they accumulated during each month, but the final decision is up to the community.
In order to check the current price of the Moon token, visit https://www.coingecko.com/en/coins/moon
Buy and Sell Moons – Converting MOON into DAI (and USD)
---
Transfer your Moons from the Reddit Vault to your Metamask wallet:

In order to transfer your Moons to metamask, you need to get the recovery phrase provided in your vault. You can access your vault in your Reddit mobile app.
Now proceed to make your vault by pressing on your profile picture and pressing "vault" on the menu.

Follow the steps provided by reddit to set up your Reddit vault.
Reddit will ask you whether you would like to make a reddit backup of your vault or a manual backup. Feel free to choose any of those options.
In case you choose the "manual backup" option, make sure to save the 12-word recovery key that will be displayed.

Once you have your recovery phrase copied, goto your Metamask wallet and select the "Import account" option.

You will now be prompted to enter in your 12-word Reddit vault recovery key you saved earlier.
Once you have entered it, switch networks on Metamask from the "Ethereum network" to " Rinkeby testnet".

Please note that your moons won't be immediately visible, you still need to add the Moon token as a custom token on Metamask.
Seeing your Moons in your Metamask wallet:
---
In order to see and track your Moon balances, click the "add token option in the bottom left corner of your wallet.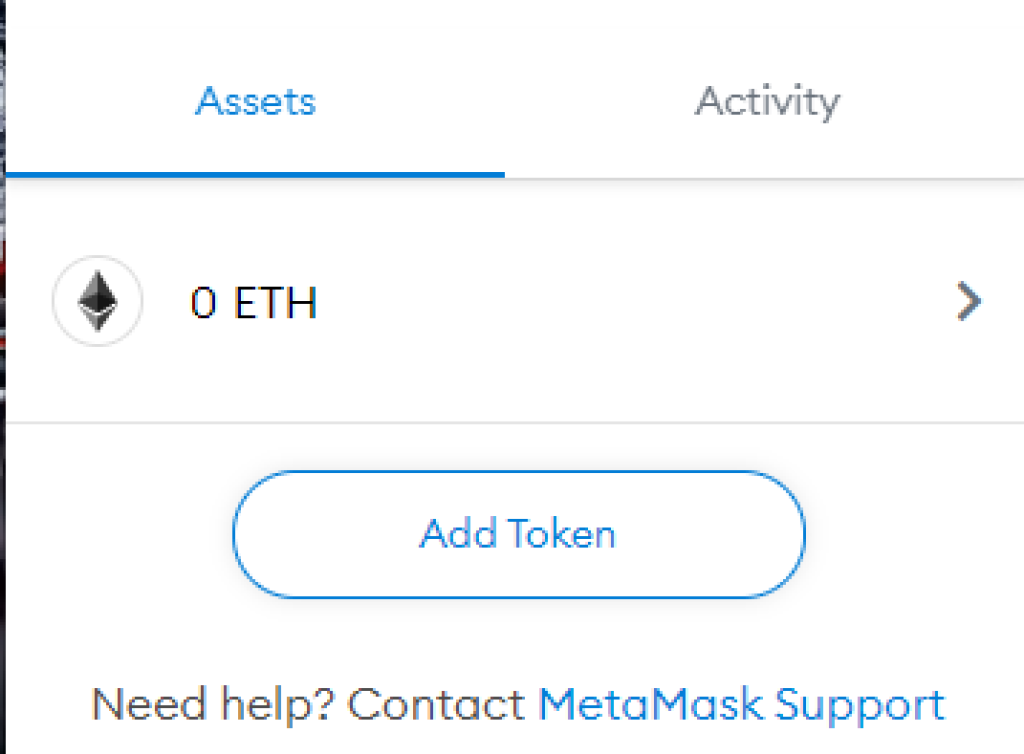 Proceed with adding the Moon token by specifying its contract address, symbol and decimals of precision:
Token contract address: 0xDF82c9014F127243CE1305DFE54151647d74B27A
Token symbol: MOONS
Decimals of precision: 18


Once you have added the token, you will be able to see your Moon balance appear.
Set up the xDai network in your Metamask wallet:
---
To start using the xDai network on Metamask, click on the network menu and select "Custom RPC" then enter these details:
Network Name: xDAI
New RPC URL: https://rpc.xdaichain.com/
ChainID : 100
Currency Symbol: xDai
Block explorer URL: https://blockscout.com/poa/xdai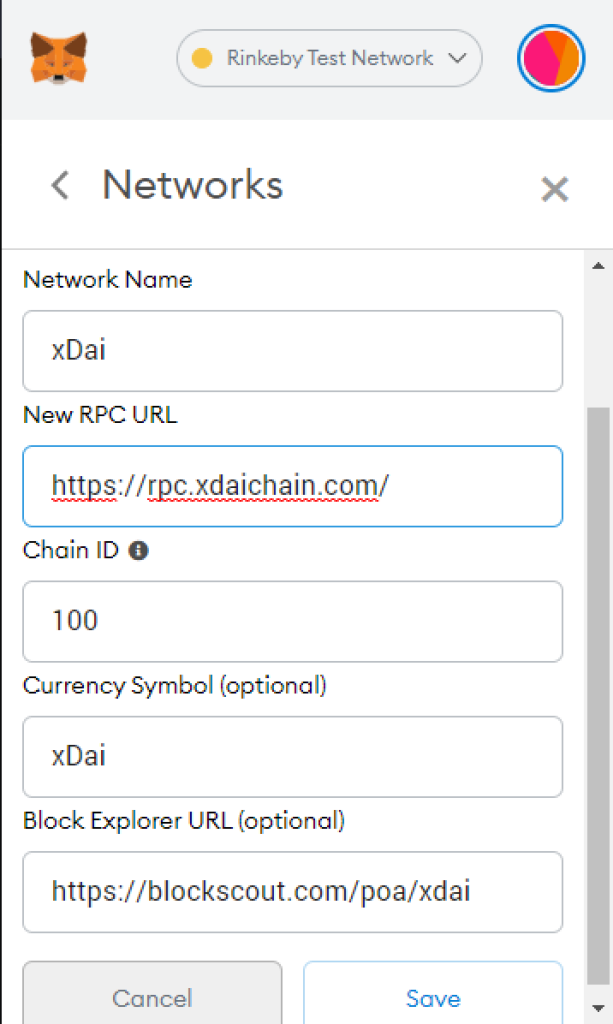 Finally, click on the "Save" button.
Convert Dai to xDai:
---
In order to pay the fees on the xDai network, you will need some xDai. You can use a Dai to xDai bridge to get some:
You will now be prompted to connect your Metamask wallet, click "connect".
Now you need to switch to the Ethereum mainnet network.
Put in how much DAI you want to convert to the xDai network.
You will now be prompted to confirm the transfer, click "confirm".
Since you will be selling your xMOON for xDai, you'll first have to convert your MOON into xMOON:
Visit https://xmoon.exchange/
Connect your Metamask wallet to the exchange by clicking the "connect" button in the top-right.


Now switch to the Rinkeby test network in Metamask
In order to make this transfer, you will need some Rinkeby Ethereum to cover the Rinkeby network fees. You can get Rinkeby Ether by entering your Rinkeby network address on Metamask in those two faucets and claiming : https://faucet.rinkeby.io/ or https://rinkeby.faucet.epirus.io .
The first faucet requires you to make either a Facebook or Twitter post in order to get free Rinkeby Eth.
Click on "MOON to xMOON" button
You'll be prompted to confirm the transfer, click "confirm"
Wait until the transaction is confirmed, your xMOON balance will then show up on the left-hand side.
Proceed with the previous website in order to swap your xMOON to xDAI
Switch to the xDai network on Metamask
Click on the "xMOON to xDai" button
Confirm the transfer within the Metamask pop-up
Wait for your xDai balance to show up
Convert xDai to Dai:
---
We're almost there! Lastly, you need to swap your xDai to Dai using the bridge we used earlier. Please note that it will take some time for your Dai to show up in your Metamask wallet. The transaction usually takes one hour but it may take longer depending on the network condition.
Switch to the xDai network on Metamask
Transfer your xDai to Dai using the bridge
Confirm the transaction on Metamask
Your Dai will soon show up on the Ethereum mainnet in Metamask
Awesome! Now you have successfully swapped your moons into Ethereum mainnet tokens.

CaptainAltcoin's writers and guest post authors may or may not have a vested interest in any of the mentioned projects and businesses. None of the content on CaptainAltcoin is investment advice nor is it a replacement for advice from a certified financial planner. The views expressed in this article are those of the author and do not necessarily reflect the official policy or position of CaptainAltcoin.com