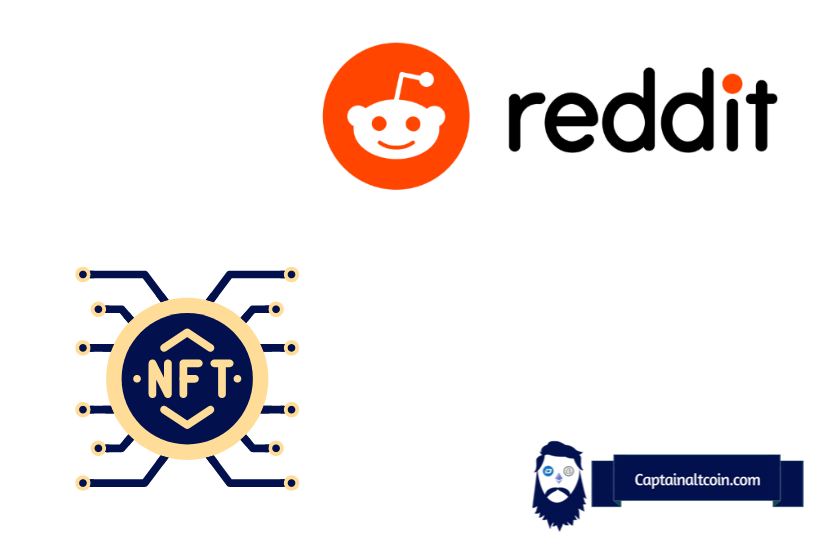 Reddit is betting heavily on cryptocurrencies and seems to follow all latest crypto trends, including NFTs. With Twitter, Reddit is most crypto- and NFT-friendly social media platform.
Reddit is one of the most popular social media platforms out there. With over 300 million monthly active users, it's no wonder why. Users post news, photos, videos, memes, GIFs, and more.
While some people use Reddit just to browse through the posts, others use it to find interesting topics to discuss. For those looking to make money off of Reddit, however, the site offers several ways to monetize.
What is a Reddit NFT?
---
One way to monetize on Reddit is to sell virtual items called "Non-Fungible Tokens." These collectibles cannot be duplicated, making them unique and extremely valuable.
They're similar to CryptoKitties, another game where users could buy and trade digital cats. NFTs are stored inside a blockchain (most popular ones run on Ethereum, Solana, Polygon, BNB chain etc) that allows users to track ownership and transfer information.
Strangely, the phrase "non-fungible token" was not used in Reddit's corporate launch piece, which instead referred to the artworks as "limited-edition avatars designed by independent artists, in conjunction with Reddit." But remember that these avatars are nothing but NFTs in their basic form.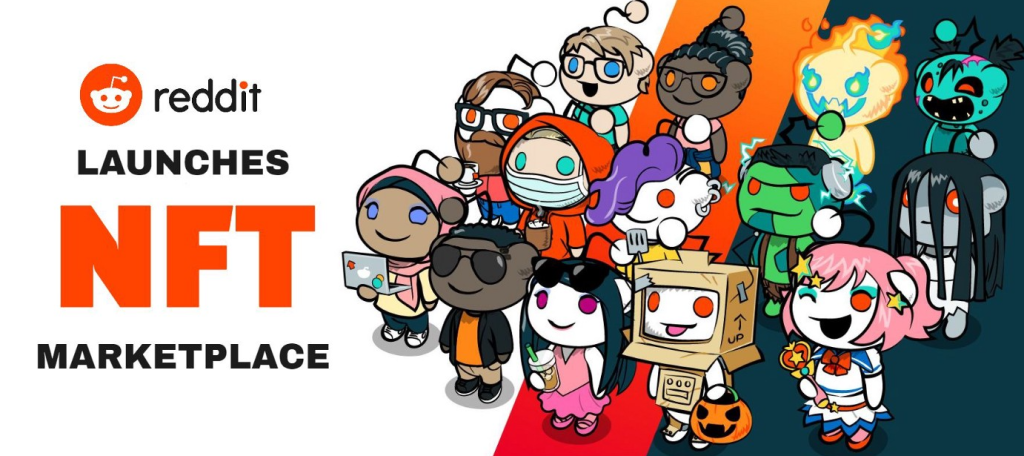 Films, TV shows, images, and video games are mainstream NFTs. Reddit avatars, however, lack all of these characteristics. Instead, these digital art pieces are primarily utilized on Reddit and other platform profile images.
These avatars can be customized only using the Reddit Avatar Builder's outfits and equipment. Another notable contrast is that these avatars can only be purchased with fiat money and at a certain price, which ranges from $9.99 to $99.99.
These NFTs enable Reddit users who are artists an opportunity to share and make money off of their creations.
Only 5% of the sales revenue goes to the social media platform, with the remaining 95% going to the creator program as well as to pay for blockchain fees and minting expenses. Secondary sales will help artists by ensuring that their work continues to generate cash after the first sale.
Read also:
How Do I get a FREE Reddit NFT? Is It Worth Getting One?
---
Only those who are already prominent Redditors and have many Karma points can claim a free Reddit NFT. According to our estimates, a user needs 2,500 or more Karma points to qualify for a free Reddit NFT.
Reddit Karma is a score derived from a user's activity on the site. Your total Karma count comprises the Post Karma and the Comment Karma you earn from participating in subreddits. Reddit uses an algorithm to determine how much Reddit Karma each user has. Your karma score is influenced by the upvotes and downvotes you receive on comments and posts.
You must invest some time in sharing material and leaving comments on posts if you want to gain karma. A fantastic technique for users to interact with you is asking questions. Getting upvotes raises your ranking in the comment thread or subreddit, which can also raise your Karma score.
Here's how to avail a free Reddit NFT:
Visit the Reddit homepage first. Ensure that you're using the desktop version
Log in to your Reddit account
If you meet the requirements, you will see a banner
Select one of several themes after clicking the link. After that, you can mix and match your avatar's features completely free
How do I set up Reddit Vault?
---
Reddit has recently introduced a new way to send and store cryptocurrency on your phone. Called "The Vault," it lets you send and receive both Bitcoin and Ethereum directly within the app without needing to go through third-party exchanges like Coinbase or Binance.
Aside from sending and receiving cryptocurrencies, the Vault also acts as a digital wallet where you can store your coins and NFTs. You'll be able to use those funds to purchase items in the app's marketplace, including Reddit's branded merchandise, such as t-shirts and stickers.
You don't even need to be logged into Reddit to use the Vault, though you do need to log in to access Marketplace. However, if you're already a Redditor, there are some benefits to having an account. For example, you'll be able to take advantage of Reddit's native tipping feature, which allows you to tip others for comments, posts, and submissions.
How can I sell Reddit NFT?
---
You can sell your Reddit NFT on OpenSea. Note: You need Matic to list your Avatar for sale.
How to sell your collectible avatar on Opensea
Click on your profile picture on reddit mobile app then click on vault
At the top of your screen next to where it says vault there should be three dots, click on those then click show recovery phrase
Copy the recovery phrase it shows(or write it down by hand if you're worried about security)
Download Metamask to your phone(make sure to download it from your phone's official app store so you get the legitimate thing)
Click through whatever welcoming messages it gives then click import from secret phrase
Paste the words you copied earlier, and create a password
Once you're in the Metamask account click at the very top of the screen where it says wallet, then click the blue add network button, then choose polygon mainnet and confirm you want to add it
Click the three lines in Metamask(in the upper left hand corner) and then click the button that says browser
Go to OpenSea.io
click the three lines in the left hand corner on opensea.io then click the blue connect wallet button
Choose Metamask from the list then approve the prompt that comes up
Click the three lines again and navigate to where it says profile
All your avatars will be listed here, click on the one you want to sell, press the blue sell button, and then complete all the fields that brings up
Reddit MOONs/BRICKS vs. Reddit NFTs – main differences and similarities
---
Reddit MOONS and BRICKS are fungible, or interchangeable, tokens. Regardless of how long ago you started farming either token, they are worth the same as tokens that were acquired or gathered much later. The crucial difference between MOONS/BRICKS and Reddit NFTs is that Reddit NFTs, like CryptoSnoos, are prized for being rare and distinct on the market.
Community Points have a lot of applications when it comes to MOONS and BRICKS.
A subreddit's development and, consequently, Reddit's success depend heavily on community interaction. Redditors are fairly compensated for their reputation and online engagement with tokenized Community Points. Members are encouraged to offer relevant information and participate in stimulating conversations when prioritizing their financial value over their reputation.
MOONS and BRICKS run on the Ethereum blockchain. Besides this, the key similarity between these tokens and Reddit NFTs is that they can be stored on The Vault.
How to connect Reddit with MetaMask?
Types of Reddit NFTs
---
CryptoSnoos
---
The crypto world is getting a little more fun thanks to the launch of CryptoSnoo, a project designed to bring unique collectibles into the digital realm. The idea behind CryptoSnoo is simple: make cool things you can actually use. With the help of the Ethereum blockchain, CryptoSnoo is building a marketplace where people can buy and sell custom assets like shirts, mugs, phone cases, and even CryptoSnoo itself.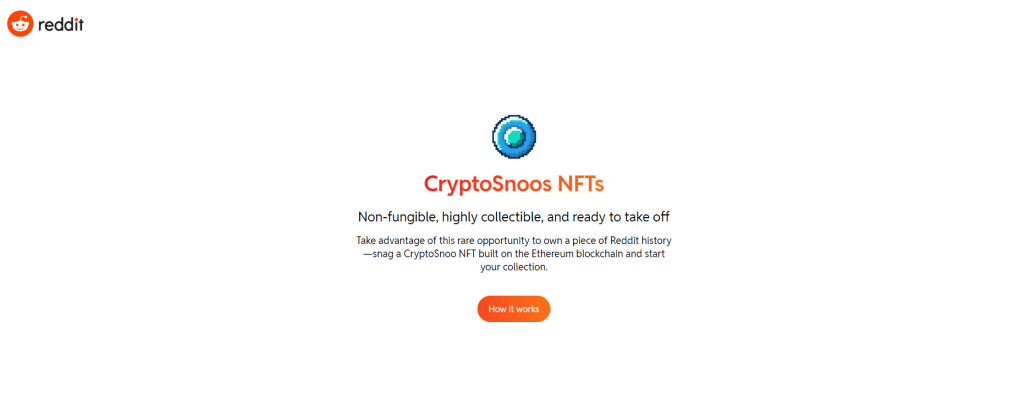 CryptoSnoo launched with a shirt, mug, and CryptoSnoo itself. But don't worry, there are plans to continue adding more products over time. In fact, CryptoSnoo cofounder Ben Hwang says he hopes to eventually roll out CryptoSnoo apparel and accessories for men, women, and children.
Reddit NFTs made by other creators
---
Besides CryptoSnoos, Reddit offers NFTs created directly by independent artists on the Reddit platform. On Reddit or OpenSea, you may buy the majority of these NFTs. Every NFT has a fixed price because an auction is not held. Reddit NFTs can be purchased with a debit or credit card, and many Redditors use a cryptocurrency wallet to do so.
Free NFTs from Reddit
---
Reddit users can access four different types of free NFTs; The Singularity, Aww Friends, Drip Squad, and Meme Team.
Which blockchain does Reddit use for minting their NFTs?
---
Reddit produces its collectible avatars on-chain using the Polygon blockchain, which is a sidechain of Ethereum.
FAQs
---
What do you do with NFTs once you buy them❓
Once you acquire an NFT, you typically have complete control over the digital asset. It can be used in a bigger digital production, kept as a collectible, or displayed for others to view. You can also put a sell notice on it. For NFT sales, marketplaces charge a fee.
Can anyone get into Reddit NFTs❓
Yes, anyone can get into Reddit's NFTs.
How do I convert NFTs to cash❓
All you have to do is transfer the NFT to the marketplace. Then, on the page for the NFT you want to sell, click the "Sell" button. OpenSea is the most well-known NFT marketplace.
Can you just Screenshot NFTs❓
Owning a work by Leonardo da Vinci is not precisely the same as photographing the Mona Lisa at the Louvre. The same idea might be used in the case of NFTs for digital art. Taking a screenshot of an NFT does not grant you ownership of the work of art.
How much does it cost to make an NFT❓
An NFT can be produced for as little as $0.05 or as much as $150. The Solana blockchain is the least expensive, with an average NFT creation cost of about $0.01, while the Ethereum blockchain is the most expensive, with an average cost of $70. This doesn't include marketplace costs ranging from 2.5% to 5%.
Can NFT make you rich❓
Yes, there are a variety of techniques you can use with NFTs to make you rich. Making your own NFTs, purchasing and reselling pre-existing NFTs, investing in NFTs for long-term gain (building wealth), or starting your own business and incorporating NFTs into your brand are all ways to become wealthy.

CaptainAltcoin's writers and guest post authors may or may not have a vested interest in any of the mentioned projects and businesses. None of the content on CaptainAltcoin is investment advice nor is it a replacement for advice from a certified financial planner. The views expressed in this article are those of the author and do not necessarily reflect the official policy or position of CaptainAltcoin.com