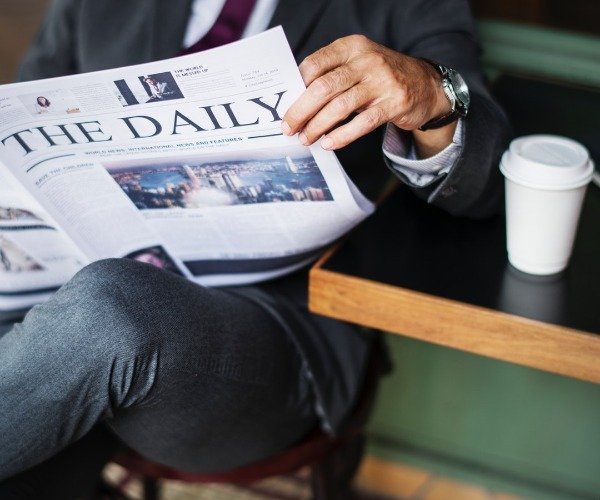 Today's market was rather stable, with most altcoins weathering out the small BTC dump relatively well. And just when everyone took their daily shot of hopium, the crypto world was again reminded how bad actors ruin the reputation of the entire market. Without further ado, take a look at today's news:
SEC goes after a $100 million ICO
SEC released a statement reiterated their desire to investigate Saint James Holding and Investment Company Trust and its trustee, Jeffre James, months after they suspended the trading of their penny-stock company Cherubim Interests, Inc. The US government agency believes that Cherubim fake-launched a currency called SJTCoin, which was supposedly designed for "cooperative living, working and healthier lives." Cherubim claimed that their coin offers extensible diversity in the use of the coin over current coins like Bitcoins, enabling its holders "both financial and societal gain."  SEC feels that Cherubim issued fake public statements in January 2018 regarding the launch of this coin's $100 million ICO, thus causing the company's stock price and trading volume to increase. This led to "certain individuals" within the company dumping their stock on the market, according to the agency.  Securities and Exchange Commission asked a U.S. district court to enforce a subpoena against Mr. James and his Trust.
Gemini taking lessons from Wall Street
The Winklevoss-owned cryptocurrency exchange Gemini hired another former Wall Street employee in an apparent effort to make their platform more attractive to institutional investors. Jeanine Hightower-Sellitto, who previously worked for 13 years as chief operating officer at the Nasdaq-owned International Securities Exchange (ISE), was brought on board to supervise Gemini's "institutional onboarding and expansion of the client services team." One of the cofounders of Gemini, Cameron Winklevoss, was short and praiseful in his explanation regarding this new hire:
"Jeanine's depth of knowledge and experience in the financial industry makes her a valuable asset to our organization and our customers."
China owns 74% of Bitcoin network
A recent study made in co-operation by Princeton University and Florida International University analyzed the Chinese influence on Bitcoin and confirmed that 74% of the network's mining hashrate comes from Chinese miners. The study was recently brought to light by XRP's David Schwartz in an attempt to downplay the PoW systems and promote "the decentralized nature of XRP".
A new study shows China controls 74% of bitcoin. Does that sound decentralized to you? https://t.co/4Oa68QlHLu

— David Schwartz (@JoelKatz) October 9, 2018
A fervent discussion arose in the crypto community regarding the potential implications of this lack of decentralization in Bitcoin mining. One side thinks that this hash rate is distributed among different individuals and pools and claims that no issue would have been made if the supply was in the USA. Other side thinks that Chinese government could take advantage of this and seize this network from the individuals, thus gaining control over the entire crypto market. You can join the discussion here.
Singapore backs cryptocurrency startups
Ravi Menon, managing director of Monetary Institute of Singapore, the city-state's central banking institution, confirmed that his organization wants to "bring the banks and cryptocurrency Fintech startups together to see if there's some understanding they can reach." Menon feels that domestic banks are at times unnecessarily reluctant to open bank accounts for cryptocurrency related projects and individuals. Reiterating that Singapore will not become "an extremely lax regulatory environment" for cryptocurrency startups, he stated that blockchain technology shouldn't be completely disregarded (citing cheap, real-time international remittance as a prime example).
Genesis Vision goes live on another exchange
Genesis Vision, one of the hottest cryptocurrency start-ups at the moment, greeted its fans with some good news today. The project announced a partnership with OKEx, the second largest crypto exchange in the world by trading volume and the number of markets served. Thanks to this partnership, Genesis Vision managers will be able to perform both common token trading and futures trading on this exchange. Check out their full announcement here.
Yobit announces a pump and dump!?
In what was likely the biggest story of the day, Yobit.net exchange committed a crypto suicide and in process brought on itself the wrath of CFTC, SEC and probably every other fraud regulating agency out there. What heinous deed did they commit? On the eve of October 10th, the platform's official Twitter account posted this:
YoBit Pump in 22 hrs: https://t.co/RIbW7OhKzM
We will buy one random coin for 1 btc every 1-2 mins 10 times (total buy amount – 10 btc).

— Yobit.Net (@YobitExchange) October 10, 2018
At the same time, YoBit newsletter started sending out e-mails of similar content, confirming that the Twitter post wasn't made by a hacker who wanted to troll the platform. Crypto community immediately pounced on the announcement and called out this obvious pump-and-dump scheme. YoBit was called out for their shady dealings many times before and this latest move is either a comprehensive hacking effort which took control of both the platform and its social media, or a full blown exit scam in action. The evidence at hand suggests it's the latter.

CaptainAltcoin's writers and guest post authors may or may not have a vested interest in any of the mentioned projects and businesses. None of the content on CaptainAltcoin is investment advice nor is it a replacement for advice from a certified financial planner. The views expressed in this article are those of the author and do not necessarily reflect the official policy or position of CaptainAltcoin.com