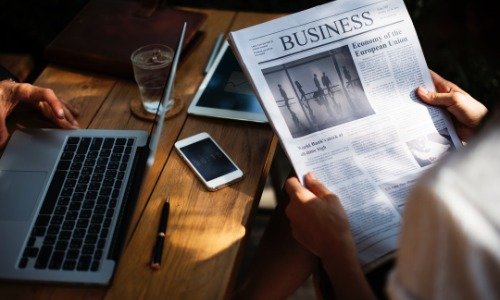 As the market took a slight tumble, led by Bitcoin awakening from its week-long slumber and falling out of its bed, the news cycle was humming as always. We singled out a couple of new and interesting concepts alongside an exchange changing ownership. Finally we decided to spice things up with a second exit scam in just two days. Check all of these stories down below:
ICON showcases its Blockchain Seoul project
During the Blockchain International Digital Festival that was held in Seoul this year, ICON demonstrated to the present viewers (some of them being from the Seoul Metropolitan Government) what a Seoul Resident would experience with a blockchain project in collaboration with the Seoul Government.
The demo was made thanks to collaboration between ICONLOOP and several government entities including the Seoul Metropolitan Government and the Korea National Information Society Agency (NIA). The entire thing was supervised by Korea National Election Commission.
ICON presented an idea of a "more reliable, democratic and prosperous" society that will be powered by the project's blockchain technology. Three components of the project were demonstrated:
ICON Blockchain Identification Card
ICON Blockchain Vote
ICON Blockchain S-Coin Payments
You can find more information about this latest ICON-related development on their official Medium page.
Bitstamp exchange acquired by a Korean gaming development company
A Luxembourg-based exchange Bitstamp, widely considered as the biggest trading platform in Europe, was acquired by a subsidiary of the Korean gaming development firm Nexon called NXHM. The purchase was completed for a rumored $400 million and the deal was completed in cash.
Nexon is a $10 billion company that is based in South Korea and NXHM is its investment subsidiary which previously acquired Korbit, a South Korean crypto exchange. Nejc Kodric, the CEO of Bitstamp, said this about the purchase:
"Bitstamp has been regularly approached by suitors for quite some time. The reason why we finally decided to sell the company is a combination of the quality of the buyer, the quality of the offer and the fact that the industry is at a point where consolidation makes sense. A major factor in agreeing to the sale is that the mission, leadership and vision of the company remain the same."
Kodrič went on to reassure the investors that their exchange experience won't suffer because of this, on the contrary:
"We will continue to innovate with the goal of giving our customers the absolute best trading experience. It is business as usual here. We do anticipate that this acquisition will strengthen Bitstamp's positioning for growth, which will provide opportunities to better serve our customers. "
Hublot launching a blockchain watch
Hublot, a famous Swiss watch brand, recently opened pre-orders for a limited edition watch created to commemorate Bitcoin's 10th anniversary.
The piece will be named "Big Bang" and will be made in collaboration with Octagon Strategy Limited, a digital asset brokerage firm. This company will process all the pre-sale buyers data in a safe, enjoyable way.  This does raise some eyebrows as full KYC/AML verification will need to be completed before being able to buy the watch.
One of these watches will set its new user $25 thousand in Bitcoin, as the company remained true to the theme and made the product purchasable only with crypto. The watch will also be limited to 210 pieces as homage to Bitcoin's supply of 21 million coins.
Oyster Pearl (PRL) smart contract compromised, ICO re-opened
In a never before seen crypto related turn of events, a project called Oyster Pearl had its smart contract "breached" in a very peculiar way.
Someone "on the inside" of the project (it was later revealed that "someone" was Bruno Block, the project's anonymous founder) called the transferDirector function 6 hours ago and gave themselves admin/director rights on the network.
Block then used these newly assigned rights to restart the ICO for PRL and re-issue new tokens for ICO prices (1 ETH = 5000 PRL / .04 per PRL).
The newly-issued tokens were sent to the Kucoin exchange and market sold, allowing the individual to dump more than $300,000 worth of PRL before Kucoin suspended the token trading. Naturally this caused a massive price dip for the coin which is currently down over 60% on the daily.
Oyster Pearl came out with an official update on the issue, explaining who was responsible for this mishap:
"After our initial review, we are inclined to believe that these were solely the actions of Bruno Block and that he did this now to avoid detection from KuCoin KYC procedures (that will be implemented on November 1st). These KYC procedures would have limited withdrawals on Non-KYC'ed accounts to no more than 2 BTC per day and would have prevented this from happening. This was well-orchestrated and well-executed (at a time when he knew a majority of the KC team would be offline)."
You can find more details about this unfortunate event in the article we previously published here.

CaptainAltcoin's writers and guest post authors may or may not have a vested interest in any of the mentioned projects and businesses. None of the content on CaptainAltcoin is investment advice nor is it a replacement for advice from a certified financial planner. The views expressed in this article are those of the author and do not necessarily reflect the official policy or position of CaptainAltcoin.com