Mizar Review | Is The Upcoming Mizar Bot Trading Platform Worth Your Attention?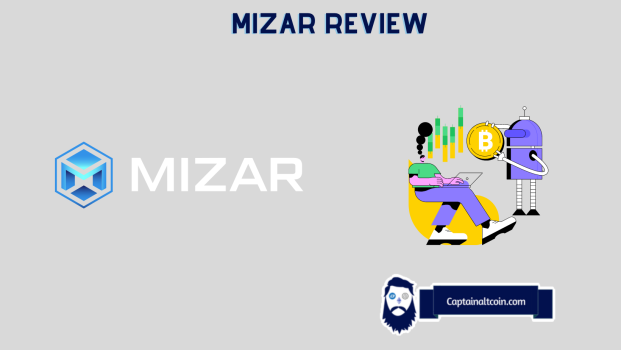 Mizar Review | Is The Upcoming Mizar Bot Trading Platform Worth Your Attention?
It is subscription-free and can be used on leading crypto exchanges such as Binance, Coinbase, Kucoin,and Huobi and more. By staking $MZR or increasing your 30 days trading volume, you can reduce your volume fee up to 95%.
The platform is non-custodial, and the founder team has been disclosed.
The platform is safe and secure, allowing 2FA, new IP detection system with email, and IP whitelisting to connect to your exchanges.
It has received funding from reputable investors such as Nexo and KuCoin Ventures.
Mizar has an easy-to-use interface and investors can copy-trade with a few clicks.
Mizar offers 24/7 customer support.
Diving deep into the world of cryptocurrency trading platforms, our comprehensive Mizar review sheds light on its unique offerings. Mizar, not just another name in the crypto space, stands out with its all-in-one trading platform, designed to simplify the trading process for both novices and experts.
From its AI-powered algorithms to its user-friendly interface, the Mizar trading bot promises to revolutionize the way we perceive automated trading. But is the Mizar bot truly the game-changer it claims to be? Let's delve into the nuances of Mizar and its trading bot to uncover the truth.
Summary Upfront: Mizar trading bot review
| Feature/Aspect | Description |
| --- | --- |
| 🤖 Platform Capabilities | Mizar is a next-gen crypto trading platform that supports the use of bots on third-party exchanges. |
| 🛠️ C-Mizar | Centralized powerhouse offering advanced trading tools, including multiple take profit, stop loss, trailing, and dollar-cost averaging (DCA). |
| 🌐 D-Mizar | Decentralized platform for DeFi enthusiasts, enabling the creation of sniper bots for new token launches on Uniswap and other decentralized exchanges. |
| 📜 Paper Trading | Mizar provides a simulated real trading environment to test trading techniques and strategies. |
| Supported Coins | |
| 🌍 Centralized Exchanges | Supports trading on various platforms such as Binance, Binance.US, KuCoin, OKX, Coinbase PRO, Huobi, Bybit, Crypto.com, and more. |
| 🔄 Decentralized Exchanges | Supports trading on platforms like Uniswap. |
| 💰 Subscription Fee | Mizar operates without requiring a subscription fee. |
| 📊 Trading Fee | Fee ranges from a maximum of 0.075% to a minimum of 0.0035% based on trading volume. |
| 🔄 Copy-Trading Fee | When copy-trading, a fee is paid to the trader being copied, ranging from 5% to 50% based on realized monthly gross profits. |
| 📉 Fee Reduction | Traders can reduce fees by staking MZR tokens and increasing their trading volume. |
| 🚫 Fee-Free Transactions | Mizar permits transactions up to $10,000 per month without any fees. |
Mizar is an all-in-one trading platform for cryptocurrency, providing traders with a suite of tools and bots to simplify the process. With support for automated tools and bots, Mizar makes it easy to stay on top of the ever-shifting markets. By connecting your favourite crypto exchange with API, Mizar can help you stay informed and make smarter investments.
By utilizing powerful AI-powered algorithms, the Mizar Trading Bot is able to evaluate market conditions in real-time and provide users with insights about how best to take advantage of every opportunity for profits. The trading platform allows users to automate trades according to each trader's individual style and risk tolerance levels, making it possible for savvy cryptocurrency investors to maximize their profits while minimizing their losses. And because there are zero monthly subscription fees (users pay based on trading volume and profits generated), no one is priced out of using Mizar.
The MZR token plays an important role in Mizar, acting as a basic unit of account between traders on the platform. It also helps manage funds, allowing users to reduce fees or pay fees on trades with tokens instead of stable coins like BUSD or FIAT money fiat currencies like USD or EUR. This makes it easier and more cost effective to get started with Mizar.
As well as providing a host of features, the developers at Mizar have also ensured additional security and safety measures are implemented within their system, so that traders can always feel confident that their funds are protected at all times when using the service.
About Mizar Smart Trading Platform
---
Mizar is an advanced trading platform that allows novices to make a profit while learning. It offers features a range of features and services designed to help traders improve their skills and profits, while reducing their risks. The Mizar platform was created in 2021, and has since raised $3 million in venture capital funding led by Nexo.


One of the most exciting features on the Mizar trading platform is its Smart Trading system. This allows users to manage multiple portfolios from different crypto exchanges from one central platform. In addition, users can also use TradingView charts for technical analysis purposes – making it easier than ever to track market trends and execute profitable trades.
Mizar also offers Copy Trading, Social Trading, Bot Trading and Paper Trading for customers who want a more hands-off approach – or who are just starting out in the world of crypto-trading. With Copy Trading, users can mimic experienced traders' strategies in order to increase their chances of success. Bot trading helps reduce risk by executing orders quickly and accurately according to algorithms – while paper trading uses dummy funds to test out strategies without any risk involved at all!
How Does Mizar Work?
---
The Mizar trading bot is designed to make trading a breeze for both experienced and novice traders. It's capable of carrying out all necessary trades on your behalf, thanks to its advanced algorithms, which enable it to keep up with the ever-changing market trends and provide users with reliable insights into their investments.
Using the Mizar trading bot is as simple as four easy steps. First, you'll need to sign up for an account on the website and then connect your exchange with an API key. From there, you can either develop your own bots or explore the different options available in the marketplace before investing in and monitoring your portfolio. Once everything is set up, the Mizar trading bot will take care of all of your trades while you monitor them from the comfort of your home or office. With this technology at your fingertips, staying one step ahead of the market couldn't be easier!
Mizar Features & Products
---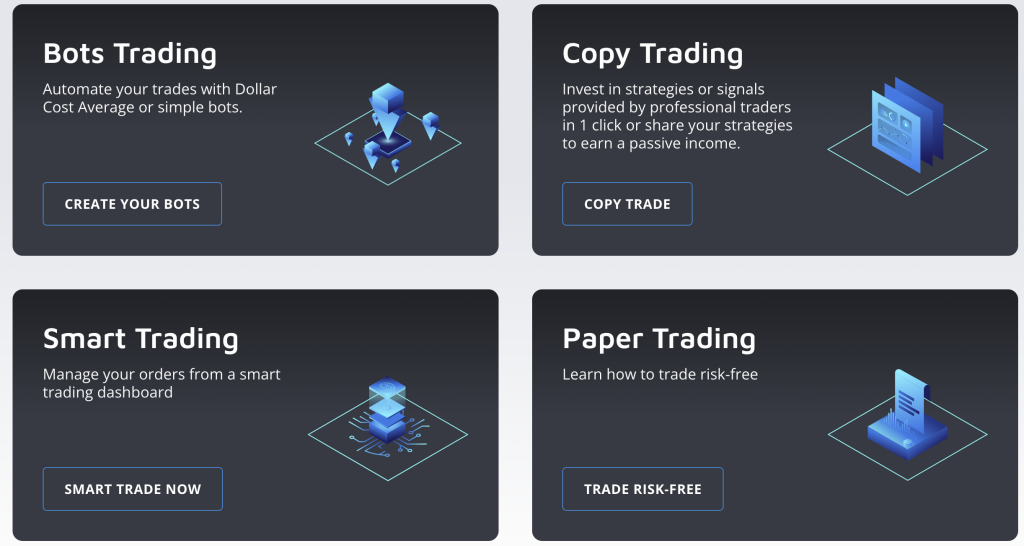 Mizar DCA Bot
---
Mizar's DCA Bots are the perfect automated trading software for traders who want to take advantage of lower asset prices. These bots are designed to make entries into positions as the price moves away from your expected trajectory. Their strategy is based on scaling and averaging down entry prices instead of attempting to time market tops or bottoms – which can be difficult for novice traders.
The best part about Mizar's DCA Bots is that they come with useful features like risk management, trailing take profitstop loss and stop-limit orders. With these features, you can easily manage overall risk, set limits on profits and losses, and also get alerted when a purchase/sell order has been triggered. Plus, all of these settings can be managed via the bot's dashboard, making it easy to customize and adapt to suit your individual trading needs.
Copy Trading
---
Copy trading with Mizar is the easiest way for users to get into profitable trading strategies without having to do all the research and work themselves. All it takes is subscribing to an expert trader's strategy in Mizar's marketplace, and you're already in business!


You'll be able to invest based on trusted traders' carefully-crafted strategies, and perform as they do. In exchange, you will share a small part of your monthly their returns after a certain amount of time has passed. Plus, there'll be no need to worry about security, as Mizar ensures top-notch safety measures.
If you're looking to capitalize on great trading strategies without having to do too much legwork yourself, then copy trading with Mizar is the way to go. It's the perfect solution if you want reliable investments with excellent returns.
Mizar API Bot
---
Mizar's API Bot is designed to make life easier for more advanced traders. It allows users to host and manage their own trading strategies within the Mizar infrastructure, which helps them focus on setting up their strategy rather than worrying about order execution. With the Mizar API Bot, you can trust that your orders will be placed quickly, accurately, and securely. This makes it an invaluable tool for serious traders who are looking for an efficient and reliable way to execute their orders.
Mizar Smart Trading Terminal
---
The Mizar Smart Trading Terminal is the perfect tool for your trading needs. With its simple and intuitive interface that has been built atop of the TradingView chartingplatform, it allows you to make orders and manage positions on any exchange you wish from one single place.
Not just that but also include advanced functionalities like multi-entries, stop loss, trailingtrails, and multi-take profits – allowing you to better control your risk in order to maximize your chances of success. This latest feature is still under development but soon Mizar will be available to everyone who wants to get started with trading. 
Paper Trading
---
If you're looking to test out your trading strategies and techniques without risking real assets, then Mizar Trading Bot is the perfect bot for you. Its paper trading allows users to enter a simulated Binance platform environment with all the depth of liquidity that would be provided by the exchange, supporting a wide range of digital assets.


So no matter what kind of digital asset you're looking to trade, you can do so in a secure and safe environment where there's no risk involved. This is ideal for casual traders who may not have the time or money to put into actual investments yet are eager to learn more about trading and different strategies.
Marketplace
---
Mizar provides users with an extensive and easy-to-navigate marketplace. There, they can find a wide range of strategies that fit their trading style. With just a few clicks, they can get visual representation of back-testing or live trading performance as well as copies of trades.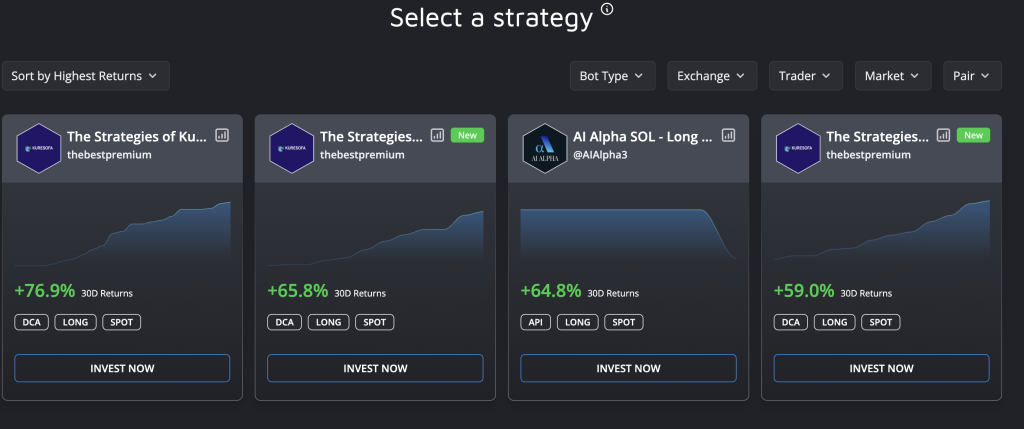 The Mizar Engine is also quite incredible – it places orders on behalf of the investor based on the selected strategy while traders in the background monitor the strategy's behavior and adjust it accordingly. This takes away any stress from having to continuously monitor the market conditions and make adjustments yourself.
In comparison, 3Commas offers marketplace bots pre-built by themselves with customizable parameters, but still require users to calibrate and closely monitor them. Additionally, 3Commas include signals from experienced traders for user integration into their bots but often require more expertise for successful implementation without modifications.
Mizar Pricing & Fees
---
Mizar is a crypto trading platform that does not require a monthly subscription fee. Instead, it has a fee system based on traded volumes and performance when copying other traders.


Mizar's fees are designed to make cryptocurrency trading available and accessible to everyone. To that end, users are charged two main types of fees: a volume fee and a performance fee.
The volume fee depends on the user's STAR level, ranging from 0.0035% to 0.075%. The performance fee meanwhile is only applied when copy-trading, ranging from 5% to 50%, depending on the traders' setup. This is based on realized profits per month and paid out at month's end.
However, reducing these rates is possible by increasing your trading volume over 30 days or holding more Mizar utility tokens ($MZR). Under this program, you can get up to 95% discount on the volume fees and as much as 50% reduction in performance fees.
It's also worth noting that if a strategy results in loss in any given month, no performance fee will be charged for that time period. Furthermore, the fee only takes into account closed positions – unrealized profits have no bearing here.
The Utility of the $MZR Token
---
The $MZR Token offers a number of benefits to Mizar users. From reducing traded volume and performance fees, to staking rewards and governance for the MZR LockBox and Galaxy Fund, this token provides a range of useful features.
The great thing about owning $MZR is that it allows you to access all of Mizar's advanced features such as dMizar and gamified leaderboards, as well as allows you to earn referral fees.
It also grants you the ability to avoid being glued to your trading platform all day, every day. No more stressing over crypto fluctuations – nor does it force you into making ill-advised trades or selling at the bottom due to emotions that can sometimes cloud your judgment!
Altogether, possessing $MZR tokens provides a powerful set of tools designed specifically for traders that want to give themselves an edge while they navigate through their portfolios on the ever-changing crypto markets.
Mizar Customer Support
---
Mizar provides its customers with multiple avenues of support. From the Mizar Help Desk and whitepaper/documentation to their website contact page and live chat feature, the brand prioritizes customer satisfaction.
If you want to stay in the know, reference the blog content published on their main website or on Medium. Last but not least, don't forget to check out their social media platforms – Twitter, Discord, and Telegram – where they post regular updates.
In other words, whether it's via phone line, email address or social network accounts, Mizar has made an effort to provide accessible customer support for its users.
Supported Exchanges
---
Mizar Trading Bot has a diverse range of supported exchanges, ensuring that there are options for everyone. To start with, Mizar supports Binance, KuCoin, and many more are planned for integration in the coming months. This includes Bitmex, Bitfinex and Coinbase PRO – allowing users to access a great selection of countries with ease.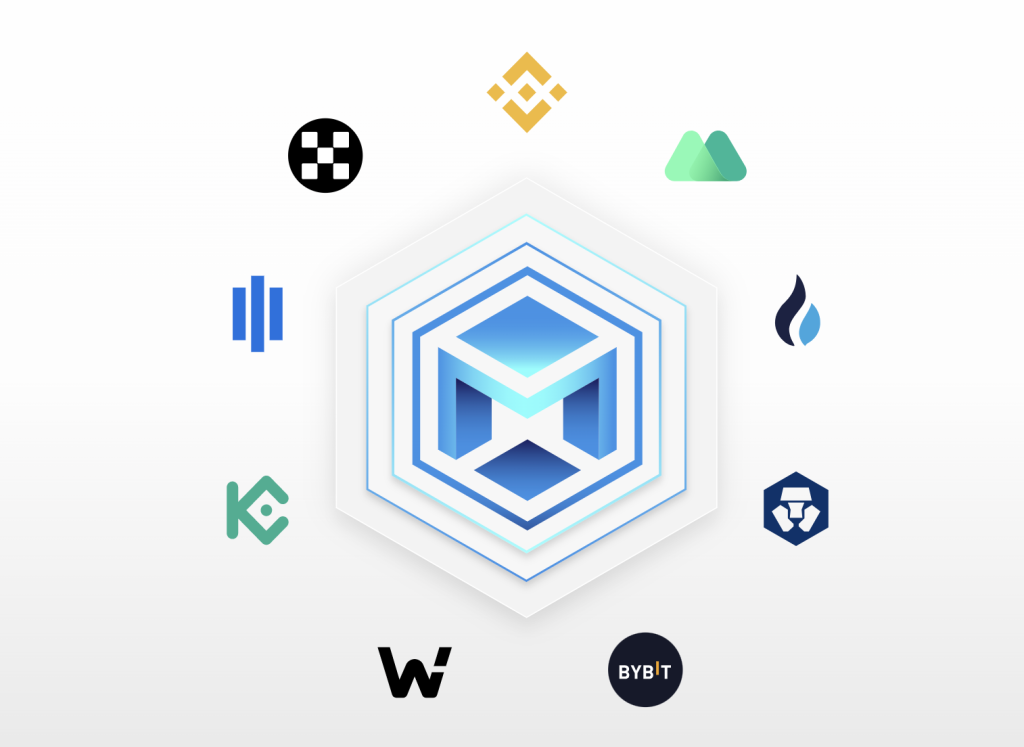 At the same time, Mizar is also looking at expanding its offerings into DeFi by integrating DEX as well.
In terms of sheer variety, 3Commas also offers support for a wide range of CEXs but currently doesn't support integrated DEXs.
Is Mizar Safe to use?
---
Yes, Mizar is a safe platform to use when trading cryptocurrencies. With several security measures in place, traders can feel confident that their data and funds are well-protected.
Mizar offers a non-custodial platform, meaning they do not store your private keys, so there's no risk of losing funds in case of a hack or data breach. Mizar offers the possibility to use pre-set IPs that can be whitelisted in your exchange. In this way, users can secure their API keys and make sure no malicious actor can ever manipulate your portfolio if you don't want to.
Traders also have access to a Web Application Firewall for additional protection against malicious attacks. The DDoS attack protection service allows users to scale up and defend against larger cyberattacks without disruption. All data transmission on the Mizar exchange is also encrypted with SSL/TLS encryption for maximum security.
Finally, the Mizar Exchange integrates 2FA into its system – an added layer of account security that requires two methods to verify identity (an extra code sent to your phone via email, sms or Google Authenticator).
In short, you can trust the safety and security granted by the Mizar crypto exchange – making it one of the best platforms out there for trading cryptocurrencies!
Conclusion
---
In conclusion, Mizar is the perfect platform for anyone looking to take advantage of crypto trading bots. The team has worked hard to provide a comprehensive set of tools and services, making it easy and straightforward for everyone to get started in crypto trading.
From creating DCA bots, using Stop Loss & Take Profit features, or even splitting your investment across multiple entries, Mizar's interface allows users to easily manage all their assets in one place.
But that's not all Mizar offers – they also have an extensive copy trading feature which provides users with access to a wide variety of strategies. This is an excellent opportunity to gain knowledge in the process while earning a passive income on the side!
FAQs
---
PROS
It is subscription-free and can be used on leading crypto exchanges such as Binance, Coinbase, Kucoin,and Huobi and more. By staking $MZR or increasing your 30 days trading volume, you can reduce your volume fee up to 95%.
The platform is non-custodial, and the founder team has been disclosed.
The platform is safe and secure, allowing 2FA, new IP detection system with email, and IP whitelisting to connect to your exchanges.
It has received funding from reputable investors such as Nexo and KuCoin Ventures.
Mizar has an easy-to-use interface and investors can copy-trade with a few clicks.
Mizar offers 24/7 customer support.
CONS
It's still new and unproven
SomeLot's of features are still in BETA
The pay-per-use model may be less ideal for large retail or instructional traders who prefer fixed pricing models such as subscription methods.

CaptainAltcoin's writers and guest post authors may or may not have a vested interest in any of the mentioned projects and businesses. None of the content on CaptainAltcoin is investment advice nor is it a replacement for advice from a certified financial planner. The views expressed in this article are those of the author and do not necessarily reflect the official policy or position of CaptainAltcoin.com