The crypto currency market has fallen by 9 billion dollars in the past 24 hours after showing an upward valuation of 30 billion dollars from 370 to 400 billion dollars.
Bitcoin battle for $8,500
The Bitcoin price has attempted to break through $8,500 on the 14th, after crossing $8,700 on the 13th. The market began to recover as the Bitcoin price recovered to $8,500 and tokens such as Ontology (ONT) recorded growth in the region of 20 to 30 percent, but the market could not maintain its momentum at $400 billion.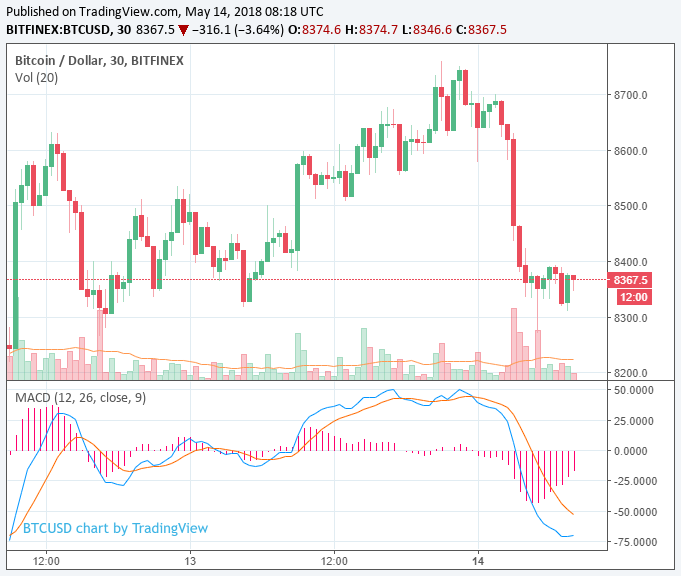 Matthew Newton, a crypto currency analyst and researcher, explained in an interview with The Express that major banks have already invested heavily in crypto currencies such as Bitcoin and Ethereum and the crypto currency market as a whole, a similar attitude to Steve Chiavarone, a portfolio manager at the investment company Federated Investors.
Newton stressed in the short to medium term that the entry of banks could trigger an increasing institutional demand for crypto currency, so that the market could recover to its earlier level.
"Despite some initial posturing, the reality is most big banks have already invested significant amounts in research and development into blockchain technology and cryptocurrencies themselves. It will still take time for institutional investors to fully come around – and the fact that Goldman won't be buying or selling actual coins suggest some scepticism remains – but there's a growing acceptance that these assets are here to stay," said Newton.
With the beginning of consensus in 2018, many traders believe that Blockchain Week in New York will help the Bitcoin price rally and the market pick up again. Last week the market was unable to see a major upward movement, and if the bitcoin price remains below $8,500, other major crypto currencies and tokens are likely to continue to drop over the week.
However, if bitcoin can protect the $8,800 support level and see a move toward $9,500 by the end of the week, the crypto currency market could experience an increase in the volume and influx of new capital.
The market volume has already risen to around 21 billion dollars, by more than 5 billion dollars since May 11. The Bitcoin price could regain momentum depending on volume and move toward $8,800 or test the $8,000 resistance level in the short term.
Tokens
A number of tokens such as Salt, Ontology and Storm recorded significant appreciation against Bitcoin and the US dollar in the past week. Bearing in mind that tokens have more movement on both the top and bottom, the value of most tokens depends on the short-term trend of Bitcoin and Ethereum.
As the bitcoin dominance index is below 37 percent, it is obvious that tokens and other small crypto currencies have begun to outperform large digital assets. As market conditions improve in the coming days, tokens such as Ontology, Storm and EOS, which have strong volumes on large exchanges such as Binance, are poised to perform well against bitcoin.
CaptainAltcoin's writers and guest post authors may or may not have a vested interest in any of the mentioned projects and businesses. None of the content on CaptainAltcoin is investment advice nor is it a replacement for advice from a certified financial planner.