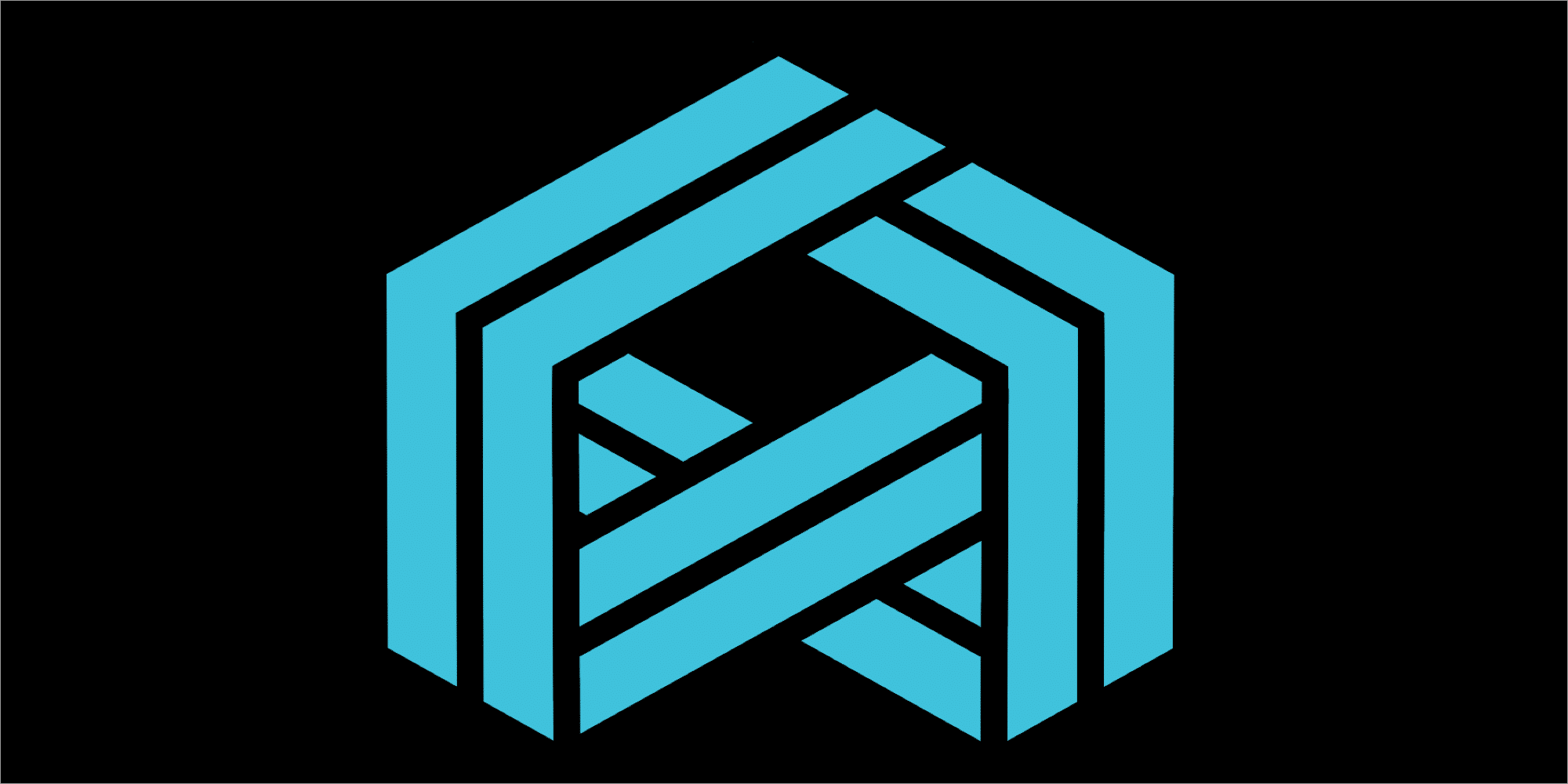 LUXCoin (LUX) is the open source blockchain token of value focused on the enterprise consumer. Launched in 27/10/2017, LUXCoin is implementing Parallel Masternodes, the PHI1612 hybrid Proof of Work – Proof of Stake (PoW-PoS) algorithm, and a "Static" model for staking. LUX (the Latin word for light) is a relatively new entrant to the market, but the  variety of innovative features that LUXCoin and Luxcore have to offer have put LUXCoin on the radar for many people in the crypto space. The LUX token itself is an ERC20 compatible token on the Ethereum blockchain that has a market capital of $ 7.69 million, of which just under 600 thousand dollars are traded daily.
LUXCoin is part of a big team called Luxcore. Luxcore, the blockchain solutions and cryptocurrency ecosystem behind LUXCoin, aims to create an online community for the rich and famous. One of Luxcore's goals is to use a blockchain to overcome the gap between high-grade security and privacy blockchain products, the massive enterprise-level market, and average consumers. Luxcore consists of LUXCoin, which is designed to get governments, institutions and individuals under one roof, and the more enterprise-consumer focused closed source products like LuxGate and Parallel Masternodes.
Luxcore has a plan to create a cryptocurrency catered towards rich and famous people, who will automatically receive these tokens as part of the crowdsale.
Luxcore also plans to release future updates such as SegWit, Smart Contracts, LuxGate and Parallel Masternodes (PMN) — and of course, more blog entries— all suggest that 2018 may very well be the year of the Luxcore.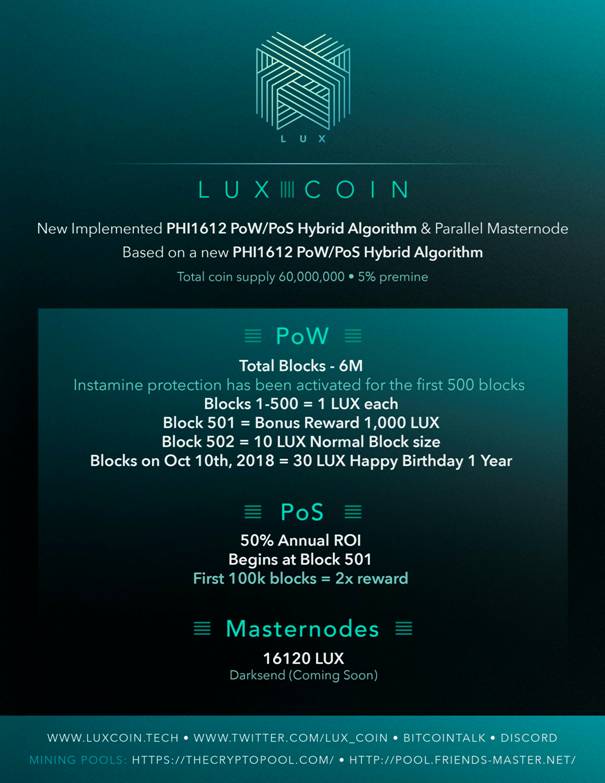 What is the PHI1612 Hybrid PoW/PoS Algorithm?
PHI1612 algorithm is a combination of Skein, Jh, Cubehash, Fugue, Gost and Echo crypto algorithms and is hailed by the Luxcore platform as being the "most efficient GPU mining algorithm."
The PHI1612 algorithm is one of the most secure encryption algorithms, it is GPU friendly and shoots for higher hash rates without increasing power consumption. The algorithm the power friendly algorithm and ultimately seeks to make the mining process more efficient. This will definitely help to make mining more profitable by decreasing electricity bills.
The PHI1612 hybrid PoW/PoS algorithm prevents big mining firms from dominating and centralizing the control over the token. LuxCoin is a GPU mineable coin (and ASIC-resistant), which means that it's much more democratized and decentralized.
Luxcore also blends properties from the PoW and PoS algorithms. Their new PoS system is referred to as "Proof of Stake 2", which means that it allows for the distribution of staked rewards regardless of how much a user is staking. This new PoS system is static rather than dynamic, which means that you can mine money while you sleep. You just need to keep your wallet open with LUXCoin on balance and you will get your coins.
What Are Parallel Masternodes (PMN)?
Another distinguishing feature of this crypto is the Parallel Masternodes feature, can be pretty complicated. However, the technology focuses on addressing the reliability and security needs of institutions and enterprises.
The Parallel Masternodes are built on SAM Protocol and i2pd Technology, which means that LUX's security is substantially improved.
This feature essentially allows users to create third-party applications on top of the blockchain in a way few other tokens currently available on the market are capable of. This feature will only be available to verified government agencies and enterprises in order to reduce the potential for any malicious players. One more thing worth noting is that all wallets and transactions on the Parallel Masternodes (PMN) are encrypted.
What is LuxGate?
Luxcore describes LuxGate as "nothing short of a technological marvel in the blockchain space."
Luxcore uses LuxGate, a technology that will allow proven blockchains to communicate with each other, creating a constructive bridge for various blockchains (such as BTC and ETH) to engage with each other in a variety of ways.
It creates a bridge for interaction with centralized organizations such as banking institutions with the PMN private network. Luxcore has a strong chance to shake up traditional banking transaction systems since LuxGate and Parallel Masternodes are system agnostic and can work across-algorithm.
Luxcore wants to enter into partnerships with private institutions to help them set up PMN and grow the network while maintaining top-security standards.
The LUXCoin (LUX) Roadmap
It remains to be seen what the future of LUX is, but taking a look at the LUXCoin Github and Discord, you'll see a rapid progress in development and updates. Also, if you check on Cryptomiso website, you will see that they are currently holding place number 69, with over 500 commits. This is quite promising. The team is constantly updating the project, and they plan to launch their Parallel Masternodes in Q1 2018 and will start integrating enterprise-level businesses in Q2.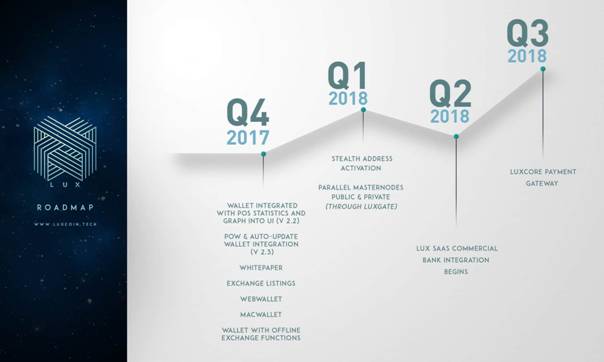 LUXCoin (LUX) Trading Information
LUXCoin didn't do any ICO, and rather they did a "pre-mine" where they mined 5% of the total supply.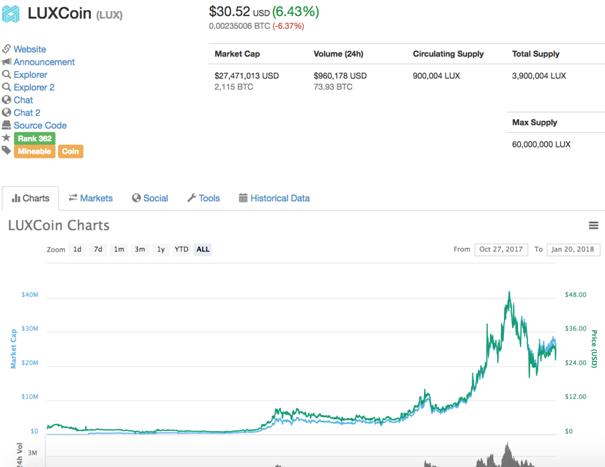 Here is a list of LUXCoin exchanges where you can buy, sell and trade LUX:
Conclusion
In the rapidly developing crypto community and the world of altcoins, it's not easy to surprise. Practically every week new coins appear, new technologies are announced, ICO is conducted and each time developers try to be unique and get there first.
LUXCoin (LUX) is a promising new cryptocurrency with interesting features and a good team of developers who are working hard on their project. Among the other features, LUX offers decentralization, LuxGate, Parallel Masternodes (PMN), PHI1612 algorithm (combined PoW and PoS), and a "Static" model for staking (PoS). Also, soon we will be able to see their new products on the market, which could significantly help the project to shake up the world of traditional banking services.
Useful Links

CaptainAltcoin's writers and guest post authors may or may not have a vested interest in any of the mentioned projects and businesses. None of the content on CaptainAltcoin is investment advice nor is it a replacement for advice from a certified financial planner. The views expressed in this article are those of the author and do not necessarily reflect the official policy or position of CaptainAltcoin.com