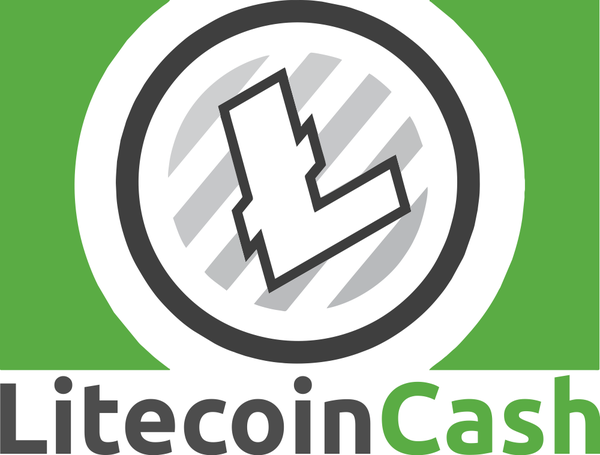 Hard forks are a craze that has taken the cryptocurrency world by storm, garnering massive support in some corners, while hitting strong opposition in others. A hard fork is a permanent blockchain "break-off" where a group of developers, miners and users agrees to create and use an entirely new blockchain while abandoning an already existing one. It can happen for various reasons. People might notice that the original blockchain is suffering from security vulnerabilities that cannot be fixed by a soft fork. Sometimes disagreements happen over the way the blockchain and everything above it is being developed.
Sometimes these issues can be fixed via a soft fork. Soft forks are slight divergences from the original blockchain path, which occur when new rules and a new chain are introduced. These rules will look to address the problems with the original blockchain and create a better product. Some original chain nodes will update to accept new rules while others will remain unchanged. The original chain will continue to function and accept information from both types of nodes, while the new chain will only work with the updated ones.
From here, one of two things will happen: Either enough nodes will adopt the updated rules which will help the new blockchain reach a predetermined hash rate benchmark; the updated nodes will become the consensus majority and will vote on new blockchain replacing the old one completely. OR the nodes will not accept the new rules in well enough numbers, leading to the old rules being maintained and the soft fork failing. Holders of the original cryptocurrency keep their original tokens without receiving any new currency.
Whenever a hard fork happens, the nodes switch onto the new blockchain instantly, abandoning and stopping their support for the old chain. The nodes that switch to the new rules cannot provide information to the original blockchain anymore. The holders of the original blockchain's cryptocurrency are rewarded with new blockchain's crypto tokens, in an amount that is proportional to their original token holdings. The market and the way the new rules hold up will decide if the hard fork was successful or not.
Hard forks, soft forks – what kind of a fork is Litecoin Cash?
Sometimes we see a new project being born from the concepts, ideas and code of an old project. Litecoin Cash is exactly that, a so-called software fork whose developers decided to copy the way Litecoin itself came into existence. A software fork isn't actually a fork; it works more like a clone of sorts. Litecoin itself was created as a software fork of Bitcoin. It is a completely new project which took the ideas, software, coding and concepts utilized by Bitcoin and applied them on itself. While it did copy Bitcoin in a way, it was still a completely new, different cryptocurrency. Among other differences it utilizes a Scrypt PoW algorithm and has faster block generation speeds than its role model.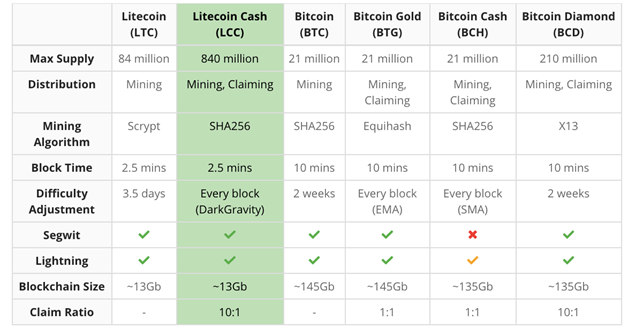 Litecoin Cash basically did something similar, as it is a hard clone of Litecoin. The split happened on February 18, 2018 on the block 1371111 of the original Litecoin blockchain. Every holder of Litecoin at the time of the fork was due to receive 10 LCC per one LTC. Key characteristics of Litecoin Cash include:
Litecoin Cash will be run with Bitcoin's SHA256 algorithm as opposed to Litecoin's Scrypt algo.
The use of Bitcoin's SHA256 algorithm provides prospective miners to mine for Litecoin Cash, with the SHA256 proof-of-work algorithm allowing Litecoin Cash mining using old and obsolete Application-Specific Integrated Circuits ("ASICs") Bitcoin mining hardware.
The total supply of Litecoin Cash is 840 million LCC coins, far greater than Litecoin's 84 million coins.
Litecoin Cash has a different difficulty adjustment to Litecoin, with Litecoin Cash seeing the mining difficulty adjusted with every block, using Evan Duffield's DarkGravity V3 algorithm from Dash, compared with Litecoin's approximately 3.5 days.
Replay attack protection & new address prefix to prevent confusion and inter-chain issues.
Litecoin Cash transaction fees are reported to be 90% cheaper than Litecoin's fees.
A blockchain that is a fraction of Bitcoin's blockchain (13 GB compared to 145 GB)
The idea for it supposedly came about when its creators mentioned how Litecoin should be rebuilt to use SHA256 hashing algorithms. While they were joking at first, later on they realized how the majority of existing SHA256 hardware that is currently in circulation is obsolete, because of the network congestion. They noticed that such hardware should be perfect for mining a lower throughput, lower blockchain size coin like Litecoin. The main issue was the Scrypt mining algorithm used by Litecoin, which requires different mining hardware than the SHA256-compatible coins. Therefore the team decided to perform a hard fork of Litecoin and Litecoin Cash was born.
Litecoin vs Litecoin Cash
The group that announced and went through the fork suffered a blow when Litecoin's team, led by its creator Charlie Lee, denied involvement in the project, while calling Litecoin forks "scams".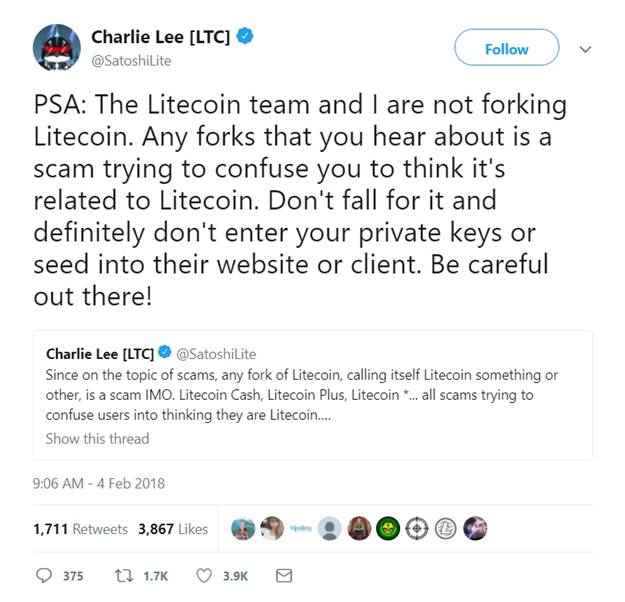 In a later interview with Coindesk, he further confirmed his anti-forking stance by saying: "It confuses people into thinking Litecoin is splitting. The Litecoin community has no interest in splitting. It's just some people trying to make a quick buck. And calling it Litecoin gives them some legitimacy."
Everyone related to Litecoin is currently wondering what this new fork will actually bring to Litecoin itself. With real hard forks a part of the community, including developers responsible for coding and miners responsible for hash power and users responsible for, well using the network is taken from the original blockchain. This can cause a decrease in quality as well as a migration of hash rate/user base which can potentially, if enough people switch to the new currency, cause a form of the 51% attack. However, Litecoin Cash developers were never a part of the Litecoin team, therefore the quality of coding will not decrease over time (as they never left the team in the first place). The miners may choose to start mining the new currency but they will need different hardware to mine it, meaning that they should probably stay on the Litecoin blockchain as well. Finally users will not be incentivized to sell their Litecoin for Litecoin Cash, as with a 10 times bigger supply LCC is destined to forever be a lower priced coin than LTC. Another thing to consider is that If Litecoin Cash turns out to be a scam that could have a lasting negative effect on the entire Litecoin label. At the moment it seems unlikely that Litecoin Cash will derail the Litecoin project and will have a decent chance to grow on its own.
---
?Here is our list of best litecoin wallets.
---
The coin is currently available on Yobit, Mercatox, SouthXchange, TradeSatoshi and CryptoBridge. Not the most impressive list of exchanges, but there are rumors that HitBtc is considering adding it among its offered tokens.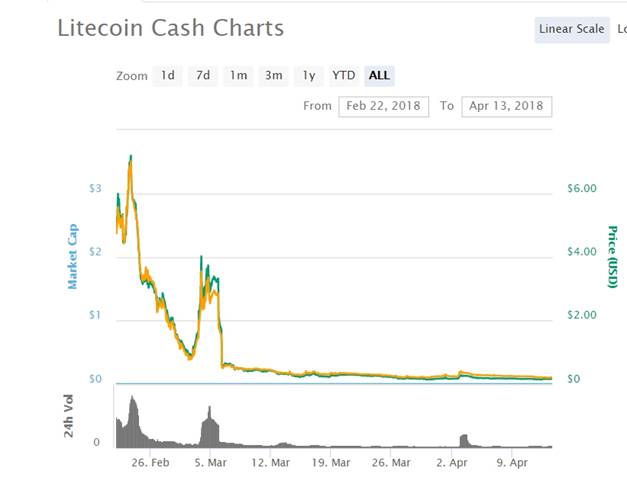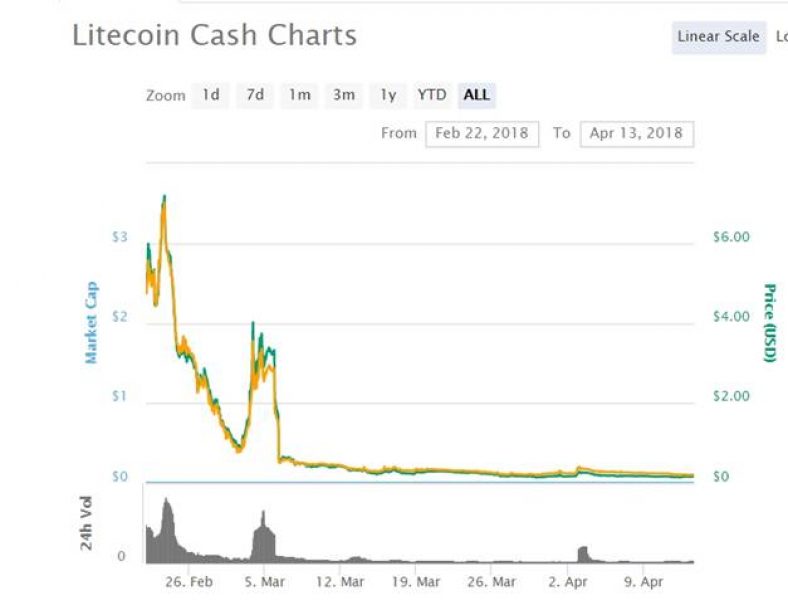 It's price reached an ATH just after the "fork" was announced, reaching over 7 USD. Since then it has rapidly declined and is currently flat lining at 0.16 USD. Right now LCC trades at $0.032 per coin and has a market cap of just over $19 million.
The future of Litecoin Cash
Litecoin Cash can be called many things: Bitcoin fork, Litecoin fork, a project of its own; any of those terms will be correct. While its developers didn't really promise much except "hey here is a coin you can mine with your old hardware" there is a sense of disappointment around the project and the price of its token.
There are a couple of reasons that put the project in its current position. LCC and the LCC Foundation aren't related to the Litecoin team and have been directly called as a scam by the latter, which definitely affected the price. All the scam noise wasn't helped by the LCC Foundation asking users to provide their private keys to verify their eligibility for the initial token distribution. While this was later found to be a miscommunication that was solved it still left a bad taste in many potential buyers' wallets. The project's github page hasn't had significant code updates for quite some time now, and while some people don't like developers who crank out code on a daily basis, some more updates would definitely help. Its massive supply of 840 million tokens will definitely keep its price below the LTC price forever.
Ultimately, a token is worth as much as people are in need for it. Currently, there isn't much use for Litecoin Cash. There are too few markets, wallets and applications for it to thrive in any way. While a neat milestone moment was recently reached when a pizza was bought solely by using Litecoin Cash, it is a token that looks very much not ready to become an important currency on the market.
https://twitter.com/litecoinfork?lang=en
https://coinmarketcap.com/currencies/litecoin-cash/

CaptainAltcoin's writers and guest post authors may or may not have a vested interest in any of the mentioned projects and businesses. None of the content on CaptainAltcoin is investment advice nor is it a replacement for advice from a certified financial planner. The views expressed in this article are those of the author and do not necessarily reflect the official policy or position of CaptainAltcoin.com