Lisk hasn't been performing all that well as of late. The monthly highs for July were reached way back during the 3rd, when one LSK went for $6 USD/90323 satoshi. Ever since it has been a slow glide into the red for the currency, which resulted in it reaching the monthly lows of $4,57 USD/59465 satoshi on July 31st. August seems determined not to bring any improvements to this trend, as the coin is recording new monthly lows with each passing day. Currently one LISK is worth $3.30 USD (a 2.48% rise in the last 24 hours)/0,00052469 BTC (0.08% drop in the same time frame). Daily trade volume isn't showing any significant signs of movement as it sits just below 800 BTC at the time of writing. With a market cap of $359,685,052 USD, Lisk is currently holding the spot of the 24th most valuable cryptocurrency in the world.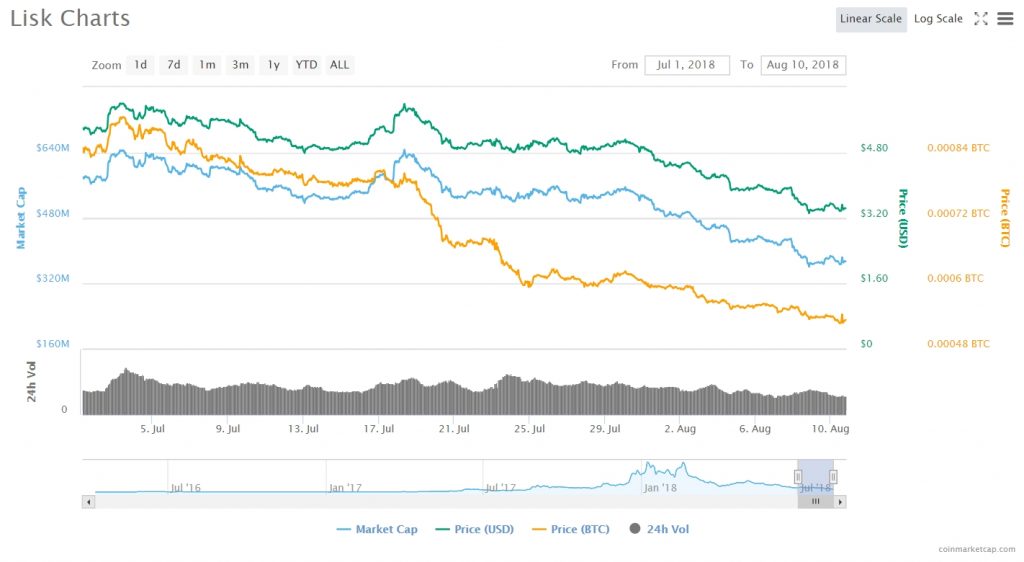 Today we turned to WBM_Team for the technical analysis of Lisk, and they have some interesting thoughts about the coin. They open with a warning:
"The price of Lisk has achieved the rectangle zone which has been strong resistance since over a year time. Can we go even lower? OF course it is possible as in general market is unstable." The post continues:
"On the first chart with weekly interval we can see clearly resistance zone. We can also see on Weis Volume indicator there is no volume. We have to wait till the interest shows up. Looking on MACD we can see there are no signs of trend reversal although it may happen suddenly." The Ichimoku cloud readings are also negative (we are under TenkanSen and TenkanSen is below KijunSen), indicating a clear bear market setup. Check out their complete analysis here.
In Development updates, Lisk recently released a blog post titled "THE STATE OF LISK REPORT – EP. 13″, where a team member called E1337 updated the general public with the recent news regarding the project. The main subject of the post was the confirmation of a second release candidate, which allowed the Lisk Core 1.0 to make the switch from Alphanet to Testnet stage. The migration happened at the block 5932033 and was supported by the lisk-bridge script, which allowed the process to be completely automated.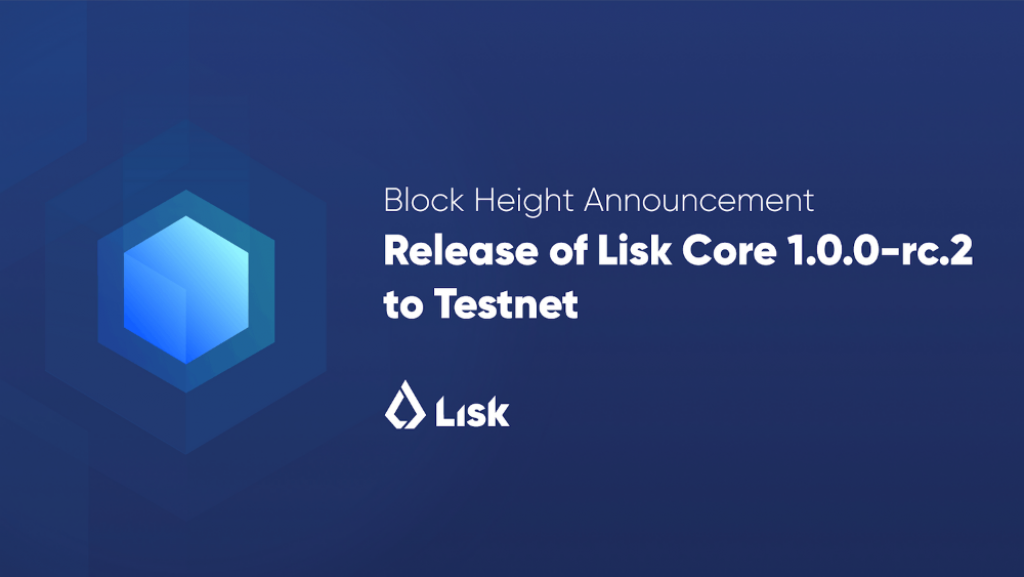 Several other developments and updates were applied to the software to ensure it will be the best release candidate to date. During the intensive testing of the second release candidate the team found several issues which needed fixing. These issues, namely #2199 , #2249  and #2269, were noticed and patched with relative ease.
---
Read our review of Gatehub – crypto exchange and wallet.
---
The testnet migration officially happened on August 9th and immediately the team noticed a couple of new issues. 1.0.0-rc.2 had issue #2280, issue #2283 and issue #2246, which were all dealt with according to their latest update. This testnet marks the team's final software testing phase before the project officially moves to the Mainnet stage and becomes commercially applicable.
Just a couple of days before, the team announced the release of Lisk Elements v1.0.0. This will function as the projects general-purpose JavaScript library and will replace LiskJS as the main resource for JavaScript developers. Lisk team decided to redesign the architecture of their library and create a new one from scratch, in a way that will suit the Lisk 1.0 software. Lisk Elements are split into several interconnected components that you can download/use individually. Lisk Hub and Lisk Commander are already compatible with the Elements and the upcoming products will do so as well.
The Community updates were aplenty as well. A survey designed to measure out the Lisk community, their intentions and some general stuff about them, was recently released. Among other things, the following happened since we last visited the project:
Pascal Schmid becoming their new board member
new hires at LightCurve
getting added to Blockfolio Signal
finance department laid the groundwork for financial operations to support future projects
MADANA, a future Lisk side chain project, opened up their whitelistingprocess for its pre-sale
new Elite Centerfor Lisk community members in China was founded
Marketing updates included a partnership with Netguru, a digital agency specializing in UI and UX development. They also announced that Lisk got 152 media mentions and 6 media placements and did multiple interviews in the month of July.
---
Beware of pump and dump schemes that are very popular in crypto space.
---
As of now, the team is focused several things, including the fixing of 1.0.0 issue #2245 and releasing of the Lisk Core 1.1.0 update. These will be just smaller updates before the launch of 1.2.0 version that intents to solve several important issues which you can read about in the team's latest blog post. If the Testnet remains stable over the weekend and no new issues are detected, the team should be making an announcement regarding the Mainnet migration height next week.
---
Join Our Telegram Channel
or follow us on Twitter
---
CaptainAltcoin's writers and guest post authors may or may not have a vested interest in any of the mentioned projects and businesses. None of the content on CaptainAltcoin is investment advice nor is it a replacement for advice from a certified financial planner.