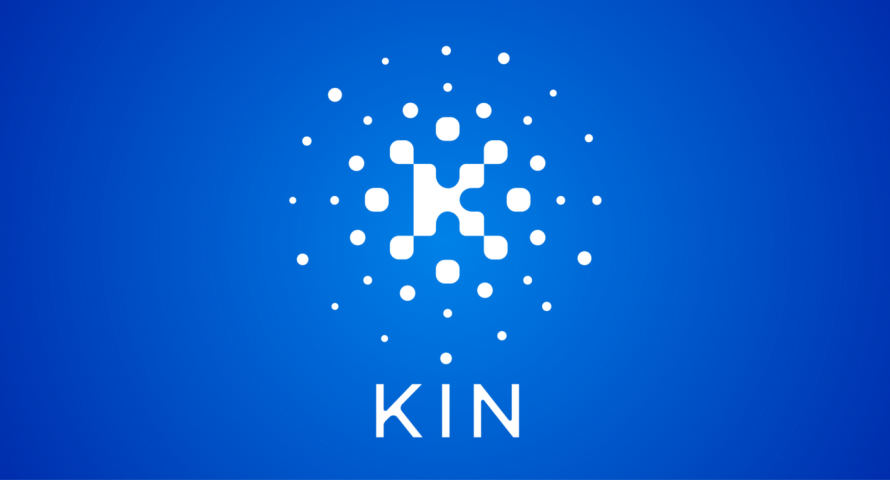 Kin is almost completely deflated when it comes to its price. Opening the month of August at $0.000177/2 satoshi the currency peaked at $0.000188/3 satoshi on the 4th. From there onwards Kin basically bled out towards its current daily levels.
Kin was priced at $0.000074 USD (9.90% jump in the last 24 hours)/1 satoshi (15.49% jump in the last 24 hours). Daily trade volume is sitting at 169 BTC. With a market cap of $55,242,919, Kin is currently the 98th most valuable cryptocurrency on the market.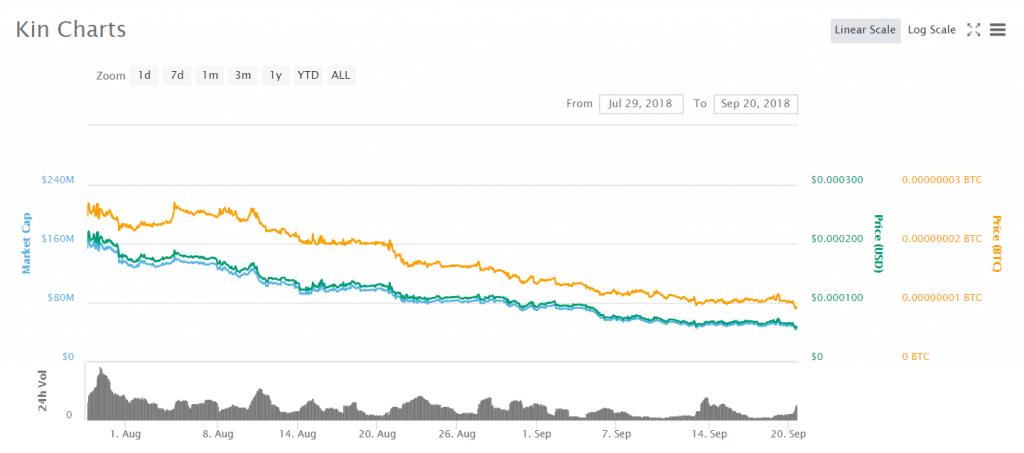 Kin Foundation recently completed a partnership with Perfect365, an augmented reality beauty app with more than 100 million users. Through the integration, Perfect365 becomes a major AR beauty platform to introduce native ways of performing transactions with cryptocurrency. The partnership will let "beauty enthusiasts" earn Kin by answering survey questions and then spend it across the growing Kin Ecosystem of apps. Additionally, Perfect 365 users will also have an option of earning Kin by creating and sharing makeup looks; this option will be added in the coming months. Perfect365 also aims to increase female presence in the world of cryptocurrency:
"Although the number of women involved in cryptocurrency is on the rise, there has yet to be a platform to bring cryptocurrency to women on a massive scale. With an audience made up of 92 percent women, Perfect365 will be the first AR beauty app to bring cryptocurrency to a primarily female audience, which was previously overlooked in this emerging economy."
Dany Fishel, the president of Kin Foundation, had this to say about the partnership:
"The Kin Ecosystem continues expanding across exciting categories of consumer apps, and integrating Kin into Perfect365 allows us to introduce cryptocurrency to an untapped demographic. We look forward to uncovering more unique and meaningful use cases for Kin as we work toward achieving our goal of becoming the most used cryptocurrency in the world."
Users in Australia, Canada, India, U.K, and U.S. will soon be able to take full advantage of the app's newly introduced cryptocurrency features.
---
?You might have come across some pump and dump groups on Telegram, Discord or other apps. Read here what is pump and dump and how it works (be very careful, it is a scam)!
---
The project also gave an update on the Kin Developer program and other potential use cases for the cryptocurrency. After talking about how Kin can benefit apps in the gaming category, the team released a Medium post titled "Kin Developer Program: Use Cases for Crypto in Health and Fitness" which described the next batch of Kin integrations. The post goes in detail about the ways Kin can be used as a reward mechanism to stimulate a healthier lifestyle and mentions how developers who have already signed up for the Kin Developer Program plan to integrate Kin to improve their health and fitness apps:
club, a social platform that wants to incentivize people to achieve their goals through competition and accountability, will have its users compete with other users who are working toward the same goal. The person who completes the goal the fastest will earn Kin. Kin will also be earned for completing surveys, polls, and quizzes.
Kinetik is an incentive-based mechanism designed to help users achieve their fitness goals. People will be able to earn Kin for reaching certain fitness milestones, as measured by integration with the FitBit achievement tracking platform. Users will be able to spend Kin to motivate other users to become active. They will be able to motivate others through fitness challenges, or through regular fitness programs that may be sponsored by fitness-oriented businesses.
Pause For, an app that rewards students for staying off their phones while they focus on studying, will also use Kin as the basis of its reward mechanism. Users will earn currency by completing their focus missions or staying off their phone for a certain amount of time.
Remood is the first virtual reality (VR) mind machine app that uses scientific brainwave research and color and tone psychology to help users relax. Users will be awarded Kin for completing a certain number of relaxation, revival, or revitalization sessions in the app.
Step & Spend is a new app that will use Kin to incentivize users to improve their health. Users will be able to earn Kin for completing actions, like walking a specified distance, referring friends, or attending National Walking Day events.
Steps is an app similar to the one above, focused on rewarding users who complete their daily walking goals.
Visit is an app that helps users set up small and achievable health goals, nudging them to improve their daily lifestyle and bringing about a behavioral change. Users are awarded for completing goals like walking 10,000 steps a day, having healthier meals or participating in fitness activities.
The ecosystem seems to be growing and with the latest release of the JavaScript SDK for the Kin platform, we should expect to see more projects swooping in to integrate the currency. Another important addition to it will be its newly appointed Chief Marketing Officer, former Twitch executive Matthew DiPietro. After serving eight years as senior vice president at the popular live streaming platform Twitch, DiPietro will now be responsible for developing marketing and brand strategies for Kin.
Overall, the project's adoption seems to be growing on paper but its questionable how many of these raw user numbers that are being thrown around with each new partnership are actual active users who will consider switching their fiat into crypto for an app. There has also been recent controversy regarding the project's circulating supply and the upcoming September 26th pre-sale token unlocking which will release additional 244 billion tokens onto the already existing supply (1.2 trillion held by Kin Foundation, 1.2 trillion held by Kik, 756 billion currently in circulation). With Kinit app experiencing issues and an apparent whale wallet #4 apparently doing some shady business on the market, Kin doesn't seem like a good investment even with its currently low price.

CaptainAltcoin's writers and guest post authors may or may not have a vested interest in any of the mentioned projects and businesses. None of the content on CaptainAltcoin is investment advice nor is it a replacement for advice from a certified financial planner. The views expressed in this article are those of the author and do not necessarily reflect the official policy or position of CaptainAltcoin.com