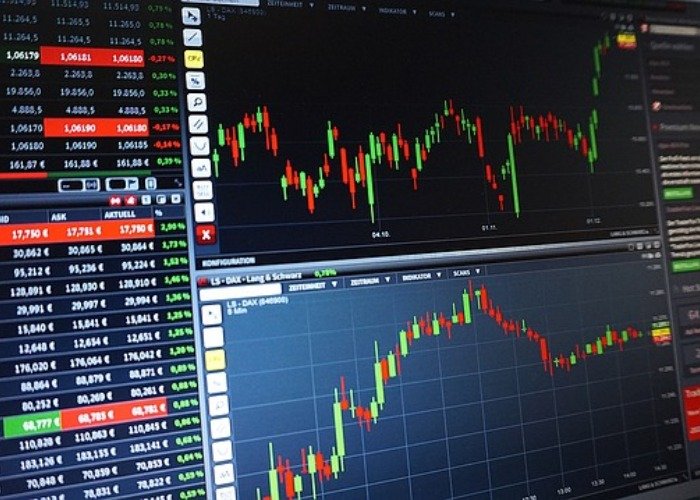 With June nearing closer to its end, a small retrospective of events which transpired throughout the month isn't out of order. With summer coming up many hope that the sun will shine on more than just our surroundings, leading to a warmer Q3 for the crypto market and our portfolios as well.
The month began explosively, with Tron and EOS launching their mainnets in the midst of the continued bear run and a period of market uncertainty. Mostly due to this lack of any sort of market buying drive did the Tron mainnet remain a non-factor for the price of the TRX token. The project had some good updates along the way and would have probably seen some nice gains if we were in a bull market.
EOS on the other hand had a bit of a rocky launch, to say the least. Mainnet delay, voting issues, decentralization issues, constitution issues, scammers, frozen accounts were just some of the negative topics that were connected to the project upon its mainnet going live. For now the project is weathering the storm, mostly thanks to a strong community and the fact that there are 4 billion USD invested in it, but one wonders how many more blunders will the market allow EOS to get away with.
---
Top xrp wallets are mentioned in this article.
---
All other projects had some lesser updates that were mostly technical milestones or partnerships that would have normally been bullish signs, except, once again, not in this market. Probably the most interesting things to note were the talk of Ethereum futures and SEC almost-confirmation that Bitcoin and Ethereum aren't securities, McAfee declaring a holy war on the SEC and a Bitcoin Cash supporter stealing an armored vehicle and driving it through downtown Washington.
A couple of exchange hacks hit the news feeds as well, with one probably being responsible for Bitcoin price dropping almost 1000 USD in less than a day. Coinrail and Bithumb, two South Korean exchanges, were both attacked and had funds stolen from their wallets, leading to an increased sense of insecurity in an already insecure market. While the hacks alone weren't the only responsible factors in BTC dropping, they sure didn't help either.
BTC itself experienced a continuation of the bear trend that has been slowly trotting along since late December of 2017. Entering the month at around 7500 USD, it will seemingly close it just above 6000, resulting in a drop of almost 1500 USD in June alone.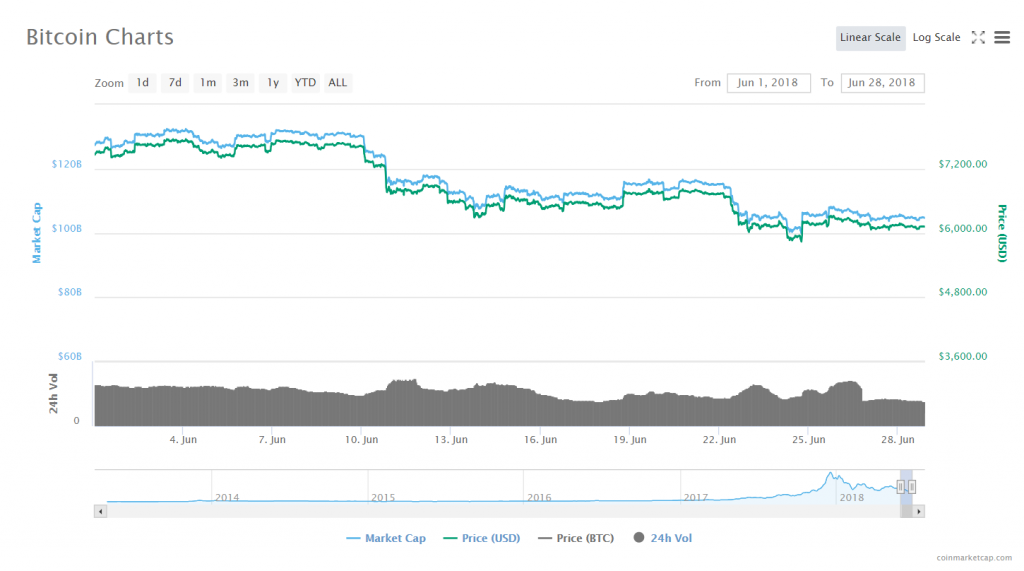 Experts feel that this bear run is nearing its natural exhaustion. Selling power is almost drained and bullish signs could start spiking the market upwards. The most recent event that caused an upswing in BTC/USD price was Tether announcing that 250 million USD worth of new Tether tokens has been backed and printed. This announcement immediately led BTC into green and kept it there for almost a whole day.
All in all the month was relatively bad, bringing us more of the same. Not much has happened as the market pretty much bled profusely with a few insignificant bounces upwards. However, a couple of events which transpired near the end of the month have indicated a swing in fortunes might be near and have left us with a slight, slight hope for the future. For now, we can only wait and see what the Q3 has in store for us.

CaptainAltcoin's writers and guest post authors may or may not have a vested interest in any of the mentioned projects and businesses. None of the content on CaptainAltcoin is investment advice nor is it a replacement for advice from a certified financial planner. The views expressed in this article are those of the author and do not necessarily reflect the official policy or position of CaptainAltcoin.com