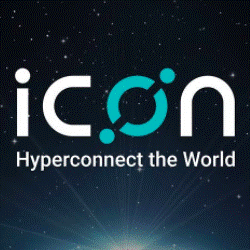 If there is a currency out there that looks primed for a breakout, it's ICON. After it fell off a cliff on September 5th and a price of $0.9899 towards monthly lows of $0.5616 on the 12th, ICX slightly recovered and mainly hovered around $0.65 throughout the rest of the month. One of those currencies with constantly high daily trade volumes, ICX peaked on September 6th with a volume of $46,949,430. Once again reaching $39 million on 22nd, ICON's daily exchange levels remained closely above/below $20 million in recent days.

ICX can be purchased for $0.672476 (-1.31% drop in the last 24 hours)/0.00010372 BTC (-0.53% drop in the last 24 hours). The mentioned price is 94.61% below the currency's all-time high of $12.43. Daily trade volume is currently at $18,541,679/2,860 BTC, with ICX mostly exchanging wallets on Binance (79%). With a market cap of $260,538,170, ICON is currently the 37th most valuable project on the market.
WBM_Team from TradingView thinks there is a chance that ICX could record 4100% gains in the upcoming period:
"Very low at Fibonacci scale
The lowest level ever was around 850 satoshis so we can lose from the current level 200 satoshis. On the other hand, ATH was at a level nearly at 9200 satoshis. Hypothetically, we can win 8200 sat and lose only 200 sats which makes the following equation 8200/200 * 100% =
4100%. WOW. This is the best profit/loss ratio we have ever made.
On the second chart you can see stable growth – slowly but surely – support defended 5 times
MACD– positive trend – higher lows since a couple of months and bull's cross over 0 level
Weis Waves – supply has evaporated and finally, demand has shown up 
Ichimoku Cloud– far over TenkanSen & over the cloud & TenkanSen (red) crosses KijunSen(blue) 
We noticed on Googletrends that "icon coin" recorded significant growth in the UK. Take a look at the link: https://trends.google.pl/trends/explore?date=today%201-m&geo=GB&q=icon%20coin"
Check out their analysis here to take a closer look at their graph and find out what their targets are.
ICON recently released a 3.0 version of its mainnet, one that established the infrastructure for deploying SCORE (Smart Contract on Reliable Environment). SCORE is basically an environment that will be the foundation for creating dApps on the ICON blockchain. Along with the MainNet update, the team released a "TestNet" that will allow developers to test out their apps before releasing them to the public. The team also plans to release something they call "DevNet":
"Additionally, the ICON team will open DevNet, which supports local development environment for testing via the AWS Marketplace. Once ICON's blockchain nodes are registered in the AWS Marketplace, developers will be able to develop and test ICON Service and DApps on their own private networks via the AWS cloud."
The project also released a Yellow Paper which features a detailed description of the SCORE operation policy and explains the changes that were made in ICON's fee structure. As a new fee structure was deployed, ICONex and ICON Tracker saw updates in several functions including adding tokens, viewing smart contracts as well as recording and verifying data on blockchain.
---
What are best cryptocurrency trading bots?
---
In other updates, the project recruited Director YJ Chung for a Business Management Officer role and Woong Kim for a Product Management Officer role. Chung will join ICONLOOP team as a Business Management Officer, having previously worked at Kakao, Naver, and Samsung Electronics. Kim will take the title of Product Management Officer at ICONLOOP, and also comes with rich experience from SK Planet, Naver, and SK Telecom.
ICON was selected to run an official program for the Digital Strategy MBA course at aSSIST, (a Seoul School of Integrated Sciences & Technologies).  The program will be an educational one, offering the students a chance to attend a course called "The Dapp planning and development practice using ICON". The program will teach its attendees about ICON platform operations and general blockchain terms and applications.
The project also generously extended its token swap program for another month. The swap has been going on for three months already but only 83.9% of tokens have been swapped by ICX token holders. In order to minimize harm caused by users potentially forgetting to swap their tokens, the swap period has been extended to October 25th.
ICON is moving on confidently with its development. They sum their work and fortunes up the best:
"The ICON team has continued to expand the ICON ecosystem since our MainNet launch in January. We have launched Deblock and ICX Station, signed several MOUs with strategic partners, opened a Developers Portal, and have been releasing portions of our Yellow Paper. With the MainNet update, we are one step closer to achieving mass-adoption of blockchain and realizing our vision to 'Hyperconnect the World'."

CaptainAltcoin's writers and guest post authors may or may not have a vested interest in any of the mentioned projects and businesses. None of the content on CaptainAltcoin is investment advice nor is it a replacement for advice from a certified financial planner. The views expressed in this article are those of the author and do not necessarily reflect the official policy or position of CaptainAltcoin.com