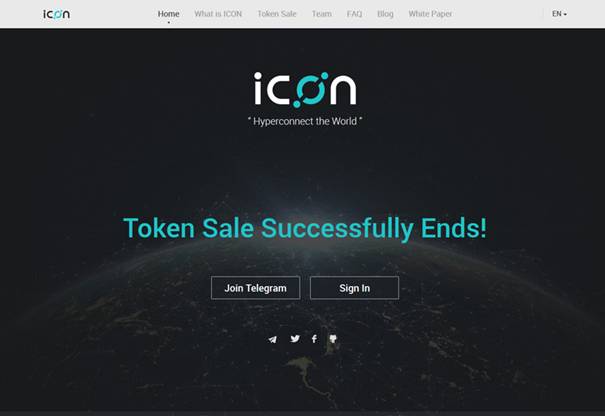 What is ICON? Well according to its website, ICON aims to "hyperconnect the world". The ICON project is building one of the largest decentralized networks in the world.
The vision of the ICON Project is to introduce the new era of decentralization by redefining the meaning of communities and creating a new world by connecting such communities.
The ICON Project aims to build a decentralized network that allows independent blockchains with different governances to transact with one another without intermediaries. Anyone can create a new blockchain project and join the network. A new blockchain project is free to connect with existing projects and create new unique worlds, or blockchain multiverse. ICON itself can be viewed as both a living organism and an ecosystem.
ICON already boasts communities comprised of reputable institutions – banks, securities, insurance, hospitals, universities, and more. A future with faster money remittance and frictionless value exchange of securities, medical records, academic data, insurance fees is within our reach.
They claim: "With ICON, we now enter into a world of true hyperconnectivity".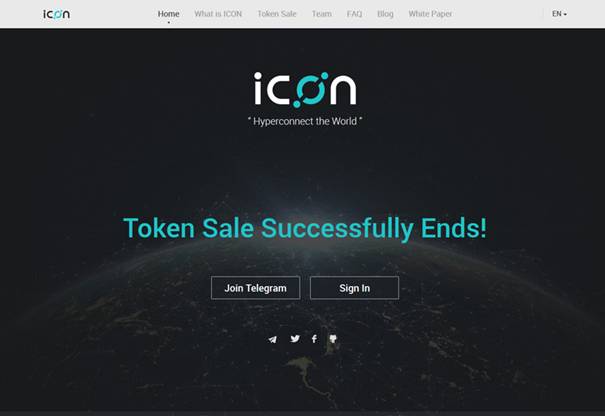 Team Behind ICON
There are multiple organizations connected with ICON, such as ICON Foundation, a non profit organization in Switzerland. Support from the Foundation comes in many ways, including the ICON Token Sale.
ICON has established itself as the dominant market leader in Korea via theloop, a Korea-based for profit. Theloop is responsible for the Smart Contracts and ICON Nexus development. Distribution and the network are optimized with artificial intelligence solution called DAVinCI provided by DAYLI Intelligence.
DAVinCI LABS provides businesses with an artificial intelligence-based predictive analytics solution that spots and analyzes patterns within historical enterprise data using machine learning algorithms. The discoveries will be used to create a deployable prediction model that can be effortlessly and smoothly incorporated into virtually any strategic system. DAVinCI LABS can also be utilized for a number of other functions, including credit scoring, underwriting, fraud detection, and target marketing, among other things that need reliable and highly actionable insight into the future.
ICON has been in development for two years to date. It was founded by Dayli Financial Group, a Korean Fintech company valued at $4 billion that also owns the popular Korean exchange Coinone.
ICON team consist of eight advisors; six members of the foundation council; 13 people in the blockchain department; five in the AI department; and an additional five team members for marketing, design and security.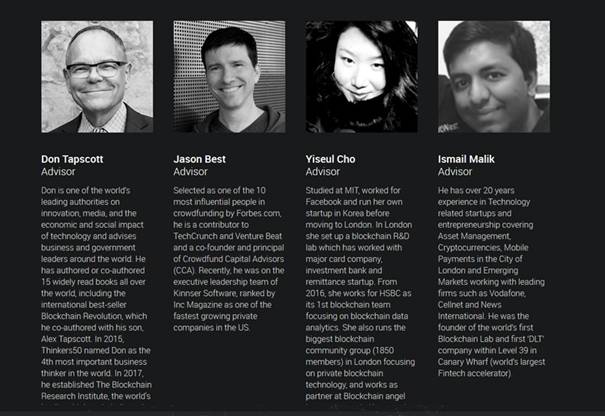 Use Cases
Launched in 2015, Ethereum was the first project to introduce the concept of 'Smart Contract' in the blockchain world, opening the unforeseen possibilities of Decentralized applications(DAPPs). One of the decentralized apps that is a part of ICON Network is Blockchain ID, supporting new levels of protection and identification. Blockchain ID is issued through Smart Contract and can be used for verification in all communities. You can use it to verify your identity for broad spectreum of things, such as getting a student discount or openning a bank account.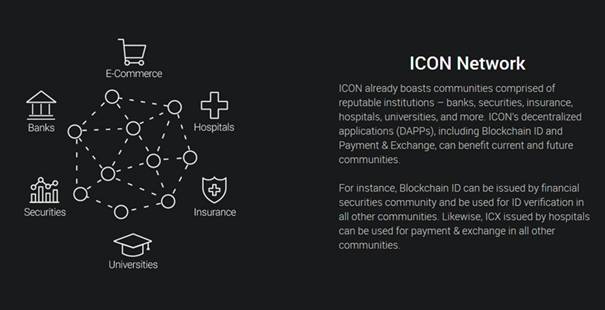 Additionaly, there is a DApp Payment & Exchange, which allows cooperation between communities or a company in one industry can transfer funds to a company in another community. ICON Wallet can transfer, settle, and exchange currencies in real time through DEX (Decentralized Exchange). It can be used in our everyday lives with our community network – banks, securities, insurance, universities, and much more.
Advantages of ICON
ICON brings blockchain technology into our everyday lives. The team behind ICON has been building real-world applications for real communities. In addition, ICON will benefit from 'DAVinCI,' artificial intelligence solution trusted by some of the largest financial institutions in the world. ICON is fully compatible with traditional blockchains, such as Bitcoin and Ethereum, and also with all other third party blockchain networks connected to the real world. ICON blends the crypto-world and the real world to open and inspire new business possibilities and connectivity.
The target of the ICON network is to have a broad spectrum of usability, providing the option to use blockchain technology in daily lives. During the development process, the team behind ICON was focused on making a real world applications that could be used by real industries and businesses. ICON will utilize DAVinCI, the artificial intelligence solution that major financial institutions already have confidence.
ICON envisions a decentralized world consisting of free communities. ICON is a decentralized network where communities with different governance structures can connect and interact. ICON allows anyone to join the ICON Network by creating a new DAPP with independent governance.
Becoming a Node
Creating your own DAapp you are becoming a node on ICON Republic. ICON Republic is the connector of different communities. It is comprised of representatives called C-Rep, and other Citizen Nodes. ICON Republic's governance is determined by C-Rep votes, and hence, decentralized. ICON Republic functions as a communication channel between communities, and does not affect the governance of the communities.
Governance of ICON Republic is determined by the consensus process of C-Reps, with the scope of governance limited to ICON Republic. ICON Republic does not affect the governance of other communities, but involves in the issuance and rewards policies of ICON Exchange Token ("ICX").
Being a node entitles you to receive rewards based on the ICON activation performance. A fair distribution of rewards is secured by an artificial intelligence system, which secures optimized distribution keeping total decentralization.
All You Need to Know About the Token Sale
In September 2017, the token sale for ICON's ICX tokens was closed. The expected goal was 150,000 ETH. Ethereum was the only digital currency accepted during the sale. The exchange rate of token was 2,500 ICX for one ETH with total supply of 400,230,000 ICX. Allocation of the ICX Tokens are as follows: Tokens available for sale 50%, foundation got 14%, community group and strategy partners received 10%, team, advisors and early contributors got 10%, and 16% went to Reserve.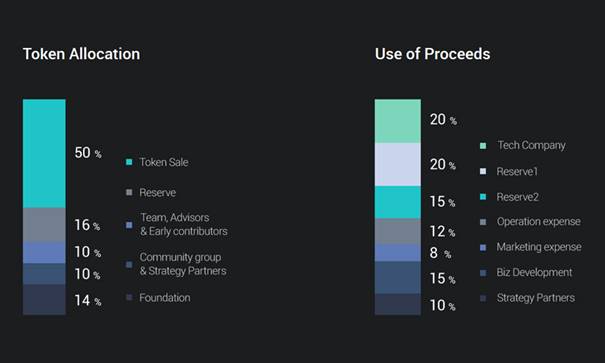 The income from the token sale was divided straight forward. 20% of the income was given to the tech company for development expense for blockchain engine, DAPPs, artificial intelligence, etc. Additional 20% went to reserve 1 and 15% went to reserve 2. Reserve is divided into Reserve1 (ETH Reserve) and Reserve2 (Other Reserve) Reserve1 is required for DEX with Ethereum based networks, and Reserve2 is required for DEX with other non-Ethereum based networks.Second reserve received 15%. Foundation and marketing expenses took 12% and 8% of the income which covers operating expenses, marketing fees, legal and account fees associated with the ICON Foundation. Business development fees took 15% for fees associated with the global expansion of the ICON Foundation, including offices and business development related expenses. And finally 10% for strategy partner for costs associated with ICX expansion, which are provided to the Global Business Partner.
After the MAIN NET Launch is completed, you are able to trade ICX without exchanges.
Buying ICON ICX
It is not possible to buy ICON tokens ICX with traditional fiat currencies such as USD, EUR or GBP. To buy ICX you will first need to buy another digital currency such as Bitcoin or Ethereum. Most convinient way is to buy it via Coinbase using bank wire transfer or debit or credit card and then purchase ICX at an exchange like Binance.
Register your account at Coinbase
If you are a beginner in the digital currency world, it is recommended that you make your first buy via Coinbase platform. Coinbase is a user friendly online platform and under full regulation by the US Goverment making it one of the most favorable and safest platforms to buy cryptocurrency. Coinbase is the world's most popular way to buy and sell Bitcoin, Ethereum, and Litecoin. You can make your purchase by a bank wire transfer and debit or credit card. There is a higher fee for the cards but the transfer of currency is instant.
During the registration process, you will have to perform verification as Coinbase complies with all applicable laws and regulations in each jurisdiction in which it operates. Please use this link to sign up and you will be credited with $10 in free Bitcoin when you make first purchase of $100.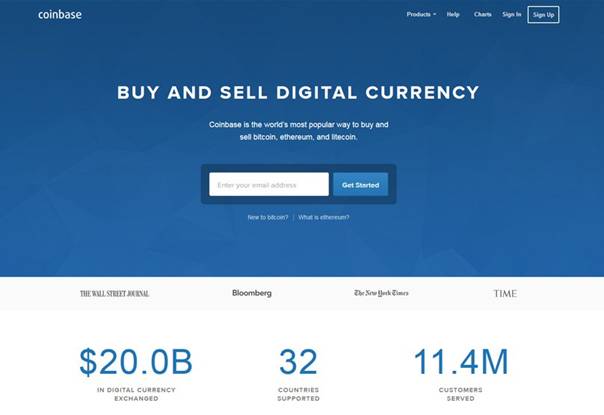 If you click on the link provided, it will take you to a registration form where you will be requested to enter your name, email and choose a password.
Buy Ethereum
For the purpose of this user's guide, we will buy Ethereum so that we can buy ICON tokens. We will use Ethereum because it has lower fees for sending compared to Bitcoin. Additionaly, Ethereum transactions happen much faster. Enter Coinbase platform and hover above the "Buy / Sell" tab and select Ethereum. Next, select your preffered payment method and enter the amount you want to buy. You can enter either fiat currency amount or a number of coins.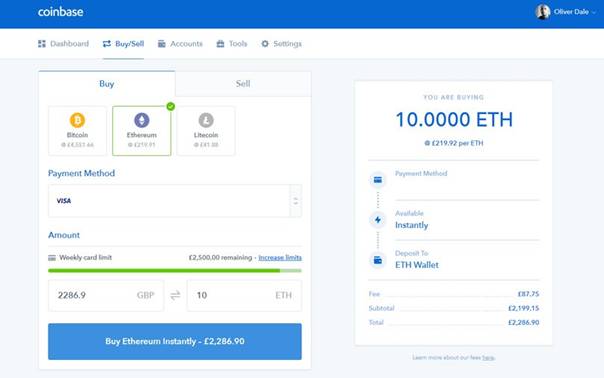 After you click "Buy" button, you will be asked to confirm your transaction. In case you are paying with your card, your card company may require additional verification to complete the transaction. After the transaction is completed, your balance will be updated with the Ethereum you bought.
Buying ICX via Binance
It is possible to transfer your Ether to Binance and buy ICX.
Open a Binance Account
As a first step, you need to open an account at Binance. Simple registration form can be found here, where you will need to provide your email address and password. The email will be sent asking you to verify your registration.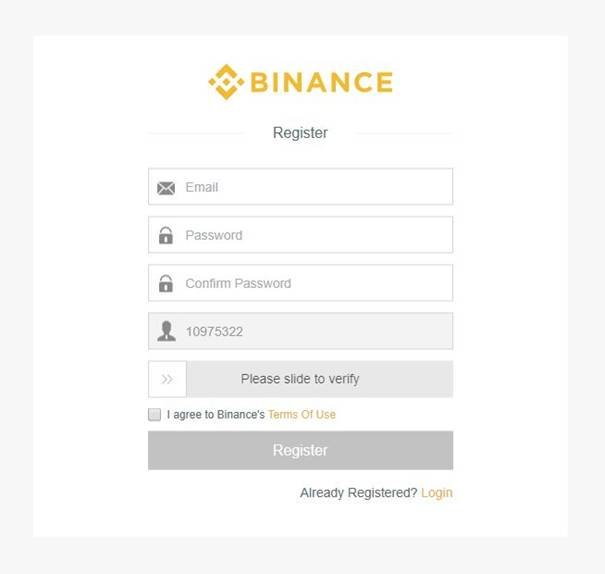 Login in to your account
In the second step, after your account has been activated, you need to login to your newly opened account. Move your mouse pointer over the Login link and click it.


Next, enter your email and password and login in to your account.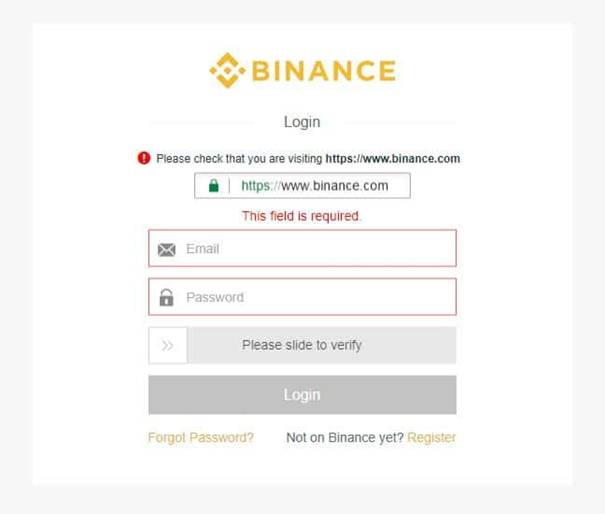 Set your Binance account
After you have logged in, the Binance account page will open. When trading on any exchange, I recommend you to enable 2-Factor Authentication (2FA) in order to improve your security of the account. Most of all, I recommend Google Authenticator app, as SMS 2FA has more than one security fails. You can find Google Authenticator on Google Play Store free to use.
At the beginning, withdrawal will be limited to 2 BTC equivalents every 24 hours. It is possible to change these limits by finishing Binance's Identity Authentication.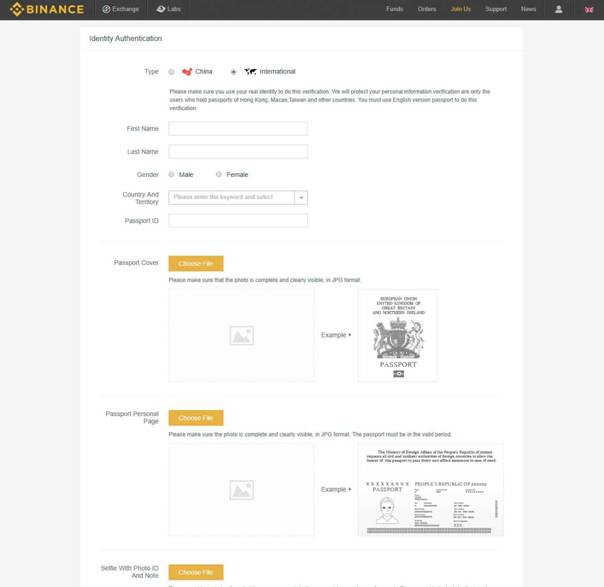 How to deposit cryprocurrency to Binance
It is possible to deposit huge number of cryptocurrencies to Binance. For the purpose of this article, I will use Ethereum for deposit.
You can deposit any cryptocurrency of your choosing, just click deposit and send the funds to the given address.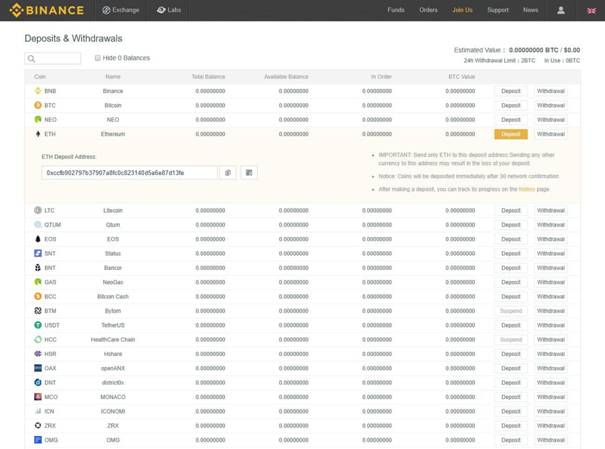 Using Ethereum to purchase ICX
Now it is time to do some trading of ICX. To trade your deposited cryptocurrency for ICX you will need to click the "Exchange". The fee charged by Binance for each trade is 0,1%. After your purchase has been completed, your available ICX balance will show the amount bought.
ICON Current Achievements
In the third quarter of 2017, the first informal meeting of ICON developers was held, where the open source for the loop chain was created. It was also announced that a partnership with major bank was reached.
In the fourth quarter of 2017, the Initial Coin Offering (ICO) was completed and listing of ICON token ICX. They opened the U-coin pilot service at three universities. Blockchain based auto-claim pilot service opened for insurance companies and Blockchain ID service opened for financial investment consortium.
In the same period, MAIN NET was launched and Decentralized Exchange Launch. Also, there was introduction of Wallet for Web, Android and iOS.
The Road Map
Business Road Map
The second Developers meet-up will happen in the first quarter of 2018. In the same time, it is expected that ICON will expand partnerships with blockchain networks. It is also planned to expand DEX reserve pool to most of major cryptocurrencies. The third Developers meet-up will be held in the third quarter of 2018. Expansion of U-coin pilot service is expected on 10 universities. Second service launch for Financial Investment Consortium will be held at the same period.
Technical Road Map
In the first quarter of 2018, the launch of the second version of the network is expected. The A.I. advisor launch and representation channel and public channel will be opened.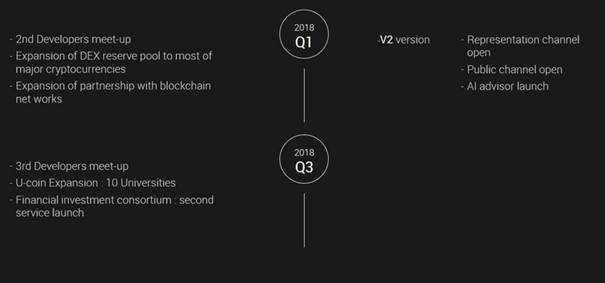 Final Thoughts
If all goes as planned, ICON could be integral to the real-world adoption of cryptocurrencies and formal integration of the blockchain into legacy businesses, enterprise, and markets. The project's whitepaper hashes out how ICON would fit into established industries, including healthcare, education, business, insurance, capital markets, and so on.  Individuals and entities could not only use ICON for data transfers and monetary transactions, but they could also use blockchain I.D. on the ICON platform for identity verification and enhanced security measures.
Due to its scalability and accessibility it makes a clear choice for those who support decentralization. We can expect that ICON will continue to grow and become useable to the more industries than it already serves.

CaptainAltcoin's writers and guest post authors may or may not have a vested interest in any of the mentioned projects and businesses. None of the content on CaptainAltcoin is investment advice nor is it a replacement for advice from a certified financial planner. The views expressed in this article are those of the author and do not necessarily reflect the official policy or position of CaptainAltcoin.com