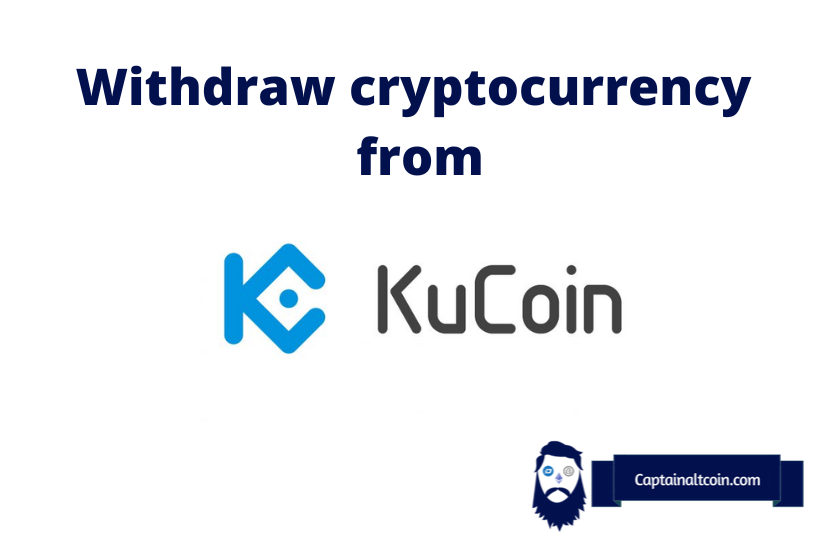 Embarking on your cryptocurrency journey with KuCoin? One crucial skill you'll need to master is understanding how to withdraw from KuCoin. This article is your comprehensive guide, shedding light on the process, from the initial steps to the final click.
We'll delve into the specifics of KuCoin withdrawal fees, ensuring you're well-versed in the costs associated with your transactions. We'll also clarify the KuCoin minimum withdrawal amount, so you can plan your trades and withdrawals effectively.
Whether you're looking to transfer your digital assets to another wallet or convert them into tangible cash, you are in the right place. This guide will detail how to withdraw money from KuCoin, making the process as seamless as possible.
So, let's dive in and unlock the potential of your KuCoin experience. With this knowledge at your fingertips, you'll be navigating the KuCoin platform like a pro in no time.
Quick summary: How to withdraw money from KuCoin?
| 📝 Step | 📚 Summary |
| --- | --- |
| 🔑 Login to KuCoin Account | Login to your KuCoin account either on the website or mobile app. Navigate to the "Assets" section and select "Withdraw". |
| 💰 Select a Token | Choose the cryptocurrency you want to withdraw. Ensure the receiving wallet supports the chosen cryptocurrency. |
| 🔒 Security Verification | Complete the security verification process which includes entering your trading password, email verification code, and Google 2FA code. |
| 📤 Complete the Withdrawal | Double-check all the details including the withdrawal address and the token type. Once everything is confirmed, click the "Submit" button to complete the withdrawal. |
| ⏱️ Withdrawal Time | Withdrawals typically take around 30 minutes. However, larger amounts may take longer due to manual processing. |
| 💸 Withdrawal Fees | KuCoin charges different withdrawal fees for different tokens. There's also a minimum withdrawal amount that varies per token. |
| 🚫 Limitations | KuCoin does not convert assets into fiat currency, so you can only send and receive cryptocurrency assets. Also, ensure that the funds are in your Main Account or Trading account when making a withdrawal. |
How do I withdraw cryptocurrencies from KuCoin to another exchange?
---
Withdrawing digital assets from the KuCoin platform and sending them to a different exchange is a straightforward operation on both the KuCoin mobile app and the web-based platform. On the app, log in to your KuCoin account, go to Assets, Main, and Withdraw, then select the cryptocurrency you want to send.
The last step is to fill out the transfer details, including the recipient address, blockchain network, and cryptocurrency amount, and click the Withdraw button. If required, follow the instructions to complete the withdrawal process (enter your 2FA details if needed).
To withdraw to the Coinbase Pro exchange, log in to your account, go to the Trading tab, select Deposit under your wallet balance, click the cryptocurrency you want to deposit, copy the receiving address, and paste it on your KuCoin withdrawal page.
Withdrawing from KuCoin using the web-based platform is similar; you first need to log in, click on the wallet icon in the upper right menu, select Withdraw, select the digital asset you want to withdraw, enter your receiving address from the other exchange, choose the network and confirm it, then click the Withdraw button.
Remember to select the right network for your cryptocurrency (BTC, ERC20, BEP20, TRC20, and so on); otherwise, you may encounter delays with your transaction or even a loss of funds.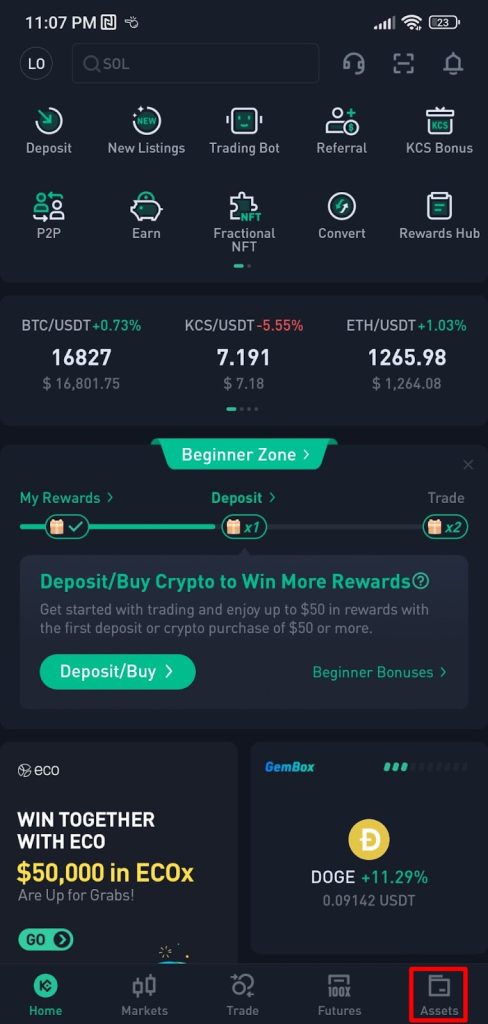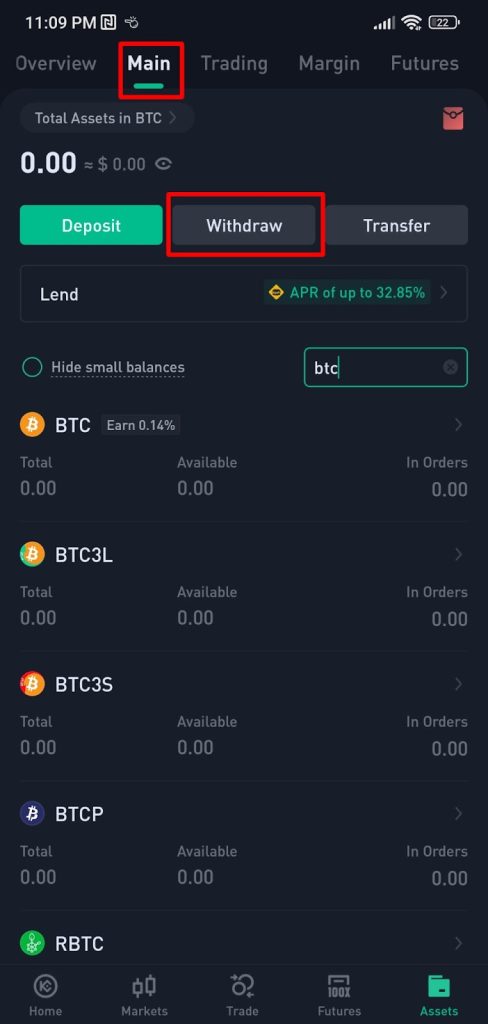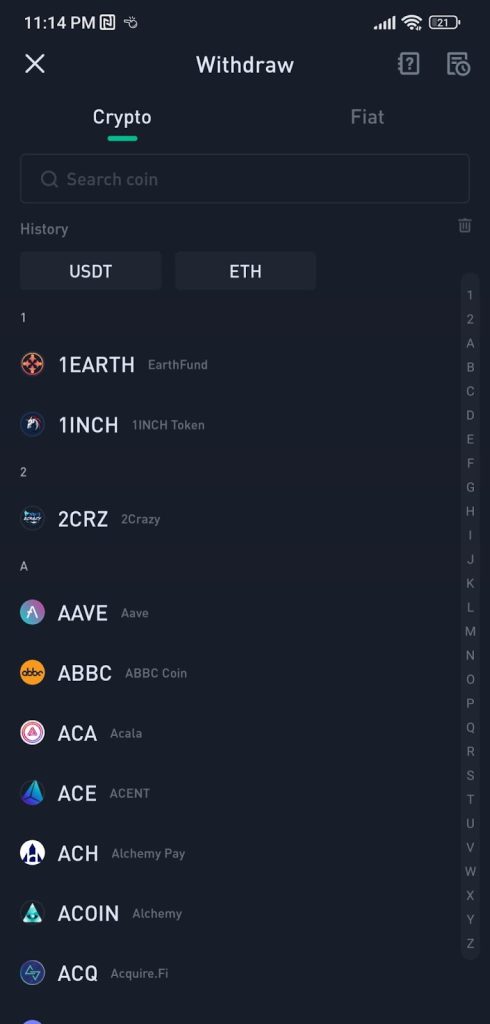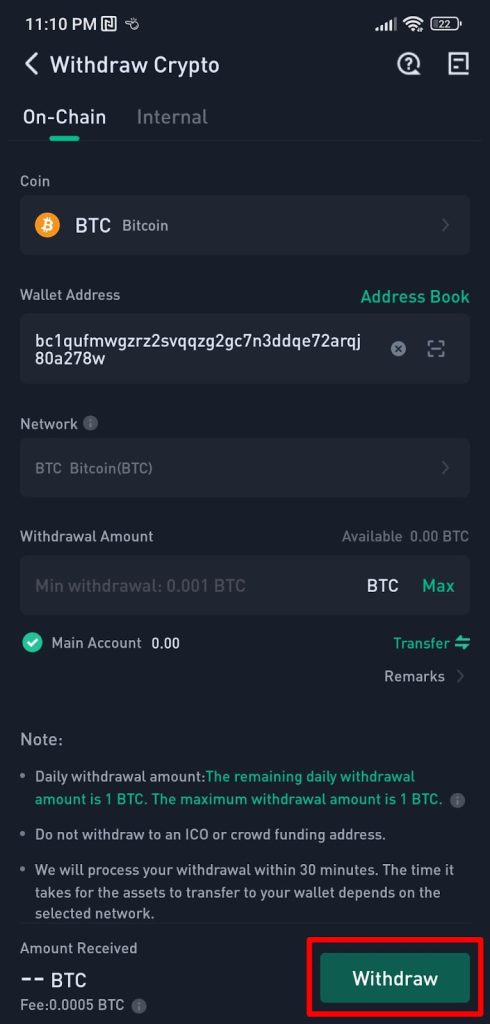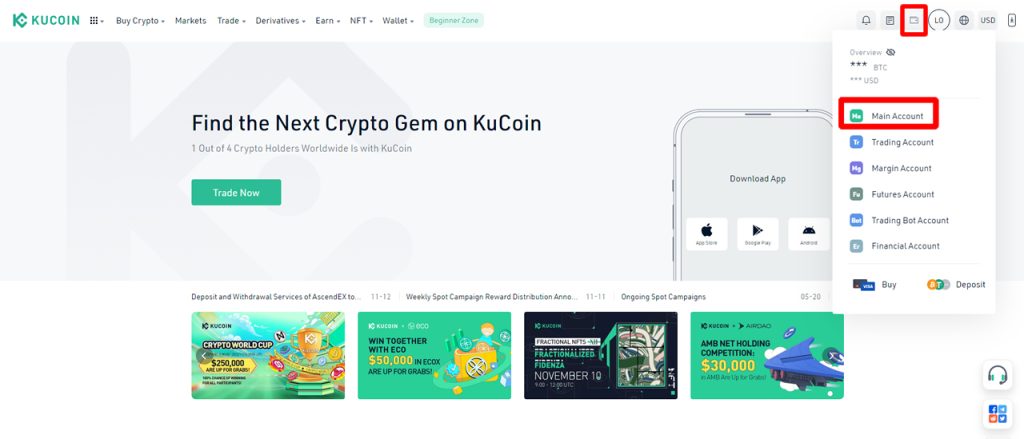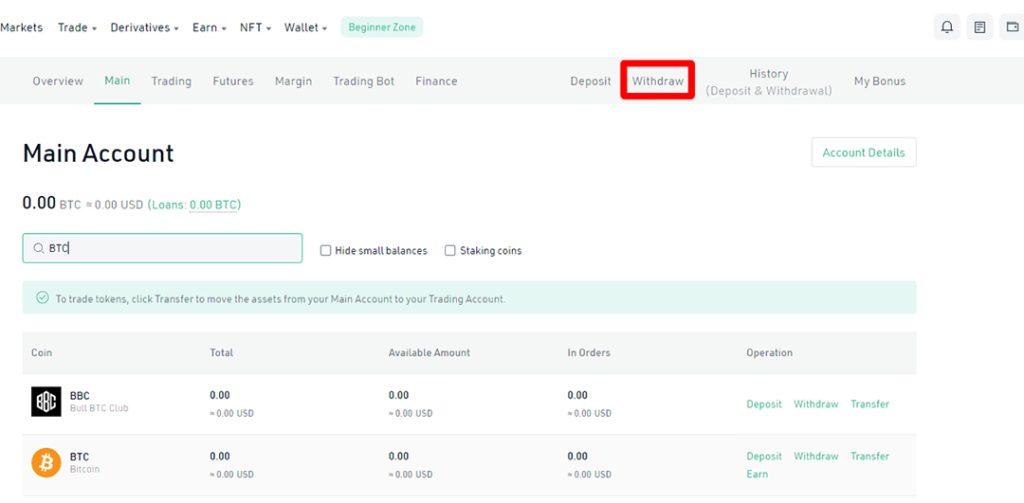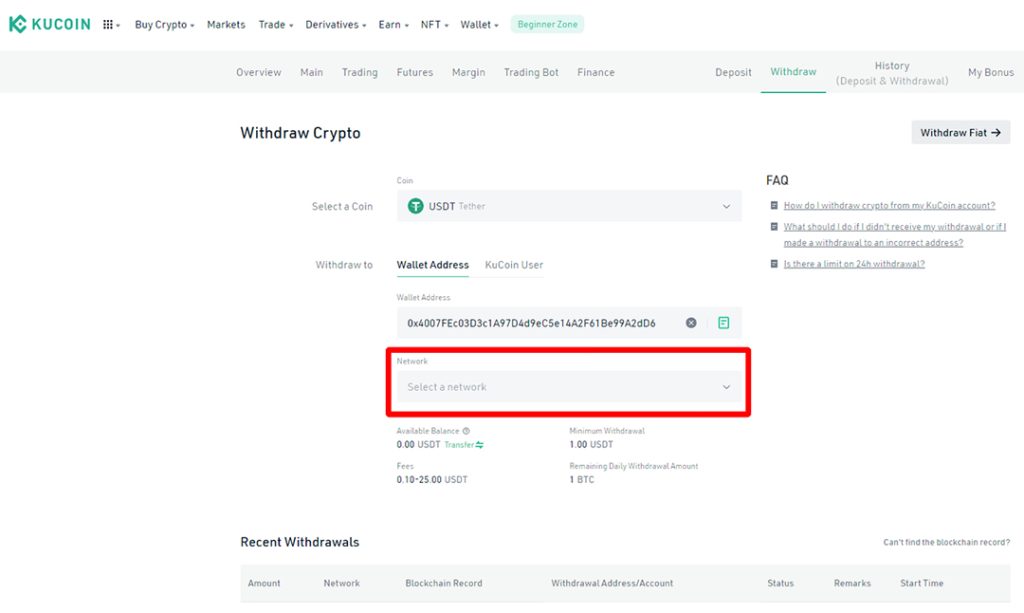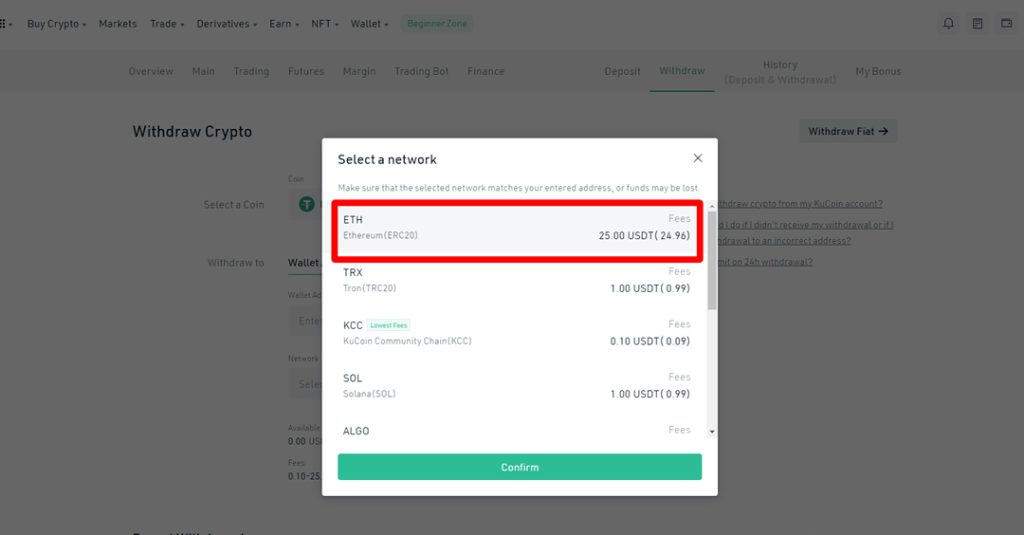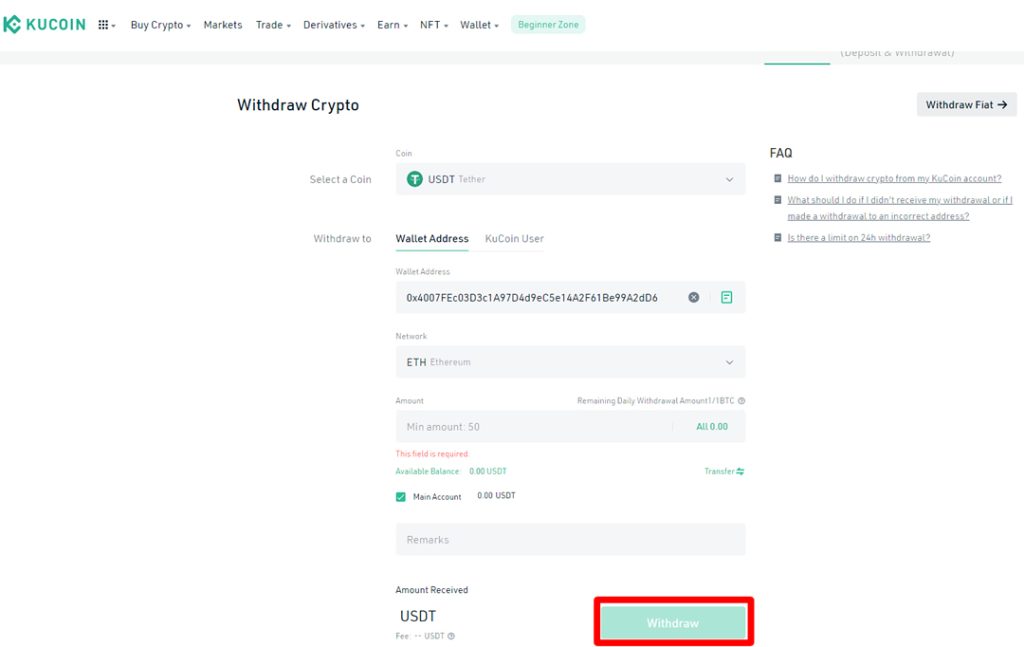 How do I withdraw cryptocurrency from KuCoin to a wallet?
---
To withdraw from KuCoin to an external wallet like Metamask or Trust Wallet, copy your receiving address from your wallet and follow the steps above to complete the withdrawal.
If you want to withdraw to a Ledger hardware device, open your Ledger Live app, go to the Transfer tab, select "Receive funds," select the cryptocurrency account, and copy the address so you can withdraw to it from KuCoin.
How do I withdraw fiat currency from KuCoin to a bank account?
---
Although KuCoin does not directly allow bank transfers for deposits or withdrawals, you can use its P2P platform to convert your cryptocurrency into cash by selling to a local buyer that accepts bank transfers. The feature uses a built-in escrow system that will protect users from losing their funds when trading.
To access the P2P module on the web-based dashboard, you first need to log in, go to the Buy Crypto tab in the upper left menu, and click on Sell. On the KuCoin app, go to the Trade tab, click on "buy," select P2P in the upper midsection of the page, then click the "sell" button, select one of the traders from the list, and fill in the details for your transfer.
A second option to withdraw fiat currency from your KuCoin account is to send cryptocurrency to an external exchange that offers that service, like Coinbase Pro or Binance.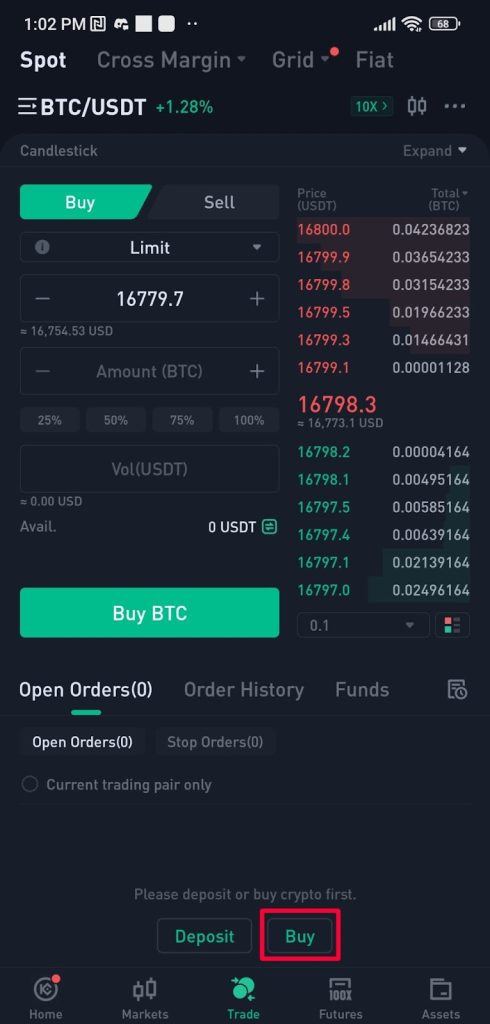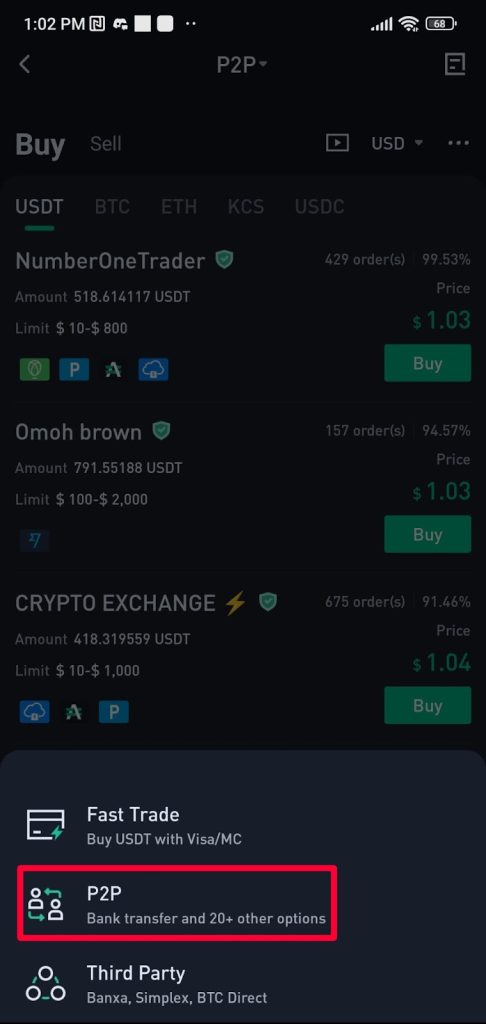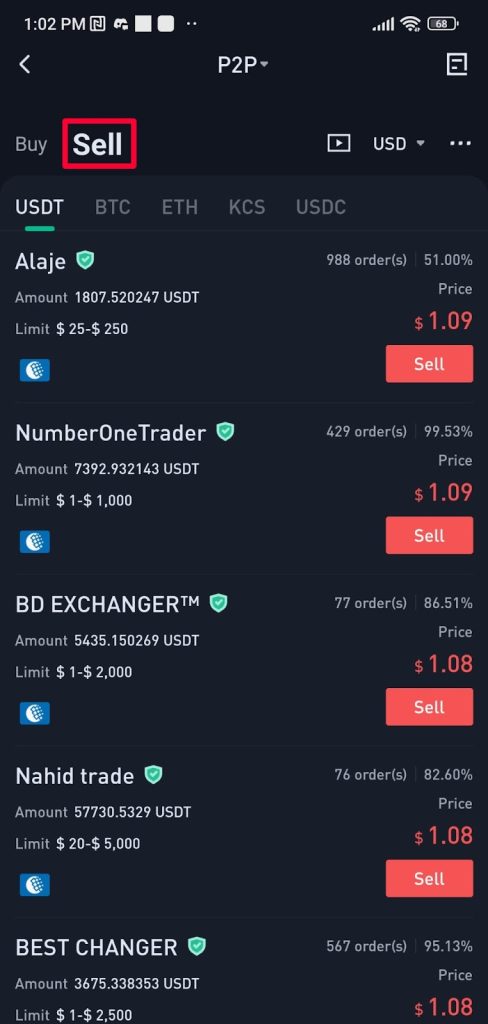 Can US citizens withdraw from KuCoin?
---
Yes. However, KuCoin does not have a licensee to operate in the USA, so the company doesn't offer KYC verification for US customers. Therefore, the withdrawal amount is limited to 1 BTC per day, which is the limit for all unverified KuCoin accounts, no matter the country.
FAQs
---
What's the minimum withdrawal amount on KuCoin❓
KuCoin's minimum withdrawal amount depends on each cryptocurrency. You can withdraw a minimum of 0.001 BTC (Bitcoin), 0.02 ETH, 0.002 LTC (Litecoin), 5 USDT (Tether), 0.01 BNB, and so on, averaging from $1 to $20 per transaction.
How long does a withdrawal take on KuCoin❓
KuCoin withdrawals generally take 30 minutes or less. Depending on the blockchain network, some transactions may take longer due to network congestion or other factors. For large amounts, withdrawals are processed manually and may take longer than 30 minutes.
How much will I pay for a withdrawal on KuCoin❓
Withdrawal fees on KuCoin are different for each of the cryptocurrencies supported by the platform, starting from $0 (for NEO), 0.0005 BTC for Bitcoin, and up to 0.01 ETH  for Ethereum. You can find KuCoin's complete list of withdrawal fees by visiting here.
Can I withdraw directly from KuCoin to my bank account❓
No. KuCoin does not allow direct withdrawals to your bank account, but they have a P2P section where you can sell assets to other users for bank transfers and other fiat-based payment methods.
How do you convert KuCoin to cash❓
You can convert cryptocurrencies on your KuCoin account into real cash by either using its P2P crypto platform to sell your assets to others or by withdrawing to an external exchange that offers crypto-to-fiat services, such as Crypto.com, Binance, or Coinbase Pro.
How do I transfer USDT from KuCoin to a bank account❓
You can sell USDT tokens for fiat currency on KuCoin's P2P (peer-to-peer) page or withdraw them to an external exchange. The P2P feature supports Tether USDT, BTC, ETH, KCS (KuCoin Token), and USDC.
How long does a withdrawal take from KuCoin to a bank account❓
KuCoin does not allow bank transfer withdrawals or deposits directly. Crypto-to-fiat trades on the P2P platform happen in real time, so the arrival time for your transfer depends on the trader and the type of transfer.
How do I find my Transaction ID from KuCoin❓
To find your transaction ID on the web-based platform, click on the Wallet icon in the upper right menu, Main Account, History (Withdrawal and Deposit History), select the period (1 month, 3 months, 1 year), and Export to CSV. 

You can use the downloaded CSV file to import your transaction records to other platforms, such as cryptocurrency tax software or other apps.
Why can't I withdraw from KuCoin❓
If you are getting an error when trying to withdraw from KuCoin, make sure you have funds in your Main Account and check if you have any open orders in the spot and other markets. Also, for unverified KuCoin accounts, there is a daily withdrawal limit of 1 BTC, so above that limit, you should wait another 24 hours between withdrawals.
How do I transfer money from KuCoin to Cash App❓
You can sell cryptocurrency to other users and accept Cash App as a payment method on KuCoin's peer-to-peer (P2P) platform.
Can I withdraw from KuCoin without verification❓
Yes. You can withdraw up to 1 BTC (Bitcoin) per day without passing KYC verification.

CaptainAltcoin's writers and guest post authors may or may not have a vested interest in any of the mentioned projects and businesses. None of the content on CaptainAltcoin is investment advice nor is it a replacement for advice from a certified financial planner. The views expressed in this article are those of the author and do not necessarily reflect the official policy or position of CaptainAltcoin.com